And the Player of the Year is...
Ultiworld's 2019 Men's College Awards are presented in part by VC Ultimate, outfitting the world's best players since 1998. They are also presented in part by the National Ultimate Training Camp, who can help prepare you to be an All-Star. All opinions are those of the authors.
Ultiworld is pleased to announced our sixth annual D-I College Awards. The criteria for each award can be found here — we consider both regular season and postseason performance in our selection of awards.
The Player of the Year Award and its runners-up represent the best overall performers of the 2019 season and are our highest award. These three individuals were the most impactful players in the D-I Men's division this spring.
Links to all of the 2019 D-I Men's Division awards will be added as awards are announced:
Offensive Player of the Year Award
Defensive Player of the Year Award
Breakout Player of the Year Award
Rookie of the Year Award (will be announced later this week!)
Coach of the Year Award (will be announced later this week!)
All American 1st Team (will be announced later this week!)
All American 2nd Team (will be announced later this week!)
D-I Men's 2019 Player Of The Year
Mac Hecht (Brown)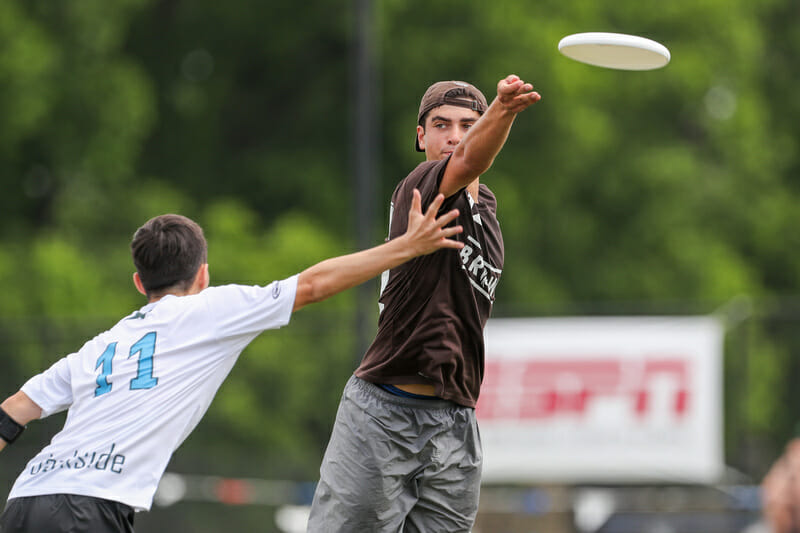 From the moment he started launching pinpoint flick hucks at last December's Classic City Classic, to picking apart the tricky North Carolina defensive schemes with an array of crafty downwind trust shots in the final, Mac Hecht's propensity to throw Brown out of danger and toward victory was the defining achievement of the 2019 season. Already the consensus best thrower in the men's division, he one-upped himself at the College Championships where, as the centerpiece of a Brown O-line that did not allow a break in the final, Hecht led the tournament with 36 assists (15 more than second-place).
Hecht's prowess with the disc in 2019 commanded the attention of fans, teammates, and opposing coaches alike for good reason. In addition to the reliably monstrous forehands he had already been known to deploy, this season Hecht developed a suite of similarly devastating complements. His touch forehands that curled around downfield defenders for mid-range looks and short-range backhands over the top of the mark formed the foundation of Brown's overwhelming matchup offense. His ability to complete blades, scoobers, and hammers regardless of the conditions made short work of opposing zone and poach schemes. No matter what the opposition tried, Hecht had an answer.
And Hecht did not just throw throws, like so many of his peers do—he threw completions. Teammate John Randolph, a superstar in his own right, credited his own astounding ten-goal semifinal performance to the fact that Hecht's passes were always so easy to clap-catch. It wasn't just a one-game phenomenon. It went like that for Hecht all year long: no one in the division was more consistent than he was at hitting his spots. Greg Maddux exercised a special kind of command over a baseball; Hecht has it with a disc. Perhaps his best throw of the year came on what was supposed to be one of his weaker looks: a stand-still backhand rip during a windy Easterns final straight into the teeth of the Carleton defense—it landed, well in-bounds and well out of reach of the defense, right at Randolph's chest for a goal.
As good as they were, a discussion of Hecht's 2019 that only addresses his throws is a disservice to the fullness of his performance. His decisiveness and technique cutting out of the stack were the keys to opening up many of his big throws. An impossibly stubborn mindset allowed him to grind out cut after cut in tight coverage to collect resets. And Hecht's new heights of conditioning gave him the strength to make big plays on the disc with regularity that rivaled that of much flashier cutters. More than any of those tangible qualities, however, the confidence, work ethic, and obvious joy he brought to the field proved infectious throughout Brown's roster and instrumental in delivering a championship.
1st Runner up: Matt Gouchoe-Hanas (North Carolina)
The returning POTY and National Champion had nothing to prove in 2019, but still showcased new elements of his game during an overall spectacular season. This year's Callahan winner put his increased throwing range on display, and there was nothing more automatic in the college game than a Gouchoe-Hanas upline cut.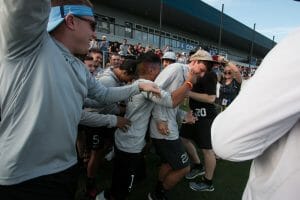 Perhaps the biggest development came later in the season when he was moved into a more defensive role, and a new side of the two-time champion was unleashed. Gouchoe-Hanas was absolutely erasing handlers in the dump space, and starving opposing offenses of resets and disc movement in the backfield. The shift to the D-line also seemed to unlock some more aggressiveness in his throwing selection, and he demonstrated his full capabilities as a deep thrower.
It all came to a head in the semifinal of Nationals in which he lead Carolina's D-line against an excellent Cal Poly offense in the performance of the season. He bottled up SLO's handlers and was able to connect on quick-strike heaves off of turnovers. When asked in an interview after the game where all those hucks had been hiding during his career, the response was simple. "On the O-line."
Perhaps North Carolina got a little too confident in moving Gouchoe-Hanas to defense, as their championship loss highlighted some of the O-line's deficiencies. Gouchoe-Hanas himself was largely anonymous in that lopsided final, and it was a sour note to go out on for a player who had the best career on paper of anyone in the men's division this decade. But while the title game was a shocking disappointment, Gooch still showed over the season why he will be remembered as an all time great of the college game.
2nd Runner up: John Randolph (Brown)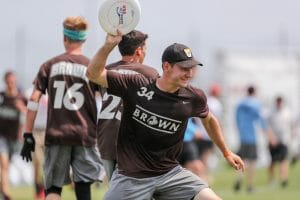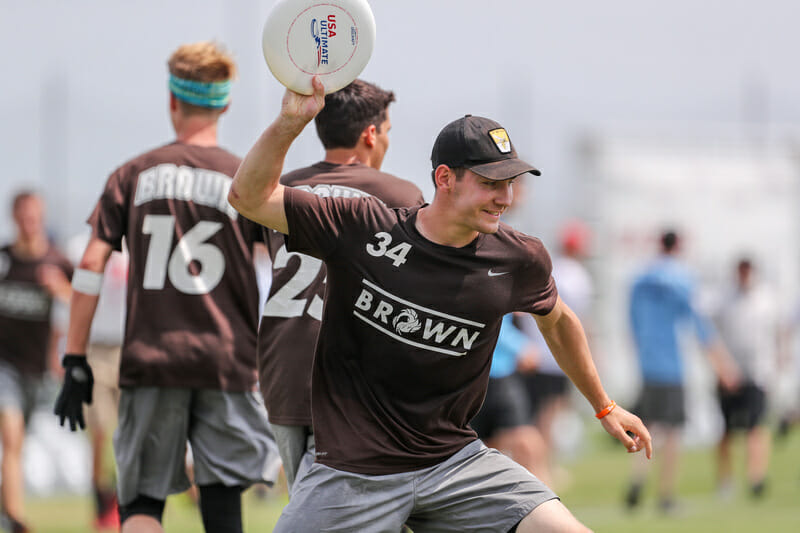 There was a moment—a brief moment, but a moment nonetheless—where it looked like John Randolph might have a bit of a sophomore slump. Following his Rookie of the Year winning 2018, expectations for Randolph were sky-high entering the year. And then the season started and he was… good? Definitely pretty good. But he wasn't the world-conquering force we had all dreamed up over the offseason. Until, that is, he was exactly that.
Starting with Brown's victory at Easterns, Randolph ripped off one of the great stretches in recent memory. Pushing his game on offense and defense, he was Brown's best player at Nationals, seeming to improve every time he stepped on the field. His ten-goal obliteration of Colorado in the semifinals was a coronation and a confirmation that the young man from Seattle was indeed the ultimate world's next big thing. His 30 goals in Austin were almost double the next closest mark, with 18 of those coming in elimination games.
There will be new heights to hit next season for Randolph. Mac Hecht's impending departure will likely shift some of the offense's creative burden towards the rising junior. This season Randolph proved he was the best weapon in college ultimate. Next year, he'll look to show what he's capable of when he's calling the shots.