10 national teams and some potential club spoilers!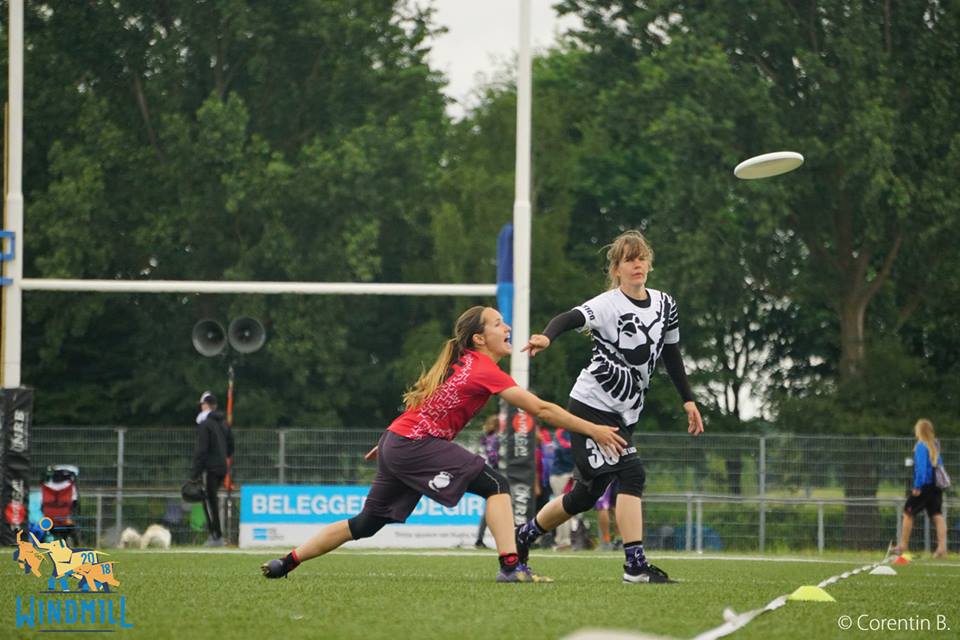 Ultiworld's coverage of Windmill is presented by VC Lookfly; all opinions are those of the author. Please support the brands that make Ultiworld possible and shop at VC Lookfly!
This year, 18 women's teams will find themselves at the 15th edition of Windmill. The women's division looks stronger than ever, with 10 national teams using Windmill as their final opportunity to test their plays and build connections in the run-up to EUC. However, there are several club teams in the mix that will be looking to cause some upsets against some of the most powerful national team programs Europe has to offer.
For those unfamiliar with Windmill, one of the main differences to other European tournaments is that the schedule is set up in a Swiss draw format. There are no initial pools as teams throughout the whole division are re-ranked using a power ranking algorithm each round. This gives the opportunity for teams to creep up the standings on the finest of margins. Every point counts.
Tournament Profile
Date: 14-16 June
Location: Amsterdam, The Netherlands
Weather: 16-22 °C, scattered rain and wind ranging from 13 to 21 km/hr
National teams – ones to watch
There is no denying that there are several national teams in attendance who have every chance of making the final. One of these is Ireland. Normally known to dominate the European Mixed division, the Irish have decided to use the 2019 European cycle to build an incredibly strong women's team. The Irish dominated at Hamburg Rumble and saw a large contingent of the team coming 2nd at Toms Tourney as Deskeagh. This year, the team is being coached by Ian French, a long time advocate of women's ultimate who coincidentally led the Irish Mixed team to victory at Windmill in 2015. The Irish have always been well known for their strong defense and deep game, so if Windmill's well known wind factor has anything to do with this, there is a strong chance that we will see the Irish contending for a coveted final spot. Expect big plays from captain Sarah Melvin and Aine Gilheany who will be able to get the disc to wherever she wants on the field.
Germany has been strong on the European scene for years and this year is no exception. The Germans are bringing the biggest roster to Windmill (26 in total) and have a huge amount of experience at the National team level, ranging from youth all the way to seniors. Kyoto Hosakawa was a real game changer for Mainzelmädchen in the final of Windmill 2018, and will be tearing up the field with her sharp cuts and heads-up defense. After years of success with Hässliche Erdferkel,1 Nora Wilkening has moved over to the Women's division, which is no doubt a great addition to this team. Missing however are key players from the 2016 season Nici Prien and Mel Koshnitisky, who will not be playing EUC this year. However, the Germans have been able to add key players from their previous U24 cycles,2 so expect people like Caroline Tisson, Inga Narjes and Deb Brinker to step up to the challenge.
Italy has always been seen as a strong contender at international tournaments. The Italians have quite a significant turnover with regards to their WUGC 2016 roster, with only 10 women returning from the original national team. However, this does not mean that Italy are taking time to re-develop. With CUSB Shout winning the EUCF in 2018 and continuous talks about the strength of the Italian youth program, it comes as no surprise that the Italians are in full contention of winning Windmill this year. The core of this team comprises of CUSB Shout, with key players like Laura Farolfi, Irene Scazzierri, Greta Melaga and Francesca Sorrenti looking to take on the big match-ups on the field.  With their continuous break throws and fast play, their flow will be hard to stop. Expect some ferocious layout D blocks, this is a team that will put their body on the line for everything.
The final national team that has a strong chance of making semis at Windmill is Finland. Finland won the European Ultimate Championships in 2015 after an unbelievable performance from the team, but especially from Essi Inkinen and Ulla Killi. This current national team is quite different from the national team that won in 2015, however this small team has had the opportunity to work on their connections and use their strong throwing skills to their advantage. Don't be surprised when they look to move the disc quickly after a turnover, they will want to score quickly and efficiently. Watch out as well for Merituuli Rekola, she had a commanding performance as the main handler for Helsinki Ultimate at WUCC. She will be looking to attack the break side at any given opportunity.
Chance of an upset?
As well as several national teams who will be vying for a top 4 spots, there are a handful of club teams and pick-up teams that will be looking to cause some big upsets at Windmill. On paper, they look terrifying, but will a lack of playing time together be detrimental for them?
Mermaid Lumberjacks are a new team comprising of a core of current and ex-Iceni players (Jenna Thomson, Fran Scarampi, Sonia Komenda to name a few), as well as a scattering of high level ultimate players from across Europe. EuroStar Maya Mileck will be racking up the stats as well as Inga Sulimova, who is one of the most versatile handlers in women's ultimate right now. Mermaid Lumberjacks will also feature the likes of Justine van der Meulen, Sanne Leufkens, Marieke Buijs and Lisa Kouwenberg who have all had dominant performances for the Netherlands both on grass and the beach. There are several pods of people within this team who have had years of experience playing together, but will this glue the team together, or will most of the gelling be done at the party…?
Heist, based out of Madison, Wisconsin, have been a long term household name in the Women's division in the US. Heist have decided to attend the best tournament that Europe has to offer, however, Heist have struggled with numbers and a large core of their current team have not been able to make the trip over to Amsterdam. Heist have enlisted the help of people like Paula Baas, Nienke Muskee and Helen Tera to bolster this Heist roster and to see how deep they can go into the tournament. Robyn Fennig will be leading this Heist team, and it will be exciting to see her match up against the likes of Hosokawa, Farolfi and Komenda. As individuals, this team has serious potential, but with at least half of the team being random pick ups, the first few games are going to be key to Heist's success at Windmill.
Take one look at the Cosmic Girls roster and you will see why this team has every chance of doing well at Windmill. Russia had an unbelievable tournament at the European Beach Ultimate Championships, with both the Mixed team and Women's team finishing in 1st place. The Russians have been playing with each other for years. Their chemistry is undeniable and their athleticism takes them above and beyond most clubs teams in Europe. Once again we will be seeing the Pustovaia sisters taking the field, looking for speedy cutters such as Yulia Akramova and Salaspils star Lasma Kublicka. If any club team has a chance of defeating a well established national team, it will be Cosmic Girls. Expect some tight games and some big upsets from these ladies.
Windmill can be very unpredictable, with both the weather and the Swiss draw. With the wind expected to pick up towards the end of the weekend, avoiding a tight game against a weaker opponent3 could be the deciding factor on who makes the final bracket. With that being said, we are guaranteed for some exciting games and a glimpse of what is yet to come at EUC. The fight for the Windmill crown is currently wide open.
---
Especially with a top 8 finish at WUCC last year ↩

Germany U24 placed 6th last year: the highest ranking European women's team in Perth ↩

Even if you win! ↩