Rounding out our college awards for 2019.
Ultiworld's 2019 Women's College Awards are presented in part by VC Ultimate, a leading supporter of women in ultimate. They are also presented in part by the National Ultimate Training Camp, who can help prepare you to be an All-Star. All opinions are those of the authors. Thanks for supporting the brands that make Ultiworld possible!
Ultiworld is pleased to announced our third annual D-III All-America teams. These players were selected for their overall performance in the 2019 college season, looking at both the regular season and the full college Series, including Nationals. Please join us in honoring the best college players of this season.
Links to all of the 2019 D-III Women's Division awards will be added as awards are announced:
Player of the Year Award
Offensive Player of the Year Award
Defensive Player of the Year Award
Breakout Player of the Year Award
Rookie of the Year Award
Coach of the Year Award
All American 1st Team
All American 2nd Team
D-III Women's 2019 2nd Team All Americans
Anna Clements (St. Olaf)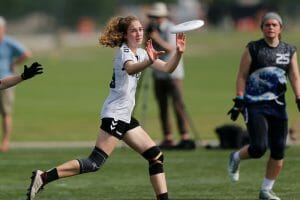 Clements never looked like a freshman on the field for St. Olaf: she demanded the disc like a fifth year senior, and always sought to take over the game. Her tenacity, combined with her athleticism and length, made her a matchup nightmare for opponents downfield. Whether she busted deep for a huck, or came under and then beat teams with her throws, Clements was St. Olaf's most dangerous and most consistent offensive threat. She led the national semifinalists in goals and was second in assists, and if her All American caliber freshman season is any indication, then it was just the start of a fantastic career.
Kim Dorr (Portland)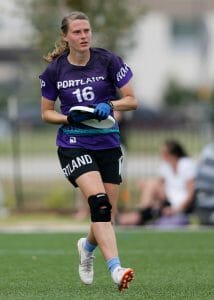 Dorr's defensive verve and offensive cutting helped Portland retake their place on the national stage, and put up a strong fight at the College Championships as well. With 15 goals, 7 assists and 13 recorded blocks, the junior cutter found space, the disc, or the person to beat to either of those things with high accuracy and completion. A favorite target for Portland handlers, Dorr equally proved herself a difficult match up for opponents to line up against in College Station.
Ruby Holman (Lewis & Clark)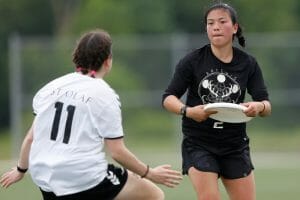 To sit second on the overall assists list — behind the inimitable Josie Gillett — after the dust of Nationals has settled is an impressive feather to sit in Holman's cap. The Lewis & Clark senior excelled when her speed could be put to use on a fast break, or directing the disc into a waiting cutter's hand. 23 assists (alongside 3 goals and 9 recorded blocks) for the senior show just how much confidence Artemis had in getting the disc to Holman and looking for the offensive magic to happen.
Miyo McGinn (Middlebury)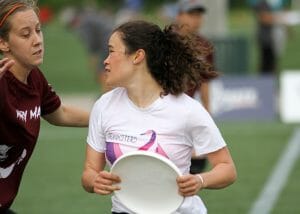 If a disc found its way into Claire Babbott-Bryan's hands, strong chances have McGinn as putting it there. The senior handler for Middlebury recorded 20 assists over five games, tallied up one-by-one off everything from clean endzone sets to working with Allegra Molkenthin in patient handler motion to a high-stall huck to a deep Babbott-Bryan. McGinn helped make Middlebury a national threat in 2019, and worked hand-in-hand while developing one of the most talented rookies of the bunch.
Maggie Johnson (North Park)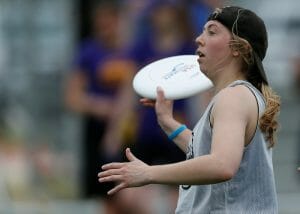 As one of North Park's center handlers, Johnson never looked anything less than confident in the middle of the chaos. The incredible run to tied for third by North Park was driven in strong part by 20 assists thrown by the junior. In the wind of College Station, Johnson's Great Lakes training came into play, winning games and surviving to another round off of upwind scores and knowing how to control the disc with aplomb.
Caroline Weinberg (Williams)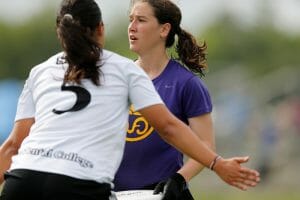 Weinberg is a player that plays the same on offense and defensive: dependably, and by making the big plays when most needed. The cutter knows how to layout, and used it at Nationals to get the block or maintain the drive, always ready to go to the edge for the disc. A well rounded stat line of 13 goals, 10 assists and 7 recorded blocks help back that story up, a history of production and contribution from a senior unafraid to put herself on the line for the sake of the game.
Leona DeRango (Puget Sound)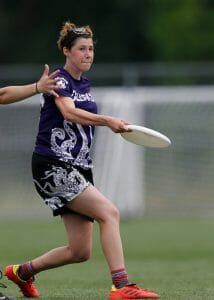 Another 2019 rookie that couldn't be ignored on the field, DeRango helped put up the deep looks and keep the disc moving out of the Puget Sound backfield. The freshman exuded energy and speed, beating marks to the power position and letting rip deep looks to cutters in stride. While not afraid to take a deep shot, DeRango also proved dependable under zone pressure and in the wind, recording only 4 turns against 4 goals and 12 assists on the Nationals weekend. On a team as deep as Puget Sound, DeRango made a name for herself and proved a player to be reckoned with from here on out.