Taking stock of the major goings on in the HSNI Boys' division.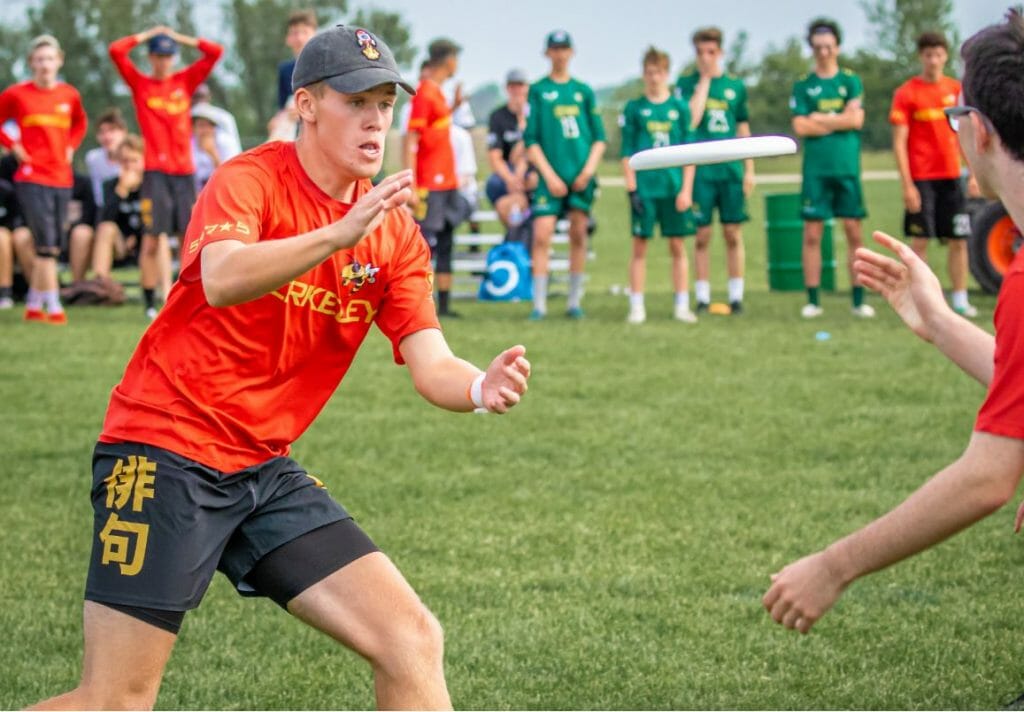 ROCKFORD, Ill. — With a national title on the line, many of the top boy teams from all over the country came together for the High School National Invite. There were upsets, thrilling games, and a lot of future stars on the fields. Some teams surprised and rose to the challenge, while others couldn't quite find their best ultimate when they needed to. It was a fun, action packed couple of days, and with plenty of notable highlights to take away.
Berkeley Rides Throwing Depth To HSNI Title
Berkeley (CA) looked like an impressive college or club team at HSNI. Everyone across their lines was a competent thrower, and everyone on their offense was a plus thrower. In the final against Edina, they were content to throw the disc what felt like a thousand times against a stalwart zone defense. They were patient beyond their years, and the throwing ability across the line meant they had no weak spots for Edina to take advantage of.
Aidan Curry was a rock as the middle handler in the team's zone O and Riley Kirkman-Davis was equally as reliable. Seth Wells often joined the backfield to help reset the stall counts and keep the disc moving while Luca Spycher was great at attacking the second layer of the zone. Noah Ball-Burack and Leo Gordon, the team's two best downfield threats, each also had throws to beat defenses as well.1 Gordon, in particular, was impressive with his complete offensive game, but the confidence and solidness of Berkeley's throwing ability across the team really did stand out.
"They are super patient," said Berkeley coach Linh Hoang. "We have great handlers, they're very reliable, almost to a fault sometimes. Tonight, it worked very well for us." The fault Hoang was probably referring to was when the team threw the disc around in their own end zone for about 40 throws before finally throwing a Callahan on the second point of the final. But the way the team responded to that, and their patience and execution during the rest of the tournament, likely made up for that.
The truly perplexing thing about Berkeley's performance was how they started. They lost their first pool play game to Holy Family, who went winless for the rest of pool play and won just one game in consolation. Berkeley then went undefeated the rest of the way, beating no. 1 overall seed Grady in pool play, knocking off Madison West on double game point in quarters, and beating Wilson and Edina in semis and the final.
"It was a little bit of nerves. They were very, very excited to be here. They were working all season for this moment, and none of them have ever been here before, and they didn't know what to expect," said Hoang. In fact, that slow start was emblematic for many of their games, falling behind early in all but one. But Berkeley was never fazed, just like they weren't when they threw that Callahan to go behind two breaks against Edina.
If Berkeley's throwing depth was that of a much more experienced team, so was their mental fortitude. The combination of the two were what won them the HSNI title.
Explosive Edina Comes Up Short
Edina (MN) suffered two brutal rough patches at the tournament, but were otherwise spectacular. They surrendered a massive run of breaks to Wilson in their pool play matchup, losing 13-5, and gave up the critical, six goal run to Berkeley that ultimately decided the final. But other than those two runs, Edina looked like maybe the best team at the tournament.
Haakon Rondestvedt was the most explosive, exciting player on every field he stepped on. His first half performance against Lone Peak in the semifinal would make for an awfully impressive highlight reel on its own. AJ Larson (Minnesota), wasn't far behind him in terms of highlight reel plays, and was the team's primary offensive threat downfield. Matt Kompelien and Pete Rock (Davidson) helped provide solidity in the team's backfield.
Edina was most impressive in their win over Lone Peak, who'd looked like the best team at the event to that point. Both teams exchanged early runs of breaks, but Edina was able to hang around until the final point, when they broke for the win.
They will wish they'd played better in that stretch of the first half of the final where they gave up six straight, especially since they outscored Berkeley 10-7 outside of that run. "We failed to make the simple, fundamental plays. We've talked all year about how the best throwing teams win championships, and they were the better throwing team," said coach Nate Wohl. "It just came down to catching the disc, securing the disc, and we failed to do that. Just mild miscommunications, that was pretty much it."
But Edina was a young group, with just a handful of seniors, and they still put together the best season in the program's history. Their run to the final was truly impressive, as were many of the individual performances on the team. They exceeded expectations by making the final, having entered play as the no. 5 seed, and with so many of their top performers being underclassmen, this could just be the start of a fun couple of years.
Lone Peak, Wilson Runs End in Semis
Going into the semifinal round, it felt like the tournament was headed towards a Lone Peak vs. Wilson final. The two teams had been the most dominant teams of the tournament to that point, and their matchup in the championship was to be an exciting battle between two athletic teams with dangerous offenses. Instead, they both got upset in the semifinals.
Lone Peak (UT) blew out everyone they played in pool play, including two teams that made quarterfinals in Madison West and Durham. They weren't as clean offensively in bracket play, and had to reel off three late breaks for their 11-9 win over Seattle Waldorf in quarters. Their tournament ended in heartbreaking fashion on double game point to Edina, but they may have had a claim to still having had the strongest two days of play across the board, especially since they beat Wilson in the third place game.
And a lot of their top performers were very young. Everett Saunders and Max Dehlin were both key members of the O-line as freshmen, and sophomore Curtis Lund and junior Micah Pew impressed as well. Senior Zach Burnside, who said he's likely headed to BYU, was their best player in the game against Edina, but Lone Peak's strength was in their depth of speed and athleticism, and it nearly took them to the final, where they would have been favored to win it.
***
Wilson's (DC) tournament felt like it ended prematurely, too, but they just happened to run into a Berkeley team that seemed to be able to do no wrong. Wilson did manage to get a couple breaks in the first half, but couldn't take the advantage into halftime. They hung around for most of the second half, but a late surge from Berkeley right at the end sealed the 11-9 Berkeley win.
Otherwise, the DC club also had a remarkably strong showing. Like Lone Peak, they pasted everyone in their pool, including a decisive 13-5 win over Edina. And they beat Durham 14-9 in quarters, and it didn't even feel that close.
Jacques Nissen (Brown) was one of the most impressive players in Rockford; his playmaking ability and ultimate IQ both made him one of the most fun players in attendance to watch. Ultimately, though, they just didn't quite the depth needed to match Berkeley's and make the final.
Grady, Ingraham Disappoint
Grady (GA), the no. 1 seed, and Ingraham, the no. 3, both crashed out of the tournament much earlier than expected. Grady's loss to Berkeley at the end of pool play doesn't look so bad in retrospect, but the way they lost the game, surrendering a pretty sizable early lead due to careless decision making and unforced execution errors, wasn't pretty.
They still made the bracket after that loss, but were unable to correct the mistakes that cost them against Berkeley, and they lost in prequarters to Seattle Waldorf, 9-7. Grady did bounce back after the prequarter loss to win the consolation bracket and finish ninth, but it was not anything close to the type of finish expected of the defending champions.
Ingraham (WA) had an even rougher go. They went 0-3 in pool play and failed to even make the bracket. Ingraham often looked lost and out of their depth offensively, with even simple zone defenses leading to far too many turnovers in the handler space.
They rallied in the second half of their first game against Neuqua Valley, and even though they came up short, it looked like they'd be more successful in their subsequent pool play games. Instead, they lost on double game point to Washington-Lee and Carrboro to end their chances of winning the tournament.
They drew a tough matchup with Grady in the first round of consolation, but did win the two following games to finish in 13th place. But it was certainly a shocking finish for the top ranked team out of Seattle.
Quick Hits
There was a stunning interaction between Durham (NC) parents and Carrboro (NC) players when the two faced off in prequarters. The teams are rivals, and had just played in the North Carolina state playoffs, so an elevated level of competitiveness would have been expected, but the Durham parents behavior in the game was, quite frankly, unacceptable.
At one point in the first half, Carrboro handler Josh Singleton picked up the disc on the sideline where a Durham parent had been shaking a cowbell for the whole game. He asked for her to give sideline, to which she responded "I'm fine right here" and then proceeded to shake her cowbell at him. Singleton turned the disc and then played the rest of the point before coming back afterwards to try to have a discussion clarifying what he was asking of her. But she maintained her obstinate, rude, and aggressive demeanor towards the Carrboro players. Eventually, a Durham coach had to come over and tell the Durham sideline that they needed to give space.
Things escalated again later in the game, when there was a lengthy discussion on the field about a call, and Carrboro players got frustrated that the Durham parents kept cheering during the process. They tried to get the Durham parents to quiet down, but the adults responded with louder cheering. For the most part, the game was cleanly played from the two teams on the field, though it was clear emotions were high on both sides.
But the Durham parents — and, to be fair, it was just a couple of them — did not put themselves in a very favorable light, and stole the shine from their team's run to quarterfinals.
Neuqua Valley (IL) had a great first day, going 3-0 in pool play and looking like one of the best teams of the tournament. They were beaten by a sparkling Edina side in quarters, but did end up finishing sixth. Their defense was impressive, and Sam Swiatek, Ethan Smith, Luke Bleers, and Nate Cinnamon all looked like they could have strong college careers.
---
And both are going to Brown in the fall. ↩