Power pools are heating up!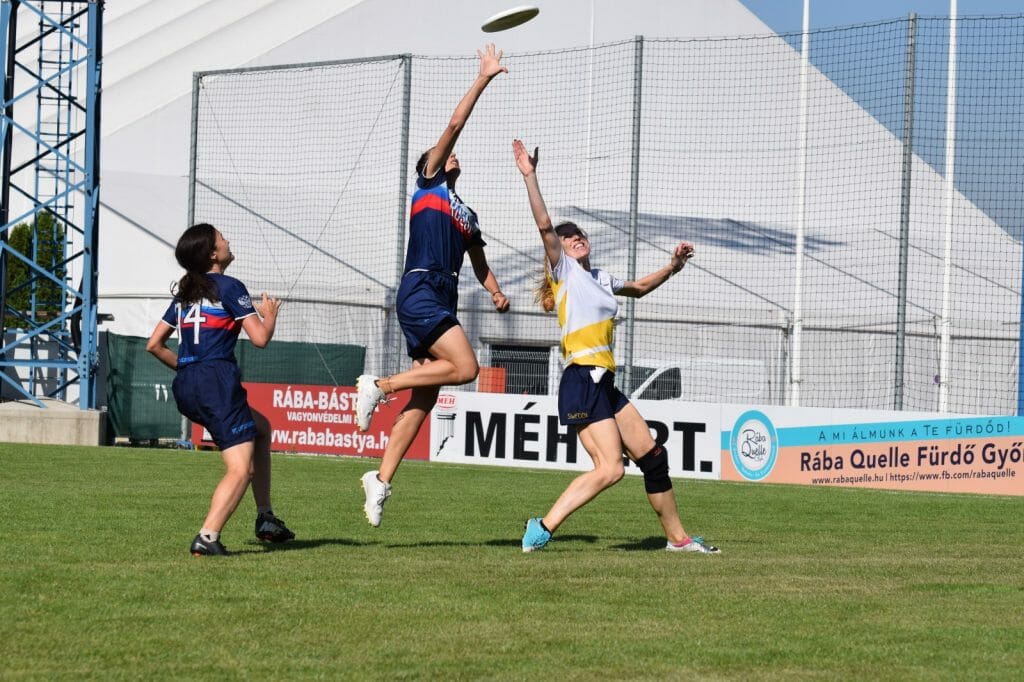 Second day is wrapped up with some new pools. Teams are now split into two power and one lower pool of five teams. This next round will decide who will get a good position for bracket play.
Power Pool WE: Italy, Finland, Switzerland, Great Britain, Belgium
Switzerland won their first power pool game against Belgium 15-13. The Swiss women came out looking stronger than ever, very concentrated and focused on their game. Switzerland managed to get a couple of breaks out of Belgium early, leading 8-5 at the half. Eventually, Belgium came back and gave the Swiss a tough fight for their win, but could not quite manage to close the gap they opened in the early stages of the game.  Switzerland was lead by a great performance of their handling core, connecting well with the cutters and slicing open the Belgian zone defense. Unlike Belgium's rather weak performance at their first game of the day, they managed to stay with the Swiss and give them a fight, respecting their coach's words: "No matter what happens on the field, I want to see the same smiles."
Later today, Finland and Great Britain matched up. They played it close all game, and Finland took half after an amazing point 8-7. Finland got a lead late in the second half, but Great Britain never gave up and eventually, on double game point, managed to win against the reigning champs. This game is available on a free stream and it is a pleasure to watch.
Power Pool WF: Germany, Russia, Ireland, Czech Republic, France
Russia took on the Czech Republic as their first match up. The two teams traded until late in the game, but Russia adapted their defense and managed to get a win 15-10. The Czech Republic had a great deep game against them, they were connecting a lot of shots until late in the game when players were influenced by the heat and the wind a little more.
Ireland played France in the first rounds of power pools, starting off very strong. Ireland took half 8-2, but France managed to get back a couple of breaks in the second half. They could just not challenge Irelands system with their defense enough. France looked very hasty and not as structured as it used to be, having a hard time against the Irish zone defense. The game ended with a 15-9 win for Ireland.
Lower Pool WG: Austria, Poland, Sweden, the Netherlands, Ukraine
In the lower pool, Austria took on the Ukraine, winning with a dominant score of 15-6. Austria looked like they finally connected and overcame their unexpectedly high loss against Great Britain earlier today.
Sweden matched up with the Netherlands for the last game of the day and Sweden finished off with a convincing 15-5 win. There is already a gap forming between the top and bottom of the lower pool. Teams will have to fight hard for good positions in bracket play.