Pool play is done, things get serious!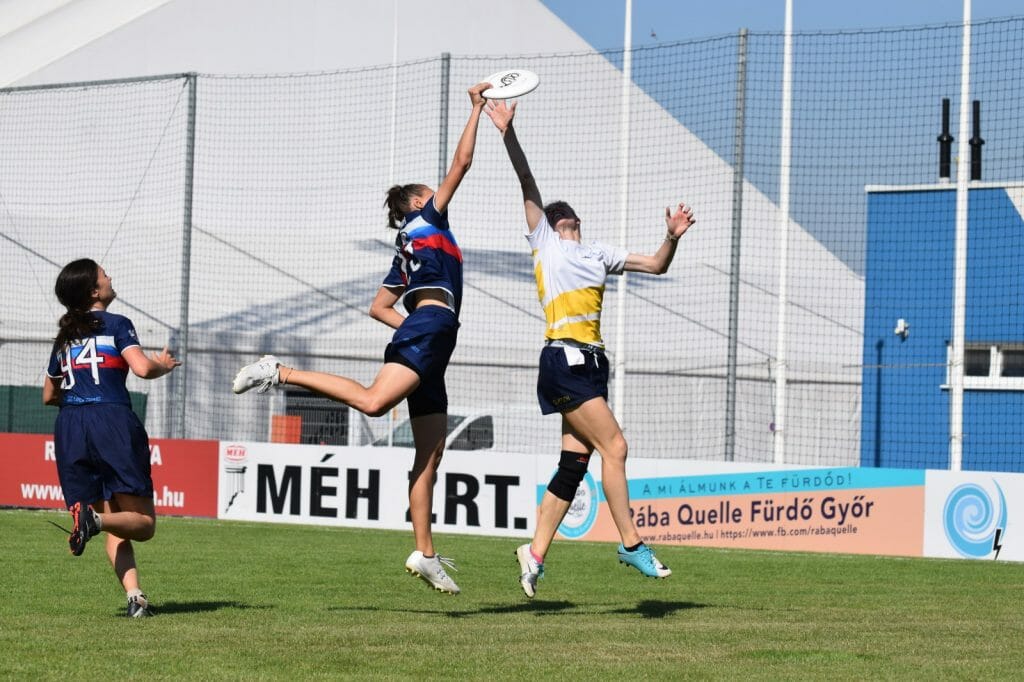 At the start of day 2 at EUC, women's pool play is wrapped up, showing some interesting results going into power pools. We saw dominant performance by powerhouses Italy, Germany and Russia, but some close double game point wins by EUC 2015 winner Finland. Now teams move to power pools, where the power pool winners of Pool WE and WF will move directly to quarters. Aside from the 5th place team in Pool WG, every other team will play in a pre-quarter. Here are the new power pools and how teams got there:
| Pool WE | Pool WF | Pool WG |
| --- | --- | --- |
| 1WA Finland | 1WB Russia | 3-3 Poland |
| 1WC Italy | 1WD Germany | 3-4 Austria |
| 2WB Switzerland | 2WA Ireland | 4WA Ukraine |
| 2WD Great Britain | 2WC Czech Republic | 4WB Sweden |
| 3-1 Belgium | 3-2 France | 4WC The Netherlands |
Pool WA: Finland, Belgium, Ireland, Ukraine
In Pool WA there was a showdown for second place between Ireland and Belgium, which Ireland managed to win rather easily, ending the game at 15-6. The Irish clicked on offense and pressured Belgium a lot with their zone looks. Belgium tried a lot of different strategies, but they looked a little insecure after being down a few breaks in the first half. Since they never had a rather big upset this season, they had trouble getting back into a game from behind. Their only loss in preparation was against Deskeagh at Tom's Tourney, whom they eventually beat in the final, so a re-game between these two teams will be a tight one for sure. Also, Ireland might be an unexpected new favorite to make it to semi's.
Finland and Ukraine matched up as expected with Finland winning this game 15-5, after an 8-5 half time lead. The Ukrainian squad looked better than at their first game and one can expect them to get better later in the week.
Pool WB: Switzerland, Russia, Sweden, Poland
Poland and Switzerland battled for the second place in the pool and where matched up pretty evenly until the very end of the game. Switzerland managed to get three breaks in a row, with a very clinical defense conversion to win the game 15-11.
Russia had a dominant 15-7 win over Sweden to claim their first place in the pool. Sweden looked good at times but just couldn't connect on a lot of deep shots, and Russia did a great job at using what Sweden's defense gave them.
Pool WC: Italy, France, The Netherlands, Czech Republic
The game for first place in this pool started off as a nail biter. Czech Republic broke on the first point and Italy breaking back to take half, 8-7. Both teams looked strong and determined through the half. After halftime, Italy performed clinically against the uprising Czech team. The Czechs struggled through Italy's zone defense late in the game. Italy managed to win with a quite convincing score of 15-10.
France won their game against the Netherlands to take third place in this group.  The Dutch took half 8-7 and were quite evenly matched until France took a lead at 13-12. France managed to break a few times and win the game 15:12.
Pool WD: Germany, Great Britain, Austria
Great Britain and Austria faced each other after both of them loosing to Germany on day 1. Great Britain managed to keep calm and work it through the Austrian defense, while Austria's handlers couldn't quite connect with their cutting end. After a 8:3 half for Great Britain, Austria could not quite get back their momentum, the game went on to a rather clear win for Great Britain, 15:6.