The season starts in Denver!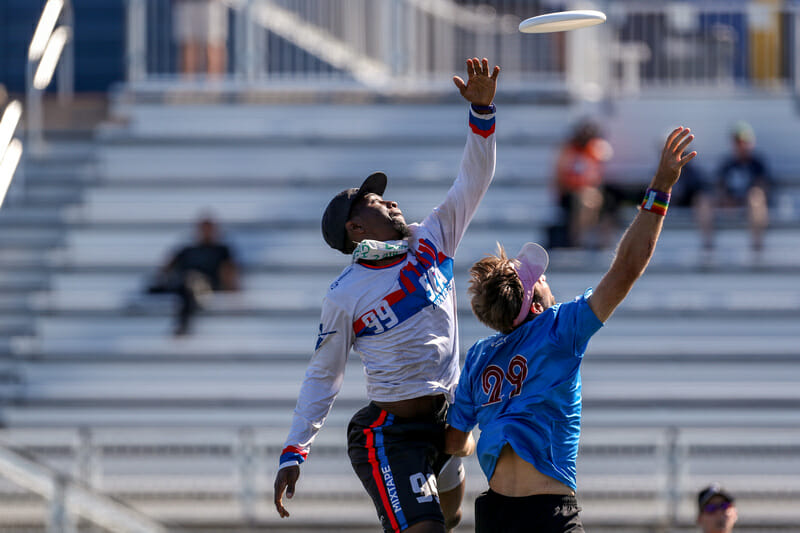 Ultiworld's reporting on the Club Mixed division is presented by Universe Point cleats. All opinions are those of the authors. Please support the brands that make Ultiworld possible and shop at Universe Point!
The Triple Crown Tour traditionally starts in the thin air of Colorado, and this year's group of teams should provide a fun introduction to the season. With Seattle Mixtape, San Francisco Blackbird, Minneapolis Drag'n Thrust, and Seattle BFG leading the field, the 2019 iteration will set an early tone for the mixed season. For some teams, this will be their first taste of competitive tournament play, and with no WUCC to worry about this year, the top teams will look to make an early statement at the top of the rankings.
Tournament Profile
Date:

July 13-14

Location: Denver, CO
Weather: Hot and sunny, highs in the mid 80's to low 90's, chance of thunderstorms on Saturday, 7-10 mph winds
Top 25 teams: 15
Filming Schedule
Ultiworld will be filming four mixed games this weekend at the Pro-Elite Challenge, to be released after the tournament. Access to the footage will be available to Full and Plus subscribers. Here are the games:
San Francisco Mischief vs. Boise Lochsa (Pool Play)

Mixed Prequarter (TBD)

Mixed Quarterfinal (TBD)

Mixed Final (TBD)
Thin Air & Home Cooking
In last year's Pro-Elite Challenge, two Colorado-based mixed teams, #10 Denver Love Tractor and #9 Fort Collins shame., made deep runs to the final. Love Tractor pulled away in the end, and took an early season tournament win that would define their year. It wasn't just in Mixed. Denver's Molly Brown and Johnny Bravo both rode their comfort with the thin air to their respective finals. With so many teams coming up from sea level early in the year, expect both Colorado squads to again capitalize on the opportunity. 
Both teams will need to come out firing, though, as neither one has an easy draw. Love Tractor was excellent early last year, taking advantage of some early-season jitters to win their pool. Jack McShane continued his run as one of the dominant forces in the mixed division, and Love Tractor went on to win the tournament but managed to avoid most of the powerhouse teams until the second day. This year, they have an early date with an ever-athletic Seattle Mixtape team that picked up some of the top offensive players in the game. Winning Pool A might be a long shot, pushing the Denver outfit into the prequarters and a tough road back to the final. Don't be surprised to see Love Tractor push for second in their pool, but they'll be in for a tough test against whoever finishes third in pool D.
That third place team could well be shame., given that their pool also contains powerhouses #3 Boston Slow White and #12 Seattle BFG. Fort Collins plays a huck-heavy offense, and will look to push the disc downfield as early as possible with big throwers like Nick Lance. Speedy deep threats like Aubree Dietrich will keep pushing the pace for shame., and if they can force the rest of the pool into a foot race at altitude, expect the Coloradans to emerge on top of the pool. However, if the hucks aren't clicking, their high-risk strategy could knock them into an early rematch with Love Tractor in the prequarters. 
Early Statements of Intent
If you followed my coverage throughout last year, you'll note that I sounded like a broken record while spreading the good word of Love Tractor. All it takes is a surprise showing at the first big tournament of the year to kick off a whole lot of writing. With that said, who will emerge from Colorado as a surprise contender this year?
If we look at the fourth seeds in each pool, the easy answer would be, well, Love Tractor. They came agonizingly close to another Nationals trip last year, but a one-bid South Central region ended with shame. taking the lone spot. The hometown team returns much of the same core, and another strong start is in the cards with the McShane – Jesse Roehm connection still intact.
Looking beyond that, however, there are a few teams out there who could launch themselves into the Top 10 and get another hype train underway. 
#14 Columbus Cocktails are one of those teams. Cocktails made a splash at Nationals last year, with Sion Agami announcing his arrival on the club scene as one of the leading scorers in the division. This year, Cocktails adds even more firepower from the Ohio State women's and men's teams, plus a few players from the dissolution of High Five who could take the Columbus team to new heights. Cocktails took down perennial Great Lakes powerhouse Cincinnati Steamboat and should have their sights squarely on the top teams in mixed. Winning the pool might be a bridge too far with a very strong #5 San Francisco Blackbird team in the mix and playing without Cara Sieber who will be away on U24 duty, but Cocktails are set up well for a favorable prequarters matchup and shot a deep bracket run.
#15 Boise Lochsa are the other team which has a chance to upset the established order. Consistently in the mix in 2018, Lochsa add Paige Kercher and Brad Houser from Mixtape to their roster. Boasting a disciplined O-line with strong downfield cutters and reliable handlers, Lochsa's offense can keep them in games and force perfect execution from opposing teams. With a tight core of players from around Idaho, Lochsa also has the chemistry to get some early wins on teams that are still finding their identities. Keep an eye on their first round matchup with #8 San Francisco Mischief. A win there would help them miss out on a matchup with the rising Columbus Cocktails and set them up for a potential bracket run.
Trouble Brewing?
This early in the season, no one truly knows how teams will stack up. Look no further than last year, where Dallas Public Enemy and Connecticut Metro North came into the tournament as top seeds in their pools, only to miss the bracket after slow starts to their days. As the season unfolded, both teams stabilized but couldn't escape the early season hole. The logical question, then, is which top seeds are in the most danger of missing the bracket?
Both #2 Seattle Mixtape and #12 Seattle BFG might be candidates. Both teams were hit with significant turnover, as retirements and players moving to new teams forced changes from both outfits, especially on their offensive lines. Along with the departures of cutters Claire Revere and Abbie Abramovich, Mixtape loses the near-telepathic connection of Mark Burton and Brad Houser. However, picking up Kieran Kelly, Bryson Fox, and Adam Simon should ease the sting considerably. All three were among the top offensive threats in the division last year, and if they can fit in with Mixtape's style, expect the team to keep its place near the top of the division. If there are any growing pains, though, the field in Colorado will be more than happy to capitalize.
Mixtape's gain is BFG's loss. Fox and Simon were key contributors throughout the 2018 season, and Kelly was instrumental in BFG taking the WUCC title last year. The arrival of Jay Boychuk and Reid Koss provides some new handling firepower, and Nariah Sims has the potential to be the next dominant BFG cutter, but with so many new players to integrate into their system, the pressure is on to escape a dangerous pool with shame. and Slow White. With Andi Coleman, Tommy Li, and Jeff Pape still in the fold, BFG should have enough stability to make the bracket, but any slip will be dangerous.
If the Seattle teams can gel with their new teammates, and avoid a slow start, expect both to make a run in the bracket. However, with the gap narrowing around the division, any early struggles will surely be preyed upon. Exactly the kind of stakes we want to kick off the season with.