Between some solid upstarts and some favorites who did not perform up to their expected level, parity reigned on Day One in Denver.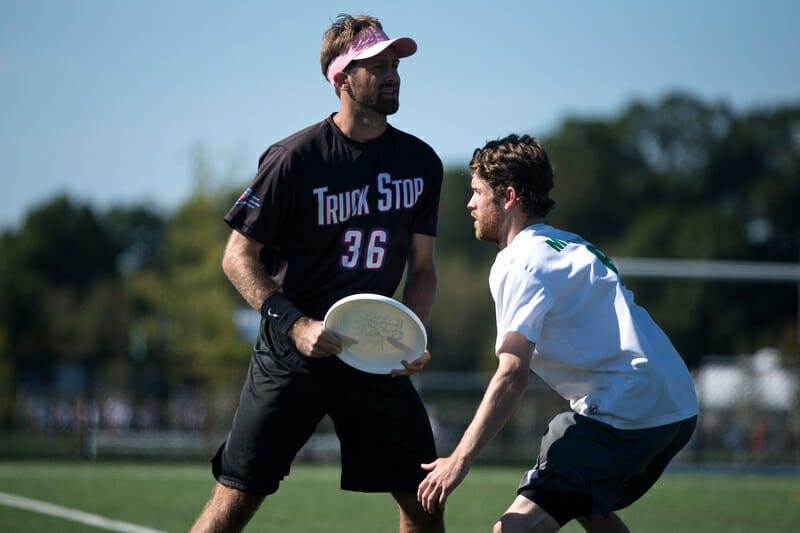 AURORA, CO – First things first: all of the pre-quarterfinal games at Pro-Elite were interrupted by lightning, so the schedule for the day isn't yet complete. When the first bolts were spotted, Rhino Slam!, GOAT, Machine, and Doublewide were all winning, but none of the games had reached half. Here's where things stand with the bracket: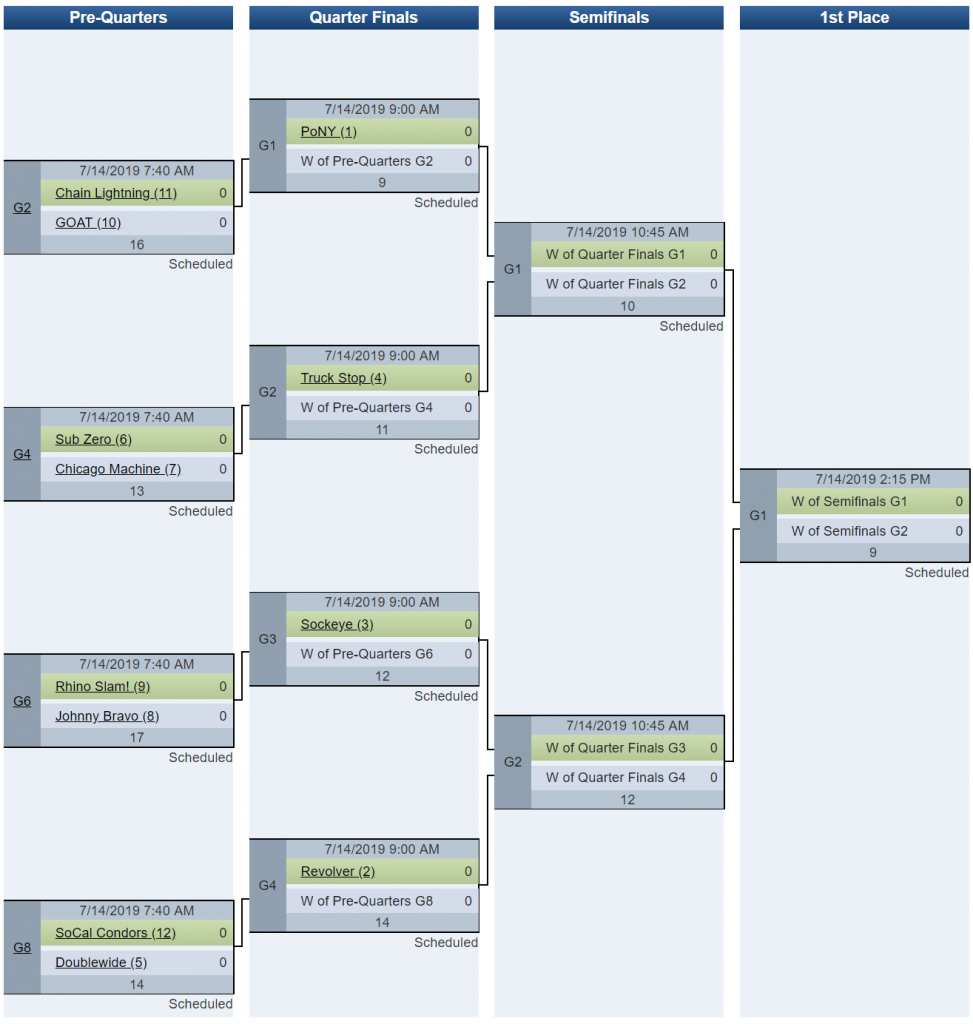 It could have been a let down to enter Sunday without knowing which teams make quarters, but it isn't. To tell the truth, pool play of the men's division was almost too full of action already. I didn't even catch some of the most exciting games because so much was happening at once — my apologies, of course, but anyone would have been in the same boat. Close games and upsets were in the air. While it's too early to proclaim it in my loudest voice, the overall impression I take from the day is that there is remarkable parity in the division. Here's a run-down of the most notable developments.
Scares at the Top
Top billing was by no means a free pass to easy wins, as tournament top seed #1 New York PoNY learned almost immediately. While they handled pool second seed #6 Denver Johnny Bravo in the last round of the day, a high-octane offense from #14 SoCal Condors pushed them almost to the brink of giving up an upset early. The reigning national champs went down at half, but came back for a gritty 13-11 win. The next round didn't give them a chance to breathe, though, as #16 Philadelphia Patrol had New York on the ropes at 10-8 before the upset bid melted away — PoNY scrapped back for an uncomfortable 12-11 victory. Sean Keegan seems dialed in early — his presence on the offense, like newcomer Jack Hatchett's on defense, helped make up for a quiet day from Chris Kocher, an imperfect one from Jimmy Mickle, and raft of very good rostered players who did not cleat up.
The tournament's second seed, #5 San Francisco Revolver also barely eked out a pool victory — their point differential in three games, all victories, was only +5. #12 Atlanta Chain Lightning took them to double game point in the first round, which became more understandable given the way Chain played throughout the day (more on that below). More perplexing were Revolver's close shaves against the two other pool opponents, #22 Seattle Voodoo and #3 Chicago Machine. Voodoo opened up a multi-break lead in the first half, largely because they seemed to run much more and much faster than Revolver perhaps expected. It took an extremely focused second half to get the lead back and put the Seattle squad away, 13-11. There is no such justification for their letting an exhausted and extremely short-handed Machine squad hang around until late in the second half. Revolver seemed not to mind the grind. They did, after all, win the games. They were missing key pieces Ashlin Joye and Nick Stuart and rotating in a slew of new players; it speaks well of their mental presence that they were able to bring the game into focus when necessary.
Wild Pool C
The top seed in Pool C, #2 Seattle Sockeye, did more than just hint at losing some games — they actually dropped one to #9 Minneapolis Sub Zero. Pushing into the point cap and ending with a break on double game point for the 15-14 Sub Zero victory, it was the finest game I watched today (which is saying something). Attitude, stubborn defense, speed demons careening after hucks, wicked break throws — all the best aspects of the sport were on display. Dylan Freechild and Trent Dillon have picked up right where they left off in 2018 as two-way stars par excellence — once again, they look like two of the very best players in the country. Minneapolis' Nick Simonelli is knocking on the door of that club, though. He and a very polished-looking Sub Zero offense took every punch the Sockeye defense could give them and refused to go down. Nifty work from Codi Wood and Tristan Van de Moortele converted Sockeye's turnovers into breaks, especially on the final point, when a thrower-initiated scoober high in the count secured the win.
That game was only the final chapter of a trilogy, as Sockeye, Sub Zero, and #15 Toronto GOAT ended the day in a three-way tie. Even on tiebreakers, they finished within a point of each other, with GOAT drawing the short straw to take third in the pool. Let the record show that GOAT, even though they're trotting out virtually the same core they've had for the last six years, are still really good, especially with a healthy Mark Lloyd on the field. It took them a while to crack the (very polished) Sub Zero offense, and they went down several breaks early. But once they started disrupting it, they could rely on Lloyd to be the playmaker — he and Toly Vasiliyev are (still) a dangerous combination. They dominated Sub Zero completely for a string of points to bring the game even at 9-9. A few points later, on double game point, they turned once more to Lloyd: Geoff Powell put up a lollipop OI flick into traffic at the front of the end zone, and Lloyd skied them all to bring it down one-handed. He even made it look easy.
Truck Stop Rolling
Bucking the trend of top-seeds getting into trouble, #4 Washington DC Truck Stop swept Pool D in grand fashion: 13-7 over #18 Portland Rhino Slam!, 13-2 over #25 Denver Inception, and 13-6 over #8 Austin Doublewide. Truck have a relaxed vibe about them. They were wearing hand-decorated magenta t-shirts as jerseys, joking about fundamentals and smart decision-making, and running a rotating series of lines that seem to mix offense and defense, newcomers and veterans.
But the vibe serves to mask an essential fact about this team: they are exceptionally well-prepared, certainly much more so than their Saturday opponents. The defense looks fast and smart, and the offense looks (mostly) collected. The early returns on Nicky Spiva's second stint with the team are wonderful. He's like having a second Rowan McDonnell to win one-on-one matchups downfield and put up beautiful deep throws. It would not surprise me at all to see them win the tournament tomorrow.
South Central in Need of a Tune-Up
A couple of South Central teams with lofty ambitions got off to a poor start today. Doublewide and Johnny Bravo both gave up double game point losses to the teams seeded directly below them (Rhino Slam! and Condors, respectively) in their pools, and they both got waxed by the top seeds. They're still alive tonight thanks in part to the foreshortened prequarters round, but the day did not go as planned, to say the least.
More troubling than the losses are the fact that neither team looks particularly good yet. Johnny Bravo had a bad time executing throws today. The hammers and blades that are a hallmark of their game need to be on target to be effective. And it seemed that as those throws grew less reliable over the day, some of the throwers, particularly new O-line addition Jonathan Nethercutt, turned to them more often. Their resets let them down, too, and the defense struggled — and ultimately failed — to stop the very athletic offenses of PoNY and Condors, as well as the cagey reset game of Rhino Slam!, albeit in a currently incomplete prequarter.
Doublewide, if anything, looked worse. Kaplan Maurer made some nice plays on defense, and Abe Coffin was reliably brilliant on offense, but the team are still working out some kinks. The O-line forced too many low-percentage throws, many of which weren't even endzone looks. The D-line get the disc often enough, but they haven't been executing cuts and clears very well — or throws, for that matter. And Jay Froude, who should be one of the most captivating players at the tournament, was a complete non-factor in their big loss this afternoon against Truck Stop. Doublewide have a narrow lead on Condors in pre-quarters, but it's still early. They must improve quickly if they plan to make another good run at Nationals this year.
Where's Machine?
Chicago Machine finished a distant third in their pool today, as Revolver calmly held out against them and Chain Lightning gave them what for. It wasn't a shock to see them lose the games considering they were bound to miss some players. What was shocking was just how many players were absent: Machine managed to field just thirteen players today. I think. I mean, I counted ten different times. And I'm sure they were the same thirteen every time. Or did their tethered shadow-selves rise up from an endless network of corridors in the bowels of the Rocky Mountains to replace them halfway through the day? Suspiciously, they wear red.
As a consequence of their diminished presence, they ran a lot of zone on defense, and took a lot of deep shots on offense. Johnny Bansfield was pretty good today; Nate Goff was pretty good today; Keegan North was pretty good today. But, as their results will attest, it's hard to win games in a weekend-tournament format with such low numbers. Are reinforcements coming?