Injury recovery may be a personal process, but teammates can help ease the burden.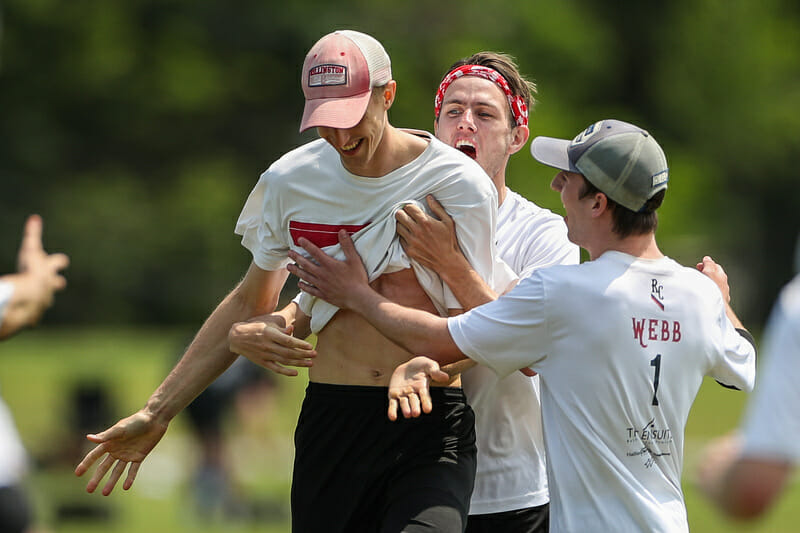 Tuesday Tips are presented by Spin Ultimate; all opinions are those of the author. Please support the brands that make Ultiworld possible and shop at Spin Ultimate! 
In December 2018, I joined a club I never wanted to be a part of — the ACL club. During a totally optional Saturday night scrimmage, I jumped up to catch a well-placed hammer and when I landed, my knee buckled underneath me in an unnatural way. It wasn't remarkably painful, but I knew something was wrong. About a month later an MRI confirmed that I had fully torn my ACL.
Receiving a diagnosis like this is traumatic. When the recovery timeline is complicated, the treatment plan has many options, and the outcome is completely uncertain, it is difficult to not feel suffocated by the weight of it. Upon hearing the words "torn ACL," I realized that my knee, now and for the rest of my life, was changed. In that fleeting moment of a Saturday scrimmage, I had fundamentally altered my body. It was at this time that I needed my teammates more than I had ever needed them on the field.
Dealing with a major injury is a personal process — the mixture of feelings experienced is complicated and different for everyone. Ultimately, no one can do the recovery work for you, but having an effective support system can make a world of difference. Having been on the receiving side of a community of support for seven months, here is my advice on how to make your injured teammate's burden a little lighter on their journey back to the field.
1. Help them gain perspective, but don't say "at least…"
Gaining perspective is about taking an inventory of your life and realizing what is important, what is not, and how there are countless ways to find happiness and hope. It is not something that can be rushed or forced, but rather a process that everyone works through differently. When you're deeply sad about something significant, having someone minimize it by saying "at least it's not this much more horrible thing", can feel demoralizing and like you're the only one who understands the significance of the injury. Instead, remind them of the positive things in their life and be a source of joy.
2. Just listen.
Sometimes the most therapeutic and cathartic thing to do when injured is whine. It's not the most elegant or dignified way to handle a bad situation, but when you're faced with a major injury and a long recovery, it's important to be honest and open about your frustrations and feelings. Having someone to do this with, who will listen without judgement and validate your feelings, can be incredibly gratifying. There's a balance of course, as no one should spend all their time focusing on the negative, but once in a while, vocalizing grief is just what the doctor ordered.
3. Keep checking in, even when you feel like you've already checked in enough.
The longer someone is injured, the more "normal" it becomes. It's easy to become accustomed to someone being on the sideline, on crutches, or absent. But for the individual who is hurt, it is difficult to be on the outside looking in no matter how long you've been injured. So many people reach out when they first hear of an injury but very few continue to check in throughout the weeks and months that follow. Nothing feels better when you're working through a hard phase in physio, or you're down in the dumps, than to get a message from a friend asking how you are.
4. Focus on the journey and celebrate the milestones.
As a concerned teammate and friend, it's easy to focus on the end goal and ask the burning question "when will you play again?". But when you're faced with a major injury and a complicated road back, answering that question — or not being able to answer it — can be painful and frustrating. Instead, ask them about their progress and get excited about each step in the right direction. Every week there will be new little victories, and it's important to identify and celebrate each one as a stepping stone on the road to recovery.
5. Keep telling them that they will get back to their pre-injury self and help them use the time wisely.
Remind them that they are not defined by what they can or can't do, but rather by their perseverance in the face of adversity and setbacks. Tell them how they will contribute to the team when they're back and how they will be an effective player again. Do things to help them improve while they are away from the game, whether it's watch film, discuss strategies, and find skills you can safely practice.
—
The most important part of supporting an injured teammate is just being there. Being physically and emotionally present so they know they are not alone is the best thing you can do for someone you care about. Be patient, be kind, and work with them to overcome this challenge so that together the journey seems a little less daunting, the milestones seem a little sweeter, and the successes are so much greater.
—
Special thanks to Amanda Ring, Breagh Wallebeck, Emily Lamoureux, Gavin Gray, Kyle Chapman, and Sara Sparavalo for their assistance in writing this piece.