The 2017 national champs look primed for another run and Colorado teams continue to enjoy a nice home-field advantage in Aurora.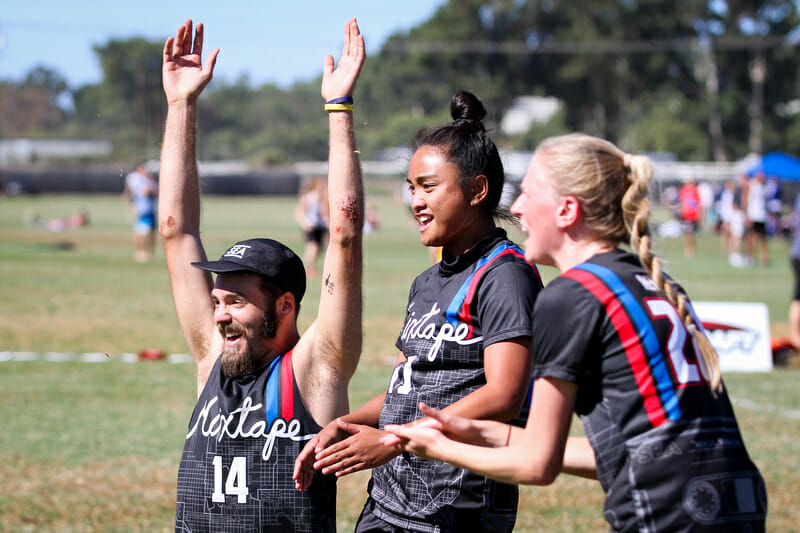 Ultiworld's reporting on the Club Mixed division is presented by Universe Point cleats. All opinions are those of the authors. Please support the brands that make Ultiworld possible and shop at Universe Point!
AURORA, CO – #2 Seattle Mixtape led wire-to-wire in their final with #10 Denver Love Tractor to kick off the Triple Crown Tour with a win at the Pro Elite Challenge. In a pool play rematch, Mixtape came out firing and never let up, taking half 7-4 before eventually winning 13-9. While the Pro Elite Challenge is still clearly an early-season tournament, Mixtape and Love Tractor look like they are in midseason form already, and that's bad news for the rest of the division. Here's how it all unfolded.
Seattle Mixtape As Strong As Ever
With so many retirements and relocations, you'd be forgiven for lowering expectations for Mixtape. They lost stars and depth all at once, and outside observers were left wondering if the team would approach the heights of the previous generation. After their thorough victory in Colorado, the early answer is an emphatic "Yes."
Mixtape kicked off the final with two straight breaks, the second of which came from the tenacious handler defense of Henry Phan. Phan drew the Jack McShane matchup for most of the final, and he looks like his year off from the club scene has not dulled his instincts. McShane needed to work for every reset, and Phan's pressure produced immediate dividends. With the wind picking up and the easy reset pass no longer available, Mixtape took advantage of an errant swing to break on a short field.
Love Tractor's offense got back on track the next point, using a deep vertical stack to stretch Mixtape's defenders and open up space underneath for McShane and Dena Slattery to get the offense moving before a hold to relieve the pressure. Both teams settled into a string of holds before Mixtape reverted to some jaw-dropping displays of athleticism. Jen Cogburn helped to celebrate her return to Mixtape with a huge grab on a Khalif El-Salaam huck to put Mixtape up 5-2, and Seattle hardly looked back from there. A few offensive miscues helped Love Tractor close the gap to 5-4, but a quick hold on a 60-yard flick from Adam Simon to Zach Sabin, followed by El-Salaam elevating over Jesse Roehm to finish off a break chance, closed out the first half in Mixtape's favor.
Mixtape stayed aggressive on offense in the second half, though a few deep miscues let Love Tractor close to the gap to 7-6. That was as close as it would get, though. Despite turning over nearly half the roster and working on a variety of different offensive looks, Mixtape pulled away for a 13-9 victory over a Love Tractor squad focused on refining their system.
"A big goal coming into this tournament was developing chemistry, because there are a lot of us here that had never played together before," said captain Ari Lozano after the final. The change from Saturday to Sunday was easy to see. In the first matchup against Love Tractor, newcomers Kieran Kelly and Bryson Fox still looked out of sync with their new teammates on offense. Ellen Goldberg was Mixtape's most consistent cutter throughout the weekend, and she provided the offensive continuity when movement stagnated downfield. In the rematch, the Seattle cutters and handlers were much more synchronized. Love Tractor had a much tougher time generating blocks on Sunday, and it's clear that Mixtape worked out a winning formula earlier than the rest of the field in Colorado.
"All in all, I'm really impressed with the energy that the team brought all weekend," said Lozano. That energy helped carry Mixtape through some rough patches on Saturday, but Sunday they had the cohesion to match. The ceiling is as high as ever, especially when Mixtape adds youth standout Abby Hecko and former Defensive Player of the Year Evan Klein to the mix. With as well as they played in Denver, it's scary to think that this team hasn't hit their full potential yet.
Love Tractor Run It Back
Considering the Pro Elite Challenge is the Nationals-level opener to the club regular season, the seeding coming into the tournament looked a bit odd. A team's 2018 Club Nationals finish took priority over last season's rankings or any other context, so Love Tractor — last year's Pro Elite champion and traditional overachiever when playing at home in elevation — came into the weekend underseeded at the bottom of a pool, thanks to a lack of bids for the South Central last year and a Regionals upset at the hands of  shame. But Denver proved they still belong among the division's best, taking down powerhouses Seattle BFG, San Francisco Blackbird, and Boston Slow White in consecutive games to make it to the final.
The Love Tractor offense looked better than ever. Dena Slattery seems like the exact player they needed to take the pressure off of Jack McShane. The two rotated in and out of the handler set at will, sometimes initiating the offense out of the back of the stack, or stepping out for a breakside reset from the front of the stack. With athletic cutters like Heather Kraft and Jesse Roehm driving for big gains as continuation cutters, and McShane and Slattery firing pinpoint 30-yard swings across the field to change the angle of attack, this offense was humming most of the weekend. There were still some early season kinks to work out, and more than a few high stall count swings over the stack. However, expect this team to keep the South Central in contention for multiple bids.
Even in their run to the final, Love Tractor certainly found themselves pushed to the brink. Blackbird pushed the Denver squad to double-game point, and managed to generate a turn on the Love Tractor offense after some impressive downfield defense shut down any movement. A block from McShane in the middle of the field on Mac Taylor earned it right back for Love Tractor, and they leaned on their system once again to ice the game with patient swings. If teams let Love Tractor get into their reset rhythm, they will wear teams down and never give defenses a shot at a block. With Roehm and McShane's connection, Love Tractor can spring a huck play at any moment when their lateral movement is disrupted.
Make no mistake, Love Tractor played like one of the best teams in the country. Even if the South Central gets stuck with only one bid again, Love Tractor are the odds on favorites to make it to San Diego. If they get there, expect them to hang with the best.
Contenders Still Finding Their Rhythm
#7 Minneapolis Drag'n Thrust spent most of the weekend trying different combinations of players in a variety of roles. While other teams looked like they had established set lines for offense and defense, Drag'n Thrust switched their lines for every game. Even in seemingly must-win games and points, the Minneapolis team stuck with a philosophy of playing for the postseason. While the results didn't quite work in their favor in Colorado — losing in quarters to Slow White — expect tighter rotations at the US Open when they face off against more of the top mixed teams. Caleb Denecour was a standout cutting threat throughout the weekend, and Becca Ludford's speed opened up acres of space for Drag'n Thrust's handlers to exploit. This team's ceiling is clearly high, they just need to put the pieces in the right spots.
#5 San Francisco Blackbird came into the weekend with high expectations, and certainly lived up to them on Saturday, cruising through three pool play games. However, Sunday brought a string of three straight one-point losses. While new pickup Lucas Dallman was missing for this tournament, Blackbird still brought a tight core of players to Colorado, led by Malina Wiebe and Mac Taylor. They provided plenty of firepower, but seemed plagued by execution errors on Sunday. Chalk it up to this being the team's first tournament of the year together, but for a team with relatively little turnover, it's a worrying sign. Expect this team to bounce back at the US Open, but they'll need to be at the top of their game to make a deep run against some strong opposition.
#3 Boston Slow White rode their depth to an impressive third place finish, taking out Drag'n Thrust and Fort Collins shame. en route. Despite missing their U24 stars, this is still a team boasting impressive talent, and recovered well from a tough first game on Saturday. Brett Tan made his mark immediately with tenacious defense and cutting speed for the D-line offense on a turn. Orion Cable had an impressive performance on the weekend, using his height to dominate in the end zone while also taking advantage of easy unders to throw several inch-perfect hucks of his own. When Ari Nelson, Renata Pepi, and Tannor Johnson return from U24 duties, this team has the depth to create problems for every other team in the mixed division.
#9 Fort Collins shame. continued to play a deep look focused offense, and with Owen Westbrook taking over at the heart of the offense, this team looks to be significantly stronger than last season despite the loss of All-Club talent Jake Juszak. Aubree Dietrich, Jade McLaughlin, and Zackary Fleming provided plenty of targets for Westbrook and Nick Lance to attack deep. Willing to take shots downfield immediately and force opposing teams to work for their yards, the shame. strategy paid off handsomely in pool play and throughout the bracket. While ultimately coming up short in the semifinals and the third place game, the deep threats and big throwers will keep shame. competitive throughout the year, and should put the South Central in strong position for two bids this year after falling short in 2018.
Final Quick Hits
It was extremely hot out this year. With the temperature pushing 100F on Saturday, it seemed like USAU waited a bit too long to mandate heat-related breaks. They did not start happening until the 4:00PM round on Saturday, just in time for the inevitable lightning delay that strikes every year in Colorado. Thankfully, the Aurora Sports Park kept teams on the grass instead of artificial turf, but heatstroke was a genuine threat.
Teams generally struggled again to keep hucks and pulls inbounds. The Colorado altitude effect continues to wreak havoc with low-elevation team deep games. More than a few hucks sailed out the back of the end zone thanks to the thin air. While teams had adjusted somewhat by Sunday, it was clear that Love Tractor and shame. still enjoyed some home-field advantage. Don't expect this to change unless USAU alters the schedule and moves the season kickoff to a different location.
Players of the Tournament
Dena Slattery (Love Tractor)
Tommy Li (Seattle BFG)
Ellen Goldberg (Seattle Mixtape)
Caleb Denecour (Minneapolis Drag'n Thrust)
Lexi Zalk (San Francisco Mischief)
Orion Cable (Boston Slow White)
Malina Wiebe (San Francisco Blackbird)
Owen Westbrook (Fort Collins shame.)