All three top seeds won in Columbus, but the weekend wasn't without intrigue and upsets.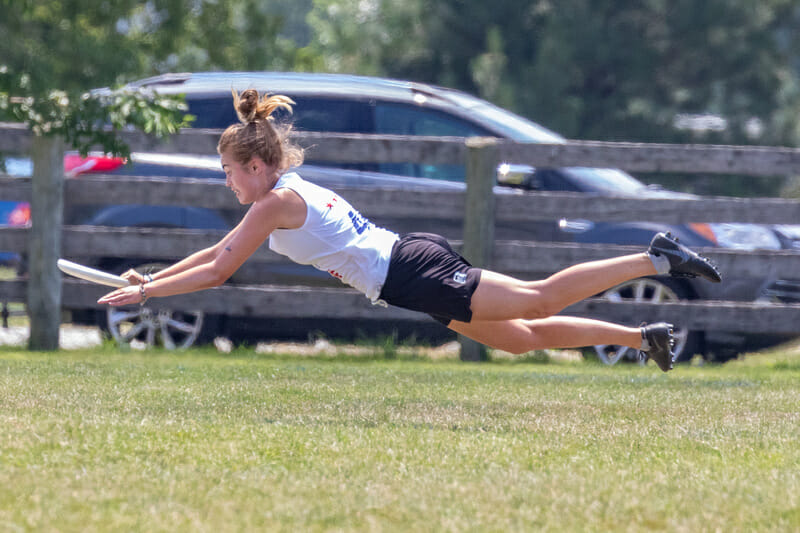 During the 2019 summer and fall season, we will publish a bite-sized weekly recap of the action across the Club Division. This will serve as a supplement to our standard tournament reporting and will offer a high-level look at the latest happenings and the biggest stories of the week. We go through the annals of score reporter so you don't have to!
Want your tournament listed here? Submit a recap of what happened right here. 
—
This past weekend, a few scattered tournaments fought bravely against the all-consuming tide of Wildwood for recognition and attendance, and they didn't disappoint. The Triple Crown Tour Select Flight Invite East pulled a talented batch of teams hoping to play their way into bid contention.  A few classic tournaments rounded out the weekend, giving us just enough to read about before the U.S. Open kicks off this weekend.
Women's Division
Favorites Dominate at Select Flight Invite East
The women's division of Select Flight Invite East started off with #9 Columbus Rival, #15 Seattle Underground, #19 Boston Siege, and #22 Minneapolis Pop maintaining their top seeds Saturday, winning all their pool play games and advancing easily to quarters. But lower in the pools, we saw some notable seed shake-ups. Colorado Small Batch won a double game point over Ottawa Stella, continuing their upward momentum from the recent Pro Elite Challenge. Salt Lake City Elevate, coming in as the 15-seed, beat out Madison Heist and Bay Area FAB to take second in their pool.
It took until the second day to fully appreciate Rival's dominance at the Select Flight. Though Rival marched through their pool play games with significant wins, the margins by which they took their early bracket games were shocking — beating #21 New York Bent by ten and Pop by five. On the other side of the bracket, Underground kept their winning streak rolling. Their closest game of the tournament turned out to be an unlikely semis against #25 Virginia Rebellion. In case you've been sleeping on the south, this is your final warning: Virginia Rebellion is dangerous this year. Hana Choi and Lisa Dang run an organized offense, and athletic deep cutters Allie Wallace and Hannah Elledge made a habit of huge yardage gains for the team. The team from Richmond showed up for the second day, with significant wins against established programs Small Batch and Siege to make it to semis.
In the end, the top two seeds met in final. The game was defined by explosive and strategic defense, with Rival's Iris Javersak stacking the stats sheet with well-timed blocks while Underground tried to fluster their fast-paced opponent with zone defense. Down a couple at the hard cap after trading for much of the game, Underground had the chance to convert to make it double game point, but Rival regained possession and worked it patiently in the end zone. A throw from Caitlin Harley to Stephanie Miller sealed the close game, 12-10, and gave Rival the tournament title.
Read our full tournament recap here.
Quick hits:
A three-team round robin in Santa Barabara, CA, called the Friend Zone, finished with each team going 1-1, with Los Angeles Viva nominally winning over Bay Area Tempo and Bay Area Ultraviolet on point differential.
Men's Division
Canadians Impress at SFI
A top-heavy men's bracket at the Select Flight Invite East meant that pool play Saturday went mostly to seed, apart from some lackluster performances from middle-seeded teams. #8 Vancouver Furious George and #9 Toronto GOAT easily avoided close games to each win their pools 3-0. #21 Pittsburgh Temper also showed signs of early dominance, never giving a pool play competitor the chance to reach double digits, but they struggled to perform on the second day, losing on double game point to #20 Winnipeg General Strike in quarters. #18 Cleveland Smokestack surprised for the second tournament in a row, winning all their Pool D games and putting together a solid application as "The Team To Watch This Season." They continued to perform the bracket, falling to Furious George 13-7 in semis and beating a very solid looking Winnipeg squad in the 3rd place game.
The final saw two Canadian rivals pit East Coast against West Coast. Toronto ran through their side of the bracket, untested in the early stages of the championship day. Add a 13-2 win in quarters against #24 Dallas Nitro and a 13-7 win in the semis against General Strike to an easily undefeated pool play round, and it's easy to assume that GOAT found their first true taste of pressure in their final against Vancouver. Furious George had to make up more ground: though they won their pool play games with sound margins, they repetitively had close first halves followed by stepping up to convert on defense, led by defensive stand-out Peter Yu. Playing closer games came in handy; in the windy final, Furious George took the first combination of upwind and downwind breaks and went on a tear from there. In the end, Vancouver's Morgan Hibbert threw an assist to Patrick Church for a comfortable 13-7 victory.
Quick Hits
San Diego Streetgang has been working on righting the ship after early-season disappointment, it seems. At the Angel City Shoot Out they crushed Los Angeles DOGGPOUND and muscled out a double game point win against Santa Barbara Sundowners to win the round robin.
At PB&J in Bryan, Texas, #25 Houston H.I.P. returned from their hiatus with an undefeated weekend and a dominant run through the bracket. Their closest competition was from Austin Riverside, who met them once in pool play and once in final.
Mixed Division
Parity Reigns for Mixed Division in Columbus
The mixed division of the Select Flight Invite East showed early signs of confounding all expectations. On Saturday, only one of the pools followed seed, while the others made the seeding chart look like it'd been decided by a team of tournament directors throwing darts at a list of Select Flight team names. Ann Arbor Hybrid shocked Pool D by coming out on top despite their no.16 seed: they put up comfortable wins against #23 Pittsburgh Alloy, Ames Chad Larson Experience, and San Francisco American Barbecue to launch themselves into the quarters. In Pool A, a similar upset was underway: #25 St. Louis Chalice, seeded at no.12, lost to #24 Charlotte Storm but beat Minneapolis Bird and top seed #13 Columbus Cocktails to come out top of the pool on point differential.
The second day continued to shock and confuse. #14 Boston Wild Card dropped in quarters when Alloy managed to break on double game point. Saturday's golden child, Hybrid, fell out of the running in the same round, but Chalice kept their unexpected winning streak alive. An easy quarters win against Omaha Woodwork followed by a double game point win over Cincinnati Steamboat sent the no.12 seed into the final against a team they had already beaten in pool play. Cocktails took an early lead, scoring three breaks in the first four points. The Ohio team maintained their lead through the first half, but Chalice managed something of a comeback in the second half. They whittled away at the Cocktails' lead and brought the game to 12-11 before Cocktails punched in the final point and took home the title.
Quick hits:
The mixed division of PB&J mostly went to seed, with Austin Waterloo topping crosstown rivals Austin Moontower in a decisive 15-10 win in the final.
Looking Ahead
This may be the biggest weekend in the regular club season: the US Open is happening in Blaine, Minnesota, and all the top tier Pro and Elite teams are either going or wishing they'd been invited. International competition adds to the unpredictability and excitement, with teams traveling from Asia, Europe, and South America to participate. The women's division showcases the worlds highest talent, with U.S. superstars #1 Boston Brute Squad, #2 San Francisco Fury, #3 Seattle Riot, #4 Washington DC Scandal, and #5 Denver Molly Brown seeing international challenges from Aichi UNO (Japan) and Medellin Revolution (Colombia). The Mixed Division brings together all of last year's club semi-finalists — #1 Philadelphia AMP, #2 Seattle Mixtape, #5 Boston Snake Country, and #6 Washington DC Space Heater — and welcoming a solid international threat from 2015 US Open champs Melbourne Ellipsis (Australia). And the men's division is deep with powerful teams, with #1 Seattle Sockeye, #2 Washington DC Truck Stop, #3 New York PoNY, and #4 San Francisco Revolver at the top of the pools and serious contenders Tokyo Buzz Bullets and Tokyo Nomadic Tribe showing up to represent Japan.
Also out in Blaine, the Youth Club Championship will also be showcasing young talent from across the country, with competition across five gender and age divisions: U20 Boys, U20 Girls, U20 Mixed, U17 Boys, and U17 Girls.
Elsewhere: