Classic and Select flight teams wind down their summers and turn their attention to the rapidly approaching Series.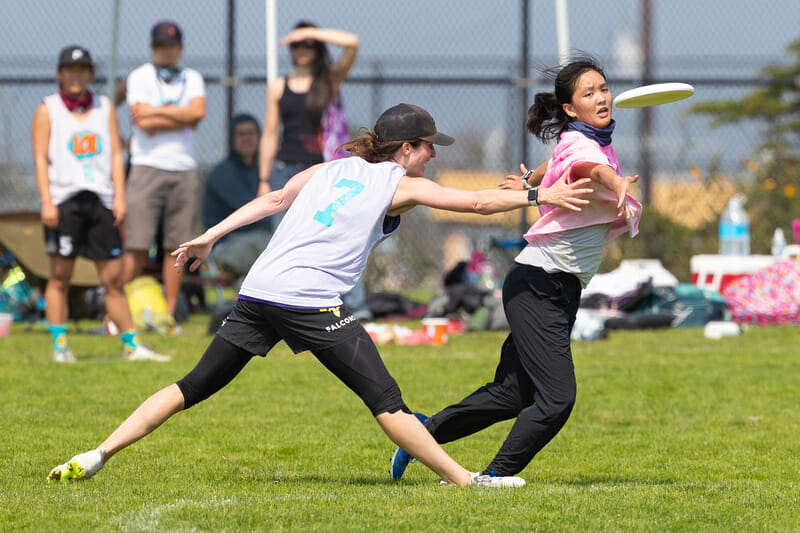 During the 2021 summer and fall season, we will publish a bite-sized weekly recap of the action across the Club Division. This will serve as a supplement to our standard tournament reporting and will offer a high-level look at the latest happenings and the biggest stories of the week. We go through the annals of score reporter so you don't have to!
Want your tournament listed here? Submit a recap of what happened right here. 
—
It was a quiet weekend in the club division, with just a few small regional events scattered across the country as most teams have already wrapped up their regular season and look toward the Series. Here's a rundown of the action that did take place.
Women's Division
At the Wilson Invite in San Francisco, #16 Oakland LOL kicked off their season by hosting a round-robin against a trio of California teams. While the Oakland squad managed victories over the two actual club teams they faced in Los Angeles Rampage and San Francisco FAB, they went 0-2 against 4ks for Friends, a pickup team put together specifically for this event combining a core of players from the 2019 college champs at UCSD with some friends from the Bay Area. Thankfully for Nationals-hopeful LOL, 4ks for Friends won't be participating in the Series, though several of the San Diego players will be suiting up with Wildfire and could line up across the field again in bracket play at Regionals. Rampage finished third at the event, scoring an 11-4 victory against FAB, who finished with no wins but lessons to learn from.
In the Nashville Monkey Bowl tournament, Atlanta Ozone wasn't monkeying around at all; in fact, they went undefeated in their season debut, though a list of scores — or even opponents — has been hard to come by. They took down Cincinnati Sureshot in the semis, who flashed their new team jerseys, yet their new shine wasn't enough to help them over the longtime Southeast powerhouse. The tournament win is a good omen for an Atlanta team that is still ramping up, but they could find themselves in a scrap for the second bid out of the region if they want to keep Ozone's 30+ year Nationals streak alive.
Albany Rebel Rebel were on cruise control at The Incident in the Bronx, giving up just ten goals all weekend across five games. Runner up Cambridge Versa managed a 3-0 record on Saturday, before losing twice to Rebel Rebel on Sunday, first in the last round of pool play and then in the tournament final.
Men's Division
#24 Tennessee Tanasi apparently enjoyed the friendly confines of their home state at Monkey Bowl, doing the double over Cincinnati Omen in Nashville, winning 13-8 in pool play before a 13-5 victory over the Great Lakes squad in the final. The tournament title completes a strong regular season for Tanasi which also included a runner-up spot at SFI East, but will it be enough to challenge the top dogs at Southeast Regionals? Arkansas Dreadnought won the men's lower division at Monkey Bowl.
Garden State Ultimate came out on top of the pile at The Incident, though their undefeated run through the round-robin was more about escape than domination. In their four victories, they managed two wins by just a single goal, one with a two-goal margin, and a final round four-point victory. Brooklyn Blueprint was the only other competitor to earn three victories in four rounds, good enough for second place. Both will hope the winning reps position them well for a run to meaningful Sunday games at Regionals.
While they may not be the Nationals threat they once were, San Diego Streetgang are still strong enough to fight their way to a tournament title at Angel City Shoot-Out, upsetting top-seed Santa Barbara Sundowners 7-3 in a low-scoring final round in Santa Clarita.
Mixed Division
After a quick cameo in the Top 25 in mid-August, Huntsville Space Force made a case for working their way back in with a second straight tournament victory, winning the mixed division at Monkey Bowl. The midday heat couldn't deter the squad from Alabama, who will enter the Series hoping to carry their momentum forward in the one-bid Southeast.
Day one of The Incident tournament caught some air from heavy winds which affected some play, but Northeast teams are used to it, aren't they? #15 New York XIST notched four Saturday wins during their lone day of competition in the Bronx — though with closer margins of victory than perhaps was expected, given the opposition — but did not participate on Sunday. That allowed Pool B winner Hudson Valley Funk to emerge as tournament champs. The Philly Open bronze medalists knocked off Long Island FLI and Brooklyn Eat Lightning in an all-Empire-State bracket.
Another Virginia Mixed Round Robin, another new winner. Lynchburg Legion, Richmond Revival, and Charlottesville Spice have been going back and forth with each other all summer, splitting games at an early June round-robin in what was fittingly just a preview of what was to come. After Legion looked the strongest of the bunch at Richmond Cup, Revival picked up a tournament win at Philly Open. This time, it was Spice that came out on top, finishing the weekend 3-0 in Fluvanna, Virginia — though the largest margin of victory in games amongst this trio was just two goals. It will be fun to see how these three in-state rivals battle it out at Sectionals in a few weeks.
Heading into Chowdafest, Providence Golden Gavel were seeded sixth of six, yet they ended pool play at 4-1 including a one-point win over top-seeded Cambridge Lampshade. Unfortunately, the Rhode Islanders couldn't repeat the feat in the bracket at Seekonk, as Lampshade exacted revenge in the tournament final in another universe point game to claim the weekend win.
Looking Ahead
As has become tradition, only the TCT Pro Championships are on the calendar for the final weekend of the regular season. Small but strong fields in each division will head to Boulder with a chance to lay down a marker ahead of the Series.
Four of the top five women's teams in the country will be on hand in what could prove to be a credible preview of late Nationals bracket play in San Diego. This will be our first look at #2 Boston Brute Squad against national-level competition, but they'll have their hands full with #3 Portland Schwa, #4 Raleigh Phoenix, and #5 Denver Molly Brown.
Fans of the men's division may be hoping for a repeat of the US Open final between #1 Seattle Sockeye and #2 Chicago Machine, but those two will have to fight their way past five other top ten teams first, including former national champs #6 San Francisco Revolver and #7 New York PoNY.
In mixed, #3 Fort Collins shame. will be looking to make it two wins in two TCT tournaments this season, coming in as the top seed ahead of Seattle pair #2 Mixtape and #4 BFG. #8 Arizona Lawless and #13 Dallas Public Enemy will also be looking to prove their bonafides as legitimate championship contenders.