Top North American squads look to protect home turf and claim the first leg of the 2019 Triple Crown.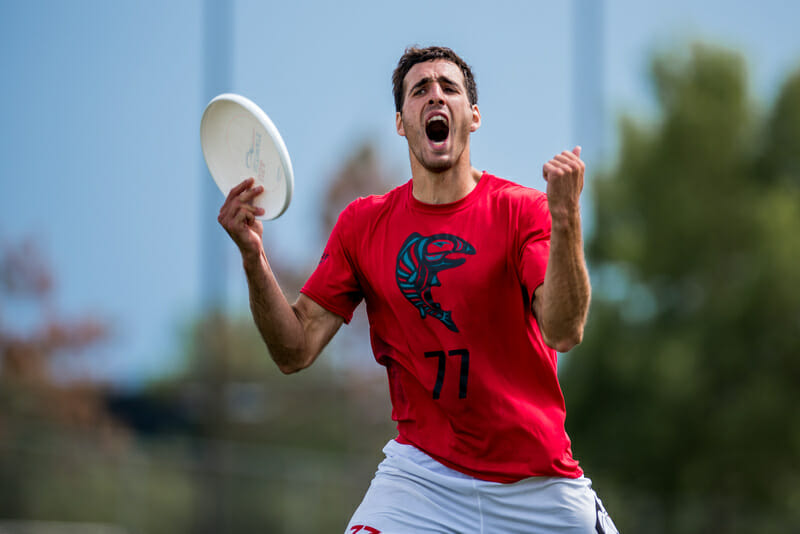 Ever since USA Ultimate moved the U.S. Open to August,1 it has become one of the premier annual events on the sport's calendar. The 2019 edition of the Open should provide exactly what fans have come to expect: intense competition from some of the top North American clubs and a complement of strong international teams. Although they have all approached the early stages of the season differently, most of the North American teams have already played in a competitive tournament this summer. The U.S. Open will be a chance for them to build on early success or correct initial missteps.
USAU has tweaked the format a little this time around. Rather than two days of round-robin play in pools of six, the top two finishers of which advance straight to semifinals, there are now four pools of three, each featuring two domestic clubs and one international. Every team in attendance will make the championship bracket, with the top finishers in each of the pools earning a bye through to quarters.
Tournament Profile
Date: August 2-4
Location: Blaine, MN2
Weather: Hot and sunny throughout the weekend, with a low percentage threat of thunderstorms in the afternoon Saturday and Sunday. Temps in the mid 80's.
Top 25 teams: 7


Sockeye, Truck Stop Look to Keep Rolling
#1 Seattle Sockeye enter the tournament as the top seed thanks to a strong performance at last month's Pro-Elite Challenge including a gritty double game point victory over #2 Washington DC Truck Stop. Seattle have been riding on a wave of relentless defensive pressure dating back to at least last year's National Championships, and so far this year the D-line's offense, led by Ben Snell, seems to have shifted into a new gear when it comes to converting turnovers into points.
On offense, Simon Montague has his pick of fleet-footed receivers to keep the pressure on opposing defenses: Jacob Janin, Trent Dillon, and Dylan Freechild are only the start. Sockeye welcome back college stars John Randolph and Xander Cuizon Tice from their recent gold medal at U24 Worlds in Heidelberg, adding even more speed to the unit. And will the U.S. Open be the tournament where we finally see the return of Camden Allison-Hall to elite ultimate?
Close on Sockeye's heels as the no.2 seed, Truck Stop were a point short (and, perhaps, an hour late3) of taking the Pro-Elite Championship. Four players, as well as coach Darryl Stanley, return from Germany to bolster an already impressive line-up. Nicky Spiva, who rejoined the team this year after a season-long sojourn with Philadelphia AMP in the mixed division, looks like one of the best throwers in the game and has made an immediate impact. He is joined by two more additions from the mixed division who will be making their 2019 club debuts, last year's DC Space Heater standouts Joe Freund and Ted Sither.
Truck Stop have already proved that they have the talent to beat anyone in the division. The trick will be to keep up the intensity over a long weekend and a long season while staying focused on all of the small things they did so well in the early going.
PoNY, Revolver Look to Leap
The 2018 Nationals finalists are both in action again this weekend after somewhat disappointing results in July, and both will be looking to take a big step forward.
#3 New York PoNY did not play like the best team in the country at Pro-Elite, or even come particularly close — they finished the tournament in seventh place. And, unlike in 2018, they had a full weekend of all-world duo Jimmy Mickle and Chris Kocher. Still, it was the early part of the season, and a strong showing in Blaine this weekend, even if they don't manage to defend their title, will render that early stumble virtually meaningless.
The good news for PoNY is that they have a lot of talent that has yet to take the field. Marques Brownlee and Grant Lindsley did not play at Pro-Elite, and Sam Little was playing limited minutes. All three should see significant minutes this weekend, which will both give the team more options to shift personnel on offense and defense and generally ease the pressure across the board.4 PoNY are probably, at worst, one of the best three or four teams in the division, and this weekend they will want to prove it.
2018 Nationals runner-up #4 San Francisco Revolver finished a ho-hum fifth place in Colorado, but the only game they lost was to a very strong, if mercurial, #7 Austin Doublewide side. They appeared not to be taking the results too seriously, however, win or lose, as they rotated through strings and got a lot of touches to their large contingent of rookies.
Expect them to ramp up the intensity for the U.S. Open as their season enters a new phase. Given the amount of roster turnover since last year, it's anyone's guess how they will call lines. Marcelo Sanchez, Nick Stuart, Cassidy Rasmussen, Eli Kerns — these are all players who could anchor Revolver's offense or a defense. Stuart and Ashlin Joye, absent from Pro-Elite, should rejoin the crew this weekend: welcome news for Revolver, not so much for their opponents.
Domestic Challengers Look to Defy Seeding
The lower four North American seeds bring their own brand of mystery to the table. #6 Raleigh Ring of Fire, the perennial Nationals semifinalists, have managed to sit out the season until now. Everyone will be watching to see them play offense without long-time backfield general Jonathan Nethercutt, but it's more a question of "how" rather than "whether" they'll be able to find success. Between Eric Taylor, Liam Searles-Bohs, Matt Gouchoe-Hanas, Dillon Lanier, and Allan Laviolette, they should have the chops to keep possession through a long march up the field. Meanwhile, 2018 POTY runner-up Jack Williams has dynamism to spare — he'll be a threat anywhere on the field. Perhaps as intriguing as the adaptations on offense is how Raleigh will use their younger players, whether placing new responsibilities on returners or beginning to blend rookies like UNC Wilmington's Connor Russell into the mix.
If Ring of Fire are making their debut at the U.S. Open, #5 Chicago Machine might as well be. They played Saturday of Pro-Elite with a roster of thirteen players.5 Missing from the action were Peter Graffy, Joe White, Von Alanguilan — how much better does a defense get with those three on the field? The absentees also included Kurt Gibson, one of the all-time greats, who still absorbs an enormous portion of touches on any team he plays for. Chicago performed well enough in Colorado despite their low numbers, particularly when Pawal Janas entered the fray on Sunday. Machine expect to contend for a title this season, and this weekend will give us our first real chance to judge whether that's a realistic prospect.
Sneaking in as the lowest seed in a pool with Revolver and Tokyo Buzz Bullets, hometown club #9 Minneapolis Sub Zero look to repeat a 2018 U.S. Open performance that included a thrilling and unexpected semifinal victory over Revolver. Another strong finish here isn't out of the question: Sub Zero passed the eye test at Pro-Elite, and they were the only team there to hang a loss on eventual tournament champions Sockeye.
Like so many other teams in Colorado, Sub Zero were not operating at full strength because of various other frisbee commitments. They should get a nice boost downfield on offense and defense with the additions of Nick Vogt and Cole Jurek. If the offense continues to play as well as they did in Colorado, Sub Zero could turn Pool C on its head.
The final U.S. club team in attendance are Huntsville Freaks, currently ranked 26th by Cody Mills' algorithm, significantly out of range of the other teams in attendance. Freaks have finished on the periphery of challenging to make Nationals out of the Southeast for a few years now, and they could make that task a lot easier on themselves by logging some strong results this weekend to increase the potential for a third bid in the region.
International Cohort Look to Upend American Hegemony
Of course, one of the best features of the U.S. Open is the rare opportunity it offers to watch non-North American teams in USAU action. Tokyo Buzz Bullets have been one of the most consistently outstanding international men's sides for years: their history includes a world club championship in 2006, and a third-place finish in 2010. With Masashi Kurono, Masahiro Matsuno, and Yohei Kichikawa leading an offense that would be unorthodox for an American team, Buzz Bullets are a handful on the field. They're good enough that, though unlikely, it wouldn't be a complete surprise to see their Bunka Shutter emblazoned jerseys on ESPN in the final on Sunday. Their countrymen, Nomadic Tribe, the self-proclaimed "most courageous ultimate team in the world," look to build on a strong sixth-place finish at last year's WUCC.
A pair of teams from Colombia, Bogotá's Comunidad el Oso and Makawua round out the field. Comunidad el Oso have won six national championships in Colombia, which is becoming one of the sport's hotbeds. While they probably won't be as competitive as their counterparts in the women's division, Medellín Revolution, it will be interesting for observers in both South and North America to measure their progress against a tough slate of US teams.
---