The tournament's top tier seems clear, but who will bring home the bids?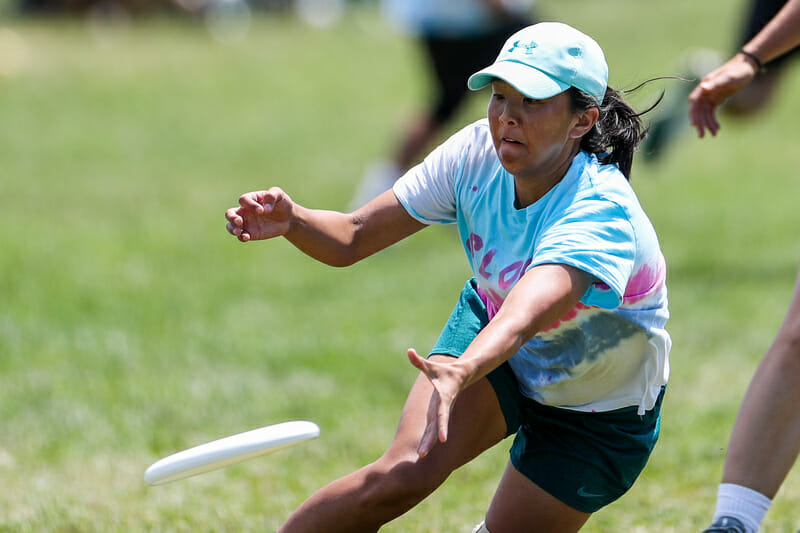 Ultiworld's reporting on the Club Mixed division is presented by Universe Point cleats. All opinions are those of the authors. Please support the brands that make Ultiworld possible and shop at Universe Point!
This year, the Elite-Select Challenge moves to Rockford, and pulls every Elite and Top Select mixed team from around the country. For many teams, this will be their first tournament action since June, and will also be one of the last tournaments to make an impact on the bid picture for their regions. With Top 10 squads Love Tractor, Slow White, and Mischief headlining the field, and many teams on the Nationals bubble filling out the pools, expect intense competition to make the path to San Diego a bit easier.
Tournament Profile
Date: August 17-18
Location: Rockford, Illinois
Weather: Temps in mid to low 80s. High humidity and chance of thunderstorms Saturday and Sunday.
Top 25 teams: 11


Bidwatch: Rockford Edition
The Elite-Select Challenge is a fun tournament precisely because there is so much on the line for each region. Based on rankings guru Cody Mills' projections, Rockford will have four teams within 50 ranking points of the final bid spot, currently held by #21 St. Louis Chalice. Chalice will be in action at the Cooler Classic in Wisconsin, and they'll need several big wins to keep ahead of the teams lurking just behind.
#17 San Francisco Polar Bears are the first team outside the bubble, and have a ton to gain for the Southwest. Polar Bears struggled earlier this year at the Pro-Elite Challenge, showing flashes of brilliance throughout the weekend, but failing to sustain their form. With two rematches in pool play against Boston Slow White and New Jersey Jughandle, we'll get an early chance to see what progress they've made since Colorado. A close game against Slow White could be enough to push them back into bid territory, adding more security to the always competitive Southwest region. With Margot Stert leading the way and looking close to top form again, Polar Bears are in a good position to make a run at the bracket. They'll need to clean up their offensive execution, as it looked like unforced turnovers caused most of their problems in Colorado. Hopefully that extra month of practice was put to good use.
#15 Minneapolis No Touching! are the next team up, sitting at #20 in the projected USAU rankings. They have a rematch with New York XIST, whom they own a double game point victory over at PEC, but will see Denver Love Tractor and Florida Weird for the first time. Given their tight result against XIST earlier in the year, they'll have their work cut out for them to push into bid territory, as Love Tractor came out firing at the Pro-Elite Challenge, and Weird has only two losses on the season as part of an improving Southeast region. That said, No Touching! proved that their unorthodox offensive style was still effective in Colorado, earning double game point losses to Mischief, Seattle BFG, and Columbus Cocktails. Graham Brayshaw is still one of the key cogs on this team, and with their traditional goaltimate warmups, No Touching! always seems to catch opponents off guard. If they can lure opponents into their kind of game, expect another strong run into the bracket.
#20 West Chester Loco sits just behind No Touching! in our rankings projections, and draw a tricky pool with San Francisco Mischief and Columbus Cocktails. A surprise bid earner last season for the Mid-Atlantic region, Loco were edged out in the game to go last year in a windy, rainy mess of a Regional championship. They've picked up right where they left off, winning the Philly Invite in July and playing #12 Toro and Cocktails close in June. This will be their first taste of top competition this year, but if previous experience is anything to go on, Loco have a great shot at emerging at the top of Pool C. Lindsay McKenna returns this year after a stint with the U24 Mixed U.S. National Team, and with Loco having an added year of club experience as a team, Mischief and Cocktails will have their work cut out for them to maintain their seeds in Rockford.
Pool D, as ever, looks like the toughest group at the Elite-Select Challenge, and #16 Boise Lochsa has some difficult matchups on the docket. With Durham Toro and #14 Wild Card as the top two seeds in the pool, Lochsa will need to channel their day two form from the Pro-Elite Challenge to make up ground in the rankings. As the sole representative from the Northwest traveling to Rockford, they have the opportunity to gain ground in the rankings as the rest of the region beats up on each other at the Northwest Fruit Bowl. Their handler corps of Ryan Van Hook and Sarah Staller keep their offense marching down the field with ease, and with an athletic defense, they can cause problems for the top seeds. A string of close results could push the Northwest back to a third bid, and for every point Lochsa score, they inch closer to doing just that.
The View from the Top
#4 Denver Love Tractor proved that last year's surge to the top was no fluke after their Pro-Elite Challenge performance, and a second consecutive Elite-Select Challenge victory would cement their place as one of the best teams in the nation. The combination of Jack McShane and Dena Slattery in the backfield is one of the best in the nation, and their willingness to branch away from their usual vertical offense keeps opposing defenses from locking down too easily. Both players are also more than capable of running the show solo, and Love Tractor now has the opportunity to keep their stars fresher down the stretch of close games with a more balanced attack. After proving last year that they could win at any altitude, Love Tractor's new challenge will be keeping focused on the bigger goal of locking up a bid for the South Central. At fourth in the projected rankings, they have room to workshop new ideas to prep for the postseason, and as long as they pick the right moments to ramp up their intensity, expect at least another final appearance at Rockford.
Love Tractor's biggest challenge will likely come from #5 Boston Slow White. The venerable Boston outfit emerged from Colorado with a third-place finish at the Pro-Elite Challenge, all while missing three major contributors to U24 duty. With Ari Nelson, Renata Pepi, and Tannor Johnson bolstering their lineup, Slow White has a great chance to solidify their place as a contender for the title. Their offense is adept at both stretching the field and grinding out longer points, and have an explosive defense which can turn the tide of a game in a matter of seconds. Re-integrating key pieces after a few months of players splitting time with the National Team can be a challenge, but Slow White proved they could play well without them. There may be a few disjointed points, followed by a reminder of why Slow White was one of our preseason favorites this year. A trip to the final is certainly in the cards, and a rematch from the Pro-Elite Challenge semifinals with Love Tractor would make for an excellent cap to the weekend.
The team with the best chance to break up a Love Tractor vs. Slow White clash would have to be #8 San Francisco Mischief. After a strong showing in Colorado, Mischief pushed Seattle Mixtape to double game point before a surprising win over defending champions Philadelphia AMP at the U.S. Open. Mischief continues to be a reliably top-tier team, posting marquee wins and highly competitive games throughout the season. With Gina Schumacher continuing to torch defenses with her downfield speed, and Cody Kirkland running the show from the handler set, Mischief have the talent and tournament experience to upset the top two, if they can make it out of a tricky pool.
Predictions
This year feels like the top teams are separating from the pack earlier than usual, and expect the Elite-Select Challenge to mirror that. Love Tractor and Slow White should pull away from the group before what feels like an inevitable clash in the final. With as much firepower as they have, it's tough to pick anyone but Slow White to bring home the win, though Love Tractor will give Boston all they can handle.
The consolation games are what could make or break the season for the rest of the field. With bids on the line, every point matters, and if teams that get bounced in the prequarters or quarterfinals can maintain their focus in the consolation rounds, they can still lock up bids for themselves and their regions. Since we love making predictions and being wrong about them, look for Loco to push the Mid-Atlantic into a third bid to Nationals, and Polar Bears to bounce back from their disappointing Pro-Elite Challenge to bump the Southwest back up to three bids. Either way, expect competitive games across the board, and some surprises outside the championship bracket!