Upsets on upsets! We dive in to the mixed madness from Elite-Select Challenge.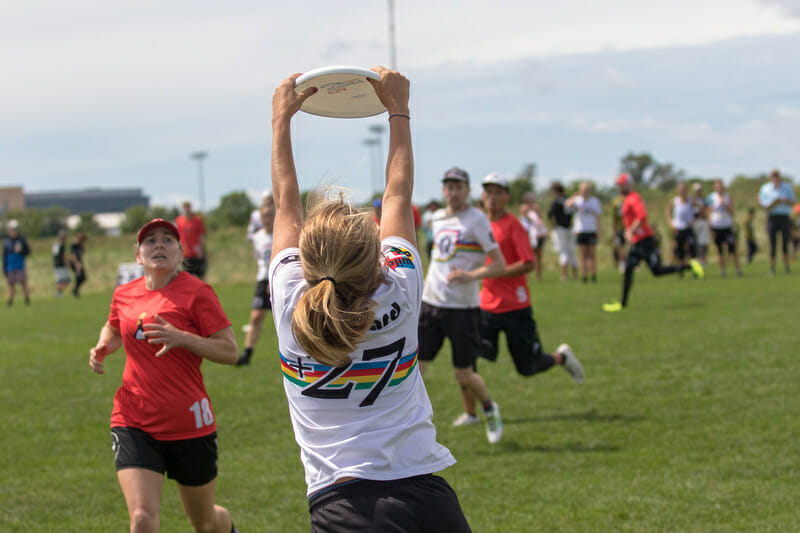 Ultiworld's reporting on the Club Mixed division is presented by Universe Point cleats. All opinions are those of the authors. Please support the brands that make Ultiworld possible and shop at Universe Point!
ROCKFORD, IL. – In wild Midwest fashion, Elite-Select Challenge served up a full menu of excitement, double game point matches, and upsets on the way to crowning a champion in the mixed division on Sunday. With some double-digit seeds breaking out and more than a few eyebrows raised at results, catch up on how it all shook out on the weather-impacted weekend.
An All-Boston Final
After winning their respective pools without a loss, two Boston teams found themselves battling through opposite sides of the bracket, only to match up in the final. #14 Boston Wild Card and #5 Boston Slow White had excellent weekends, but ultimately, it was Wild Card who came away with the Elite-Select Championship.
"We play Slow White what seems like 100 times per year, and we have a great relationship with them," said Wild Card's Eva Petzinger. "It's pretty fun to have a final where we can see the city coming to Chicago and doing well."
Wild Card started off the game with the disc, and quickly turned it over. After the centering pass, they looked to reset the disc, and the dump pass went into the ground. Slow White picked it up and broke to take the first goal of the game. The early turnover was representative of Wild Card's struggles throughout the first portion of the game. Smothering defense from Slow White greeted them on the next point. Amy Stoddard got Slow White the disc in great position with a layout block on an in-cut, but Slow White failed to convert the break.
Despite many turnovers from Wild Card throughout their first few possessions, Slow White was unable to notch another break. A game marred by high wind made for ugly offensive showings for each team. With multiple turnovers from each team on nearly every point, Wild Card earned back the break that they gave up on the first point of the game, to reclaim the lead at 3-2.
"Coming into a final, your energy is way up, and we just had to remember that we know how to play ultimate and run a system that can work up the field," said Petzinger.
After regaining the lead, Wild Card remained in control. The game continued at a sluggish pace, filled with turnovers. Wild Card was able to notch another break, taking a 5-3 lead, and rolled into half with that two point lead, taking half 7-5 over Slow White, just moments before soft cap went off.
To start the second half, the back and forth points continued. Slow White and Wild Card traded holds, as both teams gave up the disc on their initial possessions, but got it back and were able to score. Leading 8-6, Wild Card notched another break, extending the lead to three, and putting Slow White away. Slow White fought back, notching a goal and a break, but it was too late, as Slow White broke to make the score 9-8 just seconds after the hard cap horn sounded.
A Better Look at the Bid Picture
As we roll past the middle of the season, and prep for the final weeks to come, the bid picture has come into sharper focus. Elite-Select resulted in some movement from lots of teams across the country. Boston Wild Card flew up the rankings, and now sit at fourth in the country, per the projections of frisbee-rankings.com.
Overall, the Northeast region is in a great position, holding onto three bids between Boston Wild Card, Slow White, and Snake Country. Wild Card and Slow White are both within the top six and seem set to hold onto their bids. Snake Country finds themselves at 12th, but ahead of the bid cutoff line in terms of ranking points.
Despite the dominance of the Northeast, it was the Southeast that made the biggest gains throughout the weekend. At ESC, both Toro and Weird had great weekends, making semis before falling to the Boston squads. Toro moved up two spaces to be ranked ninth in the country, while Weird's weekend leaped them to the 16th spot, holding on to the nation's final strength bid, and the third bid for the Southeast. They are joined in the top 16 by Atlanta's Bucket, who are now bolstered by a one point loss to Boston Wild Card, and a 12-7 win over a surging Steamboat team.
As the Southeast rose, the South Central plummeted, due in large part to a poor performance from Love Tractor. The no. 1 seed struggled on the weekend, opening with a 14-7 loss to Weird, and taking additional losses against XIST, NOISE, and Toro. Even their wins — 13-12 against No Touching and 10-9 against XIST — aren't particularly impressive. Love Tractor now finds themselves at 17th in the country, just a handdful of points behind Weird, and the South Central finds themselves on the outside looking in with just the lone automatic bid.
Lower Seeds Surprise
#18 Florida Weird has to come out as one of the major stories of the tournament. Coming into the tournament seeded no. 12, in a pool which featured no. 1 Love Tractor and no. 8 No Touching, there were slim expectations for the Southeast team. They came out and shattered any expectations immediately, knocking off Love Tractor with a 14-7 win. Throughout the weekend, Weird was a fast team, utilizing the break side to great effectiveness, and not showing any fear of taking the deep shot. They played a loose, fun, excitable brand of ultimate, and rode a wave of energy all the way to the semifinals before being taken down by Wild Card.
"We have a tendency to come out a little slow and we made that a priority in our game against Love Tractor," said Weird captain Jaime Estes. "That got us super pumped because it's almost like a feeling that you've got nothing to lose, so we put everything on the line. There was just a whole different energy, our blood was pumping, and that just made the whole day so much better."
Similarly, #20 West Chester Loco came out with loads of energy. The no. 10 for the tournament, they found themselves matched up with the no. 3, Mischief to start, and notched an early 13-10 upset win. A strong surge of energy early launched them ahead, gaining a 9-4 lead that they held onto as Mischief made a comeback run late. Loco found themselves in a quarterfinal matchup with Toro, who finished second in Pool D, and they were unable to keep up, losing 12-6.
#16 Boise Lochsa had an impressive showing as well. A fast and energetic group, Lochsa was able to catch opponents sleeping and take advantage. In their quarterfinal matchup with Slow White, Lochsa was able to go blow-for-blow with the finalist before losing 9-8. Lochsa also matched up with Wild Card in pool play, falling on double game point in another back and forth match. Lochsa was just a few execution errors away from winning both of those games, and turning a good weekend into a great weekend.
Love Tractor's Engine Combusts
From out of the gate on Saturday, things started out rough for #4 Denver Love Tractor, with low energy and frustration building on top of each other for a team expected to perform well. A 14-7 drubbing by Weird began the downturn, though they improved their performance somewhat with only a 13-9 loss to XIST. In the second game we found our team spirit a lot more, our attitudes picked up. Instead of getting frustrated with one another when things weren't going the way we wanted them to…we turned our attitude around, which is the first step to turning around the results," said Love Tractor coach Jesse Kuroiwa.
The third game against No Touching! featured improvements in using the breakside cutting lanes, as well as leveraging handler space and resets, trying to speed up a "sluggish" stack. The Denver team brought the pressure with defensive blocks and pressuring No Touching! into bad decisions. A full turnaround of the morning, Love Tractor broke to win on double game point by staying calm after an antsy No Touching! turned the disc on a long shot.
Sunday's results, however, followed a similar pattern, with two losses and a one goal win to close out a 2-4 and frustrating weekend. It's back to the drawing board for what, to this point, had been one of the division's top outfits.
Weather Woes
It's been a rough year for weather and tournaments, especially across the volatile Midwest. Throughout the college season, club season, and youth season, we have seen tournaments cancelled, delayed, and adjusted, all at the mercy of the weather. This weekend was no different.
Saturday afternoon, storms rolled through that put a delay on pool play games. Games were delayed for over an hour, and teams had to wait to finish their last round of pool play. As lightning struck around the complex, the storm rolled through, bringing in high winds that would stick around through the final round of pool play and throughout bracket play on Sunday.
After the delays on Saturday pushed games back far into the day, changes were made to the remaining schedule. Prequarters were moved to Sunday morning, only for another set of storms to overtake the area that morning. The lightning and high winds made for a scary scene and games originally scheduled to start at 8:00 AM did not start until 10:25 AM. With an additional round of games on Sunday, combined with the delay, games were shortened, with a 75 minute hard cap, 60 minute soft cap, and a score cap of 13. This, combined with the high winds, led to a lot of ugly final scores.