Drag'N Thrust and AMP are set to square off in the final.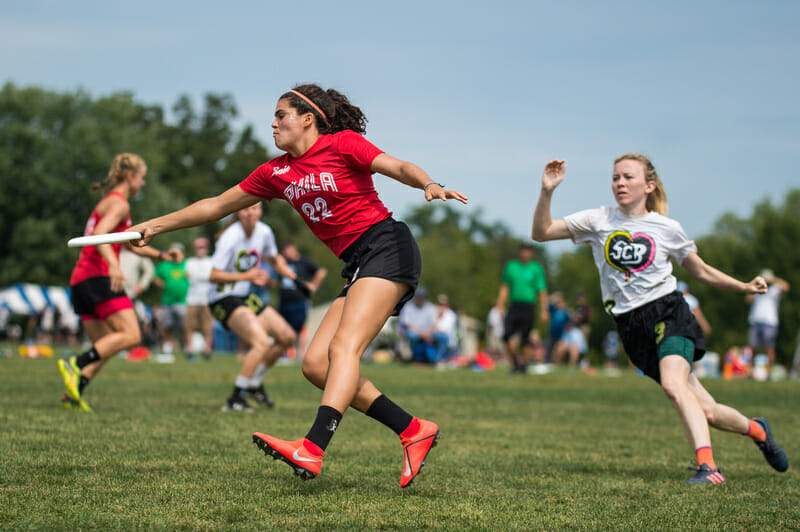 Ultiworld's reporting on the Club Mixed division is presented by Universe Point cleats. All opinions are those of the authors. Please support the brands that make Ultiworld possible and shop at Universe Point!
PHILADELPHIA — Three rounds of play in the mixed division on Sunday eliminated all but two teams: Drag'N Thrust and AMP. The no. 1 and no. 2 seeds, respectively, spurned their eager challengers who emerged from the pre-semifinal rounds. After a morning round to wrap up pool play, the bracket commenced and delivered three  competitive and compelling games, despite many matchups matching ones we've seen before this season.
Focused Drag'N Thrust Muscles Past Love Tractor
Minneapolis Drag'N Thrust and Denver Love Tractor seem to be almost perfectly matched with each other. The semifinal pitted the Minneapolis powerhouse against the high energy team from Denver. Each had already performed well at a big event in the series: Love Tractor took second at Pro-Elite Challenge and Drag'n Thrust took home the title at the U.S. Open. So when these teams went head to head in the semifinal, it made for a grueling, evenly matched game. But Drag'N Thrust was able to pull away late and take the victory 15-12.
Every small advantage was valuable. Drag'N secured the first break of the game on a huck to Brian Schoenrock, taking a 3-1 lead. It took a few holds for Love Tractor to answer, but they managed to break, bringing it back on serve. And it stayed on serve until well past half, when the Minneapolis defense finally scored another break on a lengthy multi-possession point to take a 13-11 lead. From there, Drag'N immediately used their momentum to secure another, which began with a skying Sarah Meckstroth block and ended with Schoenrock running almost the full length of the field for a downwind huck. That brief moment of momentum carried Drag'N Thrust to the win as the teams traded holds.
Downwind hucks dominated the scoring opportunities, especially for Minneapolis, who found Kat Ritzmann deep for a score at least twice. Drag'N also loved their crossfield hammer looks, cutting through the wind twice to deliver a perfect upside down throw to the back of the breakside end zone. But mostly, coach John Groess emphasized how ready Drag'N Thrust was for the match up. They were playing Love Tractor on the same fields in the same conditions as they had the previous day. Their focus during this game was on just maintaining high all around intensity, and playing as a team. Groess attributed the win to full team trust and relatively open lines. "As the game went on, our defense still felt fresh, while they were putting out the same O-line point after point," he said. Groess said that Ritzmann had an outstanding game but also mentioned the constant positive contributions of Becca Ludford and Emily Regan, who just did "small things right all day long." On defense, Brian Vohnoutka took some of the hardest matchups, helping shut down and clog up the Love Tractor's offense.
On the Love Tractor side, coach Jesse Kuroiwa was also proud of the way his team played. The Denver club had more success playing match defense than most teams do against the powerful women on Drag'n Thrust's roster. He attributed it to the team trusting Tractor's women to handle their matchups. Hilary Egan expressed that it was "one of those games our team just love to play, where we have to grind it out the whole time." Standout players included Dena Slattery, who was mostly behind the disc controlling the offense; Frances Gellert, whose handler defense worked helped shut down Drag'N women handlers; and Robin Fassett-Carman, who took on some of the hardest matchups.
Groess gave a shout out to the positive impact Jesse Roehm had on the team as well, coming back from an injury and making big contributions to the team's offensive flow.
Additional reporting from Scott Dunham.
AMP's Energetic Defense Overcomes Snake Country
Like the other semifinal, the Philadelphia AMP and Boston Snake Country game was another pool play rematch played on the same fields with very similar weather conditions. It felt full of high intensity, and notably more physical than the other semifinal. And it was just as close, but ended with the favorite and higher seed taking the hard-fought win: AMP claimed the berth into the final, 14-12.
AMP came out with an unbelievable level of energy that Snakes initially struggled to play up to. All of Snake's cuts were heavily pressured, which initially strained their patient O-line. AMP put a break on the board early in the game, but Snake Country quickly brought their energy up to match. Both teams managed to break again, with Snake Country going on a small run to bring it to 7-7. But in a long point full of turns, AMP managed to hold and secure half. After half, they came out on offense and held, and added a break to establish a firm lead that the Boston club couldn't come back from. Despite a few late game breaks by Snake Country, AMP's momentum carried them to the win over earned their place in the final of a significant tournament for the first time all season.
AMP's effective use of timeouts showcased how they have managed to meld their experience with their young, fast-paced high energy. At several pivotal moments, AMP played at such a high tempo that they began to lose control. They then applied suffocating defensive pressure, regained possession, and took a time out. After almost every pause they put into their game, they managed to make a plan win the point.
After finishing pool play, AMP veteran Raha Mozaffari reflected that constantly upping the intensity on the Snake offense worked well to pressure them out of their handler dominated habits. During their Saturday contest, Philadelphia stuck to a junky zone designed to make Snake's handlers uncomfortable. This time around, AMP focused more on person defense, but still hammered home the intensity that pressured Snakes into losing possession. With standout performances from Natalie Bova on defense and an unstoppable Anna Thompson confidently controlling the cadence of the handler movement, AMP looked like they were playing at the top of their game.
Snake Country had moments of breaking through that defense that showcased their trust and increasing chemistry. One point in the second half showcased Brian Garcia, Jacob Taylor, and Shellie Cohen marching the disc down the field in a speedy handler weave, only coming out of it at goal line to find Piers McNaughton in the end zone. But those flashes were simply too few and far between to get Snake Country back in front.
Pre-Semifinals
Slow White vs. Snake Country
The narrative for this Boston matchup in its short history has been one of depth vs. starpower, but there's a new wrinkle. Boston Snake Country was regarded last year as a team full of stars who won through exceptional individual performance, and Boston Slow White the established system-based team, but it felt the other way around this time. Slow White worked hard to shut down key players on Snake Country, and the Snakes adjusted by expanding their looks and trusting the depth of their roster. It led Snake Country to a decisive 15-11 win.
Slow White's strategy for this tournament, expressed U24 star Renata Pepi, was to stick to fundamentals and work to maintain open cutting space. It all started to make sense as you watched their play develop in the quarterfinals game. They'd frequently get the disc to Orion Cable and let him a perfect full field huck to a capable target of his choosing, though his favorite receivers were often Marcel Oliart or Pepi herself. Brett Tann made some astonishing defensive poach plays, racking up the stats left and right. But in the end, Snake Country won out by focusing their energy on individual defensive matches with Cable and his receivers. They showed a level of trust in their teammates on offense that made for no star performances, but carried them to the semifinals.
shame. vs. Love Tractor
Love Tractor ran away with their quarterfinal match up against Fort Collins shame. in another regional match up. Without shame.'s creative thrower Nick Lance and their emotional buoy Doug Stenclik, they were hard pressed to match Love Tractor's polished and practiced playstyle.
Shame. arriving this far into into the bracket without some of their biggest playmakers was an impressive feat. But they were unfortunate to meet someone who knew all their tricks in the biggest game of the weekend. It pressured them to put up risky hucks to their tall men, and when they were playing their small game, were forced into aggressive and unpracticed options. Their women were heavily pressured by their talented Love Tractor counterparts. Love Tractor played a more balanced and calm game, and relied on stars like Dena Slattery to control the flow of the game, which was more than enough to get a 15-10 win without conceding a break.