A look at what the statistics - beyond the goals and assists - say about the 2019 U24 US Women's Nationals Team.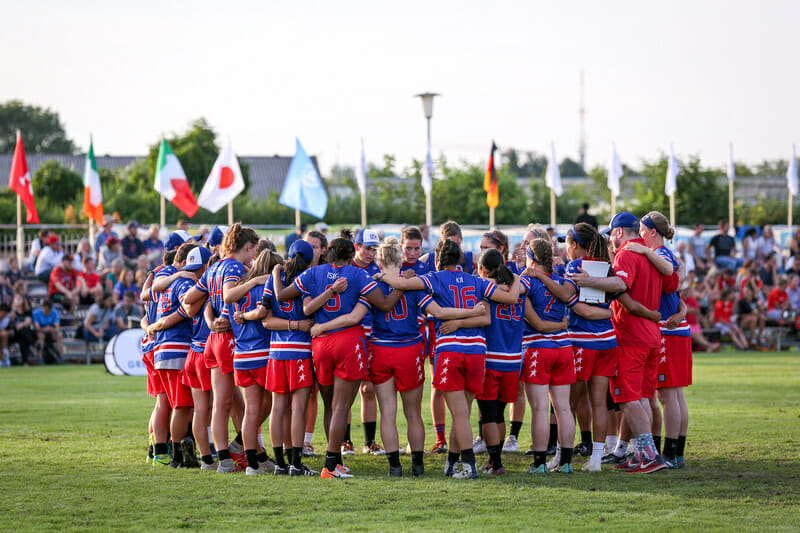 The Under-24 US Women's National Team that represented the country at the 2019 WFDF U24 Championships featured a group of talented young women, most of whom are or were established college stars. This summer in Germany, they earned another gold medal for the United States, continuing a history of domination for the country. The competition was stiff, with the likes of Colombia, Japan, and Canada offering tough resistance that forced the US to play at a consistently high level. Along the way, we got a chance to see how the team's combination of talent and style came together to produce results.
Related: World U24 Ultimate Championship: Final Recap (Women's)
Here at Ultiworld, we are often trying to find new ways to examine and experience our sport, including digging into data. And while we often talk about assists and goals — numbers relatively readily available — and sometimes are even able to examine touches, we are often looking at just the tip of the statistical iceberg. With the help of the Statto app, I dove a little deeper to get under the surface stats for the U24 Women in their toughest games and found some surprising information that told us more about the team and its players.
The Story of The Stats: US U24 Women's National Team is only available to Ultiworld Subscribers
Already have a subscription? Log in
Whether you visit Ultiworld for our reporting, our podcasts, or our video coverage, you can help us continue to provide high quality content with a subscription. By becoming a subscriber, not only do you receive benefits like exclusive articles and full article RSS feeds, you also help fund all of Ultiworld's coverage in general. We appreciate your support!