Can anyone challenge Clapham?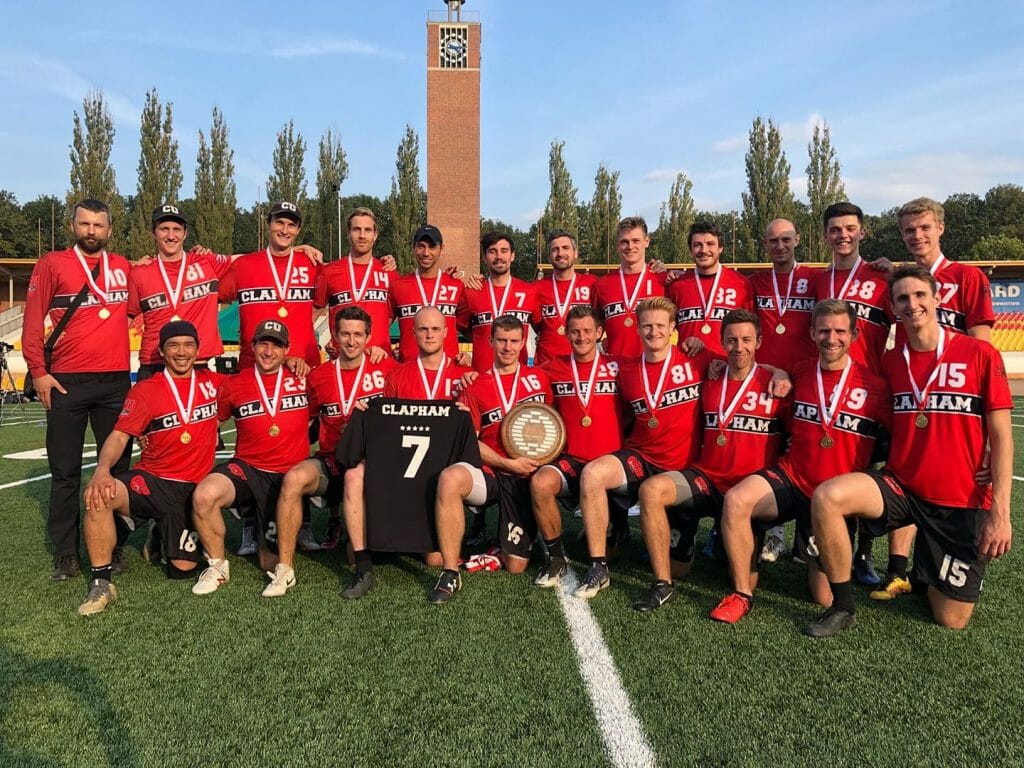 24 teams from around Europe will descend upon the Caorle airport fields in Italy to compete for European gold at EUCF 2019. The format starts with six pools of four teams. After pool play, a bracket of 16 teams is formed. The top two from each pool make it (12 teams). The four best third place teams also join the bracket to round out the 16 teams. The third place teams are ranked first by how many wins they have in the pool and then ties are broken by initial seeding. Here's a look at the teams hoping to be walking down the runway wearing some European gold next weekend. 
Tournament Profile
Dates: 27-29 September
Location: Caorle, Italy
Weather: Mostly sunny. 18-23 C. Partly sunny with good chance of showers on Saturday/Sunday. 8-10 km/hr winds
Number of teams: 24
| Pool A | Pool B | Pool C | Pool D | Pool E | Pool F |
| --- | --- | --- | --- | --- | --- |
| CUSB La Fotta | Clapham | Bad Skid | MUC | RealFive | Chevron Action Flash |
| Ranelagh | Freespeed | Flying Angels Bern | FUJ | Heidees | Iznogood |
| 7 Schwaben | CUSB Red Bulls | FWD>> | Crazy Dogs | Alba | thebigEZ |
| KFK | Mojra | Flying Steps | Rampage | Cotarica | Mooncatchers |
Pool A
CUSB La Fotta (Bologna) return to EUCF with a star studded squad and will be quietly confident on going one step further than last year's valiant 2nd place finish. The most interesting story about this year's team is actually the appointment of Stefan Rekitt as coach for the season. Rekitt has a good track record leading German national teams to success and CUSB have taken this opportunity to spice up their play book. History has taught us that Italian-German alliances can be controversial at times and you'd have to wonder how much inside knowledge will be gained by Rekitt with one eye looking towards WUGC 2020. 
La Fotta were in cruise control at EUCR-S with no team putting up double digits on the regional champs, their closest games being 15-8 against both the Crazy Dogs and FAB. Padraig Sweeney, the Irish national, made his debut for the Italian side at the event because he was supposedly unable to attend EUCR-W with his home team PELT. The prodigal PELT man picked up another Irish title earlier this month beating Ranelagh in the final. He plans to help the Italians do the same against Ranelagh in their Pool A match up. Wolfgang Mitterer returns to the squad after an impressive season with the Austrian national team. Likewise Andrea Mastroianni has returned to the forefront of Italian ultimate after some time abroad last year and is looking as tenacious as ever. The spine of this team comes from the Italy U24 side that picked up a bronze medal during the summer. CUSB La Fotta look like the biggest rivals to Clapham at the moment and playing on home soil can only boost their odds of an upset. 
Ranelagh (Dublin) are well known for two things: working hard and not qualifying for EUCF. Thankfully only one of those things has changed this year as they finally make their first outing in the big boy league. Ranelagh will be bringing a stellar roster, the majority of which played on the Irish men's team this year. Another double game point loss to PELT at Irish Nationals will more than likely spur on the Dubin lads to finish higher than their rivals ever have. 7 Schwaben (Stuttgart) will rely heavily on their talisman Philip Haas as they tend to do. They had a respectable run at German nationals losing to MUC on double game point in semis but bounced back well to win the bronze medal game against Wall City by one. KFK (Copenhagen) are the benefits of a sixth bid gifted to the central region from the north. KFK beat Ragnarok 13-3 twice at regionals but then lost to them at Danish Nationals 13-6, as is tradition. Last year's spirit winners will be without Laurits Hjermitslev but captain Lachlan Munro makes a return after becoming a father. If KFK can keep six bids in the central for next year they should consider that a job well done. 
Pool B
Gambling on European ultimate isn't a thing just yet but if it was, putting your house on the boys from London taking home the gold sounds like a safe bet. Clapham (London) are looking to win their 10th EUCF title1, a record unrivaled in the division. Can anyone stop them? Probably not. We haven't seen that much of Clapham this year with most players competing with GB over the summer but the champs recalled their troops to trounce their way through EUCR West once again. Many critics argue that the London team look even stronger than the GB national team that won gold at EUC. They made handy work of Chevron in the final of UK nationals. They opted to start on defense which seems to be a trend sweeping Europe at the moment. Clapham broke in the first point and were in control of the game from start to finish. The masters man Justin Foord is looking as sharp as ever with James Mead and Josh Briggs pulling the strings on offense. 
Katsuhide Hori makes the move to London from the second best team in Japan, Nomadic Tribe. Nomadic Tribe knocked out CUSB at WUCC last year. Other than that Clapham haven't changed a whole lot in the last 12 months, except for a few scotsmen sprinkled here and there. Expect them to make light work of Pool B as they eye up their 8th title in a row. Freespeed (Basel) will likely be Clapham's toughest test in the pool particularly with Belgians Pieterjan De Meulenaere and Jonas Dewaele on the roster. If the team from Basel can get their offensive line to click they are capable of beating anyone. Freespeed have always been tactical masterminds and they may choose to not burn themselves out against Clapham and save their legs for bracket play. 
CUSB Red Bulls (Bologna) are essentially a juniors team that qualify and compete at EUCF. This is madness. They are going to make a lot of grown men look silly this weekend. Alessandro De Lucca was a standout at u24s for Italy particularly as the primary cutter when Gasperini was unable to play. De Lucca personifies this team with his well drilled fundamentals and athleticism. After Tchac were unceremoniously knocked out of regionals, Quentin Roger quickly went door to door looking for a team. After asking CUSB La Fotta for a spot he was told there was no more room at the inn. However the French deity was offered a place in the metaphorical stable that is the Red Bulls roster. Perhaps he can perform a few miracle scoobers with the young Italians as the Red Bulls will look to avenge their 15-13 loss to Freespeed at EUCR South. The lesser known Mojra (Warsaw), who gained valuable experience at Windmill this year, round off the group. 
Pool C
In 2017, EUCF was also held at the bizarre runway fields at Caorle. At that event Bad Skid (Heilbronn) gave Clapham a run for their money in the final and Holger Beuttenmüller put in a dominant performance. They'll be looking to make it to the final once more but during the last two years the rest of Europe has been slowly catching up on them. Most of these German players have had a roller coaster two years. They knocked out Clapham at WUCC and then finishing 4th at EUCF last year. The argument was made that Clapham could be stronger than their national team, the same argument can't be made for Bad Skid. While Bad Skid have elite players and good chemistry they have always lacked depth. They are always capable of beating any team here but that usually involves running their stars into the ground. One man looking to add more moxie to their roster is 21 year old Juan Esteban Cardenas, who competed with Colombia in Heidelberg at U24s this summer. Cardenas is now studying abroad in Germany, he has been training with Bad Skid in preparation for EUCF. 
Flying Angels Bern (Bern) will be without Sebastian Gloor who unfortunately tore his ACL at EUCR-South. The Swiss side add some young German power to their squad in the form of the Schmidt twins and u24 handler Torben Hörnschemeyer. They are one of the many teams that attended Madudina in Milan in preparation for EUCF. They are hoping this experience can help them get back on the podium after finishing 3rd two years ago. FAB versus FWD>> (Vienna) will likely be the battle for second spot in the group while the lesser known Flying Steps (St.Petersburg) are favorites to take home the wooden spoon. 
Pool D
MUC (Munich) come into the tournament as 4th seed and deservedly so. They recently finished 2nd at German nationals, cementing themselves as the second best team in their country and region. Michael Remy and Arne Reusch, who is back in action after sitting out the EUC final, will look to lead their team late into the bracket. They will come up against a strong FUJ (Prague) side who won the EUCR-East. FUJ and MUC played each other last year at EUCF in the pool of death. MUC won that game 15-12 and finished 8th overall, one spot ahead of FUJ. They also played against each other in Caorle 2017 with MUC winning that game as well. The top Czech side are hoping to make it third time lucky in what is likely to be the deciding game in Pool D. David Novák was unbelievable at EUC for the Czech Republic, especially in their pre-quarter game against Ireland and will certainly be looking to repeat that performance at EUCF.
Aaron Riedle has been the leader of the Crazy Dogs (Stans) for quite sometime now. The team has proven themselves as a strong mid table team finishing a respectable 12th and 14th the last two years. Rampage (Moscow) have struggled more recently finishing 22nd last year but have a spicy late addition to their roster. Nasser Mbae Vogel is going for the record of playing with more teams at EUCF than anyone ever. Another deadline day move sees our favorite European perennial pickup join Russian team Rampage when he can presumably speak no Russian.
Pool E
RealFive (Dzerzhinsk) finished 19th last year but come into the tournament with a much higher seeding thanks to a strong performance from Salaspils last year. Given how well the Russian national team played at EUC, the Russians need to be taken a lot more seriously. Mikhail Khudobin has been unstoppable downfield this year and Ilya Dannenberg has been added to this already strong roster. They'll be coming up against the raggle taggle, kilt wearing, haggis loving Scotsmen in the group stages. Alba (Scotland) which literally means Scotland in Scots Gaelic are a force to be reckoned with. They brought Chevron to double game point at EUCR-West and convincingly won their bid beating Devon, Rebel and XVI. There's a good chance they could upset this group and maybe bring back a much coveted 5th bid to the west. 
Heidees (Eppelheim) tend to perform well at regionals and crumble at EUCF. For two years running they have finished bottom of their pool, ending up in the bottom bracket. They seem to love it down there. Cotarica (Rimini) scraped their way through regionals beating Panthers Bern on double game point, along with some other hard fought battles. It will be a short journey up the coast for the young 28 man squad. Proximity and youth will be on Cotarica's side this weekend as they look to shake things up on Italian soil. 
Pool F
The eternal bridesmaids of UK Ultimate Chevron Action Flash (Nuneaton) started off their season on the right foot winning Toms Tourney. For the last decade Chevy have lacked a winning mentality. However, after watching them rip apart Freespeed like a Mr. Potato Head in the Toms Tourney final, things might be about to change. Recent additions Barry Walsh and Tom Bennett, from PELT and SMOG respectively, bolster up the already athletic roster. Joe Wynder isn't listed on the EUCF roster, and we'll let you decide whether his cannons are a curse or a blessing. Clapham will always be their kryptonite but expect them to take some big scalps throughout the weekend. 
Pool F looks rather open as Iznogood (Noisy-le-Sec) and Mooncatchers (Brussels) set to challenge Chevron. Iznogood surprised many finishing second in the south. Eric Becker and Benjamin Fenrich have played solid all season. They'll need to muster up some of their finest French flair to win this tough group. Mooncatchers came home with a bronze medal last year but they will be without the Brucklacher brothers and breakout player of the year Reph Jonkers, who picked up an injury at u24s. Youngsters Samuel Kinda and John Beeckmans continue to improve and will add more fire power to the ever improving Belgian outfit. ThebigEZ (Vienna) have been dealt a tough group to fight their way out of as many would consider Mooncatchers to be the best of the bottom seeded teams. 
On a final note for those heading to Caorle, bring insect repellent. When the sun sets on the grassy runway, your skin will turn into an all you can eat buffet for the local mosquito population. 
---
This would be their 8th in a row ↩