Condors easily secure second bid to advance.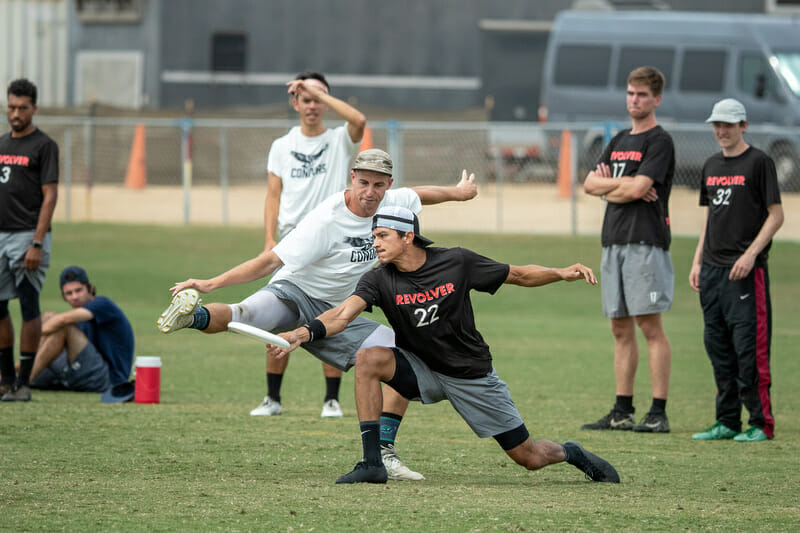 Ultiworld's club men's postseason is presented by Spin Ultimate; all opinions are those of the author. Gear up for your big games, your tournament parties, and everything in between at Spin Ultimate! 
NORCO, CA – #4 San Francisco Revolver successfully defended their regional crown with a 13-10 victory over #9 SoCal Condors in Sunday's regional final. Revolver and Condors each went relatively untested all weekend until the final, but Revolver's high-pressure defense proved to be too much for Condors to handle.
Condors then easily took down Livermore OAT with a 13-6 win in the second place game-to-go and will celebrate their home field advantage at the National Championships in San Diego next month.
Revolver Returns to Form
Revolver was clearly the class of the tournament — any lingering doubts from their sloppy early-season play have been erased. By miles, San Francisco was the most prepared team at this tournament. The entire team was in sync throughout pregame warmups and huddles, and they had an air of professionalism that other teams could not carry.
Physically, they paid attention to their bodies better than other teams. As soon as a time out was called, multiple players would remind the entire team to get under the shade and drink water. While other teams were out goofing around in the sun, Revolver was taking care to get proper rest and rehydration in the level 1 heat. Revolver's coach, Molica Anderson, even reminded me to stay hydrated! Every little moment mattered to Revolver and contributed to their focused mindset that allowed them to come out on top.
On the field, the scariest part about this Revolver team is its defense. Ashlin Joye played exclusively defensive points the entire weekend and was brutally efficient at converting break opportunities. Not many teams could put a collection of talent like Joye, Byron Liu, Nick Stuart, and Julian Childs-Walker on their D lines. Revolver's depth players proved they could fill roles as well. Noa Chun-Moy had two blocks in the final and fellow rookie Nick Murphy stood out for his impressive handler defense. Adam Rees padded the stat sheet on offense, finishing with 3 assists, 1 goal, and 3 important blocks to regain possession for the O line. Tom Doi and Eli Kerns led the offense with 3 goals apiece, and Simon Higgins impressed by playing the entire weekend left-handed after tearing a ligament in his right (throwing) hand.
This may not be the best iteration of Revolver that we've seen, but make no mistake — this team still knows what it takes to win and shouldn't be overlooked by anyone in San Diego.
Condors Make Easy Work of Second Bid
After cruising through pool play and their semifinal, Condors looked crushed after losing to Revolver. They made a late-game run that closed the Revolver lead from five points to a more respectable two — and it could have been one, except a backhand break throw to an open cutter in the end zone popped up in the wind. The Condors will head to Nationals knowing they can hang with a team like Revolver, but without the momentum of a win to solidify their confidence.
For a team that doesn't call lines and has players commuting a few hours to practice each way, Condors is still a huge success. After the disappointment last season of not earning a bid, Condors pushed itself and won the Elite-Select Challange, earning the bid and a top ten spot in Ultiworld's Power Rankings. They would have loved to beat Revolver, but they'll get another chance to prove they are among the nation's best next month.
Sean Ham stood out for Condors, catching 4 goals in the final including two body-contorting trailing edge layout grabs. Tyler Bacon had two blocks and a goal; he was the one defensive player who would switch over to the offense after giving up a break. Wes Groth and Goose Helton led the team with 3 assists apiece in the final — Groth was particularly aggressive at opening up away shots.
In the game-to-go, Condors pulled away with a 7-2 run to close out the game. Groth had 2 goals and 1 assist in the game, and the taller Condors — Dom Leggio, Travis Dunn, and Zach Theodore — soared high to limit the OAT deep game.
Condors did what they needed to do to get back to Nationals, but still has some hunger after not taking the regional title they've been building towards. Look for this team to come out strong at Nationals, where they will be on home turf.
Quick Hits
As a new team this year, Livermore OAT surprised a lot of onlookers. While a team high on energy and with lots of speed, they do not play the kind of defense necessary to win against top tier teams. All of OAT's wins on Saturday were on double game point, and they looked out of place on the field against Condors in the game to go. OAT's offense is predicated almost entirely on the deep game. While that is a great recipe to pull off an upset, it quickly became ineffective against teams that could match them athletically. Condors also had success using a zone against OAT, stifling their preferred play style. OAT is a young team that could develop into a regional threat, but that time is perhaps years away.
San Francisco Battery put together a nice weekend. The young second-year squad took fourth by avenging a tough Saturday loss to Sundowners with a convincing win in the backdoor quarterfinals. Battery had positive sideline energy all weekend and had the look of a team that could improve in future years.
Santa Barbara Sundowners similarly has potential as a team, but could not keep their level of play at their peak all weekend long. This season was about developing talent and with that in mind, keep an eye on UCSB's Xavier Prochaska this college season — he played very well on a veteran O line.
Green River Swordfish have a small roster, but came to play. They upset Battery in the first game of the weekend and probably could have pulled off a few more wins if they had more legs.
For a team with as much talent as Oakland Guerrilla, they played strangely poorly. Recent college stars like Keenan Laurence, Kevin Tien, and Judah Newman couldn't pull out the results they needed, losing on double game point to OAT once each day to knock them to the consolation bracket. Had those results gone the other way, maybe we are talking about Guerrilla keeping their Top Select status and challenging for a bid next year. Instead, it seems like they are solidly in the third tier of the division.
Rounding out the competing teams, San Diego Streetgang and Los Angeles DOGGPOUND were both fun to watch, but had little to play for but pride.
—
At the end of the weekend, Revolver and Condors stood out among every team present on the men's side. Their finals match showed their relative strengths, with Condors coming just short in their upset attempt. At Nationals, Revolver is sure to be among the title favorites and looked every bit that part this weekend, while Condors is relishing their return to the national stage.