Bent ended up on the outside looking in.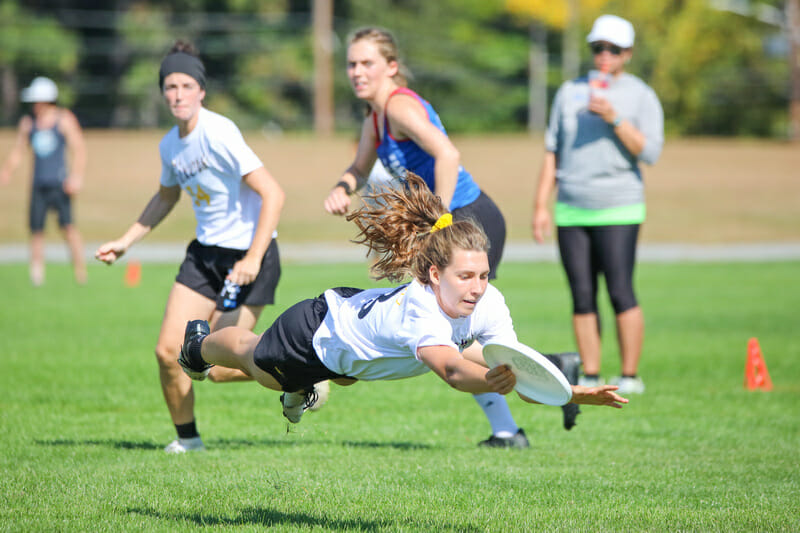 DEVENS, Mass. — The Toronto 6ixers claimed their first-ever Northeast Regional title with a 14-12 win over Boston Brute Squad in the tournament final. The 6ixers' win marks the first time since 2012 that Brute Squad failed to win the region1.
The 6ixers were disciplined on both sides of the disc. Their vertical stack offense was clinical, and their cutters just never stopped working to get open. Lauren Kimura, the team's best thrower, consistently had viable looks on the open side, break side, and deep. She was able to keep Brute Squad's defenders honest, since poaching meant offering up a lane for Kimura to strike.
Toronto was also in great shape, and the team's cutters managed to wear down Brute Squad defenders in matchup schemes, despite the fact that Brute had played just three very easy games before the final.
Certainly, the game could have gone either way. Brute still played tough defense, especially in the reset space, and Brute was up 12-11 before 6ixers held and scored two straight breaks to take the win. It's their second win over Brute Squad this season, after they defeated Boston 12-9 at the Pro Championships over Labor Day weekend.
Boston isn't quite the same level of dominant that we've come to expect from the multi-time national champion. Their offense, which has struggled at points throughout the season, still seemed to get impatient at times and attack the endzone with risky throws. Often, those worked out, even against the strong 6ixers defense, but it offered up opportunities for Toronto to get blocks.
The 6ixers earned their bid to Nationals with a 15-11 win over Boston Siege in the semifinal. Siege employed a zone that had given their previous opponent, Halifax Salty, a ton of trouble. Though it forced some earlier miscues (Siege went up 3-1), the throwing skill from 6ixers picked apart the zone, and the Toronto defense started to generate lots of pressure and pile up the breaks. The 6ixers went on a 7-2 run to take half 8-5.
Siege Qualifies For First Nationals
Boston Siege, one of the breakout programs this season, claimed the third bid out of the Northeast with a 15-9 win over New York Bent. They went on to lose in the placement game, 15-4 to Brute Squad.
In the game-to-go, Siege went down early, falling behind 2-0 and then 4-2, before catching fire and scoring seven straight through halftime to take a 9-4 lead and lock up the game. Highlights included a phenomenal trailing edge catch by Caroline Weinberg and electric play from 18 year old Kennedy McCarthy, including a bookends score to take half.
McCarthy was one of the key playmakers for Siege all weekend, generating blocks, throwing scores, and reeling in goals. Her continued ascent as one of the best young players in the country includes leading her Maine YCC team to a surprise appearance in the 2019 girls final — they were named co-champions after lightning delays forced the cancellation of the end of the tournament.
Bent did get some second half breaks, but it was too little, too late after falling behind by five. Their offense was prone to execution mistakes — throws off target, swings too floaty — that gave Siege far too many opportunities to get breaks. Bent never established an offensive rhythm.
This is the first time in over a decade that Boston has sent two women's teams to Nationals.
Iris Claims Final Bid
Bent had to quickly work to shake off the loss as they geared up for the final game-to-go against Quebec Iris, a team they had beaten in pool play on double game point, 12-11.
Bent's D-line continued to put in quality points, getting a layout block on the first throw of the game and punching in a break to take a 1-0 lead. They had another look at a break on the following point, but Iris managed to get a hold.
Bent's offense would have to be better than earlier in the day, and even better than when they beat Iris on Saturday. Despite a fine effort from Luisa Neves, the struggles continued. The throwing precision just wasn't there for Bent and they coughed up four straight breaks. Although the D-line would generate more breaks later in the second half, the lack of consistency from the O-line made it impossible to make up any real ground, and Iris rolled out to a 14-9 win.
Pénélope Robert, Marie-Ève Beauchemin, and Diana Trinh were standouts for Iris as the team qualified for Nationals for the third time in team history2.
Like Bent, Iris looked better defensively than offensively. Just seven of Iris' 14 goals were scored by the offensive line, which yielded three breaks.
Notes
Halifax Salty had a great tournament, playing Siege to within one in pool play and finishing sixth, just behind the strong five-team group at the top of the tournament. You wonder if they might have had a shot at beating Bent had they had the opportunity.
Though they lost to Salty in the 6th place game, Albany Rebel Rebel has to be thrilled with their tournament. They gave Bent a legitimate scare in the second place bracket on Sunday morning before capitulating late and well outplayed their #10 overall seeding. O-line legend Becca Tucker was one of the best players at the tournament.
Canadian teams finished 1st (Toronto 6ixers), 4th (Quebec Iris), 6th (Halifax Salty), and 9th (Ottawa Stella). The depth of Canadian women's ultimate continues to improve in cities outside of Toronto and Vancouver.
Patrick Stegemoeller and Aidan Shapiro-Leighton contributed reporting.
---
in 2012, they lost to the previous top Toronto team, Capitals ↩

They made it in their first year as a team in 2015 and again in 2016 ↩