Brute is a step above.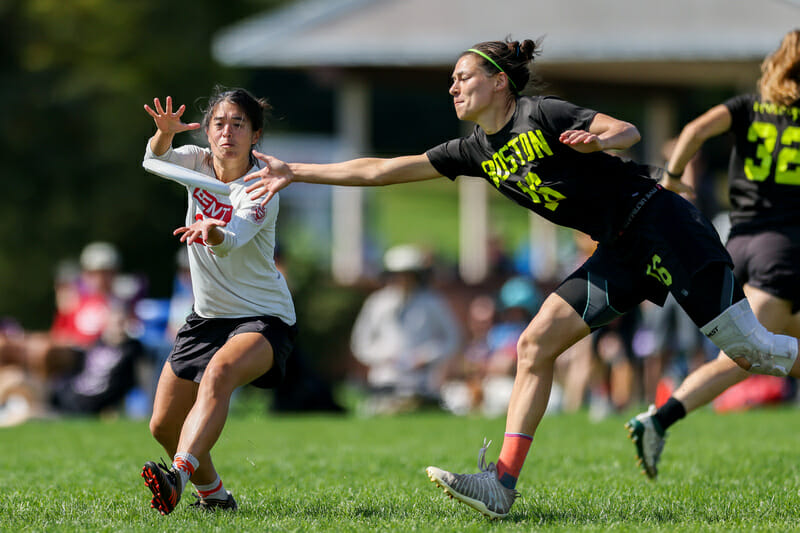 Ultiworld's 2021 coverage of the club women's postseason is presented by Spin Ultimate; all opinions are those of the author(s). Find out how Spin can get you, and your team, looking your best this season.
DEVENS, Mass. — A spectacular early fall weekend set the stage for a bid-rich Northeast Regionals to qualify three teams from the women's division to the 2021 National Championships.
Saturday: Setting the Stage
The most significant result of Saturday came in the very first round of competition, with #10 New York BENT (nominally) upsetting #13 Boston Siege on double game point 13-12. That result put BENT in control of Pool B and on a smooth road towards Nationals qualification. New York went up early in the game, taking half 7-4 on the back of a strong D-line performance that punished Siege's mistakes with fast break after fast break.
BENT wobbled after the break, though, and Siege took advantage. One of New York's key new players and O-line backfield dynamo Samiya Ismail was knocked out with an injury early in the second half, and in the ensuing shuffle of player roles, BENT's offense began coughing up the disc. Once Boston's force middle defense started generating turns, the breaks started to pile up. Siege broke to force double game point at 12-12 but could not get the last block they needed to complete the comeback. After a clean, albeit nerve-shredding final hold, BENT emerged with a clear path to semifinals on Sunday.
Elsewhere in the women's division, Saturday was largely drama-free. #3 Boston Brute Squad surrendered a total of six points across four games, while #21 Albany Rebel Rebel took care of business against the rest of Pool A to earn a game-to-go against BENT on Sunday morning. The bid-glomming boogieman of Boston Team of Friends never materialized, despite some scary names on the roster. Both BENT and Siege dispatched the veteran team with minimal fuss to take the top two spots in Pool B.
Sunday: The Favorites Advance to Nationals
Brute Squad never even blinked. They crushed Siege 15-1 in the semifinal (they were up 8-0) to qualify for Nationals and then left no doubt about the pecking order in the region with a 15-4 drubbing of BENT in the final.
Brute only gave up 11 points on the entire weekend. What may have been a closer final turned into a blowout in the wind, as Brute's elite disc skills across their depth shown, while BENT's reliance on a few top-end players to make throws hurt them as Brute forced New York to spread the disc out across their team.
But the joy was already there for BENT, who lost three games-to-go in 2019 and hadn't made Nationals since 2015. They had just ended their years-long funk in emphatic fashion with a dominant 13-4 revenge win over Rebel Rebel, who had upset them at Sectionals. BENT's defense was happy to let Rebel Rebel get their pull play moving towards the sideline, after which they clamped down on the resets and erased Rebel's ability to move the disc. Albany rarely had comfortable offensive possessions, and despite some loose turnovers from their D-line offense, BENT just overwhelmed Rebel Rebel. An early lead led to Albany sitting the starters and making it a no-doubter for BENT.
In the game-to-go with the wind at its peak, Siege took control early with an upwind/downwind break pair to go up 4-2. Both teams were able to hold downwind for most of the remainder of the game, driven in part by short mid-field upwind pulls. Even when the teams had chances to break, upwind D-line offense was a slog.
Rebel Rebel had numerous chances to break with the score 9-7, Siege, but couldn't find the endzone. Finally, though, they did secure the critical upwind break to get within one at 10-9 after a Lauren Doyle zippy low-release flick. They had multiple opportunities to tie it up, but Siege's O-line defense was stout, and they eventually worked it upwind and into the endzone for a gritty upwind hold, their only one (and only chance) of the game. Rebel Rebel needed to manufacture some magic, but they failed to hold on two red zone trips and Siege broke upwind to end it and get back to Nationals.
Notes
Team of Friends finished in 5th place. They lost to BENT, Siege, and Rebel Rebel but won all of their other games.
Vice beat Versa (!) 11-5 on Sunday to take 7th place.