Wild Card rebounds to top of the region after missing Nationals in 2018.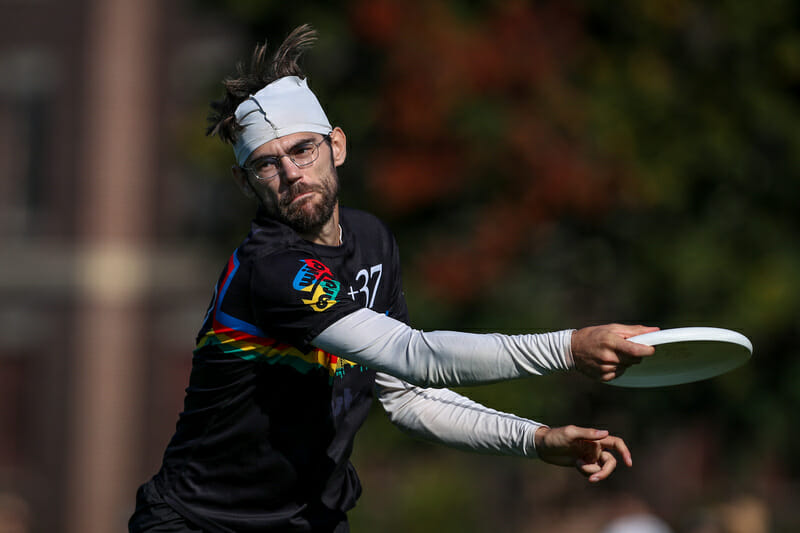 Ultiworld's reporting on the Club Mixed division is presented by Universe Point cleats. All opinions are those of the authors. Please support the brands that make Ultiworld possible and shop at Universe Point!
DEVENS, Mass. — After failing to qualify for Nationals in 2018, Boston Wild Card surged back to the top of the Northeast region with a 15-11 win over Slow White in the tournament final.
Wild Card's offensive precision in the second half and ability to punish Slow's switches and poaches carried them to the win after easily dispatching Connecticut Metro North 15-7 in the semifinal game-to-go.
Wild Card jumped out to a quick 3-0 lead on Slow White before Slow answered with a 4-0 run of their own to take the lead. Card, though, steadied the ship and scored five of the next six points to take half with an 8-5 lead. The large majority of the second half was trading holds, though Wild Card did add one more break for some extra breathing room.
Kyle Johnson was a standout in the final and throughout the weekend for Wild Card, firing off some inch-perfect hucks in several games.
Slow White may have come up short in the final, but they looked sharp in their 14-10 Nationals-qualifying win over Snake Country in the semifinals. Slow's women had a noticeable advantage throughout the game (Amy Stoddard and Renata Pepi stood out this weekend with some big plays), which added up to easier offensive possessions and clunky O points for Snake, who had to rely heavily on Peter Prial and Piers MacNaughton to generate offense.
Snake Country also had numerous unforced errors, including at least five drops, that kept them from ever really being able to chip back into the game.
Snakes Slither Past XIST, League of Shadows
In the backdoor bracket, it was much smoother sailing for Snake Country. They defeated XIST 15-9 and Boston League of Shadows 15-8 in the third place game-to-go.
Although offensive miscues were still an issue, especially in the red zone, Snake's opponents were not able to reliably punish them for turnovers, giving second chances to the Snake Country offense and eventually yielding holds.
On the opposite side of the disc, the Snake Country D-line was able to generate plenty of pressure (they were getting breaks against Slow as well) and pull away for big wins.
2018 National semifinalist Snake Country may not have quite the ceiling they did last year, when they had female players like Lexi Zalk really contributing more on offense, but if they can clean up the turnovers, they will remain a tough out in San Diego.
Qualifiers Survive Scares
Northeast Mixed Regionals goes a lot deeper than four or five teams these days. Both Slow White and Wild Card ended up in very tight games against lower seeded teams.
Brooklyn Grand Army, who shocked Slow White a year ago at Regionals in quarterfinals, was giving Slow White a great game into the early part of the second half of their pool play matchup before conceding a big break run. But Grand Army showed up big in quarters again and really took it to Wild Card in the second half.
Card was dominant in the first half and took an 8-3 lead, but slowly Grand Army chipped away at the lead. 9-6. 10-8. 11-10. 12-12!
Each team held from there to get to 13-13 and double game point with Wild Card receiving. After some nervous unders, Matt Heath threw a huck to a cutter that had come back under, giving the disc to Grand Army with a chance to break to win. But Grand Army, too, had a throw to no one, and Alex Kapinos hucked a forehand deep for the Wild Card win.
A loss would have likely meant a showdown in the backdoor bracket semifinals between Wild Card and Snake Country, eliminating one of the teams from contention. Wild Card was surely having nightmares about last season's ignominious Regionals finish.
Slow White, too, had to eke out a win, though theirs was less consequential. They beat XIST 11-10 in the crossover round that determined seeding for the quarterfinals, but trailed 8-6 at half and had to get back to back breaks to win on double game point.
Notes
Boston League of Shadows earns Top Select status after reaching the game-to-go. They avenged an earlier loss to Metro North in the third place semis. Boston-area teams finished in the top four spots in the region.
After a strong day one, New York XIST was not sharp in the quarterfinals against Metro North. Metro took the game 11-7. Both teams lost in the backdoor semis.
Grand Army finished seventh after losing to XIST 12-11 in the backdoor quarters and then beating New York Eat Lightning 13-11 in the 7th place game.
Patrick Stegemoeller contributed reporting.