Nobody could touch Sockeye, while Voodoo's upset bid fell short.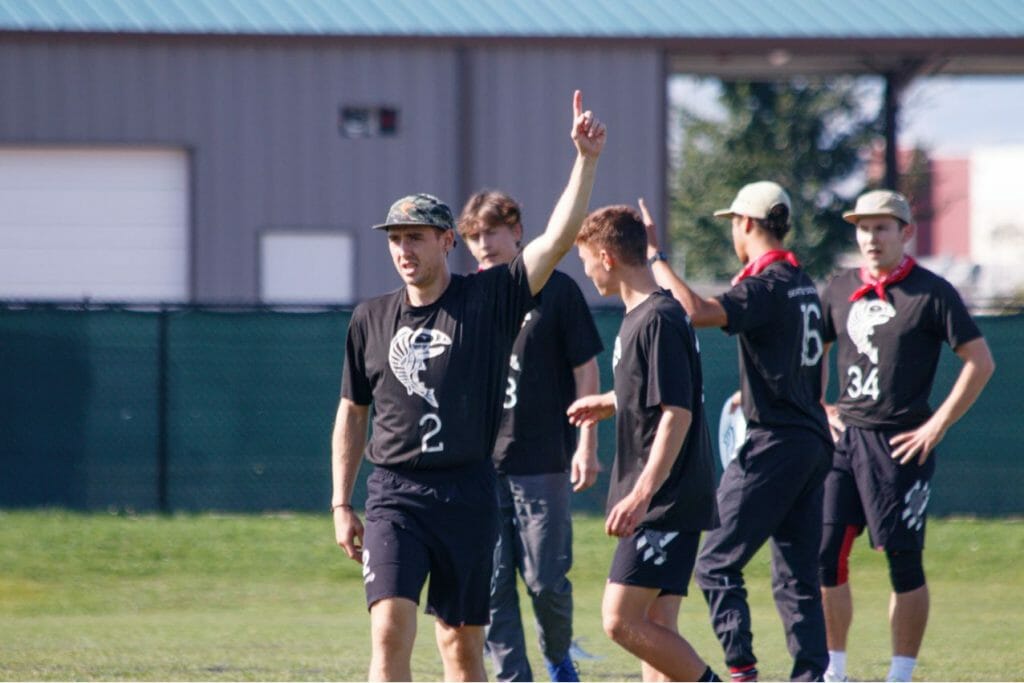 Ultiworld's club men's postseason is presented by Spin Ultimate; all opinions are those of the author. Gear up for your big games, your tournament parties, and everything in between at Spin Ultimate! 
Contributed by Isaac Pritchett.
SALT LAKE CITY, UT — For the first time in over 10 years, the Big Sky section hosted the Northwest Regional Championships. Fans from ultimate programs across the state came out to watch the best teams in the region compete. Some fans brought signs to hold up bearing the light-hearted hashtags "#SelfishInSeattle" and "#GeographicEquity", but the focus was all on the field as they watched Sockeye, Furious George and Rhino Slam qualify for Nationals in San Diego.
Seattle Sockeye Rises To the Occasion
The Fish entered Regionals as USA Ultimate's no. 1 ranked in the entire division, and their performance on the field justified it. Not a single team came within five points of #2 Seattle Sockeye in the tournament as they rolled to a first place finish with a 15-9 win over Furious George in the final.
Seattle's offense looked to be the well-oiled machine that we are used to. The chemistry between Dylan Freechild, Jacob Janin, and Matt Rehder was undeniable, and the quarterbacking and creative throwing of Simon Montague provided the needed spark whenever the offense seemed to slow down. The O-line clearly had the skills to play the deep ball when they wanted to, but seemed content to simply grind their opponents down with hard to defend unders before punching it in with their endzone offense.
Where Sockeye impressed the most was on defense. "Our defensive approach this year is all about creating chaos and uncertainty for the opposing handlers" said head coach Mike Caldwell. "Where that starts is with using the unique talents of some our guys." It's hard to think of anyone who contributed more to that than new addition Nathan Kwon, the 2018 Ultiword D-I Defensive Player of the Year. Kwon's agility combined with the already deadly quick duo of Dongyang Chen and Tony Venneri in the backfield to give handlers fits all weekend. Sockeye's athleticism downfield with defenders like Billy Katz, Christian Foster, and Julian Hausman meant that the deep space was rarely safe either.
Sockeye is happy with all that they have accomplished this year, but it is clear that they have their eyes set on San Diego. When asked about their 15-12 win over PoNY in U.S. Open final, coach Mike Caldwell only talked about what he wanted to do the next time they played, and added in a few strategic points about D.C's Truck Stop for good measure. With the defensive additions to their already great offensive prowess, it wouldn't be hard to make the case that they are the team to beat at Nationals.
Furious George Has What It Takes
A lot of questions arose about what would happen in the region after #10 Vancouver Furious George's 15-12 loss to Voodoo at Sectionals. "Obviously we took [the loss] very seriously," said coach Matt Berezan. "We were more prepared mentally in this tournament as a result." Their focus paid big dividends on the weekend. After an impressive 13-10 victory over Rhino in pool play, Furious advanced to Nationals with an equally convincing 13-9 win over Voodoo on Sunday morning.
Furious' traditional huck game was more muted during the tournament, but their offense still thrived. "They are a really dynamic team. They have some defined roles, but they have other people who can play all over the field, and the other players on their lines complement them well," said Seattle Sockeye coach Mike Caldwell when asked about the matchup. The defined roles belonged to Tim Tsang and Malcolm Bryson, who were consistently dangerous in the handler set. The dynamic players included Andre Gailits and new addition (but longtime Revolver player) Patrick Baylis, both of whom seemed equally comfortable catching goals or breaking the mark to hit someone in the end zone.
Though slowed a bit by his age, Morgan Hibbert was still clearly a force to be reckoned with in the deep space on both sides of the disc, and his towering pulls put teams in rough spots all weekend. Peter Yu consistently rose to the challenge of the toughest defensive assignments the tournament had to offer, most notably in his stifling performance against Voodoo's Steven Benaloh. "It was one of the kind of performances where [Yu] didn't get any blocks, but he was able to slow [Benaloh] down and limit his impact on the game," said Berezan.
Furious went into the final game against Sockeye determined to help their seeding for Nationals, and took an early break after pulling to earn a 5-4 lead. A Seattle hold and three straight breaks to halftime killed the momentum, however, and Furious' offensive execution never looked the same. Furious clearly has the depth and experience to hang with the best teams at Nationals, but their cohesion and focus will have to stand up to the test.
Rhino Slam Back To Nationals and Feeling 'Ecstatic'
#15 Portland Rhino Slam had a few slow starts on Saturday. In their pool play game against Furious George, they went down 7-4 at half. They were down at half against no. 5 seed The Killjoys, too. They didn't pull away from no. 7 seed SOUF until the second half. During pool play, the team was running looser lines because of their team's goal of player development. The approach paid off for them on Sunday.
"I think it's definitely helped with our depth a lot," said captain Trevor Smith. "Now we can go 24 deep in these big games." Rhino's ability to have more than one or two options after a turn on their defensive line was what got them the breaks they needed to push them past Voodoo in the game-to-go with a 15-12 win. To say the team doesn't have any stars, however, would be unfair to Rafael Hayes, who was a dominant presence for Rhino in what was perhaps the most impressive single-game performance in the men's division. Whenever the team needed bookends, a big sky, or a shoulder-high layout, he was there to provide it.
Offensively, Rhino's dump-swing game was the best in the division. Smith worked with cutters like Nicholas Jackson and Owen Murphy to move the disc horizontally without breaking a sweat. But Rhino proved they can stretch the field deep as well with cross-field bombs from players like Vinh Bui and Leandro Marx.
Portland's biggest concern for Nationals will have to be whether their D-line can consistently generate enough pressure to force turns instead of waiting for drops to happen. But with their offensive prowess and potential to make explosive plays, don't be surprised if they catch a team sleeping at Nationals and cause an upset or two.
End Of The Line For Young Voodoo
Another year brings another heartbreaking loss to Rhino Slam in a game-to-go for #19 Seattle Voodoo. While they had wins over Rhino and Furious George earlier in the year, they weren't able to reproduce either with a trip to Nationals on the line. "We're definitely bummed, it wasn't what we wanted. We thought we had pretty good games this season, but couldn't quite put together in the end," said coach Mark Burton after their loss to Portland.
The trio of Steven Benaloh, Nick Roberts, and Manny Eckert was arguably the most explosive handler set at the tournament, with all three of them willing and able to blast full-field dimes to deep threats like Daniel Mah and Owen Freed at a moment's notice. When they needed an under, Lucas Chen often found an opening to keep the offense moving down the field.
The team's struggles were mostly from their defensive line — while they had the athleticism and smart poaching downfield necessary to generate turnovers, the D-line just couldn't seem to convert a break when they needed to. They connected on some incredible deep looks off of turnovers every once in a while, but when those weren't falling, the team had a hard time getting out of reset mode and pushing the disc downfield.
The future is bright for Voodoo, however. A core of young, talented players and some breakout wins over Nationals-caliber teams under the direction of a first-year coach are signs of good things to come. "They loved playing with each other, and I'm hoping they all are hungry and fighting and want that [experience] again. I think they'll be back stronger next year," said Burton. "My job going forward is to keep pushing them, keep challenging them to get there." The message is clear: if you want to get to Nationals in the Northwest, you're going to have to go through them first.
Hometown Heartbreak for The Orem Killjoys
Having Regionals closer to home was a welcome change for many teams, and Orem1 The Killjoys came in as the no. 5 seed with hopes of causing a stir. They played the best teams in the region closer than many expected and had late-game leads against Rhino and Furious George in pool play, but weren't able to convert in the end. They lost four games by a total of five points, with three of their losses coming on double game point.
"Super proud of my guys," said captain Sam Pugh. "We really rose to the occasion against Rhino and Furious George and played hard. I think some of our guys proved to themselves that they are capable of more than they thought." Shifty left-handed handler Jordan Kerr and speedy Devon Terry and Joseph Merrill certainly proved that they can hang with the best players at the club level. When asked about their tight game with The Killjoys, a Rhino Slam player simply said, "They're [expletive] good." If they can retain their talent in a notoriously college-oriented town, they could be back to cause a few more scares in the years to come.
---
Located just outside of Provo, UT ↩