WUGC US National Team tryouts, the Atlanta Dream, and the Minnesota Wind Chill are all in this week's Opening Pull.
October 21, 2019 by in News with

0

comments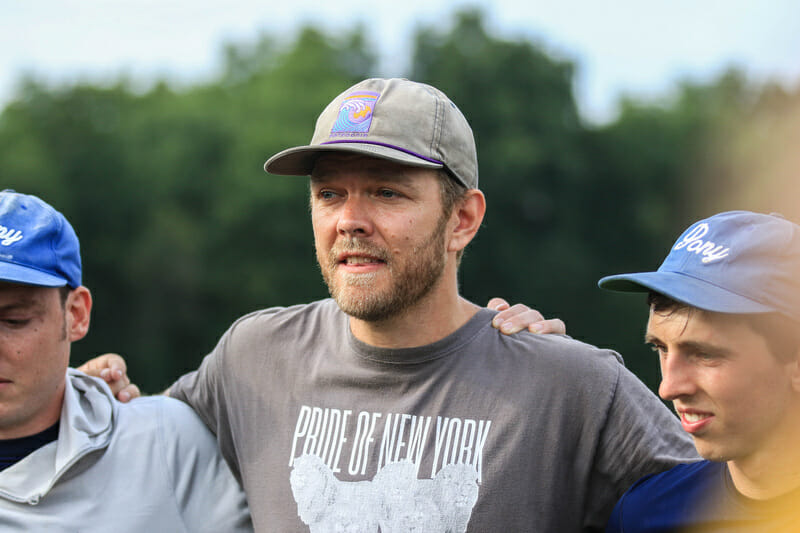 Welcome to Opening Pull, your weekly wrap-up of the previous week in ultimate. We've gathered the news you need to know and highlights you need to see, and we'll let you know what's coming up in the next week.
WUGC US National Teams Application Process Now Open
About two weeks after the invites for the U20 National Team were publicized, the grown ups (and probably some eligible kids) get their shot at earning a spot representing their country in pursuit of international gold. USA Ultimate will be selecting players for the men's, mixed, and women's teams that will compete at WUGC 2020, guided by their respective coaches, Ben Van Heuvelen, Martin Aguilera, and Matty Tsang, as well as their staffs. Applications are due by November 10th.
The World Ultimate and Guts Championships will take place in Leeuwarden, Netherlands next July. USA swept gold at the previous London competition and, per usual, expectations will be high.
AUDL Offseason Headlines: Wind Chill Add Lloyd; NFL Halftime Showcase
The AUDL always has a few newsbits they release between seasons, and a few have made the recent rounds.
BREAKING: Wind Chill 2020 "Home" Opener will take place in Winnipeg on April 18th against the @PGHThunderbirds. Mark Lloyd, AUDL legend, has signed with the Wind Chill and will suit up for this first ever pro Ultimate game in Manitoba. Tickets: https://t.co/oSqfm8QBL4 #bundleup

— Minnesota Wind Chill (@mnwindchill) October 17, 2019
Mark Lloyd, the face of the Toronto Rush, will be a member of the Minnesota Wind Chill next season… for one game, at least. The Canadian will begin the season with his new team in their showcase "home opener" in Winnipeg.
Meanwhile, this past Sunday, the Chicago Wildfire and Indianapolis Alleycats took the field during halftime of the NFL game between the Chicago Bears and New Orleans Saints. While they had to play around a number of folks doing work on the field, including the Saints' kicker, a lot of people watched ultimate for the first time. The league has a history of scheduling these halftime events at major football games.
Atlanta Dream Use Some Familiar Faces and Words in New Ad
Speaking of professional sports and ultimate, the Atlanta Dream are back in ultimate news, this time with their new ad revealing the WNBA club's new logo and colors.
At the convergence of grit and grace, of perseverance and new beginnings.

The Atlanta Dream.

» https://t.co/19NFTjHTZV#OneCityOneDream pic.twitter.com/piI5QcroWM

— Atlanta Dream (@AtlantaDream) October 18, 2019
A couple of appearances by fans/Atlanta Ozone players1 follow a flurry of interactions between Ozone and the Dream that culminated in the Dream's head coach, Nikki Collen, coming to an Ozone practice. Not only that, but I could swear I've heard the phrase "grit and grace" somewhere before.
USAU Seats Members of New Board of Directors Nominating Committee
USA Ultimate released the final list of five people that will comprise the new nominating committee for the Board of Directors. Mandy Eckhoff, Sangwha Hong, Dan Raabe, Tim Rockwood and Amber Sinicrope were chosen to take on the task of helping identify and evaluate candidates for the Board of Directors.
Nationals Hype: Washington DC Truck Stop 2019 Highlights
The no. 3 seed in the men's division, Washington DC Truck Stop, released their highlight reel from this season. Get pumped for what should be an exciting Nationals, where Truck is expected to be in the thick of things for a title.
Coming Up
The USA Ultimate Club National Championships begin this week. Ultiworld will be out in force, providing video coverage, including live streams, and written coverage of one of the biggest events on the ultimate calendar. Enter to win our free picks competitions, #TheGame, Presented by Full Circle, and the Beat Charlie Challenge, Presented by Oak Creek, and follow along with all of the action from Thursday to Sunday. We'll have a bevy of preview content coming your way this week!
---
Are they just friends of the team now? ↩