Two years into a three-year plan, the Canadian champions find themselves competing for another title in San Diego.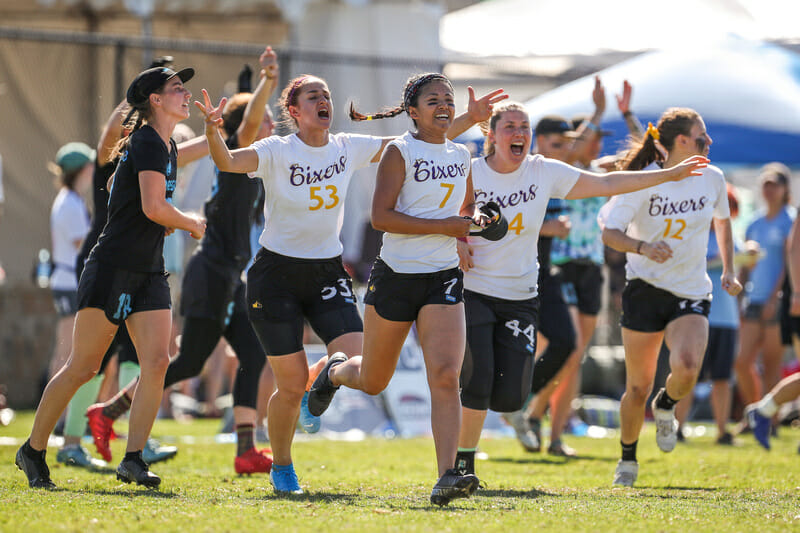 Our coverage of the women's division at the Club Championships is presented by Breakside Strength and Conditioning. Check out Breakside to find out how you can unlock your athletic potential for just $10 a month.
Until now, Toronto 6ixers has thrived on the doubt of others. In their short existence they have been the epitome of the scrappy underdog, using every naysayer as fuel on their quest for upsets. But you can only be the underdog for so long — at some point a team crosses the line and enter the household name territory, and all of a sudden they're a favorite.
The 2019 Toronto 6ixers have proven they are now a safe bet.
Except for a few losses on the road to club championships, Toronto 6ixers have been a powerhouse this season. And though it's been refreshing to finally have onlookers believe in them the way they've always believed in themselves, coming into the tournament under the pressure of great expectations is very different than coming in as the happy-to-be-here underdogs; the upset-chasing predator has become the prey for the teams below them.
With a change in identity — as least in terms of the public's perception of the team — there's a new element of pressure that is foreign to many of the Canadian crew. This year, 6ixers arrived in San Diego as the No. 4 seed at the top of Pool D, with a hungry No. 5 Boston Brute Squad sitting right beneath them. Carla Difilippo, head coach of the Toronto team, said that she noticed her team was feeling the weight of expectations on Day 1 of the tournament, which led them to a difficult third game of the day when they went down 9-1 against Boston to start.
"I think mentally for our team, we started in 2016 and we've always been the underdog. It's like they're so young, they haven't been around for very long, they're growing, and so there's never been mental pressure on us until this year." says Difilippo. "Then this year we did well at Pro Champs, and it's like, 'Okay, that's great!' Then we beat Brute at Regionals and it's like, 'Okay, we're contenders.' So this is the first time we've been in a situation where we're not an underdog. I think mentally it was hard for the team to have an X on our back, and to have Brute wanting to beat us as if they're the underdogs. So because that was new, that was hard for our team. It was a mental shift."
As that final pool play game wore on, it was obvious that Toronto was loosening up. The larger the deficit, the more the 6ixers became the underdog again, and by the midway point in the second half, they started to close the gap. Though the mountain was too steep to claim the comeback in that match, Toronto outscored Boston 9-7 in the second half and finally looked like the team that beat the Brute just a month ago at Northeast Regionals in Devens, MA.
More importantly though, 6ixers identified a weakness in their game: they are now at a level where they have to be able to perform under high pressure. "That's something we'll have to work on moving forward, for years from now," said Difilippo. "We're there now and we have a great junior system coming up, so we need to figure out how we perform when you're not the underdog. So that's what we learned from that [Brute Squad] game."
After a rollercoaster Day 1, Toronto entered the bracket on Friday armed with their favorite weapon: something to prove. They quickly set aside the Brute Squad loss and were feeling confident in themselves as both individuals and as a team. Captain Jordan Meron spoke highly of the 6ixers headspace entering Day 2. "For us, losing games… it doesn't really phase us. It doesn't change how we value ourselves as players or how we value ourselves as a team. So that loss against Brute Squad, it didn't really shake us in any way and I think that was huge because we were able to go in today and do what we did, which was awesome," she said.
That confidence and positive mentality propelled 6ixers through the second day of the tournament. They started with a definitive  15-9 win over Chicago Nemesis in prequarters, and then lined up against No. 3 Seattle Riot for what ended up being one of the best matches of the tournament. Already an underdog at the start of the game, Toronto went down 8-5 at half against a well-oiled Riot machine.
While some captains may be rattled when they're down by three going into the second half against a legacy program as strong as Riot, Meron knew that they were in the precise conditions to thrive. "We're definitely a second half team. When the half ended and it was 8-5, for me personally I knew that we had done enough to keep ourselves in the game because we usually push really hard in the second half and typically I feel like our fitness overwhelms other teams to the point that we're able to get many, many breaks in the second half. So that was really exciting."
Meron couldn't have been more right. Toronto fought back to close the gap and tie it up at 11-11 and then they proceeded to break to win. During those last few points of the game, 6ixers looked more in their element than they had all weekend. Gone was the team that fumbled passes against Brute Squad; Toronto buckled down and went to work to prove themselves, as they have so many times in the past.
At the same time that 6ixers overcame Riot, two fields over Portland Schwa stunned Denver Molly Brown, setting up an improbable semifinal matchup between Toronto and Portland. 6ixers would be facing a team that they'd beaten twice this season1 They'd become resounding favorite to win a semifinal game.
Though Meron was not envious of the other side of the bracket — a fin-worthy San Francisco Fury versus Brute Squad game — she recognized the precarious position her team was in. Ahead of the semifinal with Portland she said, "I think that it's actually quite hard to beat a team every single time that you play them in a season and we're going to have to really be mentally checked in and make adjustments as necessary because you know that Schwa is going to be making adjustments as well."
Toronto did make those adjustments and for that they were rewarded. In their semifinal matchup, 6ixers looked like a true pro flight team. Their 15-8 win over Schwa started with a 5-0 run and gave them both a place in the final and a place in history. The 6ixers are the first Canadian team to be in the USA Ultimate final since the Toronto Capitols in 2010. After only four years of existence, they have accomplished more than many club teams could ever dream of.
In fact, Meron admitted after the semifinal win that the team themselves hadn't really imagined themselves making it this far. "I would say we're both shocked but also playing as if we expected this the whole time. I was saying to [Coach Difilippo] a second ago, before this tournament I was psyched by the prospect of making it to semis, but I thought we'll have to play really well and we'll have to get a favorable matchup. Never in my wildest dreams was I expecting us to then win the semis. No knock to us — I think we're great players — it's just a huge jump for us. But here we are doing it. Being in the semis, it felt like we were playing as if we totally belonged there and as if nobody had any doubt we would win that game. So I love that from our players. That was awesome."
The big stage tomorrow may not be one that the 6ixers expected to be on, but they feel they have enough experience to handle the grandeur of the situation.
"I think obviously everyone is gonna be nervous, but a lot of players on our team have been on national teams…it's not the first time they've played in a final or an elimination type game" said Difilippo. "So yes it's the first time anyone has played in a [USA Ultimate] final, which for is is the top level of our sport, so we're so honored to be there, but people are experienced."
Although the stage itself is unfamiliar, the scenario is one they know and love.  "I'm really excited to be returning to the underdog status because whoever we play, I can guarantee the betting line is not favorable towards us. So we're excited to go in and just tackle either Brute Squad or Fury and throw everything we can at them and see what we can do," said Meron after the semifinal win and before Brute had dispatched Fury.
Through all the excitement and ups and downs of the first three days of their tournament, Toronto did not struggle with feeling grateful, positive, and proud of themselves for their accomplishments. 6ixers — and everyone else — now know that they are an elite team that deserves to be in the spotlight. Reflecting on the past few days, Difilippo said the team is basking in the moment. "Yesterday was very exciting and today was so exciting that it almost feels surreal. It doesn't feel… I don't know how to describe it. We're very excited."
---
15-11 in pool play this weekend and 13-9 at Pro-Elite Challenge early in the 2019 season. ↩