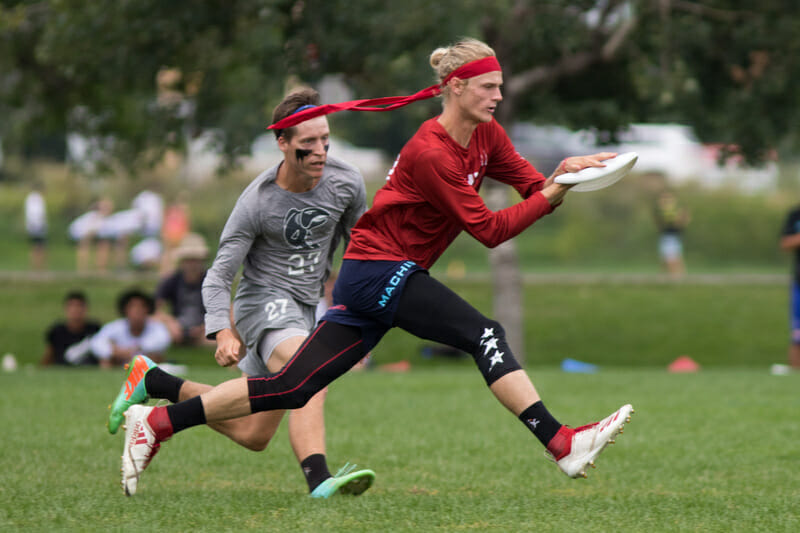 Ultiworld's club men's postseason coverage is presented by Spin Ultimate; all opinions are those of the author. Gear up for your big games, your tournament parties, and everything in between at Spin Ultimate!
#1 seed Seattle Sockeye has the chance to complete a wire-to-wire season of dominance on Sunday and bring home a title for the first time since 2007. The fish have put together a 22-1 record en route to winning every tournament on their calendar this year.
That impressive resume won't frighten Chicago Machine after the Great Lakes champs dethroned reigning champions PoNY in the first semifinal on Saturday night. Their emphatic 15-10 victory put them in the first National final in program history and erased memories of early season struggles at Colorado Cup and the U.S. Open. With Kurt Gibson cooking on the D-line and a high octane offense that is finally reaching its potential, Machine are certainly capable of giving Sockeye everything they can handle in the final. They already played a tight battle this year — a 14-13 win for Sockeye on double game point — during pool play at the U.S. Open.
Machine will hope their fastball will still be working after throwing heat all night against PoNY. The Chicago defense toed the line between chaos and control, flying around the reset space in unpredictable coverage schemes, flustering New York's big throwers. Off of turns, the D-line was clinical, putting in six of their seven break chances thanks to explosive throws and skies from Johnny Bansfield as well as a classic performance from Gibson.
On offense, Chicago was fearless, attacking PoNY's defenders and beating help coverage with speed and confident throws. No one player on the line stood out because all seven O-line starters were humming, from the incisive handler motion of Yiding Hau and Pawel Janas to the downfield dominance of Joe White and Zane Rankin.
While Machine played their best game of the season in the semifinal, Seattle found themselves needing to engineer a comeback to keep their season alive. Trailing Ring of Fire 8-5 at half, Sockeye's defense clamped down and took advantage of even the smallest mistakes from Raleigh to climb back into the game, eventually winning on double game point. While the early deficit showed that Seattle can be vulnerable, the merciless second half performance demonstrated a level of play that no other team has been able to deal with this year.
The 2019 spawn of Sockeye is every bit as talented as previous generations but has shifted into a higher gear by way of improved decision making on offense. Previous teams have fallen victim to forcing high difficulty throws into low reward windows, but save for the occasional miscue, the current version of the fish keeps things largely clean. Continued execution on that front spells trouble for any team that lines up across from them, as the individual throwing talent of handlers like Simon Montague and Chris Kosednar complemented by the dynamic downfield play of Trent Dillon, Matt Rehder, and Dylan Freechild make them a nightmare to match up with one on one. To boot, on a collective level, the Sockeye offense is outstanding at maintaining downfield spacing, comfortably flipping the cutting space from one side to the other as the disc moves laterally.
On the defensive side, look for Sockeye to run out the same sophisticated and sticky defense that has become their hallmark. Seattle runs deep on the D-line and frequently varies their looks to keep opponents on their toes. Whether it's a 4 person cup, a 2-3-2, help-heavy matchup, or pure match defense, Sockeye brings pressure. While not the tallest unit, the downfield defenders are athletic and the handler defenders— headlined by fast twitch players like Nathan Kwon, Billy Katz, and John Randolph — are heads up and agile. Sockeye rarely gives up a cheap goal and is notorious for constantly adapting their defense to deny their opponents' first and second options. Even when faced with a deficit, as they were late in their semifinal against Ring, Seattle knows that they have the defensive chops to climb back into any game.
All season, it has seemed like a title was within Sockeye's grasp, but Machine's run through the bracket has made them look like worthy winners as well. Both teams have good stories, but on Sunday afternoon only one will have a happy ending.