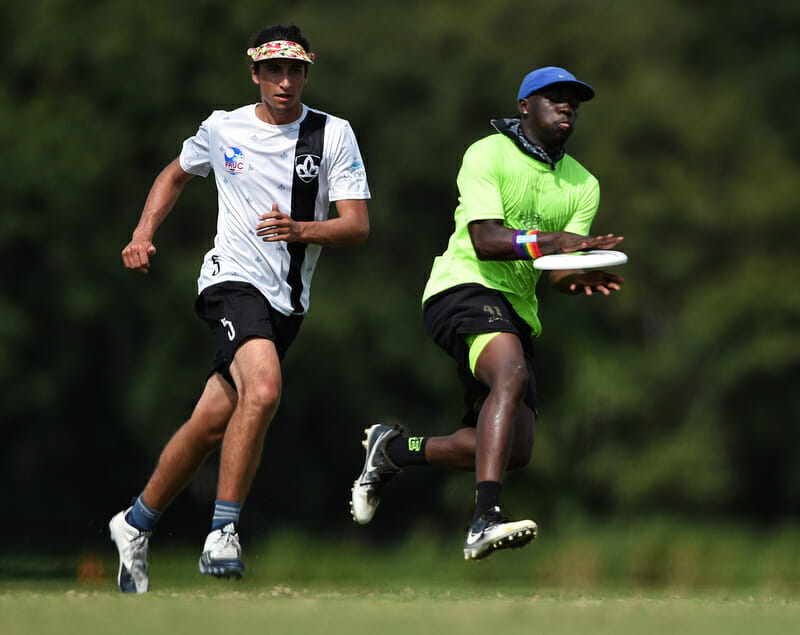 The bracket picture for each division began to clear up on the second day of PAUC. Title favorites either emerged or solidified their positions, and the rest of the bracket places began to come into focus as well. There were also plenty of exciting and close games to highlight the action. All in all, it was another fun, competitive day under sunny skies at the Sarasota Polo Grounds.
Men's
Alberta Flatball Club (CAN) eked their way to the top of Pool A with a double game point win over Evolution (COL) and then held onto the pole position with a more comfortable 15-11 win over Makawua (COL). Alberta led for the entire game but had to resist a late surge from Evolution as they fought their way back from a late two goal deficit to tie the game up at 14-14. They survived the final point with a clean hold to get the win, but Evolution, led by Simón Ramirez, gave them everything they could handle. The Colombians rebounded well with a 15-9 win over Quake (CAN) to hold onto second place in the pool, which is where they'll need to finish to make the bracket. Domino (DOM) and their overwhelming defense asserted themselves as the top challengers for that second spot in the pool with a 15-5 win over Euforia (COL) in their only game of the day.
Comunidad el Oso (COL) seized first place in Pool A with a thrilling double game point over Warao (VEN). Both offenses played exceptionally. El Oso got two breaks late in the first half and Warao got two early in the second, but otherwise the offensive units were too strong for the opposing defenses to stop, especially down the stretch when the hottest part of the day clearly took its toll on overall energy levels. El Oso had just enough firepower to withstand Warao's high-profile American pickups like Rowan McDonnell and Jaime Perez, but both proved to be title contenders with their performances. Houndd (CAN) and Phoenix (CAN) now both sit at 3-1, but after Houndd's 15-11 loss to Warao on Tuesday morning, they both have lost the head to head with Warao and will either need them to lose to someone else later in the tournament in order to have a chance of making it or pull off an upset over El Oso to trigger further tiebreakers.
Women's
Revolution (COL) strengthened their hold of Pool A's top spot with a 15-1 blowout over Spanglish (VEN) to improve to 3-0 with a staggering +28 goal differential. Voltaje (COL) also moved to 3-0 on day two with their 14-10 win over Mamajuana (DOM), but they have been far less dominant, with just a +12 goal differential. Bamboo moved into a playoff spot with their 15-10 over Qub (CAN). Qub still sits in a playoff spot in fourth place, and they hold a head to head win over fifth place Mamajuana. The loss, though, will likely make their bracket path tougher.
Pool B had twice as many games as Pool A and featured far more chaos. Wicked (USA) stormed back from an 8-4 halftime deficit against Stella (CAN) in a battle between two undefeated teams. Wicked eventually won 15-13 on an 11-5 halftime run, thanks to big plays from the likes of Ashleigh Buch and Taylor Simpson, which put them in first place in the pool.
Aerosoul (COL) also improved to 3-0 with blowout wins over PPF (CAN) and Thrift Shop (CAN), while Stella rebounded from their second half collapse to rout Panama 15-1 to stay in the hunt for the top of the pool.
Mixed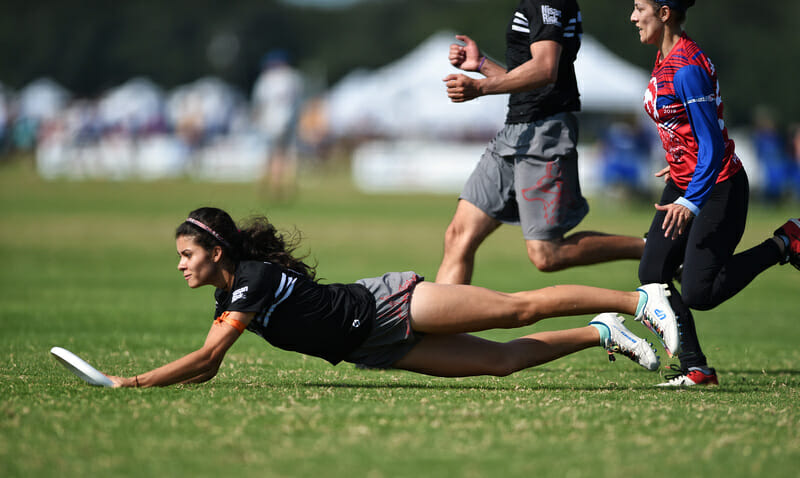 Jughandle (USA) and Mischief (USA) are the lone remaining undefeated teams in Pool A after two days of play. Jughandle waltzed past Osos Perezosos 15-5 in their only game of the day, and Mischief ended Steamboat's undefeated week with a 15-11 win in the first round of the day. Mischief then beat Halal (COL) 15-8 to match Jughandle's 3-0 record atop the pool. Jughandle currently leads in goal differential, but with the winner of the pool going straight to the title game, it's likely that the future matchup between the two will determine who makes it to the final.
Pool B saw far more chaos on day two, with three double game point finishes. Slash (MEX) edged Ávalon (Mex) 14-13, while Macondo (COL) bested Charrua (URU) 15-14. Charrua then turned right around and beat Slash 15-14 in the next round. The chaos was fun but did little but strengthen No Touching's and Public Enemy's lead at the top of the pool. Public Enemy got off to a slow start defensively against Hammers (ARG) but ended up winning 15-9 before beating Ávalon 15-8, while Mischief blasted Voltaje (COL) but were far less dominant in their 15-12 win over Macondo.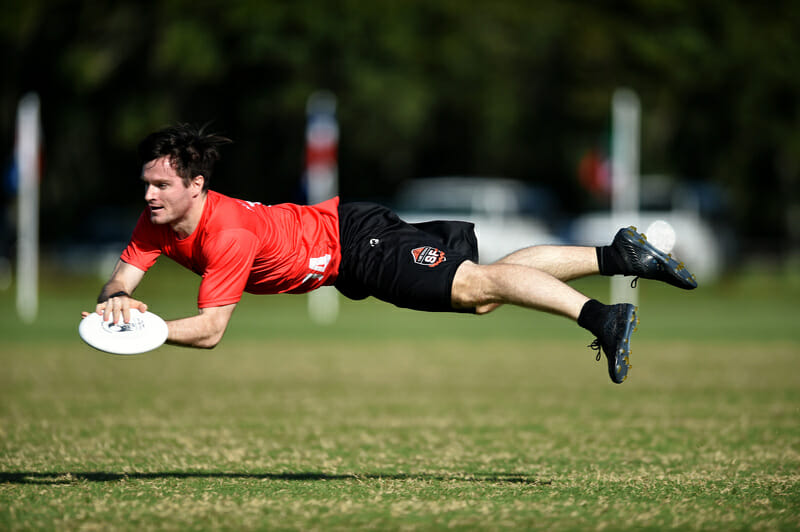 Master Men's
All Bashed Out's dominance of the division continued with two more comfortable wins. They started with a 15-9 result over NSOM (CAN), who sat in second place after day one, and then thrashed Yanomami (VEN) 15-6 to end the day. As stated in yesterday's throwaround, Master Men's games are simply for seeding in the round robin that will determine the champion, but All Bashed Out continued to prove their superiority through day two.
Master Mixed
Unambiguously Grey (USA) rose to the top of the heap with a tightly contested 15-13 win over 512 (USA). The two sides were evenly matched, but Unambiguously Grey was able to get all the holds they needed after taking an early lead. 512 was unable to generate enough defensive pressure to generate the turnovers they needed down the stretch and Unambiguously Grey leapt to the top of the standings. 512's earlier win against Happy Campers (CAN) means they sit in second, ahead of 3-1 Molasses Disaster (USA) on goal differential. Molasses Disaster topped San Francisco Bridge Club (USA) 15-13 in another tight game, but Bridge Club held onto a crucial top four spot with their bounce back 14-12 win over Old Phoagies (USA).
Tomorrow, Grand Master Men's competition will begin.