The capstone of the college fall season is here!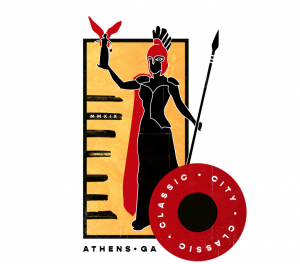 Ultiworld's college fall coverage is presented by Spin Ultimate; all opinions are those of the author. Gear up for your big games, your tournament parties, and everything in between at Spin Ultimate!
It's that time of year again for Classic City Classic, long the men's division's premier fall warm-up tournament. Featuring both of last season's College Championships finalists, five of the country's ten Regional champions, and one notable heavyweight who did not get to compete in Austin, CCC will feature plenty of matchups we are sure to see again in the 2020 series.
Beyond the top seeds lie several strong programs from the Atlantic Coast and Southeast regions who fell short of the Nationals field last season. They'll look to take the first steps to unseat the teams who topped them at Regionals last April.
Note that this year's Men's CCC is 33% smaller than usual, because Georgia, the host team, was unable to secure fields for their usual 24 team event. They are sharing the intramural fields with Athena, the women's team, who is hosting Women's CCC concurrently.
Tournament Profile
Date: November 16-17, 2019
Location: Athens, GA
Weather: Sunny, lows in the mid-30s, highs in the mid-50s, up to 10mph wind
Top 25 Teams (end of 2019 season): 9
2018 Nationals Qualifiers: 6
Filming Schedule
The following games will be filmed (NOT streamed) and made available to Ultiworld Full and Plus Subscribers following the event.
UNC v. BYU
Alabama v. UNC Wilmington
Georgia v. Maryland
Quarterfinal
Final
National Powers
Defending national champions Brown Brownian Motion return the 2019 2nd runners up for Player of the Year (John Randolph), Defensive Player of the Year (Dylan Villeneuve), and Breakout Player of the Year (Solomon Rueschemeyer-Bailey). That's already a great start for the repeat campaign, and with plenty of other key pieces from both their offense and their defense returning, plus top-tier recruits Leo Gordon and Jacques Nissen, Brown definitely has the talent to end the season as the division's best once again.
But can they do it? That rather depends on how they reshape themselves in the wake of a pair of seniors' departures. Villeneuve and Azeez Adeyemi will still rack up blocks on the D-line, but it's doubtful that unit will prove quite as stubborn after the turn as last year's was with Ned Dick at the helm. And while "Johnny Buckets" can more than hold his own as a handler — especially with Rueschemeyer-Bailey and Ken Noh with him in the backfield — he won't be able to produce the same kind of magic with the disc as 2019 College Player of the Year Mac Hecht. Then, too, if Randolph handles, the team won't be able to rely on his sublime downfield talents the way they have the last couple of years.
This weekend will be the first test for Brown's capacity for adaptation, and it will be fascinating to watch, especially if the weekend gives us a rematch of last year's national final.
North Carolina Darkside's roster may look even stronger on paper than B-Mo's. 2019 College Offensive Player of the Year Liam Searles-Bohs, Alex Davis, Anders Juengst, and Elijah Long have just come off a semifinals appearance at Club Nationals with Ring of Fire. Between the growing talents of that core and a supporting cast that includes Suraj Madiraju, Tommy Williams, and John McDonnell, Darkside have everything they need to finish at or near the top of the division for the sixth consecutive year.
In recent years, however, UNC has played this tournament more loosely, sitting a few of their starters to maximize high-level reps for the second string. No doubt they'll be good — they're always good at CCC — but whether the ultimate they play this weekend will really resemble the ultimate they'll play in the spring is up in the air.
Another perennial Nationals powerhouse, Pittsburgh En Sabah Nur, have their sights set on the 2020 crown, as well. With fifth year Michael Ing — bringing with him a Club Championship and back-to-back appearances as a 1st-team All-American — leading the squad, anything seems possible. Pitt also have a cadre of juniors, starting with Kevin Tsui and Will Hoffenkamp, who may be ready to blossom into stars. It might be tough to tell who's who, especially on video1, but there ought to be no mistaking the fact that Pitt will be a major factor again, both at CCC and in the 2020 series.
There is, however, one potential hitch in the plans of those three teams gearing up for another deep run on Memorial Day weekend: BYU CHI. Without having a way to prove it at the division's biggest stage because the team does not play on Sundays, BYU was one of the best teams in the country this past season and finished the year ranked #3. They will face Darkside in what figures to be one of the most-anticipated matchups of the fall.
But beating UNC would be both a blessing and a curse for CHI. A marquee win is always desirable, particularly for a program that doesn't get enough chances to earn one. But it could also potentially cost them their afternoon crossover game. Traveling cross-country for a two-day tournament is already an expensive endeavor; BYU are flying for just one day of play.2
But with no Nationals-level competition in driving distance3, no AUDL team closer than Los Angeles, and a spring season that is essentially two months shorter than that of their peers, CHI will do what it takes to get up to speed quickly and hit 2020 at the elite level. They return basically every key member of last year's team, including two-way downfield specialist Joe Merrill and handler Jordan Kerr, a 2019 2nd Team All-American that also made last year's Offensive Player of the Year podium.
On the Rise
Below the quartet at the top sit a trio of strong squads: Michigan MagnUM, Georgia Jojah, and NC State Alpha. Each of them finished up a strong 2019 at Nationals, and all of them will be looking to renew that status — and then some — in the season to come.
Michigan were last year's surprise quarterfinalists at the Championships. But they won't be sneaking up on anybody in 2020. Raymond Lu, Eli Weaver, and Nationals hero Jeff Gao all have another year of experience under their belts. If they can find the team-wide dynamism that launched them into such grand success in Austin last May, they have a shot to do some serious damage from the #4 overall seed at CCC.
Their poolmates, Georgia, may have something to say about that, though. The Southeast regional champs knew how to win ugly, punching in both holds and breaks largely as a result of their tenacious defense on their way to the bracket in Austin. John Roorbach, Hayden Austin-Knabb, and Jon Ross Ingley are among the team's key returners. They also pick up a five star recruit in Aidan Downey, the leader of this year's YCC co-champion Atlanta ATLiens. Jojah and Michigan clash at 11 AM Saturday for Pool D's likely bye to quarters.
While NC State Alpha, sporting a banged up roster and being mercilessly harassed by the Texas wind, did not play as well at 2019 Nationals as they would have hoped, everything about their intentional re-branding season that led up to it was a massive success. They enter CCC in great position to begin an elite campaign in 2020. Though they lose last season's Callahan nominee, handler Bailey Laberteaux, Alpha have a lot of talent peaking at the same time. Michael Lee, Austin Von Alten, Conor Chickos, Matt Tucker, Trevor Lynch, and Rhys Gretsch probably won't all be on a line together, but there are few teams in the country who can match that level of talent. There's plenty of depth behind them, too, including Archer Gordon, returning to the team after a season away.
Teams on the Cusp: Atlantic Coast & Southeast
The Nationals contingent (and BYU) are joined by a pair of teams who lost in their respective regional finals in 2019. The first, Central Florida Dogs of War, look to build on a 2019 season full of highs, an impressive turnaround for a team that couldn't make it out of their section the year before. They'll certainly be athletic and well-coached — beyond that, this weekend will give spectators the first glimpse at how well-equipped UCF are to make another run at a Regional title. With star Adam Vinson back with the team, they should have a strong chance to make the show in 2020.
Maryland Space Bastards are the other. Finally stumbling in the last game of a grueling backdoor bracket to NC State, Maryland will have their work cut out for them again this year in a loaded Atlantic Coast. Nevertheless, they have to like their chances. They may have graduated ace-in-the-hole John Walden, but they have one of the division's most exciting athletes in junior Jeremy Hess, who just ended a superb season with Washington D.C. Truck Stop.
The team Maryland beat on their way to the AC game-to-go, UNC Wilmington Seamen, look to jump back into the limelight after a season-ending injury to star Rick Hennighausen derailed their ambitions in 2019. Can the Seamen find their sea legs again this season now that he and a few others have definitively moved on? Dynamic senior Connor Russell is a great player to build around. There's a lot of great history in the Wilmington bloodline, and more than a few players who could step up and assume that mantle.
Finally, several promising teams from 2019 hope to get their first licks in against the frontrunners as they begin darkhorse bids for 2020 glory. Tennessee, Alabama, and South Carolina all appear to be programs on the come-up. This weekend will tell whether that impression is more fact or illusion. LSU have a good base of talent waiting to congeal into a true contender, and Florida always manage to find players who can step up when the rest of the country begins to count them out.
---
Pitt famously wore numberless pinnies on taped games before Nationals last year ↩

They have at least set up a game on Saturday evening against Emory, who will take their place Sunday at CCC. ↩

Boulder, CO, home of their nearest Nationals neighbor, is nearly an eight hour trek by car. ↩