Your Monday morning ultimate news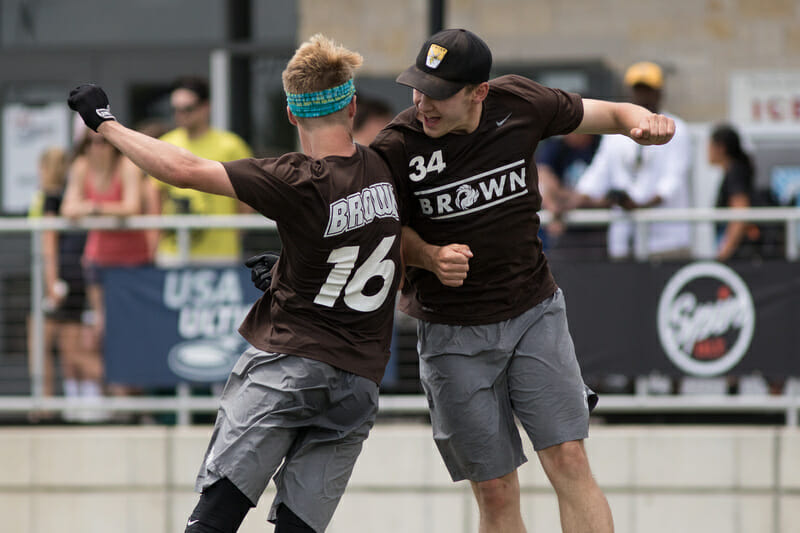 Welcome to Opening Pull, your weekly wrap-up of the previous week in ultimate. We've gathered the news you need to know and highlights you need to see, and we'll let you know what's coming up in the next week.
Classic City Classic Crowns Georgia Athena and Brown B-Mo
Athens, GA played host to one of the top fall events on the east coast, with a particularly strong field in the men's division. The reigning national champions, Brown Brownian Motion, won in the men's division, defeating a surprising UNC Wilmington Seamen club in the final 13-11. Pittsburgh and NC State were the other semifinalists, though BYU went 3-0,1 including a 13-9 win over UNC.
In the women's division, Southeast champion and host Georgia Athena went undefeated and closed the weekend with an emphatic 14-7 victory over South Carolina in the final. Marie Perivier and Athena are off to a strong start having thumped the mostly-Southeast field, further confirming their status as the regional favorite. Florida State and Alabama reached the semifinals, as well.
More coverage of the tournament coming!
LA Throwback to Host Color of Ultimate Showcase on Sand
The Color of Ultimate: LA Throwback announces 30-player roster pic.twitter.com/ox8CpoR19J

— LA Throwback Foundation (@LAThrowbackFest) November 13, 2019
The LA Throwback Foundation is partnering with AFDC: Project Diversity to deliver a showcase Color of Ultimate beach game, featuring two rosters of players top-level people of color. The game will be a part of Throwback, Jan 18-19 of 2020, over the Martin Luther King Jr. Day weekend. It was also announced that the game will be livestreamed. After the success of Project Diversity's first CoU game, it's exciting to get another one of a different flavor.
USA Ultimate Releases Equity, Diversity, and Inclusion Update
USAU's Equity, Diversity, and Inclusion (EDI) team released a November update on the efforts the organization has taken to support advancement in these areas within ultimate. Highlights include grants provided to local organizations AFDC Juniors, Altitude Youth Ultimate / Colorado Ultimate, and Triangle Ultimate, as well as a series of public forums to discuss various aspects associated with these three ideas. There's been an increasing focus on EDI in ultimate, and it was included as a key focus in USAU's 2019-21 Strategic Plan. Early this year, the governing body brought in two consulting firms to help guide development of programming and policies that could help develop greater EDI.
Ultiworld Club Awards Recognize the Best in Mixed, Men's, and Women's
After the initial release of the Players of the Year in club, Ultiworld concluded official award announcements over the weekend, wrapping up an extensive group of 2019 Club Awards. This marks the fourth year Ultiworld has given out these awards in the club division, although it is the seventh year of All-Club teams, the first awards ever given out by our organization. See which players our staff felt were the top individual performers this season! And keep an eye out for some extra content for our subscribers giving more thoughts on the stars of club.
Looking Ahead
As the cold sets in, ultimate in North America mostly hibernates. But we have plenty from 2019 to reflect on in our end of year coverage, including the upcoming play of the year brackets. And you never know when news may strike!
---
and added a fourth win over Emory in a post-CCC scrimmage ↩