Get the kinetic chain working!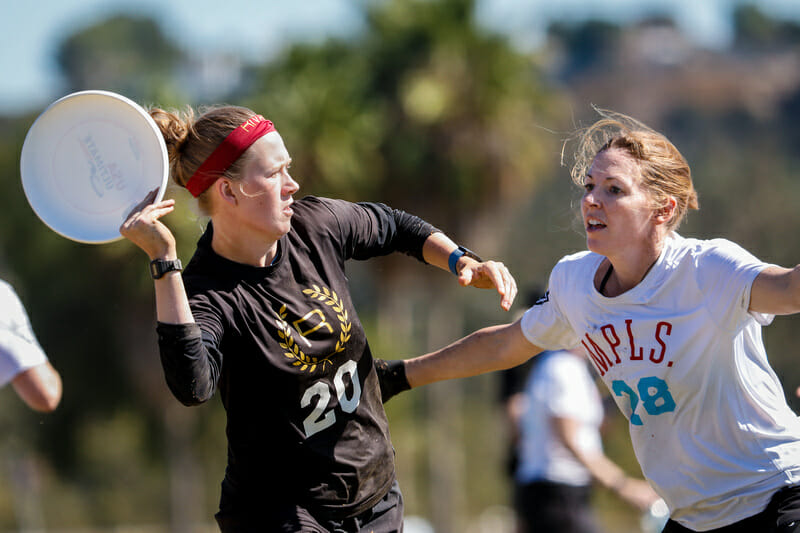 Tuesday Tips are presented by Spin Ultimate; all opinions are those of the author. Please support the brands that make Ultiworld possible and shop at Spin Ultimate! 
If you want to add more spin, power, or distance to your flicks, you might be trying to tackle them one at a time. As it turns out, you can add all three simultaneously with improved footwork (and the right grip).
When throwing a flick, focus on pushing off the ground backward with your non-pivot foot as hard as you can (right foot for righties). Note that you are likely to find much more success with this cue if you hold the disc with the elite grip, and keep your palm facing skyward through the entire release.
If you watch top throwers, (and once you start looking for it, you'll notice it everywhere) they often step back after throwing a flick huck — sometimes they even fall over. This is due to the force that they are exerting into the ground with their non-pivot foot.
Watch how these throwers use the momentum from pushing off the ground to add power to their flick.
Pushing backward hard into the ground seems to set up the kinetic chain for success in transferring momentum from legs → core → shoulder → arm → disc. It puts more spin, touch, and power into the throw — and doesn't have the thrower actively thinking about all of their mechanics, which can be a challenge when learning or refining any throw.
I recommend pointing the toe on your non-pivot foot perpendicular to your target, as this will open up your hips and engage your core. But this ground-push cue should work even if you point your toe at the target. Make sure that the ground-push comes from a small step forward (which can also include a sideways component, especially if you're trying to get around a mark), rather than trying to push from a stationary position. Additionally, you can do this on flicks that are not hucks, too: you just won't need to push as hard.
It's time we retire the old trope of telling players that the flick is "all in the wrist" or to "snap your wrist harder." It's not just that this advice is wrong — it is actually counterproductive.
If you want to actually generate power from the wrist, you have to use the (incorrect) "power grip," so it is no surprise that people gravitate to that grip, given how often we tell them "it's all in the wrist." (The only time this is actually true is with a high release flick, which is getting all of its power from the wrist, and therefore the "power grip" is indeed correct for high release flicks.)
Combining the best grip and best footwork should help you see improvement in your flicks. Using this ground-push cue will transfer the momentum from your lower body to the disc, gaining you those valuable extra yards and extra touch on your hucks.
For more articles by Ariel Jackson, check out Notes From A Contrarian Coach.