Top D-III clubs and D-I Atlantic Coast teams do battle.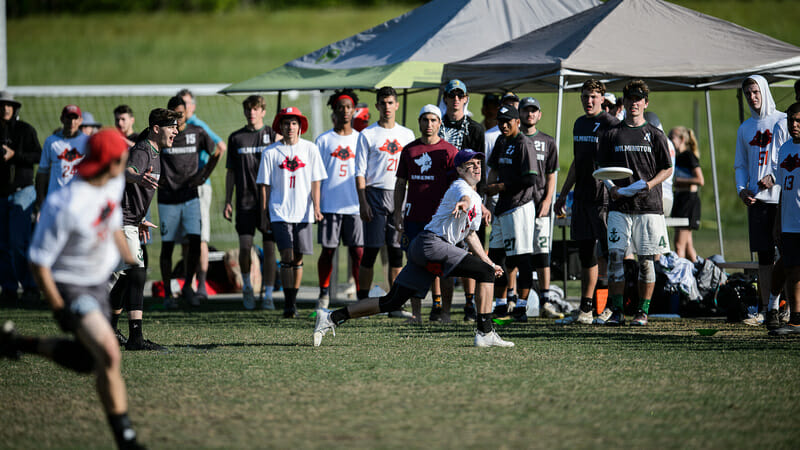 Ultiworld's 2020 college coverage is presented by Spin Ultimate; all opinions are those of the author(s). Find out how Spin can get you, and your team, looking your best this season.
Carolina Kickoff has become a very good too-early college tournament showing off the riches of the top teams in the Atlantic Coast. With a few more D-III teams in attendance and a newcomer in Indiana, the event will provide a great opening mix of teams all looking for competition to push their players. That's not to discount the intra-region clash that could bubble up between the top teams in the host region, though. UNC, NC State, and UNC Wilmington all have a a shot at claiming the region as their own in April, and South Carolina lurks ready to pounce, so the bracket at Kickoff could add some clarity as to who the top team in the competitive region really is.
Tournament Profile
Date: January 24-261
Location: Chapel Hill, NC
Weather: Highs in the mid-50s, sunny, with light wind
Top 25 teams: 4 D-I
Filming Schedule
Ultiworld will be filming games and, assuming all goes well, Jinxcam will be streaming on the UNC YouTube channel starting Saturday afternoon (and during the Friday night showcase between UNC and Duke.).
All filmed and streamed games will be available after the tournament for Ultiworld Full and Plus subscribers (and teams with a Team Pack!).
Jinxcam Streaming Schedule
Friday
6:00 PM: UNC v NC State (Women's)
7:30 PM: UNC v. Duke (Men's)
Saturday
12:00 PM: South Carolina v. Air Force
1:45 PM: Kentucky v. Florida State
3:30 PM: Crossover
Sunday
11:30 AM: Quarterfinal
1:15 PM: Semifinal
3:00 PM: Final
Ultiworld's Filming Schedule
Saturday
8:30 AM: Richmond v. UNC Asheville
10:15 AM: Florida State v. Indiana
12:00 PM: Air Force v. Georgetown
1:45 PM: Duke v. UNC Charlotte
3:30 PM: Crossover
Sunday
9:45 AM: Quarterfinal
11:30 AM: Quarterfinal
1:15 PM: Semifinal
3:00 PM: Final
An Atlantic Coast Clash
The top seeds in every pool this weekend all have something to prove. No. 1 seed UNC may be the perennial champion, but they have a lot of new players who will need to step into significant roles this year. No. 2 UNC Wilmington ended the college preseason two points shy of Brown in the final of CCC and with plenty of questions about what their ceiling is in 2020. Likewise, a short-handed no. 3 NC State was two points shy of taking down Wilmington in the semis of CCC and is neck and neck with Wilmington and Chapel Hill to claim the region in April with some exciting returners. Finally, at the top of Pool D, no. 4 South Carolina is facing the prospect of holding off a renowned D-III Air Force team and scrappy in-region opponents in App State and Georgetown. It's an exciting stage for all of the Atlantic Coast teams especially when the Sunday bracket shakes out.
Minus a loss to UCF in the inaugural year of Carolina Kickoff, #3 North Carolina has always taken home the crown of their opening season tournament. Winning the tournament has never really been more important, however, than getting reps for players across the entirety of the roster. Player development is going to be critical for the 2020 iteration of Darkside. While the coaching staff has opted to tighten up lines in the bracket over the years, Darkside's freshmen will be getting some good playing time this weekend. Out of their returners, it will be interesting to see how UNC uses the trio of Kai Marcus, Anders Juengst, and Elijah Long. They are all proven handlers but can be used in a variety of offensive and defensive roles. As for banner returner Liam Searles-Bohs, he has not been cleated up for UNC at any of the previous Kickoffs he's been a part of. If that changes this year, his presence could drastically alter how UNC attacks their opponents downfield.
If things go to seed, Darkside will face the winner of UNCW and NC State in the final. Of the other two other North Carolina powerhouses, #15 UNC Wilmington is the team most likely to unseat UNC from their Kickoff throne. At CCC, Wilmington dismantled opponents with a variety of well-executed pull plays, handler weaves, and high energy defense. Driven by a very experienced lefty Connor Russell, UNC Wilmington's offense finally started hitting again with their huck-heavy looks after struggling for the last two years. Cole Feltman was catching a lot of Russell's hucks at CCC, but Russell isn't the only player with a cannon of an arm. Ethan Ylizarde stood out from the pack at CCC with his defensive production and throwing capabilities for Wilmington's D-line, while Jack Liebling partnered with Ylizarde to deliver big throws on a turn. With a deep group of returning defenders, Wilmington could overpower UNC down the road in the final.
That will most likely depend on going through #10 NC State Alpha, though, and while Wilmington claimed a narrow victory over NC State in Athens, Alpha is looking just as strong coming into this weekend. NC State got some of the most exciting pickups for the season ahead. Fifth years David Jones and Archer Gordon are back for the wolfpack after both taking the 2019 season off to heal up and reintegrate themselves with the new Alpha culture. Jones shouldered much of the throwing load for the club back in 2018, but his speed, explosiveness, and experience give State a lot of options for where they choose to us him. Gordon, on the other hand, was a largely downfield threat for State and will be joining returners Matt Tucker, Avery Acierno, and Trevor Lynch as another deep threat on a roster packed with plenty of height.
Probably the biggest question mark for State this season is how they plan to make do with a banged up Austin Von Alten, who, despite having a tremendous banner season in college and club, is currently dealing with the nicks and dings he sustained from a very high usage year in 2019. The older Von Alten was a gamechanger for NC State's offense with a playmaking ability that ultimately helped get them to Nationals and catapulted him onto Ring of Fire. Keeping him healthy for the tournaments that matter down the road is going to be a big priority for the Pack this year.
Punching Up: The D-III Field
In addition to being a tournament full of D-I Atlantic Coast talent, Kickoff has steadily become an attractive tournament for good D-III squads trying to play earlier in the season. This year brings together three of the four 2019 semifinalists from D-III Nationals: Air Force, Richmond, and Carleton GoP. It's hard to imagine GoP overcoming UNC or Richmond surmounting NC State, but they will serve as great measuring sticks.
Air Force, though, comes into Pool D as a bit of a wildcard. They went through significant turnover this offseason, losing their two biggest throwers, Kainoa Chun-Moy and Alan Villanueva. In addition, 2019 was the last season for head coach Carl Chan. Matthew Frierson and Michael Dellate are the two biggest returners for an otherwise largely unknown squad of players who will need transition into big roles quickly. Air Force has the luxury of not facing UNC, NC State, or Wilmington on Saturday; against regional contenders South Carolina, Appalachian State, and Georgetown, they can experiment with personnel and figuring out who can take on the throwing load left behind by last year's stars.
Richmond, on the other hand, faces an uphill battle against NC State's size and speed. But unlike Air Force, Richmond has a huge core of returning players from their impressive 2019 season. In addition to a class of 11 rising sophomores this season, Ben Weinstein, Chris Cassella, Harris Cannon, and Xavier McCormick make up a very strong group of seniors who have been a part of both of Richmond's best Nationals performances in 2017 and 2019. Richmond will face a long time regional contender in UNC Asheville to start their college season in the rematch of the 2019 D-III Atlantic Coast final, a matchup that Richmond has won every time since 2014.
As with the last couple of iterations of the Bulldogs, UNCA doesn't possess the same amount of depth outside of their top seven players, but their upperclassmen core is very strong indeed. Dean Merritt is looking like Asheville's biggest star alongside fifth year defenders Darius Anglin and Ethan Cole, while junior Wilson Matthews has steadily become a very central piece of Asheville's handler unit. Asheville showed an ability to load up a very strong punch in big games last season, but sustaining that punch past the opening round will be very tough.
Finally, Carleton GoP returns to their third Kickoff in UNC's pool. Like Air Force across the bracket, GoP lost a lot of senior talent in 2019. Returning seniors Alex Rafkin and Charlie Bushman are probably the most notable of GoP's core that got the team back to last year's semifinals. Getting early reps at Kickoff has been a winning approach for Carleton the last two seasons and, while they certainly can't be expected to take down UNC, their other games against Duke and UNC Charlotte are great tests for GoP's new roster.
Other Regional Stories to Follow
#24 South Carolina has a lot of question marks surrounding their potential ceiling. They were scrappy at CCC, playing close to NC State, BYU, and UNC Wilmington. Kickoff will measure whether or not they are capable of knocking off one of the other top three teams in the Atlantic Coast; a strong showing in Pool D would put them on track to see UNC in semifinals. In the fall, Aaron Coble, Michael Miller, and Jamie Bryson were impressive, and USC has good matchup capabilities defensively. If they can build a consistent offense and avoid bleeding breaks early in games, they could be a serious challenger in the bracket.
Outside of a lot of the AC play occurring this weekend, there are a few other notable teams that will be starting their seasons this weekend in Chapel Hill. Indiana has been slowly trending upwards with a good pipeline coming out of Center Grove high school and the Indianapolis ultimate scene. Brothers Alex and Conner Henderson, Jeremy Keusch, and AJ Humbert all competed with the Indianapolis Alleycats this summer, and this weekend gives Indiana the chance to cut their teeth against tough opponents with a guaranteed matchup against top seeded Wilmington. The path to even more Nationals-quality competition will require IU to face down Florida State, who have struggled to make headway against other Southeast competition so far this season.
---
The tournament begins with a showcase game Friday night between North Carolina and Duke. ↩