EUF hosts their first indoor event!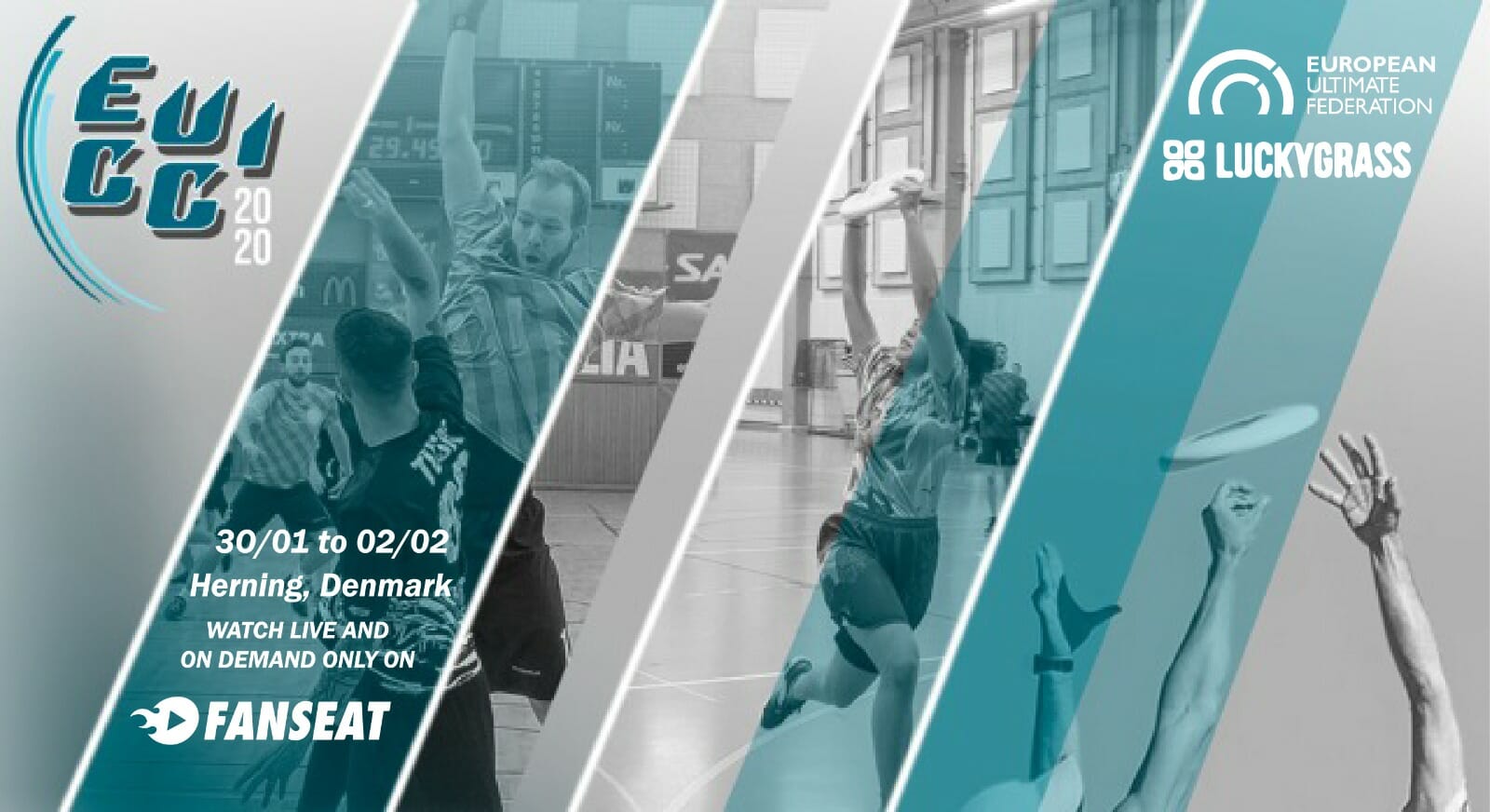 This weekend the fist European Ultimate Indoor Club Championships (EUICC) run by the European Ultimate Federation (EUF) in Herning Denmark.1 There will be women's, men's and mixed divisions. Teams from all over Europe qualified for this event through national championships. In principal, the event was meant to pit national champions and runner-ups against each other, but some exceptions were made in the initial event. Teams will play on handball courts with slightly modified rules. This is what you can expect in each division.
Tournament Profile
Location: Herning, Denmark
Date: 30 January – 2 February
Teams: 16 Men's, 16 Mixed, 12 Women's
Weather: Irrelevant
Live scoring: Ultimate Central
Livestreaming: Fanseat (Friday – Sunday only)
Podcast Preview: EuroZone
Women's Division
Format (12 teams)
Two pools of six teams
Top three from each pool go to an upper pool of six, carrying in their games from the previous pool
Top four from the upper pool play semis and finals
Pools
| Pool A | Pool B |
| --- | --- |
| Aarhus Ultimate | Helsinki Ultimate |
| Valkyria | Valmiera |
| Exelle | Flying Rabbits |
| Seagulls | Ladies'Jonctées |
| Drop That Smile | Ultimate Dragons |
| Madcaps | KFUM Örebro |
Pool Preview
On first glance, Pool A seems to have drawn the stronger teams. Most of its top teams have a set of powerful sisters at their core. Valkyria (Stockolm, Sweden) boasts the Sarah and Sofia Eklund as well as Molly Robbins who will be a very tough trio to stop. Exelle (United Kingdom) has Becky and Helen Thompson who have both played for Canadian Youth national teams in the past. Aarhus Ultimate (Aarhus, Denmark) has Helle and Rikke Rørvang who are two of the best Danish ultimate players. Further in the pool, Seagulls (Hamburg, Germany) and Drop That Smile (Vilnius, Lithuania) boast EuroStar talent in Levke Walczak and Barbora Kundelyte, respectively. Drop that Smile won the Baltic Ultimate Championships Cup Indoor earlier this month, which included a victory over a strong Salaspils side. Madcaps (Ivano-Frankivsk, Ukraine) do not have that much known talent and may have a difficult time in this stacked pool. Only three teams from this pool will remain in contention after pool play, which will make for very tough and important games on day one. Valkyria, Aarhus and Drop that Smile have the strongest resumes in the pool, but Seagulls and Exelle have a good chance to upset these teams.
Pool B is not nearly as deep in terms of known talent. Helsinki Ultimate (Helsinki, Finland) have Inka Wessman, who will be a nightmare for anyone to defend. Knowing the Finnish propensity for accurate blades and over the top throws, an isolated Wessman may be impossible to stop. Valmiera (Latvia) are a bit of a pickup team at this tournament but they do have some top Latvian talent throughout the team including Linde Gulbe and five other Latvian national team players. Flying Rabbits (Brussels, Belgium) have recently added France Mixed cutter Manon Coyne who has played in Russia, so she has some high level indoor experience that she can bring to the team. She will help standout Noémie Dekoninck and the young Julia Harris. On the French side, Ladies'Jonctees (Dijon France) shocked their country by beating Yaka in the French indoor championships last year to qualify for this event with their young roster. They are missing star sisters Lison and Éva Bornot, which may make things hard for them in Denmark. Further down, Ultimate Dragons (Copenhagen, Denmark) and KFUM Örebro (Örebro, Sweden) have some decent players but may lack the depth to go far at this tournament. Helsinki and Valmiera are very likely to progress out of this pool, but the final spot is up for grabs.
Looking Ahead
It would not be surprising if the three teams that come out of Pool A all make the semis. Helsinki has the firepower to compete and Valmiera certainly have a good shot to get there as well, but there are more known entities in Pool A. This is a new tournament and a new surface though. Surely some surprising names will make themselves known in Herning this weekend.
Men's Division
Format (16 Teams)
Four pools of four teams
Top two from each pool move to power pools of four without carrying any games over. Bottom two from each pool go to lower pools.
Top two from each power pool go straight to quarters
3rd and 4th place teams from each power pool play a prequarter with a 1st or 2nd place team from a lower pool.
Pools
| Pool E | Pool F | Pool G | Pool H |
| --- | --- | --- | --- |
| Viksjöfors | RealFive | KFK Ultimate | Mooncatchers |
| Goldfingers | Frowy Cathy | ToGetHer | Magic Disc |
| Salaspils | Vorai | Madcaps | Otso |
| Aarhus Ultimate | KFUM Örebro | Turku Terror | Hardcore |
Top Contenders
This format is much more forgiving than the women's format as teams are granted a clean slate after pool play and can still make the bracket even if they land in the lower pools. RealFive (Dzerzhinsk, Russia) made their mark on European ultimate by making semis at the EUCF in 2019 and giving eventual champions, CUSB La Fotta, their toughest game of the tournament. RealFive is a team that has incredible top-end talent but lacks the depth to really be a European title contender on grass, but this is not an issue indoors. With a smaller roster this team will be deadly. The Anton Butikov and Mikhail Khudobin2 connection may be the best thrower to receiver pairing throughout this division.
Salaspils Wild Things (Salaspils, Latvia) are criminally under seeded as a three seed in their pool.3 While missing one or two of Latvia's big stars, they do have some top names like mixed defensive player of the year runner-up Didzis Malderis and All Europe Mixed player Jānis Bernāns. Just like RealFive they are a team with amazing top end talent but are weak in depth in the outdoor scene. Indoors, this team is a title contender for sure and they have seen success in other big indoor tournaments in the past like Hello Stockholm.
Frowy Cathy (Exeter, UK) may have the worst team name in the division but they make up for it with their talent. Boasting some of the best Chevron Action Flash and Devon players like Benjamin Burak, Josh Awcock, Josh Kyme and Steve Dixon, this team will have athleticism that may be unrivaled in the division. These boys have a good chance to challenge the Eastern and Northern European giants.
ToGetHer (Gemmrigheim, Germany) have some of Bad Skid's top talent including European Men's Player of the Year Nico Müller as well as Jorg Reinert and Samuel Beuttenmüller. ToGetHer's opponents will be very thankful that Holger Beuttenmüller is not making the trip to Denmark with his brother, as his presence on this roster would likely make them a title favorite. As they are though, ToGetHer have some very talented players on their team. A five on five game will give Nico Müller even more of a chance to take over and dominate the field, which should be frightening for any opposition.
Bracket Busters
The top four above have the strongest looking rosters among the bunch, but there are a few more teams that have a chance to take them on. Viksjofors (Edsbyn, Sweden) have Johan Leandersson and Thomas Eriksson who have probably been playing indoor since before many of the players here were born. KFK (Copenhagen, Denmark) and Otso (Espoo, Finland) are both champions of Nordic countries that play indoor just about as much as they play grass. Magic Disc (Angers, France) and Mooncatchers (Brussels, Belgium) will both be fighting for the title of highest finishing, French speaking team, but will likely have some issues against the top end teams at this tournament. The remaining teams are not as well known in the elite European scene, but as this is the first real international indoor championship, one of them could definitely surprise.
Mixed Division
Format (16 Teams)
Four pools of four teams
Top two from each pool move to power pools of four without carrying any games over. Bottom two from each pool go to lower pools.
Top two from each power pool go straight to quarters
3rd and 4th place teams from each power pool play a prequarter with a 1st or 2nd place team from a lower pool.
Pools
| Pool O | Pool P | Pool Q | Pool R |
| --- | --- | --- | --- |
| LeKi | BioZONe | Danger! High Voltage | Ultimate Odessa |
| Diabolic Heaven | mJAH | Hucks Berlin | 3SB |
| Ultimate Saku | Sleepwalkers | Trondheim Frisbeeklubb | Ekeberg Sendeplateklubb |
| Maultaschen | Styrian Hawks | Jet Set | Birmingham |
Preview
Let's not mince words here, most of these teams are fairly unknown on the competitive European scene. Maultaschen (Tubingen, Germany), 3SB (České Budějovice , Czech Republic)4 and Birmingham (Birmingham, UK) have all been to the EUCF this past decade, but were never in contention for medals outdoors. Mjah (Warsaw, Poland) has some top female talent in Kasia Podpora and Paulina Lewandowska5 and Danger! High Voltage (Malvern, UK) has one of Great Britain Men's best players, Robbie Haines, on the team, but aside from that many of these players have never really seen the European stage. There are a lot of Scandinavian and Eastern European names that hope to challenge their opponents as much as they will challenge the livestream commentators, but right now the mixed division is a mystery.
---