A few visitors head into hostile Atlantic Coast grounds.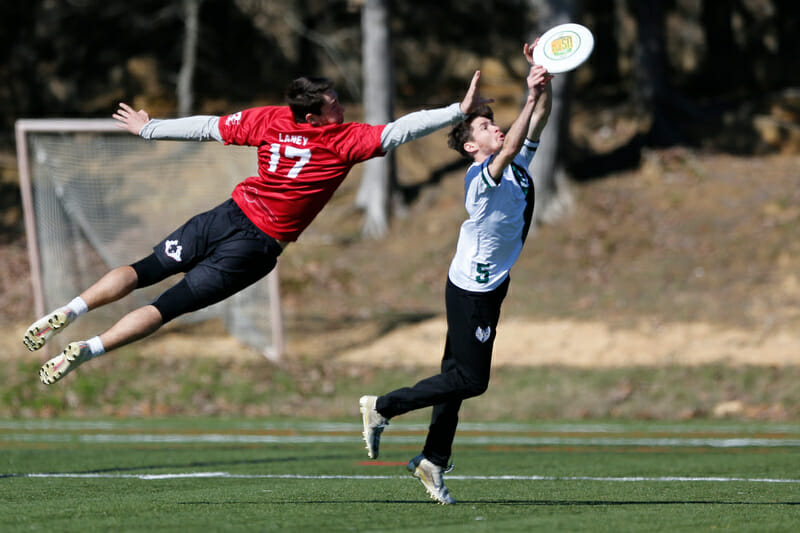 Our 2020 college coverage is presented by Spin Ultimate. Please support the brands that make Ultiworld possible and shop at Spin Ultimate!
Taking the top three finishers from last month's Carolina Kickoff and adding three more Top 25 squads along with a bevy of bubble teams, Queen City Tune Up brings the men's division's tightest competition to date in 2020. Reigning national runners-up North Carolina are the favorite, but with both in-region and out-of-region contenders in the fray, it won't be an easy row to hoe for Darkside. Even beyond the top end of the tournament, Queen City will provide the first major insights into the depth of half the regions in the country.
Tournament Profile
Date: February 8-9
Location: Charlotte, NC1
Weather: Highs around 50, slight chance of rain late Saturday, sunny Sunday. Light wind.
Top 25 teams: 6
Darkside on the March
January's Carolina Kickoff results firmly established that #3 North Carolina Darkside are still number one with a bullet in the Atlantic Coast Region, as well as the Queen City field. Even without star senior and fastest man in ultimate2 Alex Davis — who is unfortunately lost for the season with a knee injury — UNC rolled through the competition at their home tournament, including a good win over tobacco road rivals NC State in the final. That tournament victory was just a starter for a squad who will be ramping up all season for a Memorial Day weekend peak.
Darkside bring a triple advantage of top-end talent, roster depth, and immediate impact freshmen into the season. Scoring looks easy so far. Anders Juengst is dialed in early, and no one seems to have an answer for 2019 Offensive Player of the Year Liam Searles-Bohs. On the other side of the ball, they're led by fifth-year captain Elijah Long, who is quite possibly the best defender in the division. He's no slouch after the turn, either, especially paired with (admittedly mercurial) throwing savant Kai Marcus.
One of the more interesting aspects of this year's team, outside of their now-typical excellence, is the fact that the roster consists of as many freshmen (12) as upperclassmen.3 The rookie headliners — Kevin Pignone, Matt McKnight, and Ben Dameron — come with considerable youth-level success and will play prominent roles on the field. Talent aside, though, that's a lot of rookies. Part of the long game for UNC as they plan for the full season and seasons to come will be in how they go about herding the cats.
Rowdy Second Class
UNC's roadmap to victory will not be without a few potential pitfalls, however. A handful of teams in the next tier down may bear slightly less distinguished pedigrees than Darkside, but they have enough talent and hunger to wrest a win over the favorites.
#10 NC State Alpha have come up short once already this season, but don't count them out if there's a round two this weekend. Rhys Gretsch leads a D-line that knows how to force turns and loves to shoot. It's the kind of pressure game that few offenses will be able to withstand for the full duration of a game. Alpha have been less consistent so far on offense, but not to an alarming degree. Trevor Lynch has spent the fall and winter testing the limits of his hucking game — and with big, talented Matt Tucker on the receiving end as often as not, it's easy to understand his logic. Just like at Kickoff, the team won't be at full strength for Queen City. That doesn't mean they can't reach another tournament final and, once there, give UNC or anybody else a game.
#9 Ohio State Leadbelly and Georgia make their spring debuts at Queen City in anticipation of a big 2020. Leadbelly were somewhat of a surprise last season, storming top-ten level competition a year ahead of schedule en route to an Ohio Valley regional title over division heavyweights Pittsburgh and a quarterfinal berth at Nationals. They won't sneak up on anybody this spring as the no. 2 seed in Charlotte. If last season is any indication, they have one of the prettiest offenses in the country. Against sideline forces, they switch the field with ease until opening up a huck look or settling into a redzone set. And they have enough disc skills — not to mention sibling chemistry, when both Sion and Axel Agami are on the field — to adjust to force middle, junk, and zone schemes without too much trouble. Team discipline should remain high, too, thanks to the number of returners from last year's team. Generating and capitalizing on break opportunities — via some booming Zach Braun hucks, for instance — will be a key for having a big Sunday in Charlotte.
#12 Georgia Jojah showed an uncommon propensity to win ugly in 2019; Queen City will demonstrate whether we can expect that trend to continue. The Southeast regional champs have been mucking up opposing offenses with well-placed sags and systematic poaches for a couple of years now, with mostly good results to show for it. Jared Bennett, Jon Ross Ingley, and standout rookie Adam Miller will all get their share of blocks. Last year's offense could use a makeover: reset mistakes were too common when the team played conservatively, and field position battles just aren't sustainable in a Sunday bracket. The talent appears to be in place, though, so the weekend will be a good indicator of whether we should expect a step forward in 2020.
The other team in the mix to challenge UNC is #15 UNC Wilmington. They rode a wave of energy to the Classic City Classic final in the fall, but couldn't quite capture the same magic last month, where they fell to NC State in semis without putting up enough of a fight. The true level of the Seamen is yet to be determined, but I'd err on the side of labeling them a legitimate threat to any team at the tournament. When they're clicking, they strike fast on both sides of the disc. Kevin Huerta wore out the open side at Kickoff, and stopping Connor Russell is a major (and usually fruitless) undertaking for any defense. The team as a whole thrives on group intensity. We'll see whether they can muster enough of it to earn some statement wins this weekend.
Intrigue on the Bubble
A few other teams are looking to make a dent in the upper echelon this weekend and potential bid implications are a big part of the reason why. #21 William and Mary Merry Men, for instance, would love to solidify a third, or even a fourth, bid to give themselves better odds in what is sure to be another tight Atlantic Coast region. Inactive so far this spring, the 2018 Nationals qualifiers bring back star Johnny Malks, injured for all of last season. He and Gus Norrbom are without a doubt one of the best duos in the division. Whether any opponent can slow the two of them down and how deep the rest of the roster talent goes will be questions we can begin to answer after this weekend.
Alabama Yellow Hammer, on the other hand, already shook out the cobwebs a few weeks ago at their home tournament, T-Town Throwdown, where they lost on double game point in the final to an impressive Illinois Rise side. Bama has every appearance of being a team to watch in the Southeast, be it as a darkhorse challenger to Georgia for tops in the region or as a good bet for a second bid. If that's an accurate read, it will be on display this weekend when they face more established Nationals-level programs.
A little salt was spilled earlier this year when it was announced that Purdue Undue received an invitation to next month's highly competitive Smoky Mountain Invite over their in-state rivals, Indiana. Half the wisdom of that decision has already been proven valid, as Indiana fared poorly at Kickoff. Purdue could make the point moot with a good performance this weekend, not to mention taking a solid first step in the direction of a rare second bid in the Great Lakes. Big thrower Joe Byerly stood out in fall wins over Nationals stalwarts Wisconsin and Minnesota. Was it a true preview for the spring, or only a mirage?
Regional Storylines
Maryland Space Bastards made the Nationals field in 2018 before making a gutsy, though ultimately unsuccessful, run to the Atlantic Coast game-to-go last season. While they have lost key veteran talent from the 2019 edition, they have a major playmaker in Jeremy Hess. Will solid coaching and a dash of elite talent be enough to propel them above the region's middle tier once again? Virginia Night Train may have something to say about that. While they haven't made many waves nationally, they have a deep team year after year and can scare up some wins. They may struggle to replace do-everything star Alexandre Fall, but their history suggests that won't fall off far, if at all.
While the Ohio Valley almost certainly belongs to Ohio State and Pittsburgh again in 2020, there's enough talent in the region that a third bid isn't totally out of the question. That possibility will drive Carnegie Mellon Mr. Yuk, Penn State Spank, and Ohio Trout to take their shots at the top seeds during pool play. With famously short rounds a staple of Queen City, they may just have enough to pull off an upset the ramifications of which could shake up the Nationals pecking order later in the season. If they don't make the championship bracket, it will be worth keeping an eye on the lower brackets for a preview of meaningful late-spring games.
No one is mistaking the Metro East for a powerhouse, but this weekend's efforts from UConn Huskies and Rutgers Machine will have a bearing on the Nationals picture. Those two teams have qualified for the College Championships in 2018 and 2019, respectively, and they enter as favorites to take the region's bid again in 2020. Queen City marks the debut for a Rutgers side looking to defend their position at the top of the Metro East. Connecticut, meanwhile, went winless against an impressive field at Santa Barbara Invite last month. Whether the more recent Nationals experience or an early start to competition this spring will be the ticket to a good weekend in Charlotte is a question to which we may soon have an answer.
---
Rain Backup Site: Winston-Salem, NC ↩

At least according to the 40-yd laser timers BE Ultimate set up at Club Nationals ↩

Not counting Alex Davis ↩