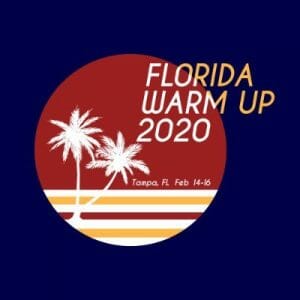 Our 2020 college coverage is presented by Spin Ultimate. Please support the brands that make Ultiworld possible and shop at Spin Ultimate!
Florida Warm Up straddles an interesting position in the men's college season, as it is both an "early season tournament" with all that implies, but also the first major event on the calendar. It is the first time many of the teams in attendance will have played outdoors since the fall, but it also shuffles around a significant sum of rankings points. Several teams aren't wearing real jerseys yet, but it's one of the two or three highest profile competitions of the season alongside Stanford and Easterns. So given some of these seeming contradictions, what do we make of Warm Up? What does it mean?
Warm Up's rise to "premier college season event" from the kind of tournament its name would imply is a relatively recent trend, spurred by an assortment of factors. In the past, while top teams attended and success at Warm Up could certainly be an omen of success at Nationals, the tournament was genuinely regarded as a warm up, outside of the Stanford/Centex/Easterns trio of major tournament events. But as Centex has withered and increases in youth talent/coaching/etc. has teams playing at higher levels earlier than ever, Warm Up rose in priority and regard.
The obvious issues with using Warm Up as a projection of a team's ability, both short term and long term, still exist despite the tournament's elevated stature. Whether it's a question of teams not being well prepared early in the season, not adjusted to outdoor throwing, or simply deciding to not prioritize winning, there are always rejoinders to any poor results.1 The same goes for results that exceed expectations, as a surprising run through the bracket for a team can be attributed to their opponents not being all that good because of the reasons in the previous sentence.
---
Although anecdotally, the latter reason seems to be less and less prevalent each year ↩
What Does Florida Warm Up Mean For The Season? is only available to Ultiworld Subscribers
Already have a subscription? Log in
Whether you visit Ultiworld for our reporting, our podcasts, or our video coverage, you can help us continue to provide high quality content with a subscription. By becoming a subscriber, not only do you receive benefits like exclusive articles and full article RSS feeds, you also help fund all of Ultiworld's coverage in general. We appreciate your support!