The top seeds were dominant, but there were plenty of surprises further down.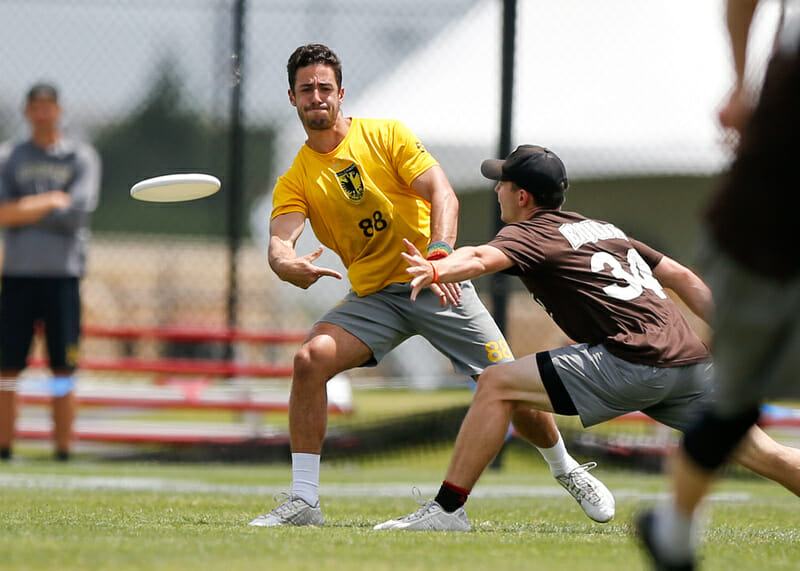 Ultiworld's reporting on the 2020 Presidents' Day Invite is presented by Spin Ultimate; all opinions are those of the author. Please support the brands that make Ultiworld possible and shop at Spin Ultimate!
SAN DIEGO — Sunny southern California did not disappoint on day one of the Presidents' Day Invite. Aside from a small wind midday, the weather was stellar for the sixteen teams that took the fields today. After Saturday's action, a predictable top-tier took shape with a few up-and-coming teams just beneath them eager to break seed.
Day One Results
Click the image to see individual results and the Sunday schedule.


1. Northwest Teams Were Dominant
Oregon and Washington seemed faster, smarter, and in general just more skilled than their opponents today. Offensively for Oregon, Will Lohre and Xander Cuizon Tice led a smooth offense that beat teams in a variety of ways. Lukas Ambrose had a huge layout D against UCSD and consistently made big plays when it counted. Like Oregon, Washington was speedy and efficient on offense. Keeping track of Lucas Chen was a dizzying endeavor as he dusted defenders in tight spaces. On defense, Porter Jones stood out, finding himself in optimal positions which led to multiple assists in the Utah game. Both teams have no problem making the extra throw or ending a point with a big play.
2. SLO Utilizes Entire Roster
The stars for Cal Poly SLO were just that, and Calvin Brown threw plenty of cool throws all over the field today, but their real gem was their display of roster depth. Matt Miller looked poised and at times uncoverable as the lead handler on the D-line. Similarly, Keaton Bates had a handful of massive layouts and big defensive blocks. At the end of the day, captains Justin Ting and Morgan Sommer praised players who got time in different positions as they were able to use the entire team to win. They also noted sideline energy and "trying to have fun while being competitive" as keys for the day. Look for SLO to build on a successful day one and lean on their reserves deeper into the weekend.
3. Stars Shine For Colorado
Along with the other top seeds, Colorado Mamabird looked a step ahead and more polished than the rest of their pool. They got big minutes from stars Alex Atkins and Quinn Finer, who were around the disc often but did not play a selfish game. There were times where it looked like Finer was playing the game at his own speed – similar to Johnny Bansfield with Machine – and really set an advantageous tempo for Colorado. In tight moments like the 11-10 bind against Oregon State, Atkins came up big with a chest high layout block on the goaline and a scoober assist to end it. Finer added later that one of their goals is to have practices that are more intense than game situations. Based on their intensity today, the Boulder boys are certainly practicing hard.
4. Surprise Success from Berkeley High's Trio
Three star freshman from Berkeley High's 2019 High School National Invite championship team looked stellar today. Aidan Curry of UC Santa-Cruz, and Riley Kirkman-Davis and Luca Spycher of UCLA led both teams to strong starts this weekend. Curry was all over the disc and nearly notched a Callahan against UCSD.
UCSC was strong today, seemed well-coached, and will be looking to continue their run tomorrow with another surprise performance. Meanwhile, UCLA is right on the cusp of reaching the top tier of the division. They had a tight system and seemed to land a lot of their big hucks. Kirkman-Davis had one of the cleaner inside-out flick hucks on the day in the Santa Barbara game while Spycher landed a dime backhand bomb late in the Colorado game. Expect more big plays from this trio of new stars in the Southwest division.
5. The Rise of Small Ball
Whether it's the success of Brown at Nationals last year, the draw of a goalty throw, or the improvement in coaching, a majority of teams today ran small-ball possessive offenses. This is not to say that there weren't hucks (this is still the men's college division) but the days of having the guy that likes to shoot it might be numbered. Most teams ran a variation of handler-driven offense with clearing upline cuts and searing break-side attacks. In many cases, cutters seemed content allowing the front of the stack to operate in space. In short, teams are getting smarter as club-level coaching permeates the division. Many teams had multiple coaches and it was evident that players were bought into their systems.
Quick Hits
Don't Discount the Locals: The UCSD Air Squids cannot be happy about their results from today. But the potential for the future is clear. The individual talent on this roster is there with strong players like Bryce Lozinski, Ethan Li, and James McGuiness. The real question will be whether or not they can put together a complete game against a top team. They struggled throughout the day but gave Oregon their toughest match.
OSU Looks Frisky: Oklahoma State looked good today, dispatching Illinois and Davis in their wake. They came up short against SLO but seem poised for the big lights. It will be interesting to see what they can do on Sunday and if they can ride this out. Oregon State went 0-3 today but also seemed alive in the big games, playing both UCLA and Colorado within two points. Handlers Sean Duncan and Taylor White seemed like one of the better duos of the day and are more than capable of scoring when they want.
Are Retro Jerseys Back? Were they ever out? Stanford Bloodthirsty and the UCSD Air Squids sported Miami Vice-esque kits today with blue neon-light print. They both stuck out – for good or for bad – among the other standard jerseys. The popularity of these styles will surely ride on the success of these teams.