A very busy weekend!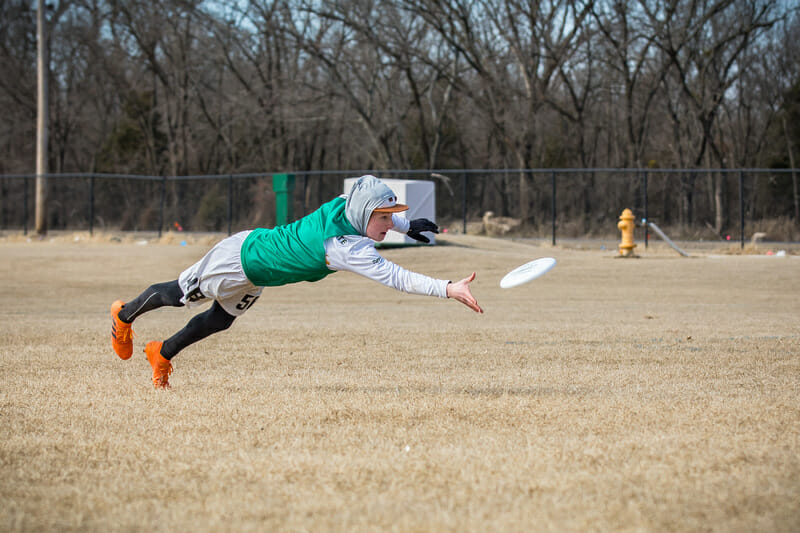 College Update is presented by Spin Ultimate. Please support the brands that make Ultiworld possible and shop at Spin Ultimate!
Throughout the spring season, we will publish a bite-sized weekly recap of all the action across the college division. This will serve as a supplement to our standard tournament reporting and will offer a high-level look at the latest happenings and the biggest stories of the week.
Want your tournament listed here? Submit a recap of what happened right here.
D-I Men's
Around The Division
The best the No. 1 seed can do is hold that spot, and Georgetown did just that with a 6-0 run through Oak Creek Challenge. While Justice rarely started strong, they did show they could play solid half after half while their opponents fluctuated. They went down as much as 7-4 to Lehigh in the final, but did enough in the back end of each half to take the 15-12 win. They even let my impressive alma mater, American, hang out to start out their quarterfinal; American came in no. 17 seed and finished in sixth place, so there's my homerism for the day.
Seven straight wins for Oklahoma State pushed them to the top of the Dust Bowl heap. Ultimato needed close wins over Missouri and in the final against Wash U to complete the weekend sweep. A 3-1 run from 12-12 closed it out for the number one seed in the championship game.
Only two of the six pools — including the lower pools — at Bring the Huckus went to seed. But the teams that established themselves from the upper tiers continued their strong play into the bracket. No. 1 Villanova, no. 10 Amherst, and no. 3 Yale all reached the semifinals after winning their Saturday pools, joined by no. 8 Stevens Tech. Amherst edged Yale, but after three straight close games in the Sunday bracket, ran out of team against Villanova in the final.
The final of Music City Tune-Up was the unusual combination of the no. 5 and no. 7 seeds. No. 5 Middle Tennessee State knocked off then-unbeaten no. 1 Missouri S&T in semifinals, while no. 7 Vanderbilt upset no. 3 Chicago in the same round. Of the two Tennessee teams in the final in Nashville, it was MTSU that earned the crown with a 13-10 victory.
No team got closer than within three on the final scoreboard against Arizona State B at Pomona Sweethearts. A convincing 10-5 win over Occidental in the final was the exclamation point on the rare developmental club tournament win.
Florida Warm Up Weekend 2 allowed the developing programs to take center stage. Embry-Riddle (Florida)1 ran the table, opening with their closest game of the weekend and closing with a 15-11 outperformance of Ave Maria B. Ave Maria has a B team already?
Cedarville defeated Oberlin 7-6 at Grove's One Day Warmup, finishing undefeated and marking Oberlin's lone loss. That makes them the unofficial winner of the round robin event.
D-I Women's
Commonwealth Cup
A shorthanded #2 North Carolina let their depth do the work on their way to winning Commonwealth Cup Weekend 2. Despite losing some key contributors to injury, Pleiades crushed many of their opponents, including beating the Ohio Valley's best — Ohio State in semifinals and Pittsburgh in the final — 15-9 and 15-8, respectively, in the bracket. There were some lulls: Pittsburgh ran with UNC for much of their crossover game, while Virginia carried a lead into halftime when they met their in-region matchup.
While they were unable to make for a compelling final, Pittsburgh flashed success this weekend that has them primed to reemerge in our power rankings. After a lackluster debut at Queen City Tune Up, Pitt earned wins over Northeastern, Ohio State, and resoundingly over an admittedly shallow version of Vermont. Their increasingly dynamic handler group impressed during the weekend and their win over Ohio State leaves pole position in the Ohio Valley in contention.
For more on Commonwealth Cup Weekend 2, check out our forthcoming tournament recap.
Around The Division
No. 1 West Chester and no. 5 Skidmore met in pool play at Bring the Huckus, and West Chester won by five goals. When they met again in the final, Skidmore rebounded with a 10-9 win when it counted. Both clubs were in their opening weekends, and Skidmore's success positions them as the projected top ranked team in D-III women's based on the USAU algorithm.
No. 3 Colorado State and their +43 point differential might have made them the favorite in the final of Big D in lil d. But that didn't stop no. 1 UT Dallas from handing the Hell's Belles their lone loss of the tournament, 9-7, in the final. With the win, UT Dallas is projected as the fifth ranked team in the South Central, while CSU sits in sixth.
The top four seeds at UMBC Safari Party went 16-2 in pool play, only losing to one another, before reaching the semifinals. Undefeated Towson and Lehigh cast aside their higher seeded opponents to set up a match in the final. No. 3 Towson claimed the 9-6 victory, making them the champs.
At Forever Winter, a one-day round robin, St. Olaf and Carleton Eclipse topped the table. St. Olaf got the better of Eclipse in their one matchup, a slim 7-6 scoreline offering little separation between the teams, but still identifying the winner of the day.
No. 1 seed Truman State found success against the field at Dust Bowl…except for Kansas. The no. 6 seed beat TSU in both pool play and in the final. Nobody else could beat Kansas either, and Betty took home the title with an unblemished record.
Oxford, OH played host to a coming out party for Ball State, who met little resistance on their way to winning Huckleberry Flick. They amassed a +51 point differential during their five wins. Keep an eye on sophomore Catherine Soto, who could blow up as one of the best players in the Great Lakes.
D-III Men's
Oklahoma Christian Debuts At Dust Bowl, But Truman State Impresses
At Dust Bowl, we finally got a look at the newsworthy #2 Oklahoma Christian squad, though they were without their new headline additions. Their wins over Pacific Lutheran and Harding are nice, but their lack of depth was quickly exposed when they couldn't finish play Saturday and stumbled to 2-2 on Sunday. Meanwhile, Truman State went 4-3 on their way to a fourth place finish and semifinal appearance, the most successful of any D-III club at the tournament. Rice compiled the same record while finishing fifth; each of their losses came by two or fewer goals. John Brown was competitive throughout the event, but went 3-4, struggling in their toughest matchups and finishing in 14th after an 11-7 loss to Missouri.
Both #6 Luther and Colorado College were also in the field, both in Pool C. Pacific Lutheran also attended and saw D-III competition. Luther eked out a win over Colorado College 14-13 in pool play, but PLU outscored Luther by the same count when the two encountered one another Sunday. That was part of Pacific Lutheran's 4-2 weekend, the most impressive mark of the trio.
Missouri S&T Starts Strong At Music City Tune-Up
#3 Missouri S&T took home five wins at Music City Tune-Up, with their lone loss coming to the tournament winner, Middle Tennessee State, in the semifinals by a 12-11 count. It was a solid showing as the team gets ready for a back-to-back as they headed to FCS D-III Tune Up. They scored two D-III blowout wins over Butler and Union, and another over Olivet Nazarene. Their best result came in a third place match victory over Chicago.
It's probably no coincidence the four D-III teams were in the same pool, giving some good crossplay. Union finished in 10th after a 4-3 weekend, including topping Butler twice. The 2-5 record put together by Butler is less rosy, but they did get the better of Olivet Nazarene.
Around The Division
D-III Women's
The college season is in full swing for D-III nation, after a whopping slate of seven different tournaments, all with at least one D-III women's division team in attendance.
Forever Winter was heavy in North Central D-III action, bringing together St. Olaf Vortex, Carleton Eclipse, Michigan Tech Superior Mas, and Macalester Pursesnatchers for round robin play. #3 St. Olaf ended on top with a perfect 4-0 record; their closest game was a 7-6 win over Eclipse. In their other three games, Vortex outscored their opponents 38-9. #9 Carleton ended at 3-1, while #17 Michigan Tech split their record, 2-2, with losses to both top teams, but a win over Macalester by a score of 11-5. Macalester did take home a W, defeating Wisconsin-La Crosse 9-6.
South Central and Others Take Field At Dust Bowl and Big D in lil d
Down south, the South Central region similarly got into the ultimate fray at Tulsa's Dust Bowl. #5 Truman State TSUnami took the highest D-III finish, ending in second after a 10-6 loss to Kansas, a repeat of their only other loss on Saturday. In the win column, TSUnami defeated D-III South Central teams John Brown Savage Skies (12-11), Grinnell Grinnelenor Roosevelts (13-6), and Air Force Kiwi (12-4).
#24 John Brown also fell in bracket play to Kansas, but polished the weekend off with wins over Grinnell by a 12-11 margin, and Tulsa Coriolis Force by a 15-8 score. Home team Tulsa defeated Air Force and Colorado School of Mines Entropy; Air Force defeated Colorado School of Mines and Grinnell; Colorado School of Mines was unsuccessful against the D-III competition and left without a D-III win. North Central squad Grinnell similarly did not take home a win against their out-of-region D-III competition.
Fellow South Central Squads Rice Torque and Trinity Altitude played at Big D in lil d in Texas. #15 Trinity made it to bracket play off a strong 4-1 pool play record, taking fourth place after losses to eventual champion UT Dallas and Texas A&M. Unfortunately for Torque, their 2-2 pool play shut them out of the championship bracket and placed them in the consolation bracket, where they proceeded to take eighth out of 12.
Bring The Huckus Kicks Off Northeast Competition
In the northeast, several teams made their season debuts at Bring the Huckus, with over half the teams of the 16 team field belonging to D-III. Taking the crown were the Skidmore Thoroughbears by defeating West Chester 10-9 in the final, and avenging a Saturday loss to the Pennsylvania team. Beyond their Saturday loss, Metro East team Skidmore had a perfect weekend, earning wins against SUNY-Geneseo Escargot, and Haverford/Bryn Mawr Sneetches (twice) on their path through the tournament.
#25 Haverford/Bryn Mawr and Swarthmore Warmothers took third and fourth, respectively, while SUNY-Geneseo followed shortly behind at sixth place and Wesleyan Vicious Circles at seventh. Amherst Sparkle Motion represented the New England region, taking ninth in the process. Other D-III teams present included Shippensburg Belleweather, SUNY-Cortland, Ithaca Kweezy, and Muhlenberg Flying Squirrels, as well as Haverford/Bryn Mawr's B team, making for a jam-packed D-III game slate.
Around The Division
Lehigh climbed their way to second place at UMBC Safari Party, dominating Pool B with five wins over programs like Johns Hopkins and Syracuse. They also took home a win over fellow D-III program Goucher All You Can Eat, 15-1, en route through the bracket. Their only loss of the season thus far is a 9-6 loss in the final to D-I program Towson. Goucher took home a win of their own, 5-4 over SUNY-Buffalo.
While a 1-5 record doesn't look good on paper, the quality of those losses for #1 Oberlin Preying Manti tell a different story coming out of the second weekend of Commonwealth Cup Weekend 2. With close losses against top D-I programs like North Carolina and Georgia, those results will still provide good numbers for the algorithm when everything shakes out. Their 11-9 win over Duke — currently projected as the 30th team in USAU's rankings — doesn't hurt.
Wooster Betty Gone Wild and Cedarville Queen Bee left with Huckleberry Flick with a combined 1-7 record against local Ohio competition that included Ball State, Dayton and Cincinnati. Cedarville earned the lone win 11-4 over Miami (Ohio).
Looking Ahead
FCS D-III Tune Up and Easterns Qualifier take top billing in another stuffed week of diverse action. A lot of top ranked teams are off, but there's a plethora of clubs hoping to score some nice wins across all four divisions.
---
Not Arizona ↩