Live D-III ultimate!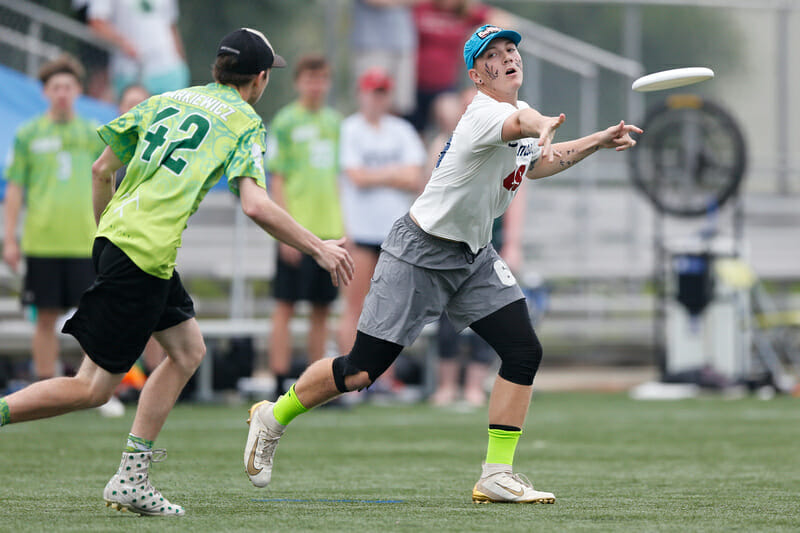 Ultiworld's reporting on the 2020 college season is presented by Spin Ultimate; all opinions are those of the author. Please support the brands that make Ultiworld possible and shop at Spin Ultimate!
This article was written by Charlie Hoppes, who will serve as color commentator this weekend at the FCS D-III Tune Up. He is the former coach of Messiah.
This weekend marks the first time Ultiworld will livestream a D-III regular season event, and FCS D-III Tune Up is the perfect tournament to kick it all off. Eight teams on the stream are ranked in the Ultiworld Top 25, and six teams from last season's Nationals field will make an appearance as well. We will even be treated to a classic contest between two of the schools of the Armed Forces.
In D-III ultimate, just about anything can, and does, happen. With teams from six regions represented at the tournament, the results will shape the bid picture for the rest of the season. Since this is Ultiworld's first time streaming a regular season D-III event, many of the players and teams might be unfamiliar to the viewing audience. Below is our viewing guide to this weekend's streamed action so that you're prepared to enjoy the show.
All times Eastern.
Saturday, 10:45 AM: #18 Davidson DUFF v Messiah Falcons
#18 Davidson DUFF is as well-balanced a team as you'll see at the D-III level–a few veteran standouts, a collection of rookies with YCC experience, and a top-notch coaching staff featuring former Ring of Fire icon Ken Porter. Dusty Smith leads this deep team, but there are nearly a dozen players who will contribute in ways big and small for DUFF this season. Matt Singleton helps run the offense out of the backfield, Kevin Escott is a strong young cutter, and Jonathan Phillips and Aidan O'Neill are veteran leaders. If the team is able to get the most out of this roster, they could be looking at a return to Nationals for the first time since their run to the final in 2017.
The Messiah Falcons also feature an excellent coaching staff, headed by Gabriella Cincotta, but that's where the similarities to Davidson end. The Falcons are built around two dynamic stars in do-it-all cutter Nate Harnish and human fireball Matt O'Neill, and the two facilitators that feed them the disc in Dan Vallette and Mitchell Lauer. The success of Messiah hinges on the ability of this group of players to perform at an elite level consistently; that's a tall order over the course of the season, but one that makes them a thrilling team to watch against anyone.
Why to watch: Two of the top coaching staffs overseeing two extremely different styles will make for appointment viewing. Can Harnish and O'Neill put on a show for Messiah? Or will Davidson's talented depth grind the highlight reel to a halt?
Saturday, 12:30 PM: #17 UNC Asheville Bulldogs v #25 Brandeis TRON
The #17 UNC Asheville Bulldogs started the season at Carolina Kickoff with impressive wins over #4 Richmond and 2019 finalist Air Force, relying heavily on the efforts of Wilson Matthews and Dean Merritt. Both players excel in the handler space as well as downfield, and that was on full display in their wins. Much of the rest of the Bulldogs lineup appears to compliment well, with the D-line offense especially working in a run-and-gun style to fire in breaks.
#25 Brandeis TRON hasn't made it to Nationals since their finals appearance in 2016, a somewhat shocking fact for fans of the division. Every year seems to have Brandeis in the mix of a very competitive New England region. Junior Connor Chin and the rest of a very young Tron team are looking to break that streak in 2020. Chin has already racked up a few accolades recently, winning gold with the Men's U-20 Team USA in 2018, serving on New York PoNY's practice squad last summer, and winning gold at Danish club nationals with Ragnarok this fall. A trip to D-III Nationals would be in line with those accomplishments for Chin and would put Brandeis back where they belong.
Why to watch: For two teams who are firmly in the bid-earning picture, this game could have ramifications that last through to the series. Last season New England had four bids, with the Atlantic Coast scrapping over a single spot to Nationals. Big showings from either team would go a long way for their post-season chances later this spring.
Saturday, 2:15 PM: #6 Franciscan Fatal v #12 Portland UPrise
For years, Dominic Schuster loomed over the Ohio Valley region. When the Franciscan Fatal star finally graduated with four Nationals appearances and a title under his belt, the region breathed a sigh of relief. It turns out that might have been premature. Two new stand-out Schusters–Mike and Mark–join a #6 Fatal team led by legendary coach Ian Gill in his final season. The whole thing has to fill Ohio Valley rivals with a familiar dread.
#12 Portland UPrise is the sole representative of the Northwest Region at Tune Up, and their results will shape a lot of the connectivity this tournament has with some west coast teams in the division. An excellent showing from UPrise has the potential to push some bids westward. Led by a strong junior class that features Sam Warrick, CJ Hermousa, and Ben Hecko, teams from the Northwest and beyond have a strong team carrying their banner into North Carolina this weekend.
Why to watch: If you love legacies, you are going to love getting a look at Franciscan and their classic storylines. If you love chaos, you've got an UPrise victory to pull for. There's a bit here for every viewer.
Saturday, 5:00 PM: #2 Missouri S&T Miner Threat v #4 Richmond Spidermonkeys
This is a rematch of a national quarterfinal between these two teams, a game that the #4 Richmond Spidermonkeys took 15-11. Richmond started the season with an uneven showing at Carolina Kickoff, topping Air Force for their only win, while dropping a game to #17 UNC Asheville. Nevertheless, the Spidermonkeys are title contenders with weapons such as bombers Xavier McCormick and Chris Cassella, and lockdown defenders Harris Cannon and Ben Weinstein dotting their roster for defending Atlantic Coast Coach of the Year Matt Graves and assistant Justin Keller. It's a lot of talent in one place.
Across from them will be another pre-season title contender in #2 Missouri S&T Miner Threat. The team from Rolla, MO, is fresh off a strong third place showing at Music City Tune-Up; their only loss came on double game point in the semifinals to eventual tournament winners Middle Tennessee State. Nate Clancy and Carl Eastman pilot a steady offense that will stand out in rougher conditions and control the game in tamer ones. Expect the match ups of Weinstein/Cannon on Eastman/Clancy to dictate the story of the game.
Why to watch: It's one of the biggest games in the division this year, and you can watch it live. You have two top five teams lining up in what could well be a preview of a semifinal or championship match up at Nationals this May. It doesn't get much better than this.
Sunday, 8:30 AM: Berry Bucks v High Point Bagheera
Last year at FCS, the Berry Bucks were the surprise of the tournament, going 5-1 and riding the momentum gained from that weekend all the way to a Nationals appearance. The loss of eight seniors from last year's team means it's a very different looking squad this season, but nobody will underestimate the Bucks after last year's showing. Look for Conlan DeLorenzo to be the star of the show.
Berry's one loss last year came at the hands of High Point Bagheera. While HPU will certainly try to draw strength from their numbers (32 rostered players, the third most at the tournament), they're an incredibly young team. 22 of those players are rookies getting their first taste of Nationals-level competition this weekend. Senior captain Pete Isler will do a lot of the heavy lifting for Bagheera, and freshmen Riley Mullen and McKinley Johnson will be asked to step up on their biggest stage yet.
Why to watch: These are two young teams who played a great game at this tournament last year and should give a similar show this weekend. Which will win out: High Point's depth that lacks experience, or Berry's short handed but tested roster?
Sunday, 10:15 AM: #15 Oberlin Flying Horsecows v Samford Dogma
The #15 Oberlin Horsecows started 2020 well, going 4-1 in a one day warm up tournament last weekend. Noah Zobel and Julian Bregstone hope to push the Horsecows into bid-earning territory for the Ohio Valley, perhaps the deepest region in terms of contenders; their lone defeat was to rival Cedarville. That duo certainly has the talent to challenge any team in the country. Whether they can do it consistently will tell us all we need to know about what the Horsecows' results will be this weekend and this season.
Samford Dogma played in Music City Tune-Up and struggled to find consistency in their results. That said, Dogma had a solid 2019 that they plan to build on this year. Much of the growth will hinge on the development of superstar Jordan Chambliss. Already a two-time all-region player, Chambliss enters his junior season after a very good club season with the upstart Huntsville Freaks and is unquestionably one of the stars of the division. If he can take another leap forward, Dogma might be contenders this season.
Why to watch: This game features three top players on teams that plan to utilize them to the absolute fullest. If you are someone who loves watching incredible individual performances, this is a game you'll want to have on. Odds are good that someone is going to put on a show.
Sunday, 12:00 PM: Air Force Afterburn v #22 Navy Poseidon
It's the start of a new era for Air Force Afterburn. After years atop the division, they have entered a bit of a rebuilding phase. They suffered a winless Carolina Kickoff, falling to both #4 Richmond and #17 UNC Asheville. But they will remain a dangerous, athletic team that may be better suited for calmer conditions; both losses to Richmond and UNCA were only by 3 in a bit of a stiff breeze. It'll be interesting to see what their fitness advantage will give them during this time in their team's life cycle. Maybe they can run their way back into contention sooner than later.
One team Air Force won't be able to outrun is #22 Navy Poseidon. Poseidon managed only three regular season wins in 2019 but seemed to be in every game, especially when they were the most outmatched. Their 13-11 loss to eventual national finalists Air Force at last season's D-III Tune Up was an instant classic. They've built on that so far in 2020, already surpassing their 2019 win total and knocking off Mary Washington in the process. Two key things to watch for Navy: the addition of transfer student Max Benedetti from Washington and the return of coach David Stira from deployment. Both have had an instant impact already this season; will that continue this weekend?
Why to watch: The storyline is simple: Air Force versus Navy. These two teams will be better prepared to run for a full weekend than any other group, and will still be firing on all cylinders when we see them at the end of the weekend. Beyond the obvious patriotic intrigue, there is some history here at this tournament. Last year, Navy scared an elite Air Force team and took them all the way down to the wire. This time around, can Air Force slow Navy's rise?