ESPN, college results, and some hard-earned recognition.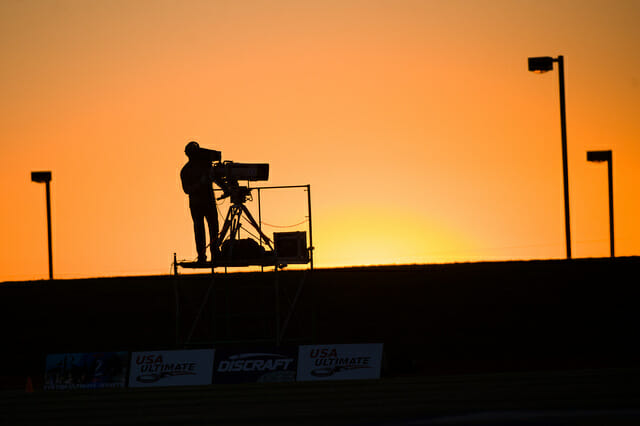 Welcome to Opening Pull, your weekly wrap-up of the previous week in ultimate. We've gathered the news you need to know and highlights you need to see, and we'll let you know what's coming up in the next week.
ESPN and USA Ultimate Re-Sign Broadcasting Agreement
The leader in sports television and news, ESPN, will continue to broadcast USA Ultimate club and college events across ESPN2, ESPNU, and their online platform, ESPN3, through 2022. The financial details aren't public, but it's known that the organizations split both costs and revenues.
The biggest change is that the Pro Championships will no longer be broadcast, but an additional U.S. Open final will be shown live on ESPN2. An even number of men's and women's division (23) games will be included, along with 14 mixed division games. The College Championships will remain with ESPNU.
WFDF Releases Updated WUGC Bid List
The list of nations and teams slated to attend this summer's WUGC has been updated after some bids were declined and waitlist teams were brought up. The updated tally includes 40 mixed, 30 open, and 28 women's teams. Notably absent now are the Finnish women, who couldn't quite get all the moving parts aligned in time to feel good about their bid. Given that the event is a World Games qualifier, which heavily favors countries with teams in all three divisions, we also have a clearer picture of who is contending for those coveted spots.
USAU Recognizes Top 2019 Coordinators and Observers
USA Ultimate is a volunteer-driven organization and they recognized the 2019 Coordinators of the Year, as well as the top performers from 2018. Five youth division coordinators, six college division coordinators, six club division coordinators, and one masters division coordinator were chosen for the 2019 class. A lot of people do a lot of work to help make you season happen!
Speaking of recognition, USAU also named the 2019 Observer of the Year and the Rookie of the Year. 11-year vet Sam Wood earned the honor of the top observer of 2019, while Minnesotan Joey Tillman was given the newbie award. Congratulations, folks!
Forest Hills' Emily Pozzy Wins Ultiworld 2019 Block of the Year
Our 2019 Block of the Year bracket, voted on by our audience, selected Emily Pozzy's layout block as the best of last year. It topped Von Alanguilan (who lost in the final for the second straight year) with a solid margin of the voting victory. Pozzy is our fourth winner of the award.
College Season Quick Hits
Easterns Qualifier always produces some surprises, and this year was no different. Top ranked #18 William & Mary was knocked out in quarterfinals on double game point by #23 South Carolina. In the final, South Carolina fell by the same total to no. 4 Alabama. The Southeast challenger has had a solid start to the season and will now get a shot against the big dogs at Easterns.
None of the top D-III men's teams at FCS D-III Tune Up were able to go undefeated, but #4 Richmond did end with the best record at the tournament, going 6-1. Their lone loss came by just one goal to Portland, one of the strongest potential opponents at the tournament. If you missed our livestream, you can catch all of these games — and there were some great climactic endings — in our video package as a subscriber.
Coming Up This Week
The Premier Ultimate League's Player Sponsorship Program launches at 5 PM ET, the centerpiece of what should be a week of promotion of the league, along with the full roster reveal.
Our Catch of the Year bracket will also be up, so be sure to vote for your favorite!
Stanford Invite and the Smoky Mountain Invitational have impressive team lists full of quality attendees. It'll be a big weekend in college ultimate next weekend.