Big games coming up on Sunday!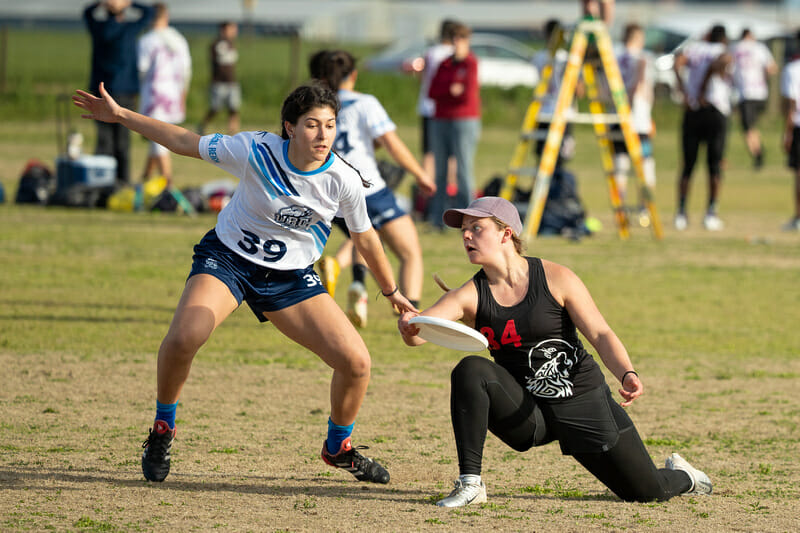 Ultiworld's reporting on the 2020 Stanford Invite is presented by Spin Ultimate; all opinions are those of the author. Please support the brands that make Ultiworld possible and shop at Spin Ultimate!
STEVINSON, CA — After eight hours of play throughout day one of the Stanford Invite, we're starting to get a much clearer picture of the good, the bad, and the ugly at this tournament. With only light showers and a light, gusty wind, the focus was far more on the games themselves, rather than the elements around them. For the most part, our expectations were met. All the 1st and 2nd seeds in their pools made it to the bracket, and most games were decided well before any cap horn went off. That's not to say that day one went by without any new insights. There's plenty to be gleaned from the 28 games played. Here are the more notable storylines from our first day in Stevinson.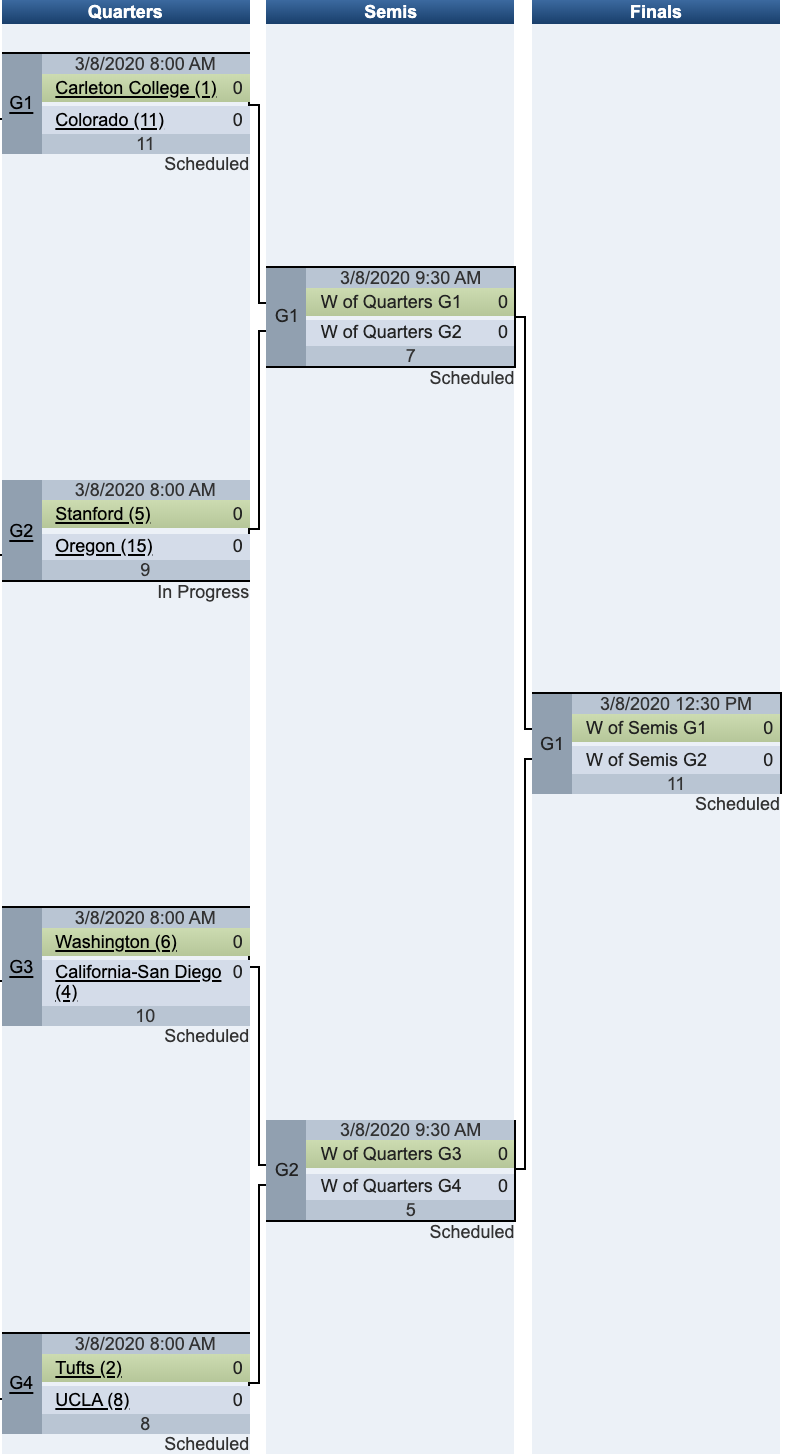 The Most Upsetting Part of Day One was the Lack of Upsets
Remember all the close games and massive upsets on day one of President's Day Invite? Apparently the teams this weekend do not. Across all pools, upsets were few and far between. If we're being specific, there were exactly three upsets in pool play. Oregon beat Cal, Washington beat UCSB, and Stanford beat UCSD. If we examine these games, not one of them is really a shining example of an 'upset.'
Stanford was the fifth seed at the tournament and UCSD was the fourth, and Stanford had just come off a tournament win while UCSD lost in semis. Arguably, Stanford should have been the higher-seeded team. The same argument holds for Washington and UCSB. While Element was the underdog and had lost to UCSB in the past, they were clearly one of the best teams at the Santa Barbara Invite, and the odds weren't heavily in UCSB's favor. Yes, this game was an upset, but it hasn't moved the needle much with how we view either team.
Oregon's win over UC-Berkeley is probably the most legitimate upset of the tournament. Fugue looked out of their element at Prez Day, while Cal looked like one of the 10 best teams there and ended the tournament in sixth place. Heading into the weekend, Cal was definitely the favorite in their game against Oregon. Credit where it's due: Oregon ground out the win and took it on double game point, forcing Cal out of the bracket. It's a tough out for the Pie Queens, but considering how the team is predominantly made up of underclassmen, it's not too shocking for them to miss bracket play in a tournament of this magnitude.
Prequarters didn't fair much better, as the only true upset was Colorado over UBC. Considering how the Canadians were playing their first tournament – and have a giant rookie class of their own – the game was more likely a pick'em.
Here's hoping we get more drama come day two, the bracket is certainly ripe for it.
It was a Tough Day for Fans of the Southwest
With a little less than half the teams at this tournament hailing from the Southwest, there were ample chances for the in-region teams to shine. Unfortunately, what we got was closer to a dull glow. Of the seven Southwest teams at the tournament, three finished at the bottom of their pools, two pool one seeds lost their spot at the top, and only one went without a loss.
Stanford is currently the standard-bearer for the division after cleaning up in Pool D, but even that came at the detriment of UCSD, whom they beat on double game point. UCSD was crucially missing Alex Diaz, their star cutter, and Maggie Pierce, a rookie handler, but they still looked good, though they didn't have the firepower to take down Superfly.
UCSB, the other heralded SoCal program, dropped their top spot in Pool C after losing a nail-biter to Washington in a game where the Burning Skirts' defense just couldn't earn breaks despite numerous chances. Their tournament was kept alive thanks to a solid performance over Oregon in prequarters, but UCSB acknowledged their mistakes against Washington:
"They kept playing confidently from point one to point twenty-two," said UCSB captain Kaitlyn Weaver, adding later, "Our defense wasn't at it's best, and that's where we lacked that game."
Outside of those three, UCLA performed mostly to expectations and came out strong in their game against Pittsburgh, getting an important win for the team and the region. They did drop the ball in their game against Carleton, though, as they were up 6-3 and went on to lose 10-8. Still, a crossover win against Texas has set them up to play Tufts in a game that will have much higher stakes than the team had in pool play.
For Cal, UC Santa Cruz, and Cal Poly, the difficulty of competitive pools bit them. Cal had the chance to potentially play their way into a bid this weekend, but without Claire Toth – their best player on both sides of the disc – they didn't really stand a chance. Berkeley is still made up predominantly of rookies, which means that their timeline is different to most of the teams here this weekend. Cal Poly and UCSC suffered from the same problem: a lack of roster depth. Despite top talent, they just didn't have the numbers to take on better teams who could match them pound for pound.
There's certainly a chance the teams from the Southwest will rally on day two, but it was surely a humbling experience following the events of day one.
Carleton Keeps Coming Back while it Appears Stanford Never Left
Considering the hype for Carleton coming into this weekend, they didn't exactly play like the inevitable season-enders that their reputation predicates. In fact, for multiple first halves, Carleton looked fallible. Against both UCLA and Pittsburgh, Carleton fell behind early, only to come roaring back to close out wins with a powerful second half. In the UCLA game, Carleton was down 6-3, only to storm through BLU for four straight points to take half 7-6.
In those moments, they definitely played like the best team at the tournament, but they can't always come out flat and expect to pull it together late in games. Teams like Tufts, UCSB, and Washington are too good at taking and maintaining leads for Carleton to keep playing like they have this weekend. Something has to give by day two. Either we see Carleton play like the best team for the entirety of a game, or we see their first loss of the season come at the hands of a team ready to rob them of a perfect season.
Unlike Carleton, Stanford had been all but written off before the season started. After a middling performance in 2019 and lackluster recruiting, it seemed unlikely that they had a chance even to come close to the heights that they had maintained in the past. When Presidents' Day rolled around, they shredded that narrative, but, even then, there were questions about whether their success was just a flash in the pan. It's safe to say now, after winning a pool with UCSD as their primary opponent, that Stanford is here to stay. They may not be the title favorites of old, but Hallie Dunham has become the best thrower in the West, and the rest of the team has learned to complement her perfectly.
There are faults in this Stanford team – they need another handler or two – but they're making their case as the best team in California, and maybe even more than that depending on what happens in the bracket.
Tufts and Washington Outclassed Their Competition
While both Stanford and Carleton had to claw out some wins in pool play, Tufts and Washington had both strong statement wins and breezed past weaker teams. Based purely on results, Tufts looked like the best team at the tournament. Their closest game was against UBC, a team they beat 13-8. Against both Cal and Oregon, Tufts had decided the game within the first half and just cleaned up as necessary in the second. We knew EWO was going to be good: Hazel Ostrowski, Margo Urheim, and Julia Lober all played with an intensity that was tough to match. Still, the toughest challenge for Tufts is yet to come: none of the other teams in their pool made quarters.
Washington's path to a perfect Saturday was a little different from Tufts'. For a start, they had to beat UCSB, a task few teams have accomplished this year. In one of the better games of the day, Washington showed that their offense was up to the task of overcoming UCSB's asphyxiating defense. Steph Phillips, Abby Hecko, and Alexa Yadama played as advertised, and the rest of Washington's O-line kept moving the disc as cleanly as you'd hope. Washington also had to beat a feisty Colorado team, a win that will look better as the season goes on. Washington may not have blown out teams like Tufts, but they had tougher wins. They might not have been anyone's pick for the finals before the tournament, but they should be now.
The Youth Revolution is Alive and Well
This tournament confirms it, the next three years of college ultimate stands the chance to be the peak era of the sport. Every team has some young wunderkind they're happy to brag about, but many have an entire roster packed with them. Cal and UBC both have more underclassmen than juniors or seniors. Colorado and UCLA also have their fair share of youth talent that has already taken the reins of the team, and even Washington has admitted that their younger players are driving their success. Don't even look at the average age on Carleton. What's most notable in all of these cases is just how good these teams already are. The game is changing fast. Elite high school players are starting to define the division as soon as they enter college.
Watch the Colorado v. Carleton quarterfinal (8 AM Pacific) and the final (12:30 PM) live on Ultiworld!