Mini-Easterns? Mini-Nationals?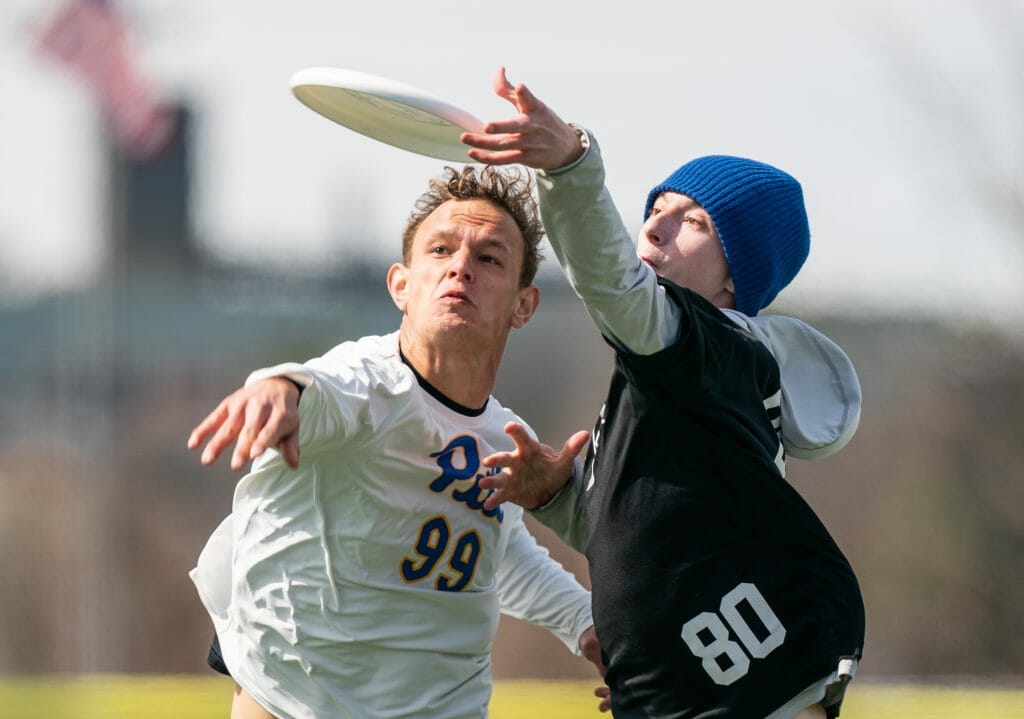 Our 2020 college  coverage is presented by Spin Ultimate. Please support the brands that make Ultiworld possible and shop at Spin Ultimate!
KNOXVILLE, Tenn. — Beautiful late-winter weather put a calm mask over a turbulent weekend in Tennessee, as surprising, borderline-chaotic pool play and a slew of double game point bracket matches made for a high anxiety tournament. UNC, however, rose above the fray, smacking Pittsburgh in the Smoky Mountain Invite final en route to adding a third tournament victory to their undefeated season.
UNC Dominates the Competition
If there was any doubt heading into SMI about #2 North Carolina Darkside's status as tournament favorites, the team's performance this weekend more than dispelled it. They are nothing less than the best team on the east coast, and they may well be the best in the country. Darkside made mincemeat of their opponents on both days, only allowing two opponents (Minnesota and Ohio State) within three goals.
Darkside's depth of athletes is staggering. On offense, the depth comes out as overwhelming versatility. No player on Darkside is "unguardable"1, but the offense as a unit might be. Anders Juengst, especially when working with teammates John McDonnell and Elijah Long, is one of the best small-ball players in the division; the three of them have a balletic chemistry in the backfield for which few teams have an answer. But force him away from the disc at your own peril: he was the best pure cutter I saw all weekend, too.
Additionally, Darkside have the throwers and the size to play isolation longball. Liam Searles-Bohs not only made the single most jaw-dropping catch of the tournament2 for a hold in the final, laying out for a short blade near the sideline and simultaneously catching the disc while making sure his off-hand made contact in-bounds before his chest hit the ground out-of-bounds, but he also threw a few no-margin-of-error hucks around great defense without batting an eye. Rookies Matthew McKnight and Mukil Guruparan have power and length to rotate out of the throwing positions and into the deep space.
UNC's O-line is not perfect — a frankly ugly performance in quarters against Ohio State will attest to that — but they are built to win. The upshot is a complete and complementary line that will simply wear down their opponents' resolve.
That's how it went against #7 Pittsburgh En Sabah Nur in the final. Both teams played efficient, scintillating, highlight reel ultimate in the first half, with UNC earning the only break. By the look of it, the teams were on a crash-course for the kind of barnburner that had been the norm for SMI throughout the weekend. But UNC remained hot in the second half, and Pittsburgh, unable to sustain the level of play they had established earlier, completely collapsed.
I asked the coaching staff if Darkside is a second-half team. "I think that we're a first-half team masquerading as a second-half team," said coach David Allison.
That seems about right. The roster, twenty-plus capable players deep, applies just as much pressure on both offense and defense at the beginning of the game as at the end. No one has been equipped, so far, to match it for an entire game.
Coach Matt Gouchoe-Hanas stressed the way Darkside's depth plays out across the course of a game and a weekend. "We applied pressure in that first half, and [Pittsburgh] applied pressure, and it was a good battle," he said. "And I think in the second half, our legs showed off, and the energy we had to spare was put on display. And that's what it looks like when you say UNC is a second-half team. We have legs. We have legs left in the second half of the final."
Or, in the words of coach JD Hastings: "A big theme for this weekend was 'All gas, no brakes.' We got a couple Charlotte guys on our team, and NASCAR's kind of big, so we're just preaching Dale Earnhardt the whole time. RIP Dale Earnhardt. Raise hell, praise Dale."
There was a moment in the final when, on the first throw after a turn, Suraj Madiraju cut deep on the open side: his defender stopped running with him almost immediately, and none of the downfield Pitt players made an effort to help on the play, despite having good position for an attempt. It perfectly illustrated the level of demoralization that UNC is capable of inspiring as a game progresses.
So, that's three tournament victories in the bag and nary a loss. Will they be able to complete the unblemished regular season that has eluded them for the past couple of years? That all depends on how they handle an old foe later this month: Easterns. "We have a bit of a vendetta with regard to our relationship with Easterns, so we have a big goal. We don't want this to be our peak. We're thinking about that Easterns vendetta," said Gouchoe-Hanas.
One final note of praise here for Tommy Williams, who absolutely crushed it this weekend. He has the strongest first step on the team, and with Alex Davis out for the season, he wins the long sprints, too. He played suffocating matchup defense only Pittsburgh's Michael Ing was able to match. And his vision after the turn, combined with some gorgeous long-range hammers and a knack for being able to put himself in power position, powered Darkside's penchant for quick breaks.
Impressive Efforts from Pittsburgh and UMass Fall Short
Neither Pittsburgh nor #15 UMass Zoodisc, who respectively finished 2nd and 3rd, managed to find their way into a close game with UNC in the bracket. That mutual shortcoming will leave a bitter aftertaste on a weekend that was, otherwise, an outstanding success for both squads.
Let's leave aside Pittsburgh's second-half problems against UNC for a moment and focus on the team's strengths. They have more than a line's worth of star-caliber players, an advantage they push regularly by stacking their lines.
"It's super cool to pick a line of seven players who can go anywhere at any time," said coach Christie Lawry about the offense's notable versatility.
Will Hoffenkamp and Michael Ing switched from playing as handlers and chewing up yards downfield to keep the defense guessing. Between the two of them, Will Helenski, Alex Spenceley, Max Thompson, Marcel Oliart, Dillon Garrett, and Henry Ing, who suited up for the first time this season, Pitt brought an unmatched cadre of bigs to SMI. Their size was their saving grace in a tightly-contested quarterfinal against Brown: eventually they just started putting up high throws and trusting their receivers to bring them down.
Trust is a big theme for En Sabah Nur this season, according to Lawry. "We trust each other, we empower each other, and especially on the O-line, we make sure that everybody knows that they're trusted. And we have to do that relentlessly."
But trust has its limits: the team ran out only slightly different permutations of the same offense as they collectively ran out of gas and coughed up the tournament final. But it's more important for them at this stage of the season to prove to themselves that they believe in each other through thick and thin.
Pittsburgh's defense, in both zone and matchup looks, was, along with UNC's, the finest on display this weekend. Communication is a major strength for them: the players on the field, the coaching staff, and the sideline are both clear and efficient when they want to call a switch or change the defensive look mid-point. Their ability to put bodies on deep shots was unparalleled, and they may have cracked Brown's formidable weave. Ing made the block of the weekend on layout to knock away a two-yard throw underneath from Ken Noh.
Massachusetts, on the other hand, shone more through their approach to the weekend than any player's performance. The offense has a clear steady-as-she-goes mentality that tempers the typical highs and lows that come with college ultimate, and that's no accident. "That is our number one process goal so far, when we feel our energy and our focus drifting, just coming back," explained coach Russell Wallack. "We practice that actively."
Honestly, it was sometimes easy to forget that they have All-American Tannor Johnson on the O-line. He was good — he's always good — but not noticeably more so than his teammates. The offense has a few typical sets, and there are some standout skills (shoutout to Johnson's deep cutting speed and Jake Radack's scoober) but they seem to hit open hands more often than pressing any particular agenda. In that respect, they resemble the club division's Seattle Sockeye.
Perhaps no player embodies this philosophy more than Eddie Scott, who spent most of the weekend on the D-line. Although he isn't much of a threat as a thrower, he has all the tools to be a takeover cutter. But other than trying to dominate the field on every Zoodisc counterattack and entice throwers like Alexander Donadio and Eugene L'Heureux to feed him with a steady diet of deep shots, he continually took the available open space. He still worked his way free deep often enough, but it was always with an understanding of balance and opportunity that helped UMass stay efficient. And he was usually open with a huge window of throwing space.
The upshot here is that Scott, Johnson, Radack and company have their heads right after a stunning defeat to end their 2019 campaign short of Nationals. The way things look, that won't be a problem for them again.
Cinderella at the Ball: UT Dallas
UNC may have won the weekend, but UT Dallas Woof were the Saturday darlings. They stormed through Pool B, defeating heavyweights #5 Carleton CUT and #13 Ohio State Leadbelly on double game point. (They had already wrapped up the pool before their last match against NC State, a loss.) Another double-game point win against a feisty Purdue Undue team in prequarters to end Saturday propelled them to the top half of the tournament ahead of the more highly-touted but underperforming Carleton, NC State, and Georgia.
Woof is easy to like. They run a rule-breaking, air-attack-heavy offense featuring wide-open throws that make you think, "I wouldn't have seen that." The cutting corps are all fast and well-versed in the fundamentals: proper timing, clearing, and filling techniques are natural at this point to all the players they put on the field, which isn't something I noticed from many of the teams running vert at the tournament. Emmanuel Bilolo and Jason Dick stood out only a little from their teammates — it's just a very solid group. That's why the team's floor is relatively high.
A trio of flex-handlers pushed them over the top to score those big wins, though. Victor Mao, Wesley Miaw, and Tyler Hustad are an entire offense unto themselves sometimes. (Hustad is a huge part of the team's defense, too.) Take your team's most technical, athletic player and then add two clones. Mao, Miaw, and Hustad ooze chemistry, nimble cutting, and disc wizardry. The fact that they spend so much time in the backfield gives them opportunities to squirt up the sideline from midfield for what become, thanks to the floating and bending throws that get put up, relatively uncontested scores.
The magic ran out against Minnesota in quarters, as Grey Duck's size and skill on both sides of the disc were too imposing for UT Dallas to overcome. In particular, it seemed like they were up against a mountain whenever a Minnesota pull or turnover forced the offense into stopped disc situations from the coffin corner. That's a kink that can be ironed out in a few focused practices.
In the 5th place bracket, UT Dallas forced two more double game point games, but unlike Saturday's efforts, they ended up on the wrong end of the scoreboard against Brown and UNC Wilmington.
The late-tournament losses notwithstanding, Woof are serious contenders in the South Central. They look to do more damage against the nation's top teams later this month at Easterns.
Notes from the Quarters Entourage
#16 Minnesota Grey Duck fared well on the weekend, with their only losses coming at the hands of the three other semifinalists. Jack-of-all-trades Cole Jurek was among the very best players at the tournament this weekend, with handler Wystan Duhn feeding him goal after goal. Jonah Malenfant, a big player with a nose for big plays, was an essential cog downfield for them, and the speedy Daniel Meiland played exceptionally for the defense.
They stumbled against Pitt's water cannon level of offensive pressure in their semifinal. Pitt were sometimes too big, sometimes too nimble, sometimes too creative, and always, it seemed, too imposing for the Grey Duck defense to slow them down much. They tried a Chicago Machine-style diamond zone, but the looks needs some more practice reps, as it mostly just accelerated Pitt's inside break looks rather than creating opportunities to force turns. The offense could use one more dynamic player, but they gave the impression of a definite Nationals-level team.
#13 Ohio State also impressed, with the caveat that seemingly for every two strong points they put together, the offense would find a way to fall apart completely. The D-line, led more often than not by the stunningly springy on-disc play of sophomore Axel Agami, had enough power to overcome those rough O-points most of the time. It wasn't enough in their quarterfinal, where Leadbelly somehow managed to out-underperform Darkside. The two teams appeared at times to be doing everything they could not to score.
But when they were clicking? There just isn't a defense in the world that could stop the combination of Zach Braun's blades, Sion Agami's blink-of-an-eye give-and-goes, and Eric Coglianese's ability to climb the ladder for a contested disc. They are a team who will be trouble for the rest of the season, both for their opponents and for themselves.
The fair weather brought out the best in #17 UNC Wilmington, who avenged their unfortunate relegation to the 5th place bracket at Queen City with an upper-bracket performance against a much deeper elite field at Smoky Mountain Invite3. The barrage of deep throws that began last fall at Classic City Classic hasn't let up yet: Ethan Ylizarde and Connor Russell are still shooting. There's something about the strategy for this team that just works. They know themselves, and they know how they like to score. That kind of single-mindedness simplifies every game for them, winnowing away at the complexity of decision trees for every player on the line. Because of that, the receivers looked great. Russell, Christopher Nelson, and (especially) Kevin Huerta always seemed to be ready for the huck significantly before the defenders were, so that even when the throw was off, the Seamen often had the advantage.
And then there is the matter of the defending National champions, #6 Brown Brownian Motion. They played well, considering the fact that they seem to be re-tooling their offense from the ground up. Trying (sometimes less than successfully) to put opponents off the scent of their well-established weave, they pushed the deep game every chance they got. John Randolph, injured earlier this season, was back: he shot deep. Jacques Nissen shot deep. Ken Noh, Henry Laseter, and Jackson De Campos shot deep. Solomon Rueschemeyer-Bailey not only shot deep, he also threw forehands for perhaps the first time in his college career.
B-Mo were a team in the throes of evolution. It isn't clear yet whether or not they'll come out on the other side of it with the ability to make a run like they did last year. There are glimmers of the potential, though: they had Pittsburgh on the ropes before Will Hoffenkamp decided to turn on beast mode. Closing out games like that (or not) will be what separates them once again (or not) this season from the pack of second-tier teams. But right now they're in the thick of them.
Consolation Quick Hits
It's time to go on high alarm again for #5 Carleton CUT. The team of U24 superstars that famously missed Nationals in a three-bid region last year had a clunker of a weekend in Knoxville. They finished in 9th place after losses to UT Dallas, Ohio State, and Pittsburgh dropped them into consolation. The common thread between that disappointing result from 2019 and this recent one? No Joe White. CUT simply needs to prove they can win consistently without him, full stop.
It was rough sailing for Purdue Undue, who came into the weekend with the hopes of an entire, bid-starved region pinned to their performance. All the skyscraping Joe Byerly hammers and gorgeous Alex Green flicks they could muster weren't enough to propel them to any wins against the level of competition on display in Knoxville. They still pass the eye test as a team to keep an eye on at Regionals, however. Just don't look for them to do much damage at the Big Show if they qualify.
#12 NC State Alpha were working without nearly a full-line's worth of top players, and it showed. Alpha have relied on their depth this season to supplement the work of their strong players, not to take on the entire mantle. Paul James and Suhas Madiraju were forced into feature roles in the absence of Connor Chickos and basically the entire handling core of the D-line. Neither of them played poorly — James, in particular, performed quite well. But NC State didn't have the legs to play a complete weekend. They were up a break in the second half on UMass in pre-quarters before completely running out of gas.
Far from being laughed out of their home city, hosts Tennessee proved they belonged in the field. They played with more confidence than poise in front of a frequently raucous crowd of spectators. They rode the energy to wins against Purdue and Texas, and they played Wisconsin and Georgia to tight losses. It was a good showing for a team who, in putting on the tournament in the first place, hope to expose the program to elite play as a step toward advancing it.
All-Tournament Line
Will Hoffenkamp (Pittsburgh)
Michael Ing (Pittsburgh)
Anders Juengst (UNC)
Cole Jurek (Minnesota)
Wesley Miaw (UT Dallas)
Connor Russell (UNC Wilmington)
Tommy Williams (UNC)
---
although Liam Searles-Bohs is close ↩

Pittsburgh's Will Helenski is a close second ↩

where, it must be said, they still ended up in the 5th place bracket ↩