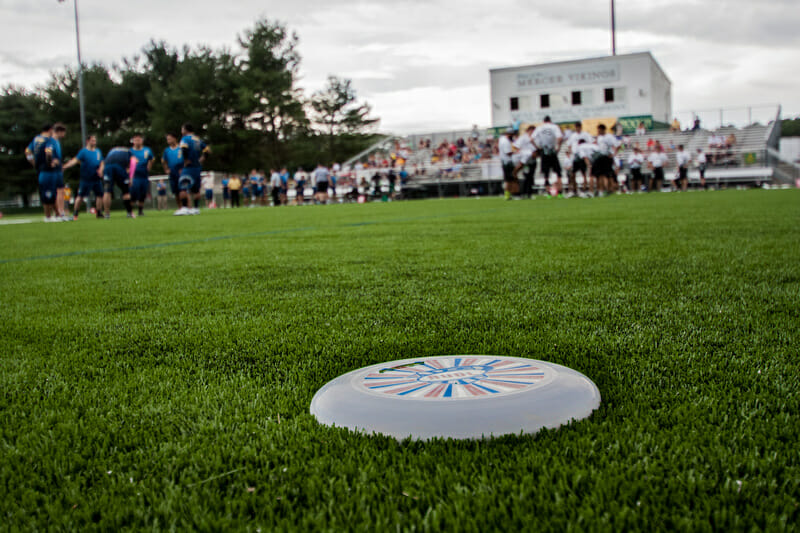 On March 9, as the threat of the novel coronavirus set in for much of the United States, the AUDL issued guidance for fan behavior. Among their suggestions: fans should spread out and sit at least three feet apart from each other at games and players should not high five fans or participate in autograph sessions. By March 12, the league delayed its season indefinitely, leaving fans, players, coaches, and owners wondering what was coming next.
"It's tough to plan for a season," says Dave Woods, head coach of the Chicago Wildfire, "when we don't really know if it's going to start."
Players & Teams Still Preparing to Play
"We don't know if there is going to be a season at all," added Jeff Landesman, the first year coach of the Los Angeles Aviators, "but if there is, we have to be ready for it." The Aviators usually do in-season workouts on their own or in pods, so the distancing they're practicing now isn't out of the ordinary.
Jonathan "Goose" Helton, the San Diego Growlers cutter and co-founder of the Game Point Performance training program, said that his training has not changed much. He has not been able to go to his regular gym, but mentioned that his overall physical preparation as a player has been in line with his expectations. Most players are in the same boat.
"I generally try to stay in good shape year round. It changes when I'm trying to peak, but for the most part I'm trying to work out," says Matt Smith, the Atlanta Hustle All-Star. "I don't feel like I've gone from 100 to 0 but rather 100 to 60."
Some players are using the extra time to develop new skills. Sean McDougall, the Aviators All-Star, is using these weeks to work on inefficiencies in his movement and running form. Out east, the Ottawa Outlaws are continuing their scheduled track workouts with physical distancing precautions. They are all using a fitness tracking app that allows teammates to compete to see who is working out the most. They might not know when practices and games will restart, but physically, the players will be ready when they do.
Coaches are still working to implement their systems despite the lack of practices. Seattle Cascades coach Rohre Titcomb is working to reassess what she wants to implement before the season starts. Early season practices are important for building team chemistry and outlining basic offensive and defensive structures, but if the team is going to lose practice time, something has to give. At this point, Titcomb said that the team valued the importance of the ultimate community above any team strategy through this trying time. She created a Zoom call with the Cascades for the team to check in with each other as people and work through some emotional challenges of this unprecedented situation before moving on as players and coaches.
The Cascades were not the only team taking that approach. "A big thing for us is the community and culture element of our team," Woods said. "Ultimate teams often can be bigger than just a team; it can feel like a family, and it's been a big part of our culture for the past couple seasons." The Wildfire have been keeping up with their practice schedule virtually using Highfive. The platform was helpful in providing a personal check in and going over high level tactics and strategies to reinforce what they were able to do on the field earlier this spring.
Turning to online get-togethers in place of practice may become commonplace around the league. Atlanta Hustle coach Miranda Roth Knowles created a Google Classroom for the team. Kelvin Williams, a Hustle captain, said that the coaches have put together a game plan for this "dead period." In the virtual classroom, the team analyzes film and implements different team strategies that they were able to discuss at the first practice weekends. Knowles also leads the team in meditations, hoping that the team's mental game will remain strong through the extended layoff.
Pawel Janas, All-Star Wildfire captain, is nervous that the extended break will impact team chemistry. The biggest change that accompanies the loss of practice time will be the cohesion and team identity rather than disc skills or set plays which can be worked on individually or online. "If they do decide to play the season," Janas thinks, "we'll have one or two weeks maybe to get in practices. It will be fun to see how quickly the team can come together."
Will the Season Happen?
Most of the players and coaches I spoke with — though not all — are assuming the league will return at some point this season. It is still unclear exactly when that would be. The league is likely to follow both CDC guidelines and the footsteps of other professional leagues. It is hard to imagine a world where the NBA or MLB is not playing games, but the AUDL is.
Depending on the situation around the world when the league returns, it is possible that the 2020 season might be modified. Shortening the season, playing without fans, and playing tournament-style weekends have all been floated as possibilities. Landesman summed up most players' feelings best: "I'd be open to anything that let us play ball."
While nobody loves the idea of playing without fans, many players are used to playing without spectators from their time on the club circuit. One owner insinuated that some of the professional games might not feel all that different. When asked about playing without fans, the owner joked, "You can probably ask Detroit."
"It would certainly take a little of the excitement out of the season," Helton said about playing without fans. "There is an air of excitement to evening games when there are people cheering. It might zap a bit of that excitement of the game. Both teams will end up adjusting to whatever that is and bringing whatever internal energy is needed." The AUDL is built both for competition and as an entertainment business. The league's mission includes "creating fun, family friendly events that showcase the sport being played at its highest level." That will become a lot harder if the fans cannot come to the game.
Matt Stevens, a New York Empire owner and player, agrees. "Sports are such an important part of our social fabric," he says, "not having it creates a void. Even if we were to play the season without fans, we would want to give that back to the community in any way we could."
Carson Turner, an Outlaws player/coach, sees potentially playing without fans as something that can be construed as a positive. The players on the field might be able to hear more sideline calls and wouldn't have to worry about getting riled up from the fans. It is the fans, though, that make this league unique in the ultimate world. "Everyone in the midwest knows what it's like to play in front of the Madison fans," Woods, says, "The home crowd can be the 8th man on the field. Playing in an empty stadium would be a detriment to the home team."
While players (especially on the home team) would be disappointed to not be able to provide live, in-person entertainment, owners will likely take a hit from the drop in ticket sales.
"It would be expensive to play without fans," Dallas Roughnecks owner Jim Gerenser said simply. His team regularly draws 500-700 fans a game, and the franchise had invested a lot of resources in the opening game to help encourage fans to come back for the rest of the season. While that energy could be replicated at a later date, certain promotions will likely not come to fruition. The Roughnecks had events lined up through E.R.I.C., the cancer awareness organization, and local schools that will not be able to happen now that schools are closed. Owners have already lost money spent on marketing events that cannot happen, and some teams have worries about how first year sponsors will react to not having a season, or seeing reduced numbers from a modified season.
"Most of the owners are not really wealthy people who can throw out money without the business itself generating some of that," Helton said. "They might have to seek some ways of getting some top-line revenue. Whether it's crowdfunding or something other than ticket sales and their current methodology for merch sales. That current middle ground of the season happening without fans bringing financial stability that we usually see would be a worst case scenario for owners."
A few weeks ago, the optics of the AUDL promoting something similar to the Premier Ultimate League's Sponsor-a-Player program may have been challenging. In this new reality, creative ideas like Sponsor-a-Player or the Western Ultimate League's superfan program might need to be considered.
What Could the Season Look Like?
If games do take place, it is possible that to both save on travel costs and truncate the season into fewer available weekends, teams may need to play more doubleheaders than usual. Teams will already struggle to get up to game speed with this pause to their preparation: playing two full games multiple weekends in a row could be too much to ask. "It is really hard to play one game," Janas said, "even back to backs are brutal. You feel it by the second quarter of the second game."
Regardless of the individual weekend scheduling, the 2020 season will likely extend deeper into the summer than the AUDL calendar has in the past. While the warmer weather will be appreciated throughout the East and Central divisions, some teams may feel the effects of an overloaded schedule, with the club season scheduled to kick off in July.
"Players have very strong allegiances to club teams," Woods said, "and I would worry that some of our players, if they had to make the decision to play with Wildfire or at a club tournament, a lot of them would choose to play club." The Empire, on the other hand, would be less affected. "We are confident in our player availability no matter when the season is being played," said Stevens.
If the league needs to modify its schedule, there are logistical concerns to tackle too. Many teams compete at local high schools. If those schools are closed, it is possible that teams will need to look into alternate venues, which could prove to be expensive.
One way the league has already committed to making the season happen if at all possible is by cancelling the All-Star Weekend to make room for an extra weekend of games. Last summer's game was the first of its kind and a huge step toward the league's goals of promoting the sport and highlighting the personalities of its players.
Cutting the All-Star Game is just one of many financial considerations the league will need to make in the coming weeks. McDougall lamented that for an organization as young as the AUDL, a setback in sponsorships could hurt the league's momentum. There was a lot of positivity around the league entering the year, after impressive partnerships announced with Fox Sports 2 and Deschutes Brewery. While neither has publicly commented on anything ultimate-related, and there is an obvious acknowledgement of the very real public health crisis in the country that affects far more than just professional and semi-pro sports leagues, this is almost definitely not going to be the first season that each partner had in mind.
The most difficult part of all of this is the uncertainty. Nobody knows when, or if, the season will begin. Nobody knows what the larger impact of this pandemic will be on the wider sports world.
"At some point I want to be able to change direction and keep moving forward," Gerencser said.
Keeping everyone in a state of limbo is emotionally difficult, but the connections between teammates and the hope to play ultimate at some point this season is keeping the league moving forward a day at a time.