Read up, watch film, and get better while you're at home!
This article was written by Alex Spieldenner, a player at Franciscan University.
Tuesday Tips are presented by Spin Ultimate; all opinions are those of the author. Please support the brands that make Ultiworld possible and shop at Spin Ultimate! 
With the COVID-19 virus forcing most of us to shelter in place, it can be difficult to maintain a positive mentality while also scratching our itch for disc sports. Particularly for college, youth, and semi-pro players who have seen most or all of their seasons canceled, it can feel as if ultimate has been taken away entirely. Fortunately, there are a lot of great ultimate-related resources on the internet, whether you want news, stories, improvement or just some highlights. Here are some of my favorites:
Ultiworld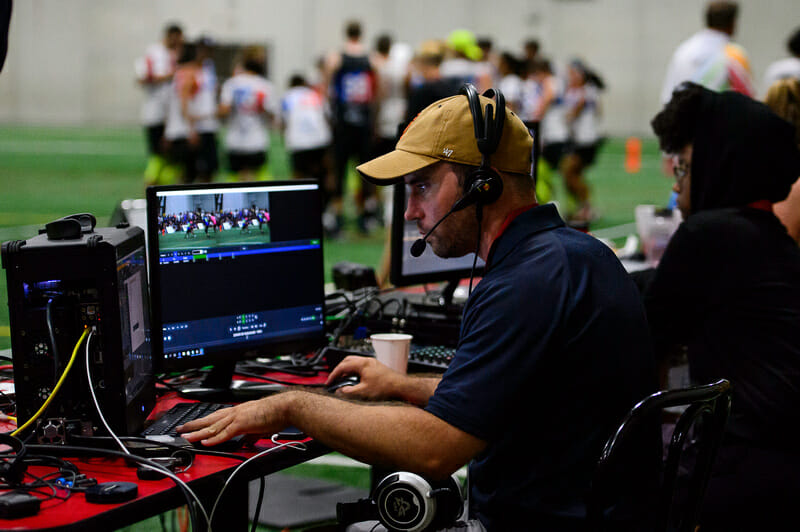 Obviously. The Tuesday Tips library is massive, and the video library could probably provide you with enough game film to make it until July if you did literally nothing else. But I would also highly recommend reading up on some of the features, which have some exceptional longer-form writing about the more interesting stories and strategies from ultimate through the years, such as an essay about the demise of Major League Ultimate or a story on how to play in the wind. There's also a four-part series on how to throw a forehand, if you're looking to improve and YouTube videos don't do it for you.
Ultiworld also has a variety of podcasts about different topics in disc sports including the club division, college ultimate, the AUDL, and disc golf. And make sure to follow on Instagram!
Rowan McDonnell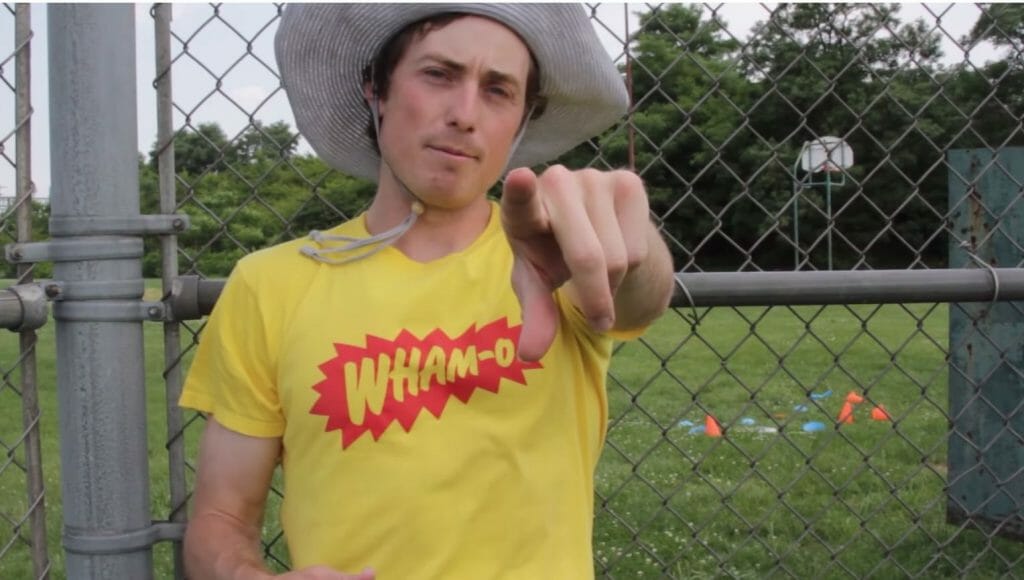 Rowan McDonnell, the 2018 AUDL MVP, has an active and approachable YouTube channel. His videos include film study, throwing technique, agility training, and even a special video of drills that can be done inside. The videos are seemingly endless, and McDonnell's channel is an essential resource for anybody trying to improve. He also has a separate YouTube channel called Excel Ultimate that is worth checking out. As an added bonus, he's really great with his fans on Instagram, so dropping him a comment is likely to get a friendly response.
WFDF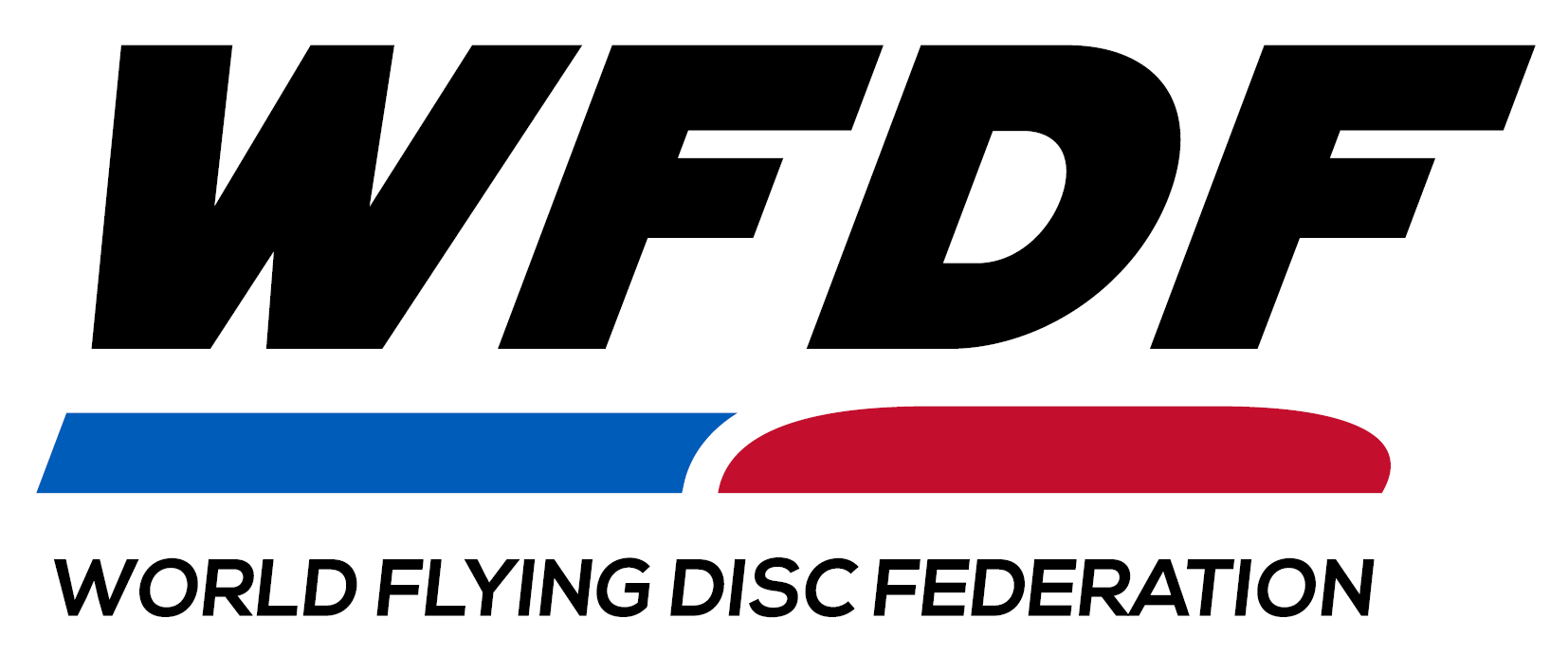 The international governing body of disc sports has a sizable library of video content as well, including highlights, games between national squads, and games from tournaments like the All-Africa Ultimate Championship. Why not watch the 2016 World Championships finals?
USA Ultimate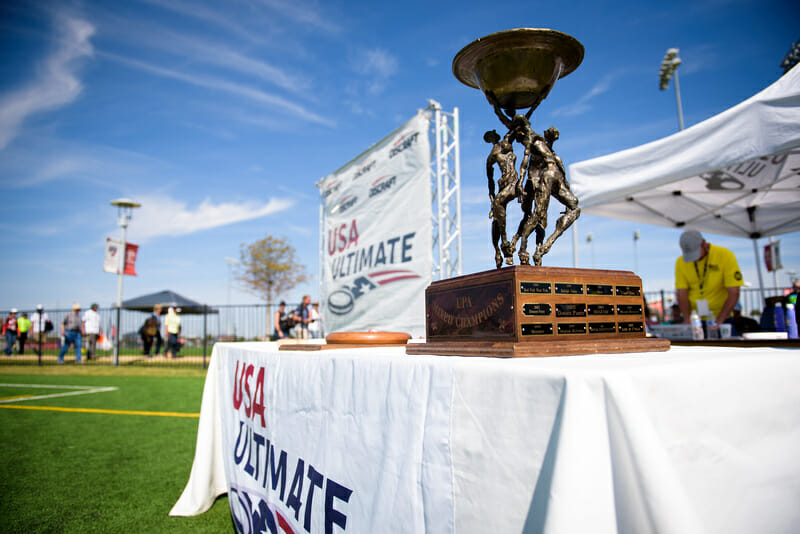 While we're listing governing bodies, we may as well address the United States' own USAU. Their YouTube channel has a great selection of top-level club and college games, and highlights from different competition divisions.
And don't forget that USAU still hosts the full archives of The Huddle, even today an incredible resource of insight into the game.
Brodie Smith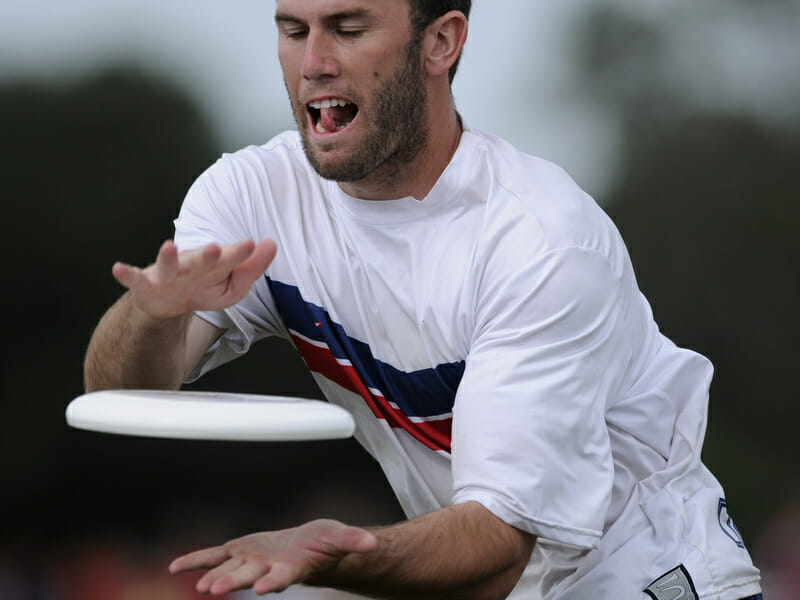 Even though he has transitioned to disc golf, Smith was still one of the first true ultimate icons, and his YouTube videos were incredibly helpful to me when I was trying to learn how to throw a backhand. His tutorial videos are generally focused on throwing, but there are also videos on subjects like marking or laying out. At worst, they're demonstrations from one of the greatest college ultimate players ever, and at best they can help you to dramatically improve your game technique.
Cárdenas Twins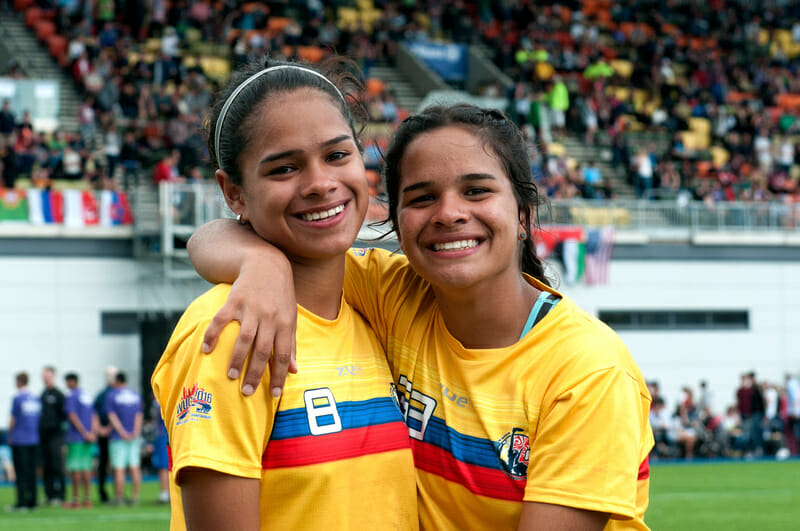 Their YouTube channel is very new — and still sparsely populated — but Manuela and Valeria Cárdenas are continuing to blow up on the international stage, and you can be sure they'll be dropping more must-watch videos soon.
The AUDL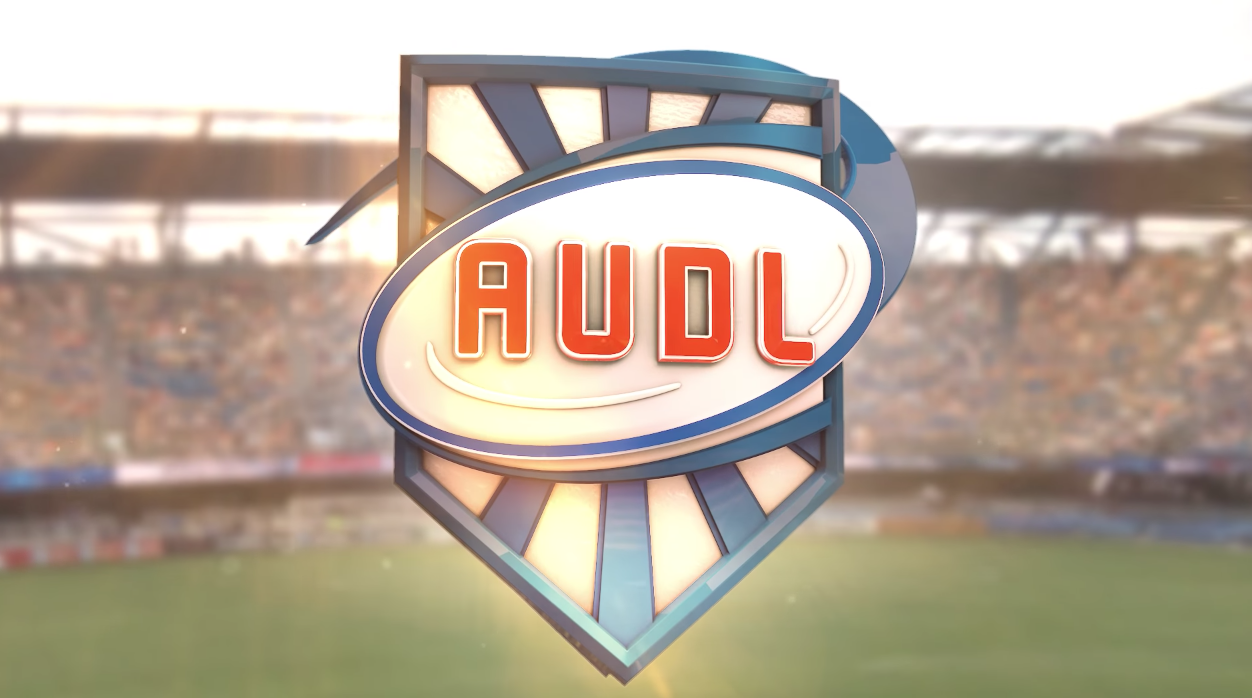 You can watch tons of AUDL games, as well as team and individual highlight reels, on the league's YouTube channel. They have even more content now available on AUDL.tv, the league's new subscription platform. The league rivals, if not surpasses, any major sports league in the realm of public, free content, and it makes being a fan very easy even if you don't have access to a team near you.
PUL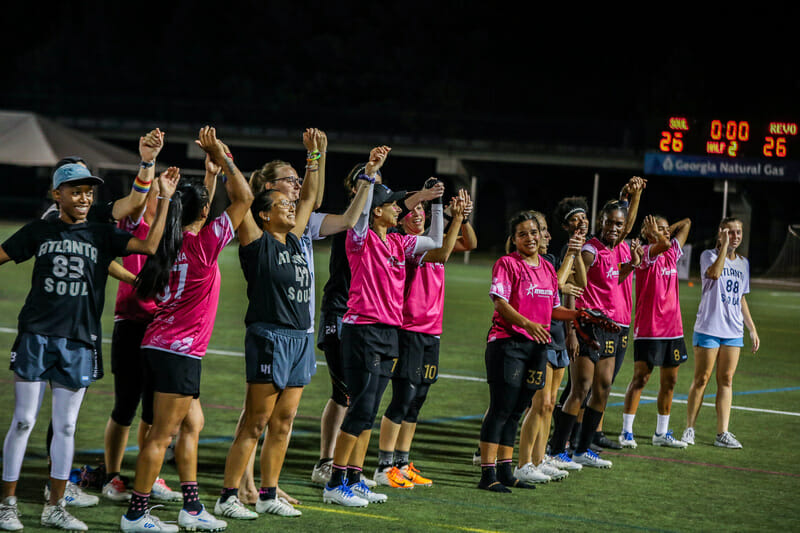 The Premier Ultimate League YouTube channel has tons of highlights and some full game footage. The semifinals and finals from the inaugural Championship Weekend are especially worth a watch!
Disc Memes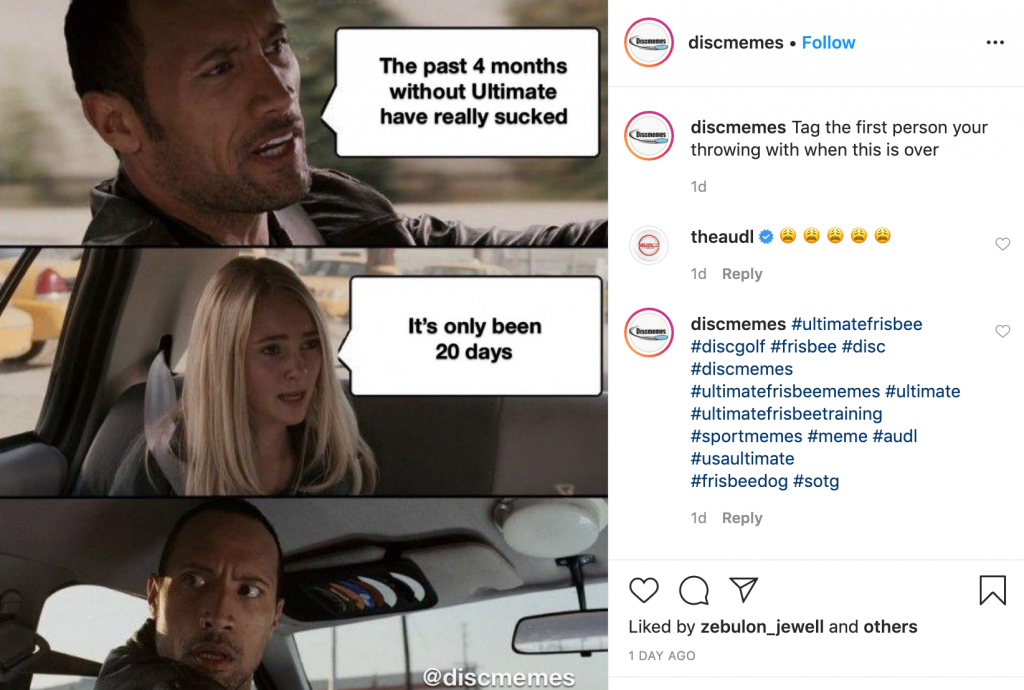 A source for more casual ultimate content, Disc Memes provides daily ultimate memes, and if you're not following them on Instagram, you really should. It's a good way to get a laugh in these sobering times. They're also currently running a jersey design competition, for anybody more artistically inclined.
Any list of Ultimate content is going to be incomplete, but this is a start. If you have more, list them in the comments below!
This article was submitted as a part of our new Tuesday Tip Jar program! Submit your own Tuesday Tips to our Tip Jar to win a free subscription and even become an Ultiworld writer.