Two weeks worth of news in one update!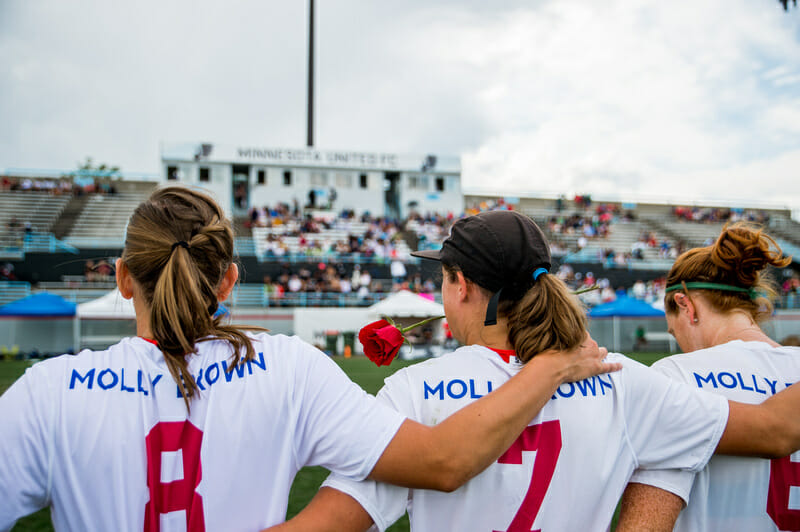 Welcome to Opening Pull, your weekly wrap-up of the previous week in ultimate. We missed last week, but we're back! We've gathered the news you need to know and highlights you need to see, and we'll let you know what's coming up in the next week.
Live ultimate is on pause for the time being, without a clear end to the shutdown in sight, as the global community combats the spread of COVID-19. For more details, including a timeline, see The Latest on the Coronavirus Impact on Ultimate.
The USAU Club Regular Season Canceled
After July events had already been 86'd, USA Ultimate officially canceled the club regular season, citing ongoing restrictions and safety concerns associated with the coronavirus pandemic. The potential for postseason play has still been left open, although the results will not impact the beginning of the 2021 club season. The results of last club season, with regards to Triple Crown flights, invitations, and other elements, will roll over to next club season.
Return-To-Play Guidelines Issued By USAU
USA Ultimate released their return-to-play guidelines, which break down into five stages that end in return to "Large Group or Travel Competition." There's a lot to digest in the 33 pages, which you can read in full. The stages advance in group size and interaction types, from individual skill-building to group drills and small local competition.
In addition, USAU provided some suggestions for rules modifications that could make group play safer. The list of suggestions was met with a sizable negative reaction on social media. Suggestions, which included ideas like zone defense only, goaltimate-style stall counting from any distance from the disc, and an expanded pick rule for situations that prevented a safe 6-foot distance, received little support.
WFDF Releases WUGC 2021 Budget
With the World Ultimate and Guts Championships rescheduled for 2021, one of the outstanding issues was the increased cost to teams and the amount of non-refundable costs incurred already. There were calls for transparency in advance of countries needing to confirm attendance at the rescheduled event.
On Friday, the World Flying Disc Federation released their budget and projections for the event, along with a series of FAQs that provide some context on how these decisions were made. The organization expects to increase player fees by €142 and to refund roughly 25% of fees back to teams that withdraw before the upcoming deadline.
WFDF Draft of 2021 Ruleset Available for Feedback
The World Flying Disc Federation also provided their draft of Rules of Ultimate to be used from 2021 through 2024. The draft is expected to be revised, with a nod to community feedback. There aren't very many major changes to the rules expected, with most modifications fairly minor. It seems there may be increasing convergence between WFDF and USAU's rules. If you're a rules head, get in there and make your voice heard!
Denver Molly Brown Withdraws from Any Potential 2020 Club Competition
Following a similar cancellation announcement from Minneapolis Drag'N Thrust, Denver Molly Brown, one of the most successful programs in the USAU club women's division, announced that they will not participate in any USAU club events in 2020. The team cited concerns about the COVID-19 pandemic as the primary reason for their decision. After a recent Deep Look episode discussed the team's decision and public statement that they would attempt to redirect what they would typically spend on a club season towards causes for racial justice, Claire Chastain provided additional context on Twitter.
Also, $30,000 is what I estimated for this season — pro champs was in boulder so we had one less flying tournament than 2019

Our 2019 season costs (est) were $76,000

Splitwise May-Oct: $56,000
4 flights by 25 ppl @ $200 each: $20,000

— Claire Chastain (@claireyahtzee) June 12, 2020
What's Been on Ultiworld
Just a brief content update from what's been going on in our neck of the woods: