Ultiworld staff select their favorite pieces of writing that appeared on the site from our founding in 2012 through 2019.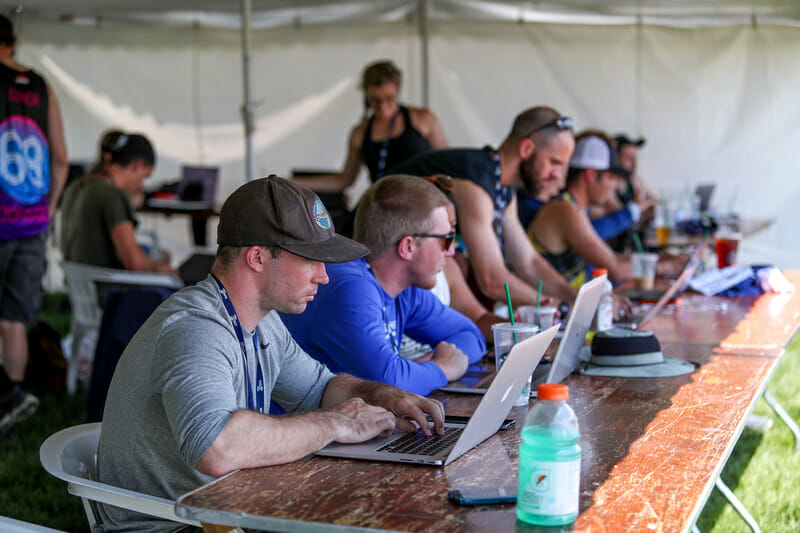 Ultiworld's "Decade's Greatest" series is presented by Greatest Bag. Get the greatest bag in ultimate at GreatestBag.com!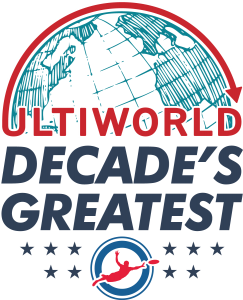 A lot of stories, posts, and profiles have lived under the content umbrella here at Ultiworld since we launched the site back in 2012. From our beginnings, we set out to both objectively chronicle the competitive results and significant incidents that serve as the rough draft of ultimate's history as well as celebrate the personalities and trends that make this community so special to so many.
So much of our Decade's Greatest series has relied on and been improved by a review of the fantastic reporting and opining of the many writers who have contributed to our pages over the years.
To catch you up on something you might have missed or remind you of an old gem, we asked the staff to go back through the archives and pick out a favorite piece of work from one of their fellow writers on the site during the 2010s. Insightful profiles of players on the rise, detailed investigations of the most important (and unimportant) topics, deeply personal essays from elite athletes and coaches, and even particularly memorable game recaps, this list is a snapshot of what Ultiworld managed to capture about the sport and the people who played it this past decade.
Mike Ball (Men's D-III Editor)
Cannon & Scalpel: The Unique Style of Sadie Jezierski by Daniel Prentice
Before the Ultiworld propaganda machine launched the 2019 Sadie Jezierski revenge tour, Prentice wrote my favorite profile we've done on one of the game's most unique and interesting players. The format of the piece is nothing out of the ordinary, but lots of quotes from multiple coaches across Sadie's career paint a picture of her growth from the people largely responsible for it. Most of all, this piece has the most difficult thing to obtain as a writer: an amazing title.
Sean Brady (Contributor)
The Only Team Worth Watching At Nationals Is Texas A&M (Or: An Ode To Dalton Smith) by Michael Aguilar
I haven't been a member of the cult of ultimate for very long. The 2015-16 college season was the first time I experienced the ups and downs of the quest for Nationals, and I have a distinct memory of chuckling with a teammate over this Michael Aguilar piece on the long drive to a tournament. It encapsulates a lot of the culture of oral tradition in the sport that I was quickly getting hooked on at the time. All the essential tools are in play: shameless adoration of an elite player, a gloriously overdramatic story arc, sneaky YouTube links and GIFs, and poking fun at Carleton. Yes, it's a bit cheesy, but, like, so is ultimate frisbee, right?
Colin Clauset (Staff Writer)
Songs for the Unsung by Kelsey Hayden
A lot of criticism is fired at the good ship Ultiworld, for a variety of reasons. One of the favorites is always, "Why didn't you talk about [insert name here]?? They're amazing! You hacks need to do better!" I'm paraphrasing here — it usually isn't that polite.
Well, Kelsey Hayden's piece profiling some standout women from around the US and Canada moved the spotlight off the big cities and onto the players who make those lesser-known teams so dangerous. The origin stories, the growth despite the environmental and structural challenges, and the respect they earned from opponents are the elements that make great profiles, and Kelsey created five. Colleen Wright, Molly Wedge, Kendra Miller, Courtney Walbe, and Laura Prelsnik should each be household names, and this was how I learned about them in the first place.
Charlie Enders (Contributor)
Remember The Name Jaclyn Verzuh by Katie Raynolds
Remember when Sports Illustrated put high school junior Lebron James on its cover with the caption "The Chosen One"? This Katie Raynolds article is the ultimate equivalent of that — a prophetic piece of journalism hyping up the sport's next big thing. Two college championships, multiple world championships, and one Callahan award later, it looks like she might have been right.
Graham Gerhart (Senior Staff Writer)
My Brother, the Most Underrated Player in Ultimate by Isaac Saul
Ok, I know this article is a little cheesy and causes stoic cynics to roll their eyes a bit, but I love it. There are a couple of reasons to love this article, but the most prominent for me is that this is the type of article I'd want written about me. Frankly, I think it's the type of article every ultimate player secretly wants written about them.
I myself am a brother of an ultimate player, and know what it's like to see your sibling, your friend, or even your teammate go overlooked. One of the reasons I wanted to write for Ultiworld in the first place was to offer more coverage so players like this wouldn't continue to toil away under the radar. Isaac Saul is a great writer, Noah Saul is a great ultimate player, and this article is a great read.
Also, four years ago I wrote this comment on the article back when I lived in South Africa. It was a time far before I ever thought I'd join the staff here at Ultiworld. I have since learned to be more cynical and less heartfelt about everything in ultimate. I'm still embarrassed by the rogue hyphen.


Kelsey Hayden (Staff Writer)
Sidelined: Injury, Grief, and Trauma by Hannah Leathers
You know when you're struggling with a feeling and you can't put a name on it? And then someone finally describes it perfectly and you feel understood? This piece did that for me. In winter 2019 I was struggling after tearing my ACL and this article landed in front of me at the exact time when I needed it. Hannah described the feeling I was experiencing as "grief" and it stuck with me more than any other ultimate piece ever has. In the time since, I've had teammates get injured and I always send them this article in hopes that it will help them a little too.
Nathan Jesson (former Staff Writer)
Pro Ultimate Disc League Faces Criticism After Suing Its Own Team (and other AUDL Lawsuit Reporting) by Charlie Eisenhood
The reporting that Charlie did on the back-and-forth AUDL lawsuits from its inaugural 2012 season launched Ultiworld. While there were numerous ultimate blogs in the ether, they usually filled specific niches and were not oriented around reporting hard news.
There's nothing extraordinary about the decision to get all involved parties on the record when reporting a story, except for the fact that no one had done it before for ultimate news. This was more than a team or tournament preview. It wasn't just a column pontificating on a potential new direction for the sport that the AUDL might bring. Anyone with inside information can post something that breaks news to r/ultimate, RSD, or Twitter. This reporting showed that Ultiworld was serious not just about breaking the news, but providing much-needed depth and context to those stories.
Kevin McCormick (former Contributor)
On Ultimate And Race by Chris Lehmann
With everything that's happened so far in 2020, it's never been more obvious to my fellow Americans how different communities are treated by entities like our healthcare system, our economy, and our police. But what about ultimate? In any normal year, it's an essential activity for so many of us — an opportunity to bond with friends, distract ourselves from hardships, and exercise in a fun and competitive environment. The emotional, mental, and physical health that it fosters are not mere luxuries, though; they're a downright necessary part of life.
As we examine the racism embedded in the many systems of America, our sport should be no exception — especially for how progressive we so often claim to be. All of us in the ultimate world must critically analyze the internalized racism in our own back yard. There will never be a better time than now for you to read this article — as well as its follow-ups, A Way Forward and Spirit of the Game — and ask yourself if the sport you're playing and working to support offers the above opportunities for everyone in your community.
Simon Pollock (Contributing Editor)
F*ck: Language Penalties Plague The First Two Days Of Nationals by Scott Dollen
There's always a unicorn assignment in our Championship event planning document: the pulse of the tournament piece. It's the story that goes beyond the recaps and on-field analysis and captures a unique incident that touches the whole event and relates to the sport at large. Scott Dollen's piece from 2015 Club Championships in Frisco is a snapshot of the club community reacting in real-time to a misguided directive from observer leadership.
During the prequarters round on Friday, top teams across the FC Dallas complex got rung up for language technicals. Before the tournament, observers were instructed to penalize foul language in the interest of being professional in front of ESPN's cameras.1 The technicals struck like lightning, leaving offending teams shocked as opponents easily marched to the attacking brick and grabbed winning goals.
In matter-of-fact reporting, Scott brings us into the collective bewilderment that rippled across the fields and delivers the pulse of the tournament piece as it's rarely been done since.
Daniel Prentice (Senior Staff Writer)
Grace Under Pressure: Emilie Willingham's Mental And Physical Health Journey by Marianna Heckendorn
I can't think of a more powerful player profile Ultiworld has produced than Marianna Heckendorn's telling of Emilie "Willie" Willingham's trials and successes while one of D-III's biggest stars during her time at Truman State. This was the most-read article in a VC-sponsored series of feature stories highlighting players and teams in the women's college divisions and it's easy to see why. Willie's story is both harrowing and inspiring and Marianna does a tremendous job detailing exactly how Willie's off-field tribulations intertwined with her on-field relationship with ultimate. Willie's story resonated with so many at the time of its publication for obvious reasons, and it's absolutely worth a revisit four years later.
Keith Raynor (Senior Editor)
Florida Warm Up 2017: The Back Pages by Tad Wissel
There have been many great opinion pieces, news writeups, and profiles in Ultiworld's history, and I'm sure those are mostly being written up by my peers. But Tad Wissel's "Back Pages" series, which in many ways planted the seeds that would grow into the Sin The Fields brand, were a unique creature in our zoo. His 2017 Warm Up edition was the creme de la creme of sending up the tomfoolery that takes place between the goals and assists in college ultimate.
Tim Schoch (Contributor)
This Was The Best Season Ever by Patrick Stegemoeller
Sometimes, there are truths that are so true that we need the paper of record to just print them plainly and unambiguously. This is our mechanism for ensuring that our posterity knows what we believed to be true about our world. It is to let future historians and journalists know, as they scour over newspaper clippings on microfilm in the basement of their city library, that these were the things that our generation held to be self-evident. And that's what Pat does here. He states the truth. He screams it from the rooftop. The 2016 season was the best season of men's college ultimate ever. Don't believe me? Read the first paragraph and click on all the links to relive the best year of your frisbee fandom. The only thing Pat didn't know was missing from 2016 was an anonymous texting scandal.
Lindsay Soo (Contributor)
A Very Serious Evaluation Of The Best 2015 Callahan Videos by Patrick Stegemoeller
Callahan videos may not have won the decade, but that doesn't make reviewing them any less fun. As a new college player grasping onto any content I could, this was not only the juicy ultimate content I needed, but great entertainment as well. It spawned several articles of Callahan video evaluation which, in my humble opinion, are a highlight of the college season. This article sparked a passion for video editing and analysis in me, and it inspired me to be a better writer — eventually even writing for Ultiworld.
Hugo Sowder (Staff Writer)
6ixers Shock Riot, Claim First-Ever Semifinals Appearance by Daniel Prentice
Game and tournament recaps are, at the end of the day, the engine driving the ship at Ultiworld. It is hard to cover college Nationals as a reporter because there's just so much story swirling in the ether of every round and every shocking upset. I've seen my fair share of upsets over the years, but seeing 6ixers come back and beat Riot and witnessing the real-time shock of last year's pre-quarters and quarterfinals rounds at club nationals, was on a completely different level from any other in-game event I can think of.
As always, Daniel was there asking good questions and synthesizing one of the biggest moments of the past decade in women's ultimate, as the narrative of the 'Big Four' came crashing down. It was a heck of a game to see and a heck of a game to film. Daniel's excellent recap allows me revisit the magic of that moment any time I choose.
Every nationals reporting team deserves an homage. Here's to you all.
Patrick Stegemoeller (Senior Staff Writer)
Building a Beast: Hydra Finding Success Through Depth by Katie Raynolds
Previews are brick-and-mortar assignments, usually a straightforward collection of names and results tied together with speculative narrative string. But here, as often happens when I read her writing, Katie pulled together something that makes me want to do better. Her "preview" of UVA's upcoming season has something universal to teach you about how the sport is played woven into a specific story about the people playing it. She found art within structure and showed us all how it should be done.
Steve Sullivan (Executive Editor)
Measuring Success in Women's Ultimate by Emily Baecher
Crisis communications is a difficult and unique skill. It's rarely easy, when under fire, to put together a response that both meets the needs of the moment and meaningfully advances the conversation on the more nuanced bigger picture.
When Emily Baecher attended an MLU tryout in 2014, she did so with no intention of making some grand statement about the state of gender equity in our sport. Even when she penned a quick account of the experience for Ultiworld, she likely never anticipated that she'd contribute anything beyond that about the minor event in her illustrious ultimate career. But when a slew of critical and sexist responses flooded the comment thread of her initial post, she decided to enter the fray with gusto. Her op-ed on what it means to be a female athlete was both a powerful rebuke of ignorance in the moment as well as an essential gender equity commentary that served as an early clarion call for a movement that had an outsized influence on the decade.
As a friend and former teammate, I was proud and supportive of Emily's stance. As a writer and editor, I was awed by — and not just a little jealous of — her clarity and eloquence.
Tad Wissel (Contributor)
High Tide's Mission by Simon Pollock
So much nostalgia and history packed into this 2015 piece by Simon Pollock, who somehow navigates the choppy waters of paying tribute to a career-defining party tournament that is… run by very religious people. Not an easy task. Between those two poles, how does this beast even exist?
But I guess for me, at least seven times, High Tide was a religion. And if I could read 3,600 words about it every year I would earmark a day of PTO to really breathe it in… to get drunk on rum and cokes, skinny dip, and in all likelihood cry.
I don't have a living will (probably should!) but tell my loved ones to scatter my ashes at the location Simon describes in this piece: "… the jaw-dropping greens of Savannah's Forsythe Park, itself a diamond among the other riches that make Savannah and its Spanish moss-lined streets a jewel of the American South."
---
Thanks to Luke Johnson and Fulcrum Media, we have Jimmy Mickle's now-storied, "This is for our fucking life!" on tape. This piece pushed that clip to the wider audience. ↩