Noah Saul is the best player nobody talks about.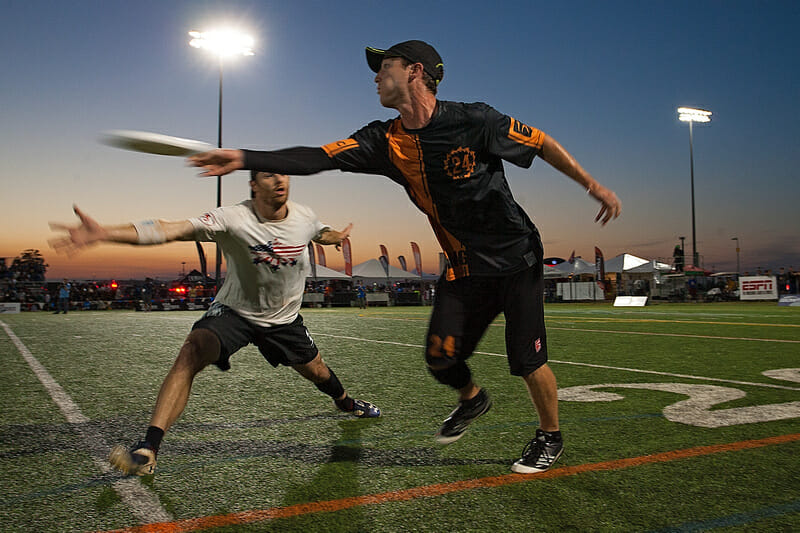 We were a group of high school stoners from north of Philadelphia, and we were at the most competitive tournament any of us had ever played in: Paideia Cup.
We had long hair and grey jerseys with a picture of a cactus and a red stamp that said "CENSORED" over it — our clever and immature way of giving Paideia High School the middle finger for not letting us go by our G-d given name, "Pennsbury Peyote." Our Score Reporter page read, "Reppin' the 2 1 Fifth like it's going outta style… You can take the name away from the team but cannot take the team away from the name."
The best team we'd ever previously played was Columbia, and prior to that 2006 season, we had spent most of those games getting our asses kicked. We had players like Mark Dundala, Scott Wright, Joe Karoly, Curtis Toews, Frank Harris, and Mike Principi. Save Scotty, who played at Penn State and eventually on Southpaw, it's a group of guys you've probably never heard of, but who'd still put you on a poster if we went out and played pickup right now. We sort of had a coach, too, if that's what you want to call former Pike player and current Facebook troll Bill Kieffer.
Standing across the line from us was the host team: Paideia. Probably the second best team in the country — since Amherst was coming off four consecutive National (or Eastern) High School Championships. Paideia had guys like George Stubbs, Grant Lindsley, Ollie Honderd, the Terry twins, and Charlie Herrig — guys many of you have at least heard of. They were considered a varsity sport and received funding from the school. They had warm up jackets and classy black jerseys with a single white stripe across the front and a legendary coach named Michael Baccarini. They were all on a first name basis with Tiina Booth. And they were first on our schedule.
But we had a secret weapon. We had Noah.
By the time the first pull went up, we'd already been warned about our language once, most likely a profanity-filled huddle where Noah told us no player was immortal, no team was unbeatable. It was the first game in Pennsbury history played on the national stage; at the time, I sincerely doubt anyone thought the program would ascend to the decorated status it enjoys today. And from the very first point of the game, one thing was clear to me: Noah was the best player on the field.
He did it all, from layout D'ing Stubbs, to throwing 75-yard IO forehand bombs, to taking Grant Lindsley deep, to just playing lock-down, disappear-that-player defense. We went up 11-7 before the game got capped to 12, before Stubbs and Lindsley flipped a switch to a gear that we hadn't seen yet and tied it up. On double game point, Stubbs caught a goal everyone on the field called in, even though my dad and I on the sidelines thought he landed on the line (and still do). Stubbs, naturally, also insists he was in to this day.
When it was over, we had given up five straight points and dropped what is still — ten years later — one of the most heartbreaking losses I've ever been a part of. But it wasn't Noah's fault. It rarely was.
Dominating Under The Radar
Not long after, the 2006 World Junior Ultimate Championships were held in Devens, Massachusetts. George Stubbs was there. Grant Lindsley was there. Ollie Honderd was there. Noah, who had been chosen as an alternate for the juniors team, was not. And so it began.
Before Worlds, Noah led the SEPDA YCC team to a gold medal in Minnesota, crushing Denver in finals, a small vindication. Before he graduated high school, Noah took with him Pennsbury's first Easterns Championship. A larger vindication. It was a title he ripped out of the hands of Columbia and Amherst, rosters with scores of players who would go on to fill the pages of USAU magazines and make Ultiworld All-Star lists. In each of those games, we trailed late before Noah called crucial timeouts and rallied us to come from behind victories.
His sophomore year of college, after quickly earning a leadership role with UNC's Darkside, Noah was still playing with the Pennsbury alumni club team Roots of Rhythm back in Philadelphia. At Regionals that year, we drew a match up with Ring of Fire, a team Noah had naturally been waiting to play. They were, after all, the crème de la crème of ultimate in the Mid Atlantic with two decades of consecutive Nationals appearances.
Once again, as he had already done so many times in his career, Noah rose to the occasion. With largely the same rag-tag group that had taken that trip to Atlanta a few years before along with Pennsbury greats like Denny Bechis (Colorado University, Johnny Bravo) and Matt Bode (U23, Ring of Fire, Charlotte Express), we took Ring to 11-11. To say Noah "led the way" would be like saying Steph Curry "contributed" to the Warriors 2015 National Championship. He didn't lead the way, he was the way. He caught everything. He threw everything. He D'd everyone. He may have sat out two points the entire game, if that.
When it was all over, we had dropped the last four points and lost 15-11. But afterwards, Ring of Fire players waited about three whole seconds before pulling Noah aside and pitching him to come play in Raleigh. I remember watching the conversation and realizing it'd be one of the last times I played with him. By the 2010 club season, he was bleeding orange and black 500 miles away, and Roots of Rhythm was never really competitive again.
When Noah made Ring, we were all cautiously happy for him. He deserved it, of course, but an established program like that tends to come with an uphill battle for playing time. Instead of the bench time we expected, that very first season he was starting on their O-line at Nationals. One of the best club programs ever had seen what I had seen so many times before: a leader, a dominator, a dictator with the disc.
Not long after, Noah got one of the first (and maybe the only) real nods in his ultimate career from the ultimate community: he got on The Bus. It's tough to put into words the satisfaction of finally seeing him play on the NexGen Tour with the other best ultimate players in the world: guys like Stubbs, Dylan Freechild, Jimmy Mickle, and Nick Lance, guys who I had always seen as his peers and not his superiors. But what was even better was seeing his role: third on the team in touches, sixth in assists, only Simon Montague and Stubbs with better retention rates. Despite getting so many touches, he didn't have his first turnover of the tour until halfway through the trip, against Chain Lightning. He didn't just play; he played really well.
"We called him 'No Turn Noah,'" Mickle said. "His [first] turn was so funny… He turfed an easy centering pass, and because we had made such a big deal out of him never turning it, he put his head down and then immediately got scored on. It was hilarious."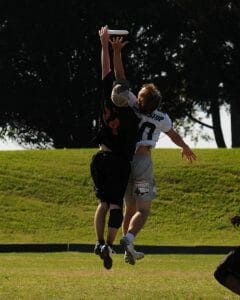 In 2011, while we were playing in concurrent games-to-go on adjacent fields at Mid Atlantic Regionals, I watched Noah put his first real stamp on Ring's history. They were going at it with Truck Stop on double game point. Noah took Jeff Wodatch deep and had a few steps, but a poor floaty throw left them both coming to a slow jog in the end zone. Off his right foot, left handed, from behind, Noah made this picture perfect grab with Wodatch's hand basically inside his own. It saved the game and sent Ring to Nationals with the top seed in the region, a perfect ending to his second season. The play happened during a stoppage in our game, while I was on the field, and moments later Oakland punched our ticket over Cash Crop. A write-up of the game called the grab "the catch of Saul's life," though it was something I had seen him do dozens of times before.
As Ring continued to make Nationals, UNC continued to fall just short. Noah was overshadowed in a stacked college region dominated by names like Kurt Gibson, Brodie Smith, Alton Gaines, Rusty Ingold-Smith, Nick Lance, Tyler Konger, and Cole Sullivan, the latter of whom Noah outplayed every time I saw them match up (including at this year's Club Nationals). He never made an All-Region team and was never awarded an honor like Freshman of the Year.
Meanwhile, Ring of Fire continued to be a staple of Club Nationals. In 14 years, since 2002, they've only missed quarterfinals of Nationals an astounding three times. For the six trips Noah has been a part of Ring, he's done it all. One year he's starting O-line handler, the next year he's a puller on the D-line covering the other team's best cutter. One year he's captain, touching the disk every other throw, the next year he's a role player cutting down field. But one thing stayed the same: he was always on the field, quietly playing most of the points in the biggest games — and usually winning his match up.
Media Obscurity
Players I'd see at fall college tournaments or College Nationals told me they had seen Noah dominating out in club, but I could never find his name in any recaps. Not on Skyd, USAU, Ultiworld, Reddit, and not even the AUDL. One time during a Raleigh Flyers ESPN3 game, Evan Lepler mentioned that I was Noah's younger brother in a live broadcast and referenced some of our high school success and Noah's tenure on Ring. Henry Thorne told me Noah was "the best player I saw all weekend" at Colorado Cup in 2012 or 2013, but I couldn't find a mention of him in the tournament recap. Say what you want about USAU questionnaires and plans to push the club season back, but Henry Thorne knows ultimate.
Then came 2014, the year of "the run," and maybe one of the best ultimate frisbee games any of us has ever seen. Before the club season started in March, Skyd did a mock draft. Noah was picked 66th overall, amongst 66 other admittedly great players. That summer, he quietly finished second in the AUDL in assists with the New York Empire despite only playing in 10 of their 14 games, earning a mention on Skyd's All-AUDL team.
A few months later, there he was on ESPN3 again, so far removed from the 2006 Paideia Cup, but once again standing across the line from ultimate Goliaths — including George Stubbs. Once again, he was playing at the biggest stage possible. I watched the game from my girlfriend's apartment and boo'd from my couch along with Ryan McGillicudy, an old Pennsbury teammate. I could tell you that Noah was involved — making a crucial break throw, cut, lock-down defense at the front of the stack, aggressive mark, throwing the assist, catching the goal — in almost every score Ring put on the board, or that he didn't leave the field after 11-7. 11-7, the same score we led Paideia and Stubbs by almost 10 years before. I could tell you that it was his defense that forced both of Ironside's turnovers on double game point (one with great dump defense when Danny Clark had the disc on the goal line, the other after getting beat up line and catching up to Cricket to cleanly force a bad IO flick), but what most people will remember is that he had the last turnover of the game. And then, of course, it was George Stubbs who let the game winner slip through his hands, only to bounce directly to Clark's chest for the game winning goal.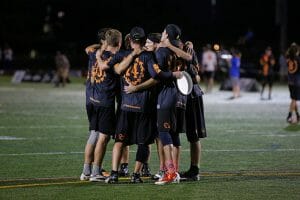 Tristan Green told Ultiworld that before the last point, before Ring went out to try and complete their massive comeback, Noah spoke in the huddle.
"Just think about what we're doing right now," he told them. "This is an incredible experience. It doesn't matter what happens after it. That's why we play ultimate."
In the aftermath of the game, there was a lot of talk about a lot of guys: John Stubbs blew up. George Stubbs is still uncoverable. Danny Clark is still getting it done. Josh Markette's reliable handling. Justin Allen's pretty hair and explosive skies. Callahan winner and National Champion Jonathan Nethercutt's insane, standstill throwing ability. All worthy topics. But Noah Saul, with the most combined goals and assists on Ring (3), and second to only Danny Clark (4) in the game, went largely unmentioned. Aside from the turnover that lost the game.
The following summer, this very website wrote an entire article previewing Ring of Fire. 18 players were mentioned. Noah was not one of them. The first player mentioned in the Ring of Fire preview? Ironside's George Stubbs.
That same preview had video clips showcasing Nethercutt's new look as a downfield cutter and mentioned every player involved in his goal-scoring play at the U.S. Open, except the one who broke the mark with a perfect IO flick and got the play started: Noah Saul. Aside from a measly footnote, naming him as a member of the double game point D-line from the previous season, he simply wasn't in the preview.
A few weeks later Ultiworld published another article, this one about the six most underrated players in Ultimate. "Finally," I thought. "This will be it." Instead it was a list of four guys I had literally seen Noah dominate in games at the most competitive club tournaments in the country, along with two others from Revolver, who I had never seen Noah play in-person. There was one comment mentioning Noah on the article from someone named "Keith":
"With all the love you've given Ring this year there has hardly been a mention of Noah but he's likely their best player in a similar manner to Greg Swanson with Chain in '09. He is the cog of their defensive line. He generally pulls, takes a key matchup, and is the central player on their defensive offense. He played every defensive point from 11-7 on in the Ironside semi thriller in 2014 (along with Matt Bode). He also is one of their few players that will play both ways. If Ring is to have a big tournament this weekend it will be on Noah's back."
It had two upvotes. Ring was the third best team in the country, and nobody cared who their best player was. Or nobody thought it was Noah.
Versatile, Shut Down Defender
Then, this past fall, I returned to club Nationals to report on the open division for USAU. I watched Noah take arguably the other teams' toughest match-up in each and every game Ring played. Kurt Gibson (Doublewide). Dylan Freechild (Rhino). Simon Montague (Sub Zero). Cole Sullivan (Florida United). Raise your hand if you want two days of that on defense… any takers?
In every game, Noah won his match-up or at least played his guy even.  And I made sure I put it in the USAU write up, too. Twice.
Not even Gibson overmatched him. In fact, Noah may have played his best defensive game of the tournament against Doublewide, frequently forcing Gibson into uncomfortable throws — two of which were turnovers — and giving him hell on resets. Of course, it was the first game of a meaningless pool play day and Ring lost, so nobody was watching.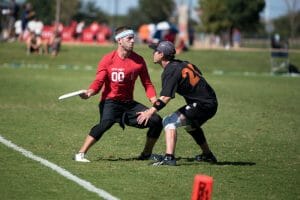 Ring took an early but valiant quarterfinals exit on another double game point to Machine as Noah quietly played fantastic defense1, threw the first break goal of the game on an upwind lefty backhand, got loads of touches and had zero turnovers. Afterwards, all the chatter was the usual: 'Matzuka is the best handler in the country.' 'Goose is uncoverable.' 'Justin Allen's hair.' 'Jonathan Nethercutt's throws.' Not a mention of Noah.
A Chance At The National Team
In January, Noah and I met in California for a cousin's wedding. He was a couple weeks out from Worlds tryouts, so we decided to get a workout in while we were together. Instead, it turned into an old school, barefoot 1-on-1 match-up, with our dad — who has been playing ultimate since before we were born — throwing us fifty-fifty balls at dusk in the outfield of a random, muddy park. Just like the good old days in the back yard. Before we started, I bet Noah that he couldn't catch six of ten (Actually, I still owe you for that. Sorry, dawg). Deep cutting is definitely the worst part of my game, but I'm an experienced enough player that I figured I could prevent him from catching six. At least a few would hit the ground, and I was good for one or two. But he didn't get six: he got eight. Two of them were so shocking, my position was so good, that I spent 30 seconds staring at my hands afterwards as my dad yelped approval from 60 yards away, wondering why I wasn't holding the Frisbee.
A month later we were in Florida when I got a text message: "Did Noah make mixed?" I knew what it meant — someone had seen the men's roster, and he wasn't on it. To be frank, I didn't expect Noah to make either Worlds team. Not because he isn't good enough — he and 50 other men's players are — but simply because of everything you've just read. When the rosters were finally released, there were of course names both of us screamed at, matchups we knew he'd win at least half the time. But it was what it was. He didn't even get invited to tryout in 2013, and being there alone is a great honor. Dutchy said they took the guys who played best at tryouts, and I wasn't there. What to do? Noah was disappointed but not surprised, humbled but not angry. As I watched him read the roster, I felt a small fire of injustice burn inside me. Once again, one of the best players I've ever seen being left out of the conversation.
Before anyone knew who made it, I emailed Trent Dillon, who was on Noah's team at tryouts, and asked him what he thought about Noah's tryout. He shot me an email the day after the tryout, and I found it insightful and honest. He let me share it for this article:
So Noah played great. Great decisions, reliable reset, rarely got burnt, hit the shots he took, etc. Noah was definitely one of the guys that I was 'glad' to have on my team in terms of them being reliable and helpful to play with.

The issue is, everyone played so great offensively. It's like this weird variation of ultimate where you can't actually play good defense (or at least enough to separate yourself) because the disc is moving so fast and everyone has bomb throws. So the best way to showcase what you have is just by being unreal at something offensively, or somehow just making plays defensively against all the odds. This is something that Noah didn't really do.

Definitely in the top half of the tryout though. So he's got a shot for sure. He was much more reliable than a lot of the other players that play his role. But at the same time, at this level you can have a guy that plays that role reliably like Noah and then also has blazing speed, or is 6'4″ or can rip 90 yard flick hucks all day or whatever.

Noah wouldn't be out of place on either roster, but I would be slightly surprised if he made one of the teams.
I'm not trying to say any Worlds player or any player that's ever been in an Ultiworld write-up is undeserving. Certainly, most of them are there for a reason. Most of the people mentioned in this post I consider good friends of mine, pillars of the sport and excellence. Some I consider family. One is family.
Personal Bias
What I've learned is that to know a sport so intimately, to know a player's game so well, and to watch so many with a voice largely ignore his dominance is tough to swallow — even if the player isn't yourself. It was hard to watch him come home and win summer leagues every other year, hear people talk about how dominant he was when he wasn't listening, then see him go back to Club Nationals, to quarters or semis, and watch as he would continue to go unmentioned for leading whatever part of Ring's team he was asked to lead that year.
Noah has always been quiet about it: high school, college, club, never a peep of ego-driven dissatisfaction, never a bad word about a teammate or opponent who got more love than he did. And we've had endless talks about frisbee, which meant plenty of chances for him to say so. In fact, I'm not even sure how he's going to feel when he reads this article. I didn't tell him I was writing it and asked the people who I interviewed to keep it quiet. Knowing him, he might just hate the attention or hate the idea of his little brother going to bat for him. But I'm hoping he's grateful for the recognition, and understands that I wrote this because I believe it.
Do I think my brother is Beau Kittredge? No. Of course not. But if you asked me to pick one to build a team around, I'd pause. If ultimate players were paid like NBA players, and you were building a franchise, and you gave Beau and Noah both salaries reflecting each mention from Ultiworld, USAU, AUDL, Skyd, RSD, playultimate.blogspot.com, ESPN3, Tad Wissel, Facebook, Reddit, and Twitter, Noah would cost $1.5 million a year and Beau would cost $50 million. If I was Mark Cuban, I'd pay for Noah instead of Beau. I'd get more bang for my buck. And maybe I'd flame out like the 2015 Mavericks, but maybe I'd make a run to the finals like the 2011 Mavericks.
I believe my brother is one of the best all-around players in modern ultimate, and consequently the most underrated in club. I think his ability to do so many things well, and not excel at one particular aspect of the game, is exactly what makes him so dangerous. Ironside coach Josh McCarthy expressed this to me with an anecdote about Noah surprising him by cutting downfield on a crucial point after handling all game. But it's an awkward position to be in, and I've taken time wrestling with myself about whether my bias was blinding me. I'm sure plenty of people will agree with me, and plenty will not, and every argument against him will make me question how my admiration for him as a younger brother is influencing what I see on the field.
But that questioning won't change the fact that I believe him to be a Top 25 player in the United States, and that he's been a Top 25 player at every level he's played at. I believe the other top 24 would probably put him there too, if they took long enough to think about it. Paideia and Amherst knew it in high school, Pitt knew it when he was on UNC, Truck Stop knew it when he first started playing with Ring, plenty of PoNY guys I talk to know it now (including one who is on the Worlds team), Bravo knew it in 2013, Machine likely knows it, Ironside certainly should.
On top of Noah being one of the best two-way players in ultimate, he's also a leader of the first order. As someone who has been in his huddles, I know he's a trusted voice when you're on the ropes. Off the field, he's been an ambassador for the sport: hosting high school, college, and club tournaments across the country, coaching youth players in the Triangle, running speed clinics and after school programs, promoting goaltimate. He's never been the kind of guy to make a foul call you have to question, never the guy you're angry at after playing. For years, he's been the gold standard of what our sport is all about, from his humility on the field to contributing to the community to simply dominating at the highest level.
I just thought it was about time somebody said so.
***
I reached out to some people Noah has played with or against and asked if they'd like to offer any thoughts. All of them did, so I'd like to share those, too. Though I prompted them with my position that Noah is the most underrated player in club, none of these people are endorsing my position and none of them were asked to.
"I've always known Noah was money. Which is true, for the record. I've never over-looked him playing against him or with him. Part of the reason he probably isn't as recognized is that he's an amazing team player. He's a catalyst, filling in an essential role on each team and immediately becoming indispensable. He's a rare example of someone that can both be a star himself and make everyone around him better. Whenever we were having trouble with Ring, you could guarantee that Noah was part of it. In every game I've played against him and every game I've played with him, I knew how much value he was adding."
– George Stubbs, Nexgen '11, Ironside '14
"I recently saw a clip of Danny Karlinsky describing his position on the field as a distributor and not a handler. It's a term that I have always used to describe handlers who do more than pass the disc. It's a term I've always used to describe the most lethal players on the field – players who dictate the flow of the game, and thus, the outcome of a game. Players like Noah Saul. Noah's ability to take in the game moment by moment is a rare talent. He absorbs what needs to be done and how to do it effectively and efficiently faster than most who play his position right now. Even more impressive is his capacity to do it with limited turnovers. Many distributors are given the keys to the bus and with those keys come an allotted amount of turnovers. Noah functions at an incredibly low allotment of turnovers. The combination of those two things alone create for a deadly skill set that is not too often seen. The other most impressive thing about Noah is that his teams always win. There are players who have the ability to will their team to victory at any given moment and then there are players who are the ingredient to winning. Noah is the second. Noah is a vital ingredient in the recipe of a winning team. The teams he is on rarely lose when it matters and are always exceeding expectations. He manages his teams to success, carefully making sure everything falls into place. I find this to be his greatest attribute. This is evidence, to me, that the role Noah plays is still the most important in ultimate and Noah plays it better than almost anyone."
– Dylan Freechild, NexGen '11, '12, '13, Rhino, US National Team '16
"I would agree he is often overlooked and underrated. I have some good stories, too. I was very disappointed when he didn't even get a nod to try out for the World Games team in 2013, I honestly think Noah is a better player than I. He has the optimal build for ultimate (see Sammy CK, Bart Watson, Gabe Saunkeah, Jolian Dahl, etc).  I remember talking to Dutchy about it as he definitely merited an invite in my opinion. Once Noah was on Ring, that is when I saw his real skill, talent, and attributes to succeed.  Noah was a huge reason we made semis for the first time in my experience with the team in 2012. He played O with me and was extremely versatile. Him and Snoke were the pinnacles of our offense, I didn't really do much but put it in their hands. Both were devastating with their throws in that wind… I will always hold Noah in high regard, extremely gifted player, but more importantly, great guy."
– Brett Matzuka, Chicago Machine, Ring of Fire, US National Team '16
"Noah is so solid all around and can do whatever you need: distribute, take-over, play D, whatever. Those of us that have played with or against him know he is one of the best."
– Jimmy Mickle, US National Team '16, Johnny Bravo, Nexgen '11, '12, '13
"Noah has always been one of the guys I've looked up to the most, on and off the field. The thing I admire most about him is how humble he is for such an accomplished player. The guy is so knowledgeable and motivating, I get pumped hearing when he is in town to play league for another opportunity to learn and most definitely share some good laughs."
– Paul Klimkowski, Pennsbury High School, U19 US National Team, Garden State Ultimate, Temple Ultimate
"Really what impressed me about Noah wasn't the flashy plays, just him doing everything right. I think the best game I ever saw from him was watching the semis come back that Ring lost to Boston."
– Anthony Nunez, NY Rumble coach, former Columbia HS coach
"I have been enamored with Noah's game ever since my team was lucky to put up one point against Pennsbury at Pennsylvania State Championships in high school. Even then, he was the kind of guy that just did all the little things right, the stuff that doesn't show up in the stat sheet, and by the end of the game you realized he just rarely didn't get what he wanted. I've seen that part of his game transition into club as well."
– Tyler Kunsa, University of Pittsburgh '14, U23 US National Team '15, Florida United '15
"He can do everything Ashlin can do, just no one talks about it. If Noah had Beau, there's no difference."
– Evan Padget, Johnny Bravo, Colorado
"Noah's work ethic, passion for the game, and inspirational play motivate me to be the best possible coach I can be because players like him deserve success."
– Mike DeNardis, Ring of Fire, UNC coach
"I first saw Noah play about 10 years ago and was the father of a couple great throwers at the time, Alex and Max, but at this tournament where we met Pennsbury in the final in a heavy wind, Noah's flick completely could not be stopped.  He could put it anywhere on the field with crazy precision regardless of the wind and there was simply nothing we could do to stop it.  Needless to say, we lost."
– Henry Thorne, USAU Board Member
"From afar, Noah seems to be an underrated and perhaps under-appreciated cog in Ring of Fire's success the last several years. Noah spends most of his time as a handler, distributing the disc to his teammates very effectively; however, he is a versatile player that can certainly take advantage downfield when defenders overplay him around the disc. Though I consider Noah a staple of Ring's O-Line (at least in the years that they run a traditional O-Line), he also does not shy away from a defensive challenge, as Noah has frequently marked with success some of Ironside's more talented players over the years.  While I do not have an inside view of the Ring of Fire huddle (if only!), I respect his apparent quiet leadership, as he seems to maintain a calm and steady demeanor on a team that oftentimes wears its emotions on its sleeves.  I certainly look forward to the challenge that he brings when Ironside stands as his team's opponent."
– Josh McCarthy, Ironside coach '15
"I agree, he's very underrated. I think a great quality Noah possesses is how easy it is to play with him and how he can gel with almost any player. Noah is so easy to play with. I bet if you ask him, he'll tell you I throw it to him anytime he gets 1 step upline and 9 out of 10 times he gets it. He's such a reliable thrower and can stay patient. He's not afraid to take a well-timed deep shot, but is incredibly careful in big moments about quality looks."
– Justin Allen, Ring of Fire '15
"The dude is all heart and grit! He played on the offense his first year on Ring in 2010 which was very cool for him. He played big for the O-line at Natties that year. Noah has the disc skills, big-time game experience going back to his high school days at Pennsbury, and the moxie to play offense and be on the field with any team out there."
– Stephen Poulous, Ring of Fire '13, Charlotte Express '15
"The last thing you want is him holding the disc, up on his toes, at the fifteen yard line. Of course, once in the blue moon I suppose he did turn it over, but I'm hard pressed to recall them."
– our father Bailey Saul
CORRECTIONS: A previous version of this story mistakenly reported that "SEPTA beat Atlanta's mixed team" in the 2006 YCC tournament; this has been corrected to reflect that SEPDA defeated Denver that year.
Additionally, a comment quoted from "Keith" was mistakenly attributed to Keith Stern in a previous version.
---
In that game, he played all 14 defensive points and two crucial offensive points: six of those D-points he covered Goose Helton. Four he covered Cullen Geppert. Two he covered Brett Matzuka. ↩