Make a plan for your resets.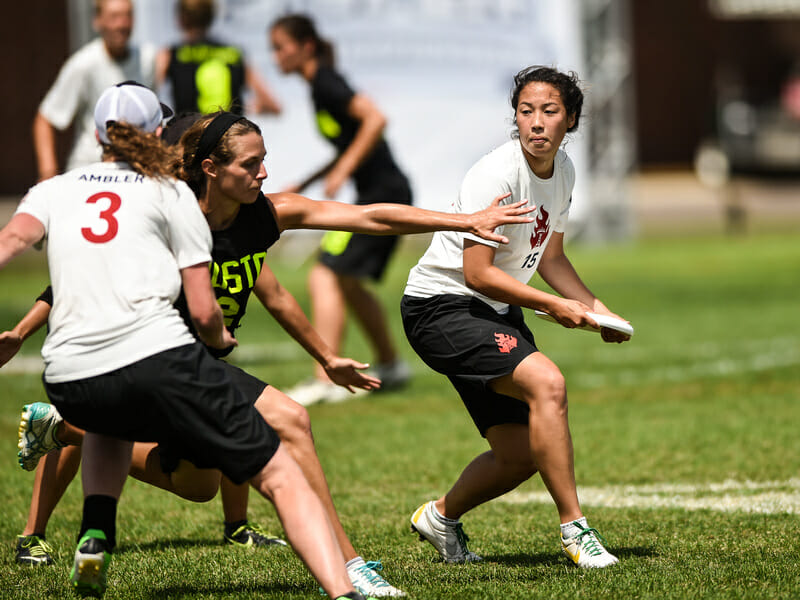 Tuesday Tips are presented by Spin Ultimate; all opinions are those of the author. Please support the brands that make Ultiworld possible and shop at Spin Ultimate! 
This article was written by Melissa Witmer, the founder of the Ultimate Athlete Project.
Every player needs to know how to complete a good dump or reset pass. And yet it's a skill many players and teams struggle with.
In today's Tuesday Tips article, we'll talk about why this skill is important and break it down so that you can figure out what you need to practice next to make your reset passes more consistently successful.
Terminology
The terms "dump" and "reset" are often used interchangeably, but each has its own connotations and neither fully captures the full range of possibilities contained within this short type of pass.
Dump
The connotation of the term "dump" pass is that we are going backwards and losing yardage ("dumping it back"). It is often used in the context of "dump and swing" — move the disc backwards and then laterally to reshape the field. However, because of the term itself,  players may (even unconsciously) associate a dump pass with a negative event because the initial pass will result in negative yardage.
Reset
The connotation of the word "reset" is that we use the pass to reset the stall count. That concept may have beginning players thinking that looking to the "reset" early is a sign of weakness or a negative option.
Generally, I prefer the term reset because these short passes can and should happen in a variety of directions (not just backwards). What I want new players to understand is that the reset pass is not just about resetting the stall count but also about resetting or changing the angle of attack.
Whatever term you opt to use, know that we are talking about short passes that are not part of a give-and-go sequence.
Purpose
So why do we need dumps or reset passes in our offense?
To reset the count if the stall is getting high
To get the disc in the hands of someone more well-suited to the situation (a strong handler, for instance)
To change the angle of attack if the offense is stagnant
To get the disc in the hands of someone in the power position
Beginning players and teams tend to focus on the first two reasons: to reset the stall count or to get the disc in the hands of a handler. As teams and players increase in skill, the focus shifts more to the bigger picture objectives of getting the disc where it needs to go based on the spacing and momentum of various players on the field. As a coach, the earlier you can help players make this transition in thinking, the more successful you'll be in common scenarios such as having the disc in the front corner of the end zone you're trying to attack.
Keep in mind that every single team at every level not only uses resets but develops an entire system around how to use them. It is a vital part of any offense, because we're not always going to be able to attack our first option and just cascade down the open side for a goal with no resistance. Sure, that might work against a very weak opponent, but it absolutely will not work against even an average one. You have to have a plan for maintaining the flow of the offense with well-structured resets.
Strategy
What is your team's strategy when it comes to dump and reset passes? How do they fit into the overall offense?
More advanced teams can often execute more specific strategies. For example, "We use our reset passes to get the disc in an attacking position in the middle of the field."
But a beginning team often has more simple goals like "we use reset passes so that we maintain possession without getting stalled out" or sometimes "we use reset passes to get the disc to more experienced players."
No strategy or objective is necessarily wrong. Perhaps a whole team will never agree on the strategy being used. But what's most important is that everyone knows what the plan is.
Your team's overall strategy may determine things like:
Where dump and reset cuts are likely to come from
Where you ideally want the disc to end up in a dump or reset cut
The pace – when cutters will move in an attempt to receive a dump/reset
Priorities for who might be receiving the disc
Priorities for what spaces on the field the thrower looks to first
Even brand new teams can come up with a simple, executable plan: "We will always have a reset handler available."
What should you do if you're on a pickup team, or a team that doesn't have a stated strategy for their dump and reset passes?
One option is to decide on your own objectives for your reset passes and measure yourself against those. Typically, you'll need the cooperation of at least a few other handlers on the team to execute on a specific objective. Communication is helpful here.
Additionally, if you can figure out the objectives of a few handlers, you'll understand better where they are likely to cut and when. Even if you don't agree with their choices, understanding where they are likely to go and when in the stall count they are likely to move will help you make more informed decisions with your own throws.
Does your team have an explicit and agreed upon strategy for dumps and resets?
Tactics
Tactics are about how you are going to reach the objectives determined by your team strategy.
Your team's tactics should match the skill level of the players involved.
Tactics for dumps and resets might include things like:
What types, shapes, and angles of throws are expected
What shape or kind of cut will help get the cutter receive the disc in the ideal location
When in the stall count players will assertively look for a dump/reset
What is expected of throwers and cutters as the stall count approaches ten
What types of tactics do you or your team use for your resets and dump passes? Again, even brand new teams can come up with a simple, executable tactical plan: "We will look to our reset handler at stall five."
What tactics do you most enjoy using as a thrower?
For example, I dislike very short passes (like the type required when someone crashes a cup). I get nervous in those situations. I like more space to work with. I prefer to use my low throws to throw under the cup to a cutter further away. This means my preferred individual tactics are more suited to some team strategies than others. Knowing this can inform what I need to work on personally if I'm going to play on a team that uses a cup crashing strategy as the default option.
Improving Dumps and Resets Amidst Social Distancing
How can you get better at resets when you're not able to play ultimate? Here's a couple ideas.
Film Study
As you're watching your next ultimate game, pay special attention to the reset passes.
Can you figure out the objectives to the reset pass? (e.g. putting the disc in the hands of a more experienced player, changing the angle of attack, getting the disc to someone with forward momentum)
Is there an overall pattern or team objective in the use of resets? (e.g. keeping the disc in the center of the field, switching the field whenever possible, staying on the upwind side of the field.)
You can also start to get a sense of how different teams approach their reset system differently.
Visualization
Take your dumps and resets to the next level with visualization practice. As you're watching players make decisions on the field, can you put yourself in their shoes? What does that situation look like through their eyes? What defenders were able to see in the moments leading up to and as they released the disc? What options did they see that they didn't choose?
Can you visualize making the same decision and same throw? Can you visualize making the same decisions with a different throw? Can you visualize making a completely different choice based on a different objective or different tactical skill?
If you can do this for a few weeks with just a few games, you're guaranteed to have a higher game IQ and better decision making abilities next time you step out onto the field.
If you enjoyed this article and these types of tips, join my Facebook group Social Distance Training Tips from the UAP. There you can search for more posts on this topic and browse the other topics we've covered such as forehand form, marking tips, mobility work, bodyweight workouts you can do at home, and much more.
Submit your own Tuesday Tips to our Tip Jar to win a free subscription and even become an Ultiworld writer.