Some performances are so unforgettable that they remain vivid in spectators' memory long after they happen.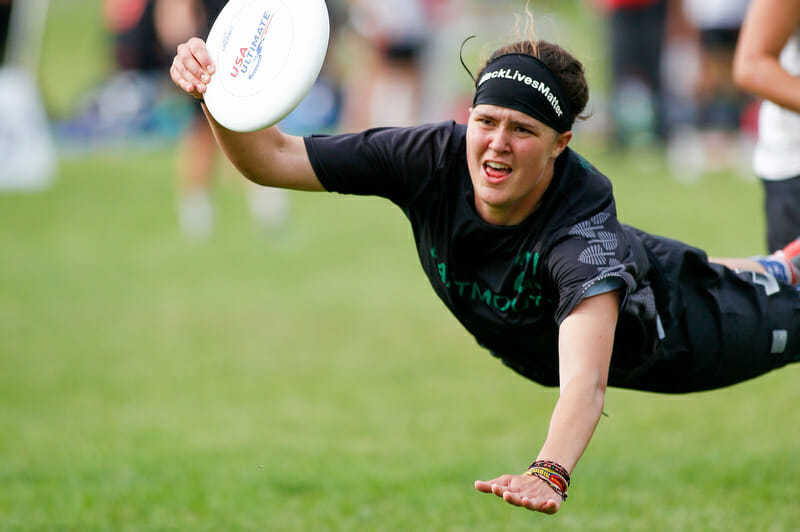 Ultiworld's "Decade's Greatest" series is presented by Greatest Bag. Get the greatest bag in ultimate at GreatestBag.com!
Over the past ten years, the staff at Ultiworld has watched a lot of ultimate. Like a lot of ultimate. But every once and a while, an individual player turned in a performance so remarkable that it could not be forgotten. Every player and fan has witnessed these vignettes of dominance, whether they be at summer league or the World Championships, and it is hard to really compare them. So we didn't try.
We asked some of our staff to talk about the times they watched a single player push to the limits of ultimate and reshape the game around them. These are their favorite individual performances of the decade.
Carolyn Finney — 2011 D-I College Nationals Final
Kyle Weisbrod (Contributor)
This account originally appeared in Ultimate: The First Five Decades, Vol. II and has been reproduced here with the approval of the publisher.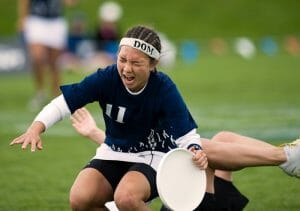 Despite having won their pool play game against Michigan at the 2011 College Championships, there was no risk Santa Barbara Burning Skirts would be complacent in the title game rematch. At both tournaments they had won that season, the Skirts had lost pool play games and later beat the same team en route to the title. And the fifth-year players could recall beating Stanford in pool play at the 2007 College Championships and later losing to them in the title game.
But in this game, Carolyn Finney wouldn't let that happen again. A day after she had been named a finalist for the Callahan Award, Finney put together one of the greatest single-game performances the sport has ever seen.
To open the game, Santa Barbara scored once upwind and once downwind to jump out to a 2-0 lead. Michigan's Flywheel answered back, but the Skirts were firing on all cylinders. Led by Finney with Marie Madaras and Stephanie Karba playing large supporting roles, the Skirts opened up a 7-2 lead. Michigan would rattle off three consecutive to close the gap to just two points, as Paula Seville's high backhand downwind and Malinowski's relentless cutting and ability to bail Flywheel out of floaty throws kept Michigan in the game.
Santa Barbara scored the next downwinder to take half 8-5 on a Finney assist to Madaras. In fact, Finney had all eight assists for Santa Barbara in the first half. She was unstoppable. A sheer force of will on the field churning to get the disc and executing throws in the wind with very few mistakes. Poised and reliable, she was quietly putting together one of the greatest games ever played.
In the first point after half, however, Finney went down after catching a goal from Karba. She managed to limp off the field clearly in pain, and it looked like the door had just opened wide for Michigan. On the sideline, Stanford Superfly coach Jamie Nuwer attended to Finney, who had suffered a badly sprained ankle. She advised against taking the cleat off and began taping it as tightly as possible.
The game was being televised on CBS College Sports and sideline reporter Lauren Shehadi approached Finney to ask if she would be going back in the game. Without giving Finney time to think, Nuwer responded, "Yes, she's going back in," sealing the deal. Finney returned after just a single point off. Now up 9-6 with the time cap coming on soon, the Burning Skirts captain resumed her dominance, now with an immobile right ankle. She scored the next goal, again from Karba, to put Santa Barbara up 10-6.
From there, the two teams traded out to 13-9 and UCSB claimed victory and the 2011 college title. Finney caught or threw all but one of the 13 goals in an absolutely mesmerizing performance. The one goal that she wasn't on the stat sheet for was an upwinder huck to Karba, who, a foot outside the end zone, then flipped it in for the goal. The iconic performance, however, is lost to history as CBS Sports' archive room flooded and the tape from the game was compromised.
Eli Kerns — 2014 D-I Southwest Regionals Game-To-Go
Patrick Stegemoeller (Senior Staff Writer)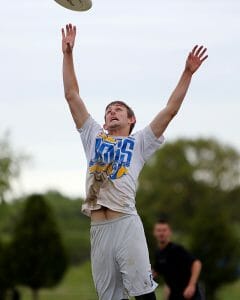 You want to talk about hero ball?
There have been plenty of great performances over the past decade, games where a player was just feeling it, and nothing could stop them from propelling their team to victory. That's all well and good. But to me, there is something that separates these performances from ones that are truly heroic. I'll try to explain.
The 2014 UC Davis men's team should have been a shoo-in for Nationals. They had been to quarters at Natties the year before and were returning both Eli Kerns and Nathan White. But in the final of a one-bid Southwest Regionals, they ran into a UC San Diego club who wasn't buying that narrative. Sporting a maddeningly deep rotation and not prone to mistakes, San Diego wasn't going away.
Kerns started the game looking like the best player in the region. On the first point, he made a tricky grab to save an awkward throw, then boosted a flick huck for a goal. On the second point, he made another tricky grab to save another awkward throw, then boosted another flick huck for a goal. So far, so good.
Then suddenly, things completely fell apart. Nathan White — who, at this point, was a mere two years shy of being named the second runner-up for club POTY — became a rampant turnover machine. San Diego capitalized by putting in some breaks and things started to go sideways in a hurry for Davis. Their dump scheme seized with panic. Players forgot which way to force. And as the team and the dream disintegrated around him, Eli Kerns was trying to hold it all together.
He was flying around the field to get the disc back after his teammates' turnovers, nabbing ludicrous full extension grabs to save yipped, short-armed throws, throwing people opened with blades and hammers, and covering 10-yard gaps for blocks. In one sequence, he hit the jets and dove to reel in a blading desperation huck, threw a hammer that his receiver misplayed in the end zone, got the disc back immediately by jumping the lane for a poach block, and finally beat two defenders to the cone for a goal. That was the kind of effort required to get a single hold.
It was like watching the best player on a crummy summer league team doing absolutely everything to bail the team out. The rest of Davis was losing their shit — throwing hammer dumps, forgetting to pick up last back after turnovers, two guys running down and covering the same mark on the pulls.
To demonstrate that I'm not wildly exaggerating, take a look at this "swing pass." It's pretty informative.
"Swing Pass" Gif — 2014 Southwest D-I Men's Regionals
But despite all of that, Kerns did everything possible to keep Davis in the game. No matter how many times they shot themselves in the foot, Kerns carried their footless bodies across the battlefield. He was a hero.
And it didn't matter. It didn't even come close to mattering. The final score was 15-10. On game point, Kerns chased down a huck for a catch block on what would have been the winning throw, then did this to save possession.
Eli Kerns Save — 2014 Southwest D-I Men's Regionals
But Davis coughed up the disc shortly after, and that was game.
A great performance in a winnable game makes you a legend. But emptying your soul into a game you just aren't going to win, raging against the dying of the light, in my book, that makes you a hero.
Mark Lloyd — 2014 Club Nationals Quarterfinal
Tad Wissel (Staff Writer)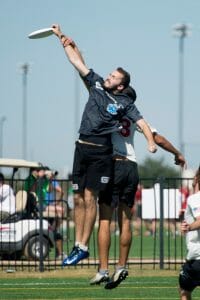 People knew who Mark Lloyd was. At 25, he was already a top-tier player. He represented Canada on the international stage three times, put up big numbers in the AUDL, and had been a playmaking cutter for GOAT for a few years. Heck, he had already done some stuff straight out of The Natural earlier in the tournament. He was known.
But Lloyd's performance in the quarterfinals of 2014 Nationals was so stunning and so clutch — and against such dynastic competition — that it put him in the conversation of the game's best players. And helped his team pull off an all-time upset.
It was a 90-degree scorcher in Frisco. The sun beating down — this is Texas sun, not regular sun — on the turf showcase field. GOAT's first problem was losing the flip for color1 when Revolver outfitted them in dark blue/gray jerseys that looked metallic and maybe somehow capable of thermal conduction. The second problem was that they were trailing San Francisco 3-0 almost immediately.
This was Revolver in the middle of their peak. They were the reigning World and National Champions — having won three of the last four titles. They would go on to win two more titles in the next three seasons. San Francisco was this tournament's top seed and the open team of the decade.
The only card Toronto had left to play was Mark Lloyd.
"When the pressure turns up he turns up his game in a big way," said Toronto's then-coach, Scott "Shooter" Hastie. "He was 100% on that day in Texas."
GOAT got a bit more liberal with their shot selection and Lloyd goes off; coming down with massive skies for goals, leaving the ground so early to attack floating discs that you found yourself holding your breath. He'd roof multiple defenders at a time and crash to the ground. And Revolver's defenders were pissed. One frustrated D-line player even yelled out "How many times are they going to float it to him?!" after a huge Lloyd grab in the end zone.
Lloyd tallied five goals in the first half, and, truly, as cliche as it is, sparked his team to an extremely unlikely comeback. He proved that Revolver was mortal, while planting the seed that he might not be.
In the second half, Mike Payne and the San Francisco brass took Beau Kittredge2 — a legend, a no-brainer first-ballot Hall of Famer — off the O-line for the sole purpose of matching up with Mark Lloyd.3 That was the biggest display of respect an open player could receive in 2014.
Longtime GOAT teammate Phil Watanabe summed up what makes Lloyd such a special player: "People can throw it far. People can jump high and run fast. But it's combining these skill elements with the athleticism that's so unique."
And after the break, Lloyd showed off that depth and completeness of his game. Instead of terrorizing the deep space, Lloyd showcased his ultimate IQ and even demeanor to help churn out holds. He was the straw that stirred the drink. When GOAT's offense stagnated he found crafty ways to get open and reset the disc, throwing two assists, including a picturesque break huck before Kittredge could set the mark.
GOAT pulled on double game point (Mark Lloyd was out there for that one too) but this time it was Revolver's offense that misfired. And that's where the only footage of this game begins.4
This upset was not supposed to happen. It was a #1 vs #10 formality. You can tell because no one filmed it. But Toronto pulled this off because Lloyd was a 99 in every facet of the game.
Harper Garvey  — 2016 D-III Great Lakes Regionals
Zakk Mabrey (Contributor)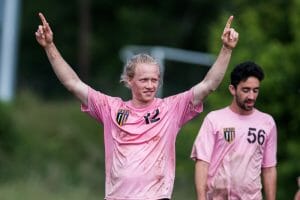 At the 2016 D-III Great Lakes Regional Championships, Harper Garvey put on a show unlike any other. In a seven-team, three-bid region, Knox was the fourth team – unknown outside of Harper Garvey, less than 10 sanctioned games, and no real notes. Coming out of the Conference Championships, we had heard from our friends in Illinois that Knox was going to be tough. But, nobody knew what to expect, except that we needed to keep the blonde-haired dude away from the disc. With typical Great Lakes winds, some light rain, and overgrown grass, we took to the fields.
Harper Garvey was the guy people didn't want to lose to. He's too laid back. 90% of the time, he looked like he didn't care. Standing flat-footed, he sized opponents up, lulling them to sleep, only to take off and burn defenders wherever he wanted to. He didn't look like he was going to dominate athletically. It was all deceit. He caught everyone off guard. And time and time again, no matter how much defenders knew he was going to be the one getting the reset, they simply couldn't stop him.
As we progressed through Great Lakes Regionals, Harper made his mark. Knox worked their way through pool play (if you can call it that) – a 1-3 record on Saturday. Harper looked good, but he wasn't the guy Illinois Sectionals bragged about. Sunday, however, the Harper Garvey show was in full effect.
Harper dominated in a way I've never seen before. He accounted for nearly every goal Knox scored, throwing things many would call unbelievable. From a standstill, he put 50-yard upwind flick hucks over top of zones, only to find his receivers just short of the goal line. He'd follow it up with a full field sprint to receive the reset, and throw a hammer across the field to a place where only his man could catch it.
In a wind that many D-III players struggled to complete an upwind throw of 10 yards, Harper Garvey was throwing like there was no wind at all. Knox went on to fight their way to a spot at the D-III College Championships, finishing Sunday 4-0 and picking up two wins over bid-earner Valparaiso.
Valparaiso was a team I had watched all season. I had seen how hard they had worked, I had so much respect and love for so many in that group of guys. I couldn't help but sit back in shock as Harper Garvey shredded every defensive look they had. My heart broke for Valparaiso, but it also filled with awe at Garvey's dominance.
Playing for Indiana Wesleyan, we had Travis Carpenter. At the time, Travis was likely the best player in D-III ultimate. Rarely, if ever, had I seen someone able to match up with him in terms of throwing. Harper was the exception, and I will never forget those moments on the weekend.
John Stubbs — 2016 D-I College Nationals Semifinal
Graham Gerhart (Senior Staff Writer)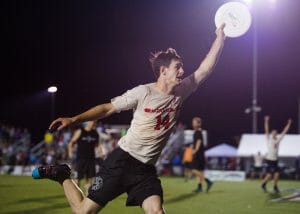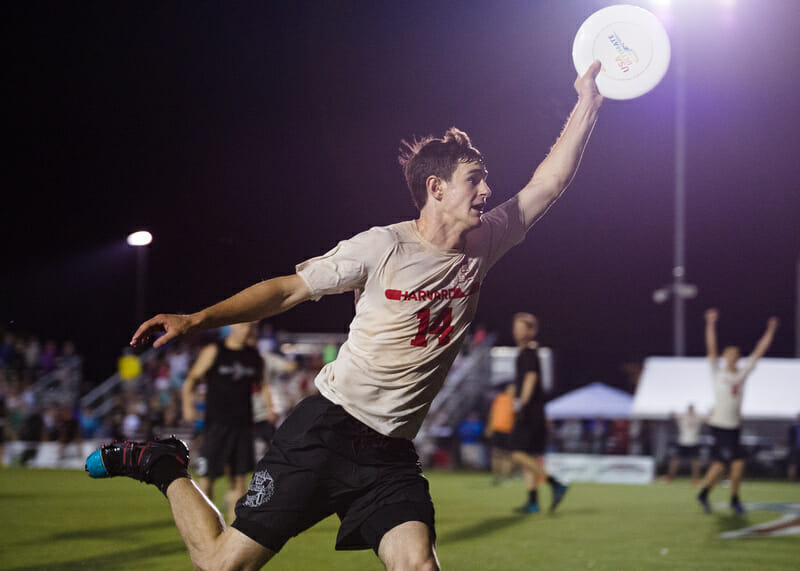 Ultimate as both a sport and an art form peaked in 2016. Looking back on the year as a whole, it's truly remarkable how many of the most memorable games from the past decade all coincide in a single, special year. To list but a few of these memorable games, 2016 was the year where the USA Men's team played Japan in the WUGC final, Ironside and Revolver squared off in arguably the most sound game of men's ultimate we've ever seen (in a title game! At the end of a grueling weekend of ultimate!), Riot and Fury had an absolute nail-biter of a semifinal game at that same tournament, and the Seattle Cascades pulled off the craziest come-from-behind win over the Madison Radicals that the AUDL has ever seen. It's exhausting just thinking about these games.
Still, while all these games deserve their own 30 for 30 documentaries, there was only one game, one player, one performance from that year that honestly made me feel as if I was witnessing something significant in the moment. When John Stubbs laid out a four-goal, six-assist pièce de résistance against North Carolina in the semifinals of College Nationals, the world took notice.
I can say the above statement with confidence because I remember with crystal clarity where I was when that game played out. On the 30th of May at 2:00 AM in the morning, I snuck into my Postgrad labs at the University of Cape Town, used a proxy to get American ESPN, logged in using a stranger's information, and sat down to watch a game that exceeded all my expectations despite the delay that almost caused me to miss half of it. I also was supposed to be handing in a dissertation around that time; 2016 was wild.
Not everyone had the pleasure of pulling an all-nighter just to watch this game, but for those that were at the tournament venue, or even fans watching from home, everyone knew that what we saw from John Stubbs that night was something different. In a sport where team depth often takes precedence, Stubbs put up a superlative singular performance that conquered a team that had made it to semifinals almost solely on their depth. New school ultimate was clearly the path forward, but on that night, old school ultimate chose John Stubbs as its avatar and had one last run.
Run is definitely the operative word here, because Stubbs was almost always in motion when he was on the field. When he wasn't the active thrower, or making a play on the disc, he was still moving his mark and setting himself up to make a play in the immediate future. His lack of inaction was critical for Harvard, especially as UNC knew that Stubbs was the favored target. Rather than taking the open lane afforded by his defenders, Stubbs would frequently fight past the mark to get positioning with cuts that his team needed. No matter which defender (and sometimes, defenders) UNC threw at him, whether Vikram Sethuraman, Nathan Kwon, or JD Hastings, Stubbs' relentless attacking on offense eventually forced them to concede the space he needed to get open.
After catching the game-winning goal to send Harvard to the national title game, the soundbite from Stubbs summed up the game in an irrefutable, succinct way: "This one felt special," said Stubbs to the ESPN broadcast. That's a sentiment widely shared by everyone who had the privilege to watch the game, whether in-person at the stadium that night or 8,567 miles away in a post-grad lab.
Jack Verzuh — 2017 D-I College Nationals Final
Keith Raynor (Senior Editor)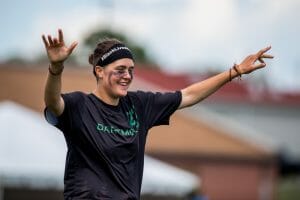 Our staff has played up Jack Verzuh's unmitigated star power, and some have campaigned that they are the greatest college player ever. It's hard to argue with their success in the modern era of college ultimate. But perhaps no performance more accurately captures just what a cheat code they were more than Dartmouth's first championship win in 2017 against Texas.
It was supposed to be a clash of titans. Verzuh had been terrorizing Nationals, bullying even teams with supposed answers, like Stanford. But Texas had Julia Schmaltz, an athletic big who had put up a performance worthy of this list in her semifinal, a scorching 10-goal fireworks show. The two teams had a taut 13-11 matchup at the Stanford Invite final, which Dartmouth won.
Instead, Verzuh detonated in front of a national audience — the first game in the history of the sport to be broadcast live by ESPN — aided by the throwing prowess of Angela Zhu. Verzuh's three goals, five assists, and four blocks (and just one turnover on 24 touches) is an eye-popping stat line, but doesn't even do justice to the quality of the plays that were made to get those tallies.
Jack Verzuh — Dartmouth USAU 2017 College Championship
Remember this? Schmaltz was all of us, in that moment, shaking her head in a "How is that possible?" moment. And that was the game's first upwind break, a critical goal. But there was this. And this. It was all game long. Verzuh threw off-hand backhands and hucks, caught skies and bids, and tilted the upwind-downwind geometry of the field. Dartmouth scored seven straight to win 11-5, turning a great game into a blowout.
In a game with a ton of stars, the rest were just twinkles compared to the supernova that was Jack Verzuh.
Dena Elimelech — 2019 D-I College Nationals Quarterfinal
Hugo Sowder (Staff Writer)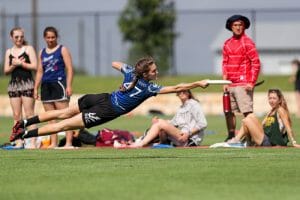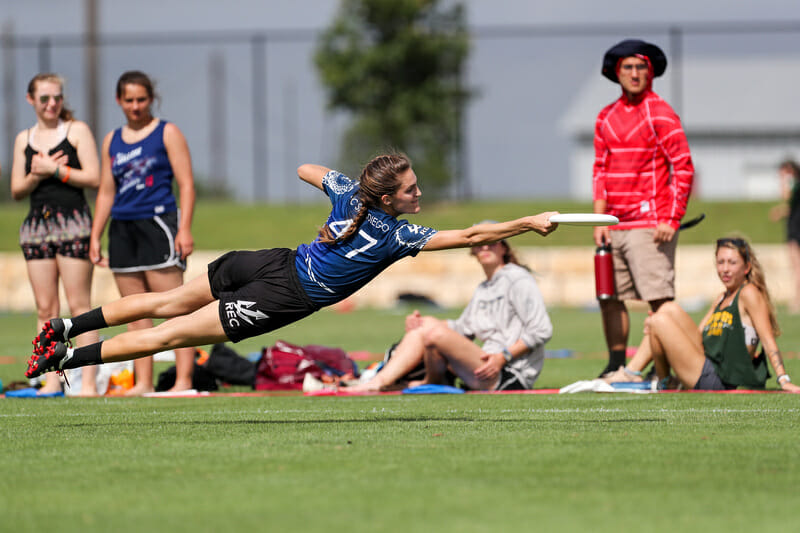 I will always marvel at the cosmic and human forces that somehow put this game in my path. Having only seen UCSD play without Dena though, I did not have a true appreciation of what a magnetic downfield player and defender she was. Everybody on D-Co showed up — high praise needs to go to UCSD's backfield in particular for how well they handled what was an insane level of pressure in those high winds — but Dena grabbed this game by the horns.
On the mark, Dena got multiple blocks, stopping Carleton on the downwind goal line three times. She covered the downwind deep space very effectively when she crossed over from O, especially in the late stages of the second half, when Carleton seemed poised to take a three-point lead. She was comfortable handling and slung several big upwind hucks to move UCSD away from that critical downwind goal line.
And then of course, she delivered two of the most critical offensive plays in the game. One moment that got overshadowed by the game's ending was Dena's upwind layout catch to tie the game at 11-11. Coming in the wake of a brutal multi-possession point, it was arguably the key play of the game, setting up UCSD with the wind at their backs on the next defensive point. It foreshadowed what was coming just three points later.
Dena's back corner layout is currently the most iconic play from the college division. You just can't avoid talking about that last layout catch to win the game on double game point 13-12. When people recruit new players for ultimate, this is the play that should be shown to them. When we talk about how amazing college ultimate was in the 2010s, this is one of the moments you just can't leave out. It's up there as one of the greatest plays of our game's brief history. On that day, in that game, UCSD proved to themselves and everyone at Nationals that they belonged in the semifinals. Perhaps, even, you could finally see them becoming national champions.
Personally, I remember that feeling, like an eternity, as the disc sailed across the viewfinder and it slowly dawned on me, "Hey, she's got this!" More than anything else, I'll never forget how the sound from the crowd surrounding the field felt. I think we rarely feel plays occur in ultimate because our crowds are so small. That moment nearly knocked me off my feet. It may be a while before we experience something like that again, but until then I'm going to appreciate how we wrapped up filming the last college season of the decade filming one of the greatest plays we've ever seen.
---