After planning to hold indoor tryouts, Indy relents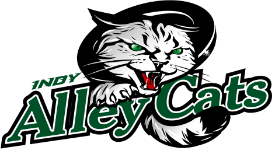 Following widespread criticism for planning an indoor tryout for the 2021 season for next weekend, the Indianapolis Alleycats announced on Saturday that they would be postponing the tryout.
"When the tryouts for the 2021 Indianapolis Alleycats were announced it was stated that the date would serve as a placeholder and the status of COVID cases in the region would determine if a rescheduling was necessary," the team wrote in a statement. "That plan was never altered as the date marched closer. After consulting with health professionals regarding current COVID statistics the Alleycats' tryout has been postponed to a later date."
The Alleycats faced both public and AUDL internal pressure to cancel the tryout. No other AUDL teams have announced tryouts, and the league has not yet announced plans regarding its 2021 season. The league is allowing teams to schedule tryouts and events in accordance with local and state health guidelines.
Indiana currently has the second-highest per capita COVID-19 cases in the country behind Rhode Island. A recent Center for Disease Control study of a COVID outbreak at an indoor hockey game concluded that "the high proportion of infections that occurred in this outbreak provides evidence for SARS-CoV-2 transmission during an indoor sporting activity where intense physical activity is occurring."
The AUDL declined to comment on Indianapolis' decision.
The Alleycats also tangentially addressed the controversy surrounding a former player who sent profane Facebook messages to a critic of playing ultimate indoors.
"The Alleycats as an organization does not condone the harassment of anyone, online or in person. The organization will head into 2021 with a focus on playing its part in healing the divide that has fractured the Indy ultimate community. The Indy ultimate scene is full of passionate, talented people and we pledge to do our part to help cultivate unity in the community."
Indianapolis did not announce a new date for the team's tryouts.