WFDF clears the 2021 event calendar.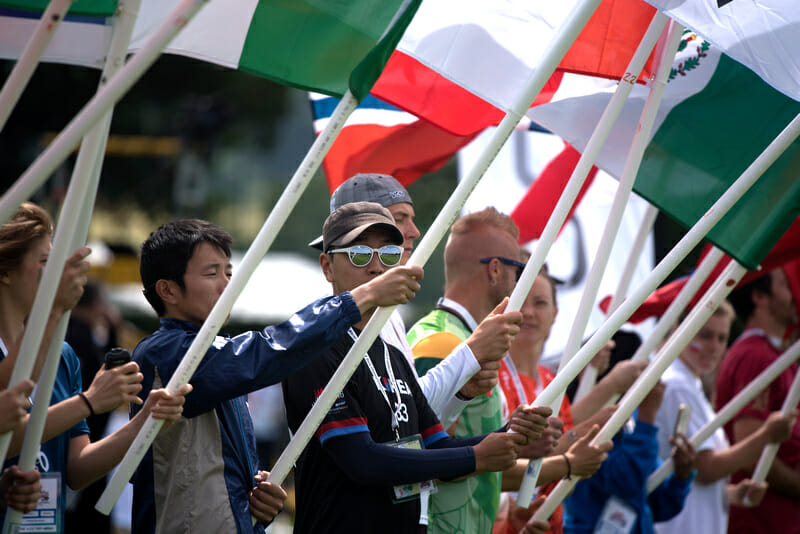 The 2021 World Ultimate and Guts Championships and 2021 Under-24 World Championships have been cancelled, and the 2021 World Championships of Beach Ultimate have been postponed to April 2022, the World Flying Disc Federation announced today.
The decision means that there will be no WFDF-sanctioned international championship ultimate events held this year due to the COVID-19 pandemic. WFDF officials said that there was far too much uncertainty about the ability to guarantee the health and safety of participants at events this summer.
"The COVID-19 pandemic continues to present incredible challenges for the planning of international sporting events and especially for large championship events bringing athletes from countries across the globe," said WFDF President Robert "Nob" Rauch in a statement. "While the development of several safe and effective vaccines is good news, the limited availability and slower than expected distribution plan guidance by governmental authorities suggests that a return to whatever our 'new normal' will be on a global basis is not going to occur until late this year.
"After taking into consideration all of the data available to us, in consultation with our event organizers, our review of [World Health Organization] and other international guidelines, the status of the distribution of a vaccine, and the advice of our medical team, WFDF has concluded that it will not be possible to run large-scale events in 2021 in a way that protects the health and safety of all participants, and it is not even clear that travel and other governmental restrictions will be lifted until late in the year."
The status of WUGC was already in doubt because of a lack of commitment from teams, which guaranteed that the event would not have enough players to meet WFDF's minimum requirements to move forward with the tournament.
Neither WUGC, which had been scheduled to take place in late July in the Netherlands, nor the Under-24 World Championships, planned for early July in Ireland, will be rescheduled. 2022's event calendar already includes the World Club Championships and World Games, which effectively blocks another WUGC postponement. Because the U24 Championships are on a two-year cycle, WFDF felt that postponing did not make sense. 2020's World Junior Championships — also on a two-year cycle — were cancelled outright last spring. The Juniors event returns in 2022, U24s in 2023, and WUGC in 2024.
WFDF will now begin the process of seeking player and team partial refunds for the canceled WUGC event, which faced budget questions, particularly for cost overruns on the tournament organizing committee's staff salaries despite the event not taking place.
"We're committed to having a full accounting of the tournament," said WFDF Vice President Brian Gisel.
The Beach World Championships — set to be held outside of Los Angeles — have been postponed from November 2021 "to at least the second quarter of 2022." The tournament is tentatively set to be held in April.
The tournament joins a crowded field of 2022 WFDF ultimate events, listed below:
– World Beach Ultimate Championships (WBUC) — Los Angeles, USA, April 2022
– World Masters Ultimate Club Championships (WMUCC) — June or July 2022
– World Junior Ultimate Championships (WJUC) — July or August 2022
– World Ultimate Club Championships (WUCC) — July or August 2022
– IWGA World Games (TWG) — Birmingham, Alabama, USA, July 7-17, 2022