On-field chemistry isn't as innate as many might believe -- it needs to be practiced and honed.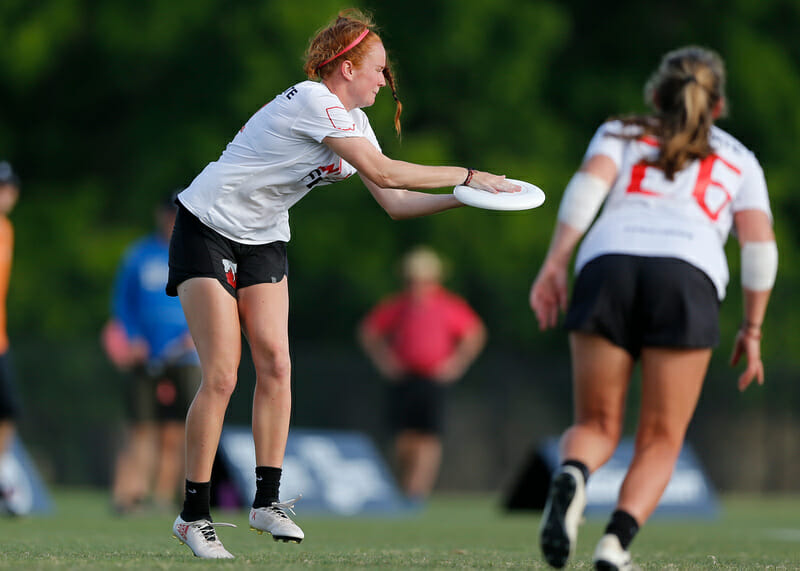 Tuesday Tips are presented by Spin Ultimate; all opinions are those of the author. Please support the brands that make Ultiworld possible and shop at Spin Ultimate!
"Wow, those two have a good connection."
We've all seen it. It's that two-player tandem dance, where each is anticipating the other perfectly, running a beautiful game on the offensive side that almost doesn't require the other five players on the field. Indeed, some of the best ultimate teams in the country often feature two stars who can work like yin and yang together.
"Connection" is one of those vaguely-defined terms that tends to be thrown around when watching a team sport. "That team has great connections," someone might say on the sideline, with an air of mystery and awe. Indeed, most commentators or casual spectators like to chalk player chemistry up to one of those inexorable qualities: either you have it or you don't.
But connection isn't mysterious and it isn't innate. In fact, the connection between two players — and especially between a handler and cutter — can be created and honed carefully through repetition and practice. However, it isn't just time that creates this partnered bond. A good connection between players takes active and proactive thoughtfulness and analysis.
With a few concrete applications at your next practice, pod, or throwing session, you can begin a step-by-step process of building strong on-field chemistry with another player.
1. Watch for Habits
A good connection begins with watching. Every player has tendencies in their game. Whether based on the way they learned to throw, their own strengths and weaknesses, or simply the ultimate players that they idolize, everyone plays ultimate in slightly different ways.
You might notice a very specific fake or break-mark move for example. Or, in another case, you might see a player has a strong cutting pattern or stutter step. Perhaps it is something as simple as seeing where a player likes to clear and reset to on the field. Watching these things is the beginning of true player connection. If you want to really make a strong bond with a handler or a cutter, you have to see and absolutely know that person's habits. Connection and chemistry, after all, are about synchronicity. Two players only seem in sync if they know what the other is about to do.
But before anticipation, comes observation. Spend time carefully observing and analyzing any player you want to have a strong connection with. Even better if you have a strong core of a group together, like a good offensive line that plays most points together.
Film analysis is best, as it really allows you to pause, break down, and rewatch, but in-person observation on the sideline will do in a pinch.
Look carefully at the small things. Watch a player the entire time, not just when that person has the disc in their hands. Make notes on things that player does often. The most powerful habit, like a killer forehand huck or an amazing vertical, will obviously stand out to you. But even the most trivial habit, such as the tendency to cut break side from the front of the stack or the big backhand pivot, can come in handy down the road.
2. Anticipate Preferences
The next step in the building connection process is anticipating the preferences of your teammate. Now that you know what he or she likes to do, the next move is to begin integrating your own game into theirs. Start small, and in the beginning at least, let their abilities be the focus.
If you know they are going to look huck right after a swing pass, be the one to cut for it. If you see how often they like the give-and-go or the quick reset and sprint downfield, go be that swing point for them. In any situation that they want the game to go a certain way on offense, try to be one step ahead, or at the very least on the same page. This, in essence, begins the process of on-the-field chemistry. When offense looks effortless, like two players are thinking the exact same thing, it's probably because that literally is the case.
Sometimes, it takes a long time to get this anticipation down, and often observation isn't enough. You might need a teammate to really explain why she wants you to throw that quick over the top into the off-stack space, and you might need to build trust that she is fast enough to go get the disc when you do. However, when you are anticipating, offense looks like lightning, with players appearing in places before defenses have a chance to react, and passes cutting up the field with surgical precision. All of that comes from anticipation.
3. Complement Strengths
Once you've established a good baseline and have a feel for one person's needs and preferences on the field, you can begin doubling down on that bond. Make it even more powerful by incorporating your own game into the equation.
This will require communication. If you are already helping that person's strength and feeding into their success, they should be more than willing to help yours if it means scoring. This is where the yin and yang concept comes into play, as often — though not always — a good connection does not feature overlapping strengths, but rather complementary ones. If one player is really skilled at quick throws, the other might be the great hands to catch discs thrown just out of the reach of the defenders. If one player is a monster in the air, the other might have the vision downfield to see the shots — and the guts to take them. To be clear, the best connections feature well-rounded players that can do multiple things well. However, you can't be afraid to tailor your game and put yourself into a role that best benefits the connection.
Try to find areas in the offensive flow that your team is lacking. Filling those weaknesses is good strategy in general, but it is especially impactful if you can complement another great player's strengths. This is the way powerhouse offenses are built.
This works well with one person, but can also be great on any line of seven. Some of the best players are those that do the little things right. Perhaps it is the "glue girl" who is the person most willing to fight to get open under, to complement the great deep threat and hucker already on her squad. It could be that off-handler who takes the weaker matchup from the throwing stud and then roasts them for easy passes and resets at any time.
Find your niche and complement the chemistry of the others around you.
4. Reflect and Adjust
At some point, your connection will be humming nicely. At other points, it will feel like it has hit a ceiling. This happens for a variety of reasons. Often other teams get a good scout on you or feel for your game. At other times, you might realize that you need to better incorporate other teammates into your two- or three-person game.
Talk it out and be verbally proactive in your relationship. Communicate mismatches — or even more importantly if you feel overmatched, don't be proud to admit it — and talk about specific strategies to attack them. Explain what you like to do in certain situations, but then also have a plan for when things go wrong. Explaining that eye contact at stall five means a quick I/O forehand is coming is great. Even better is having a word for calling that play off or transitioning to another one.
Always be seeking ways to improve and incorporate your squad better into the flow. As you improve your game in other areas, try your best to be working specifically with others to make sure the connection thrives in that space as well.
Most of all, constantly be talking to one another, making adjustments, and looking for improvements to succeed.
5. Repeat to Perfection
Finally, and perhaps most importantly, you need to repeat, repeat, repeat this process. Good chemistry can be developed in a day of these steps. Great chemistry takes hours and hours of practice. Time playing together will lock in the process so that it feels instinctual. Doing a dozen drills with a teammate will get you to the point where you are anticipating and complementing without even realizing it.
If time, or the ability to practice, is against you, then you need to do your best to create that repetition in a different way. Talking about strategies and situations, watching film, and doing work on your own skills can also make great improvements in connection and chemistry, to the point where you can then maximize the limited times you might get with a teammate in the future.
There's no need to be shy about what you are trying to do; involve your team, especially the leadership, and see if it is worth it to create specific reps to exploit the connection you are trying to create. Be willing to put in the hours, but also the mental effort to examine the game of your teammate and craft a great connection on the field.
Submit your own Tuesday Tips to our Tip Jar to win a free subscription and even become an Ultiworld writer.